ABOUT THE SURF CAMP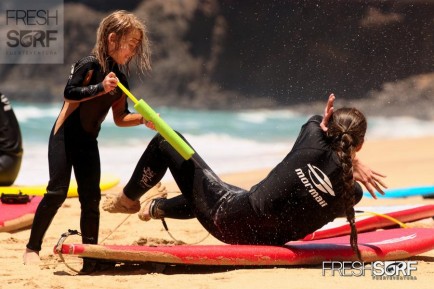 ---
Location
---
Our surf camp is located on the North-West coast of the Canary Island of Fuerteventura. Besides shifting sand dunes in the North-East, mountainous landscape in the interior and steep cliffs on the West coast, the island offers many sandy beaches.
El Cotillo and its surroundings
The Northern part of the island around Corralejo, facing Lanzarote, is the main-area for surfing with its long beaches and reef breaks on the East and West coast. Our small fishing-village offers everything for a relaxing time: supermarkets, shops, restaurants, bars, a small harbour, as well as a quiet and cosy atmosphere. Besides our picturesque beaches, El Cotillo stands out as a result of its lunar and desert-like landscapes. Not far away from Cotillo is the tourist Mecca of Corralejo, which has already developed into an oasis for surfers. Here you will find even more surf shops, bars, restaurants and nightclubs.
ACCOMMODATION AND CATERING
---
Accommodation
---
The Surfhouse
Our Surfhouse in Fuerteventura is perfectly located, well equipped and decorated in surfer style. Once arrived you will soon forget about daily life. You will be accommodated in one of our seven rooms, which are freshly renovated and lovingly decorated. We can offer you six comfortable double rooms (with single or double beds) and for those who would like to spend their holidays with two friends, we also have one three bed dorm! The facilities of the house also include a common room, dining-hall, three bathrooms and two self-catering kitchens. You can also enjoy BBQ night, relax, sun bathe or admire the one-of-a-kind sky on our enormous roof terrace. You will have access to Wifi in the surf house and in our FreshSurf Office and to a TV which also plays DVDs. Not enough? Basketball, soccer and tennis are only a few metres away.
We also care for your physical well-being: In the morning we prepare a full breakfast, which gives you plenty  of energy for a good start into a fantastic day. In our dining hall with panoramic view you can choose from an energising range of cereals, fruits and vegetables, juices, different kinds of bread, cakes, coffee, tea and a large variety of cold cuts and cheese. Our Dinner is special as well: After an exhausting beach day we provide you with a delicious meal. As a matter of course, we respect vegetarians and try to provide a healthy and balanced choice of diet. Once a week we arrange a BBQ and a one group meal in a restaurant is also included in the surf house package. Sunday is the cook's day off, so you can have a taste of the local food in one of El Cotillo´s various restaurants.
The Apartments
In addition to the Surfhouse we offer you accommodation in our High-Class Apartments as well. These apartments are providing high comfort and quality. The apartment complex has a swimming pool on the roof top as well as a stunning view over the open sea. Our apartments provide a fully equipped kitchen with the following interior: Microwave, dish washer & washing machine, oven, coffee machine, toaster and juice squeezer, fridge, iron and iron board. Additionally all apartments are provided with satellite TV and are available with 2 bedrooms. There is a weekly cleaning service as well as bed linen and towels included in the price.
We also offer a lot of other accommodation. If you are looking for e.g. beach cottages and bigger apartments, feel free to contact us.
SURF COURSE AND ACTIVITIES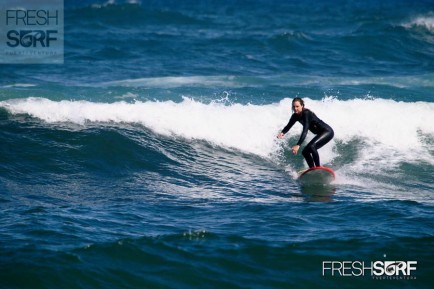 ---
Surfcourse details
---
The surf course
Beautiful weather and all year waves make it possible to find suitable waves for every level. That´s why Fuerteventura is considered one of the top surf spots in Europe! We are lucky to have warm temperatures throughout the year and therefore sure one beach a day which offers you the perfect wave! We will teach you 5 days a week for 3 to 4 hours in and out of the water. Our instructors are fully licensed and know the island and its surf spots by heart. You are in good hands as safety is our first concern! You will begin your daily surf course at around 9am. After a quick surf spot check, we arrive at the beach and divide the group in two to offer you an even more intensive training. Sounds like fun? Oh yes it is for sure!
The Surfspots

Surfers will find amazing surf spots and an incredible environment. Fuerteventura offers consistent swells all year round and there are a variety of spots suiting different levels of ability. In general all surf spots are remote from tourist attractions and visited by surfers only. The waves of the North-shore are long, strong and often perfect. Mostly you are looking at reef breaks, but there are a few beach breaks which offer perfect conditions for beginners – e.g. El Cotillo, Flag Beach or Playa del Morro. The water temperature varies in the range of 18° to 23° Celsius depending whether it is summer or winter time. The average air temperature is around 23° and is still high during winter. We prefer to surf in board shorts in summer and 3/2-Wetsuits in winter, but strictly recommend a wetsuit for our guests for safety reasons and to maintain a comfortable temperature. Fuerteventura and the other Canary Islands are Europe's top ranked winter surf destinations.
---
Other activities
---
Leisure time activities
Besides surfing we offer different activities like drum lessons, hiking excursions, Canarian cooking courses, Spanish-courses and yoga lessons for those who want to unwind and let themselves go. We are also working with a masseuse/ physiotherapist who can come to your accommodation for an after-surf massage.
MORE INFO, HOW TO GET THERE & FAQ
---
Seasonal conditions
---
The climate
On Fuerteventura there are around 3000 hours of sunshine per year, which means an average of 8 hours of pure sunshine a day. There is a consistent climate all year long which led to the nickname of "Island of the everlasting Spring!"
PACKAGES & PRICES
Sorry, no further information in English available. Please use the flags (at the right top of the website) to change to another language.