ABOUT THE SURF CAMP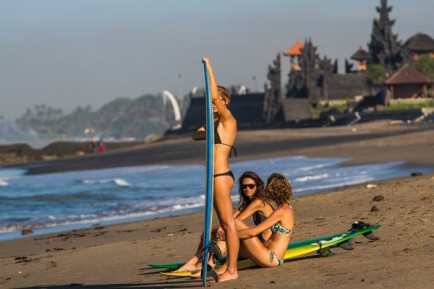 ---
ABOUT THE SURFCAMP

---
Kuta is located approx. a one-hour drive from the surf resort. Here you will find shopping malls, countless clubs, restaurants, cinemas and, it is claimed, the world's highest density of surf shops.

Perfect waves aside, Bali's unique scenery will put a spell on you with its waterfalls, rice terraces, temples, volcanos and lakes. These are just some of the many great destinations that you can book on site on request. Organised volcano climbing tours, horseback riding on the beach, spa or diving trips – there are countless leisure-time options in Bali.

Our driver can be booked for day tips and is also available for short trips from the surf camp Bukit to the supermarket or cash machine.

If you prefer to go on your own, we will help you to rent one of our scooter with a surfboard holder.
---
CAMP OPERATOR
---

In 1989 it was "Pencak Silat", a type of martial arts, brought Ari to a training camp in Indonesia, where he was meant to be preparing for competitions in the homeland of this old Malaysian martial art. However, it wasn't long before he got hooked on something completely different: surfing, and the enchanting way and mentality of the people here. And thus the idea of a Bali Surfari was born.
organising Surf Camps and Surfaris since 1995.

Of course lots of things have changed since then, but one thing still remains: it's a get-together of like-minded people with the one and the same passion - surfing as a life-style.

And we all have one commitment: working hard to make the idea of the Bali Surf Camp an unforgettable experience for you.

No matter how long your stay with us last, Kima provides you a maximum of surf-time without spending time looking up surf spots and finding them or checking the best tides or swells for it.

YOUR SURFING HOLIDAYS ON BALI

What we want to do is make sure you have an absolutely fantastic surfing holiday, but we can't do everything for you. Bali is a beautiful island, and beside its perfect waves, there is an enormous wealth in culture, nature and mysticism - you simply have to experience and explore all this for yourself.

Keep your eyes open and always be open for a new experience and you'll soon see that Bali really is a paradise and you'll understand why we've come to call it home.




ACCOMMODATION AND CATERING
---
ACCOMMODATION TYPES
---
Penthouse Suite

The stylishly furnished Luxury Penthouse Suite is located in the upper sector of the surf resort. Its location offers a unique view. From the spacious sun terrace one looks over the resort across the cliffs all the way to the ocean, all without anyone being able to see into the privacy of the suite.

The suite has an extra large king size bed, aircon, USB-TV with DVD and its own exquisite bathroom. The generous living space of the suite provides plenty of room and privacy to recharge the batteries after a surf session.

Deluxe double Suite

Embedded in the heart of the surf resort is our 5 deluxe Suites, completed in a stylish and modern way to fit in with the overall design of the surf resort.

The suite provides all needed comforts, furnished with an extra large king size bed, aircon, private bathroom and sun terrace. Thanks to its exquisite design the suite offers plenty of space to relax in privacy should one prefer to avoid the chill areas of the resort.

Twin room Bungalow

The Javanese bungalow stands on its own and has its own entrance, yet it is still located in the middle of the resort. The private sun terrace looks out to the ocean and is secluded from the rest of the resort.

The bungalow boasts two single beds and an aircon system. The private bathroom is hidden at the back of the bungalow and surprises with its opulent space and style. The entire bungalow radiates harmony and comfort thanks to its architectural style and privacy and simply entices guests to relax.

Surfers Dorm

This stylish shared bedroom is located in the heart of the resort and provides 3 comfortable bunk beds. The room can lodge six people and offers aircon, private safes and a private bathroom. From the Surfers Dorm there is direct access to all facilities of the resort.

Price Includes

    Food
    Standard breakfast and 5x dinner (Mon - Fri) per week
    Surf Guiding
    6 days a week, twice a day (Mon - Sat)
    Wifi


---
CATERING
---
Culinary highlights

Our cooks treat you to a rich breakfast in the morning and whip up delightful local and international dishes in the evening.

While you can order and eat the daily breakfast individually, which is included in the price, the camp usually has dinner together. Dinner is also included (weekdays) in the package price: local and international menus, always with vegetarian options, are prepared freshly from Monday to Friday.

Further cafés/restaurants and smaller food stands are within a short driving distance.



SURF COURSE AND ACTIVITIES
---
SURF COURSE

---

Surf Guiding

At the Green Bowl surf camp Bali, you get to surf the home break of the same name with experienced surf guides or drive to the world-famous spots of the Balinese southern peninsula Bukit, which are only a brief journey from resort.

The guided surf tours take place six days a week and mainly focus on the surf spots nearby. Depending on the swell and wind conditions, we also go to surf spots that are further away, which entails a longer drive.

If you don't have any surfing experience yet, you can book our surf school for beginners taking place twice a day from Monday to Saturday.

Our surf guides know their way around the island and have expert knowledge about which spot offers the best surfing conditions at which tide and swell.

We talk about the plans for the following day over a joint dinner. This way you're perfectly briefed for the first surf session next morning. The surf spots around the surf camp in Bukit are mainly suited to intermediate and advanced surfers, but even proficient beginners get their money's worth with little swell and high tides.


Beginners

For beginners the many semi-beach breaks on our doorstep are ideal for riding your first green wave and improving your take-off.
Total beginners we recommend booking our 3-day learn-to-surf package.

Intermediates

For intermediate surfers Bali has a whole series of soft reef breaks and semi-beach breaks in store.
Many perfect waves nearby or famous spots a bit further away will push your skills and maybe even make you an advanced surfer by the end of your stay.

Advanced

Of course it is also the advanced surfers that really get their money's worth on Bali.
The best waves all around Bali are on our schedule: the legendary Airport breaks, the classic Bali waves such as Dreamland and Balangan or the world famous spots like Padang-Padang, Keramas or Uluwatu.


add ons

Board Rental  11 EUR/day
Don´t worry about bringing your own board, we have it covered. We have shortboards (6'0'' - 7'0''), funshapes and mini-malibus (7'0'' - 7'8'') available for every level and all conditions. Leashes and lycras are included in the rental. Any repairs or loss of equipment need to be paid for.

Board Insurance  5,5 EUR/day
Be on the safe side and "insure" your rental board. We will carry the costs for any repairs over a period of 1 – 3 weeks, whether it's a tiny dent or a major break. Any damage will be repaired professionally. If the board or parts of it get lost - even if it is in the water - the costs have to be borne by the user.


MORE INFO, HOW TO GET THERE & FAQ
---
JOURNEY
---
Ways to get to the camp
Airport Pick-Up  18 EUR
Our driver will wait for you at the airport.
Airport Drop-Off  18 EUR
We make sure that you and your surf luggage get dropped off smoothly at the airport in time.
PACKAGES & PRICES
---
PACKAGE

---
Price Includes

    Food
    Standard breakfast and 5x (Mon - Fri) dinner per week
    Surf Guiding
    6 days a week, twice a day (Mon - Sat)
    Wifi


| | | | | | | |
| --- | --- | --- | --- | --- | --- | --- |
|   |   | Room |   |   |   | Price per person / night |
|   |   |   |   |   |   |   |
|   |   | Penthouse Suite |   |   |   | from 68 € |
|   |   | Deluxe double Suite |   |   |   | from 62 € |
|   |   | Twin room Bungalow |   |   |   | from 31 € |
|   |   | Surfers Dorm |   |   |   | from 28 € |
|   |   |   |   |   |   |   |
|   |   | ADD ONS |   |   |   |   |
|   |   |   |   |   |   |   |
|   |   | Surfboard rental |   |   |   | 11 € / day |
|   |   | Surfboard insurance |   |   |   | 5,5 € / day |
|   |   | Airport transfer |   |   |   | 18 € / way |