ABOUT THE SURF CAMP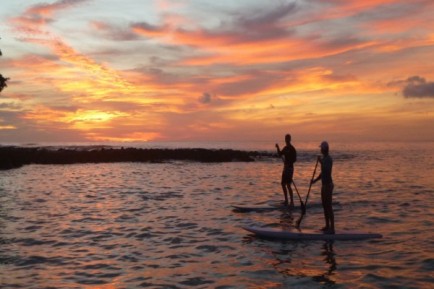 ---
LOCATION AND SURF CONDITIONS
---
MALPAIS: BEYOND A SURFER'S PARADISE.
Avid surfers travel the world for the best waves and Malpais and Santa Teresa are ranked as the best surfing you can find in the country. The combination of tropical conditions; winds, swells, tides and contours make for excellent sessions year round.
The break of Playa Carmen is popular for all levels of surfers with a variety of waves. Rip tides and beach breaks at Playa Carmen are less powerful than in other surf spots of the Costa Rican Pacific, making it a reliable place for beginning surfers to practice the basics.
The waves tend to get heavier, faster and steeper as you head north towards Playa Santa Teresa. There you can find bolder breaks and fewer crowds. Whether you are a beginner or experienced surfer, you will find your wave in this amazing area.
ACCOMMODATION AND CATERING
---
ACCOMMODATION TYPES
---
OUR BUNGALOWS

Cozy. Bungalows have a private veranda where you can relax and dine with views of the gardens and swimming pool. Inside are 2 single beds, and separate bedroom with 1 queen size bed and a bathroom with hot water shower. Cook and dine at home with a full kitchen and dinette. Stay comfortable with ceiling fans, screened windows, filtered water, cable TV, Wi-Fi, room safe, daily housekeeping and laundry service.  
OUR STUDIOS  

Stylish and tucked away. Studios have a kitchenette with outdoor terrace seating and lazy hammock. The spacious rooms can have up to 3 guests with 1 queen and 1 single size bed and a hot water shower. Relax with energy efficient air conditioning, filtered water, WiFi, widescreen cable TV, room safe, daily housekeeping and laundry service.
SURF COURSE AND ACTIVITIES
---
SURF COURSE DETAILS
---
SURF, SAFETY, AND SEA.
Learn the basics and develop the skills, balance and timing you need to grow as a surfer. Oasis offers professional and certified instruction designed for guests of all ages and levels of experience..
---
SURF MATERIALS
---
Lessons include a surfboard, rash guard and the practice to build your confidence and understanding about the swell and ocean conditions.
---
OTHER ACTIVITIES
---
In Malpais you can easily spend the day sunbathing, swimming or enjoying the tide pools. At the southern end are the fishing village, canopy zip-lining, stand-up paddle boarding and deep-sea fishing tours. The same road also leads to the magnificent Cabo Blanco Nature Reserve, the oldest protected nature area in Costa Rica; a natural jewel of the Nicoya Peninsula with many species of trees and wildlife.
MORE INFO, HOW TO GET THERE & FAQ
---
SURROUNDINGS / REGION
---
The village of Malpais is mainly residential with a few indoor or beachfront restaurants. From Hotel Oasis it is just a five-minute walk north to the Cruce of Playa Carmen and Santa Teresa. There you enter a busy center with surf shops, grocery stores, sport bars, nightlife and more restaurants and eateries serving breakfast lunch and dinner with a range of international flavors to please anyone's palate. Wi-Fi is available in most places so you're never far from internet access. 
There are boutiques, a fitness and dance studio, beauty spas, as well as 2 convenient ATMs, rental companies, dental and medical services, pharmacy, personal health trainers and a range of massage therapists and health practitioners of western, eastern and holistic modalities.
---
JOURNEY
---
GETTING THERE  
Once you arrive in Costa Rica, you can travel directly to Hotel Oasis by shuttle, plane, car, or bus.

SHUTTLE
If you do not want to drive, a good door-to-door option is to take a shuttle. Rates for a shuttle to and from a destination in northern Costa Rica is approximately $50/person.  

PLANE
Both Nature Air and Sansa domestic airlines provide daily charter flights direct to the Tambor Airport from San Jose's Juan Santamaria International Airport, as well as from the smaller airports in Samara, Punta Islita, Nosara, and Tamarindo. From Tambor airport, you can either arrange to pick-up your rental car, or hire a taxi to take you to Hotel Oasis in Mal Pais. A taxi will cost approximately $55.  

BUS
A direct public bus leaves twice a day at 6am and 2PM in San José from the San Carlos bus station and will take you all the way to Malpais. It will stop at the Cruce in Playa Carmen. We are located 300 meters South from the Cruce in Malpais. Approximate bus fare is $14 per person.  

CAR
Before you leave, always verify ferry schedules, map your routes and bring Colones for payment at the tollbooths. From San Jose to the ferry to Paquera: Drive the Pan American (interamerican) Highway or the highway 27 Autopista del Sol (toll highway) to Puntarenas (120 km) and take the ferry to Paquera. After you disembark the ferry in Paquera, drive to the main town intersection. From the Paquera intersection, turn left to drive 40 km along Highway 160 to the Playa Carmen intersection, otherwise known as the "Cruce". From the Cruce, turn left to go to Mal Pais. (Turn right to go to Santa Teresa.)
PACKAGES & PRICES
---
PACKAGE A  - STANDARD - May 1 until August 31- from $ 95 per Night
---
This package includes:

- Studio (up to 3 guests) or Bungalow (up to 4 guests)
- Bungalow: 2 single beds, and separate bedroom with 1 queen size bed
- Studio: 1 queen and 1 single size bed Cook and dine at home with a full kitchen and dinette - cable TV, Wi-Fi and room safe
- daily housekeeping and laundry service
- Check-in is 1PM, check-out is 11AM
- First child under 3 years stays free of charge, an additional child will be considered at the adult rate
- pets allowed

Prices: -  2 people for $ 95
          -  3 people for $ 110
          -  4 people for $ 120 (only Bungalow)
---
PACKAGE B  - HIGH SEASON- Nov 1 until April 30 - from $ 105 per Night 
---
This package includes:
- Studio (up to 3 guests) or Bungalow (up to 4 guests)
- Bungalow: 2 single beds, and separate bedroom with 1 queen size bed
- Studio: 1 queen and 1 single size bed
- Cook and dine at home with a full kitchen and dinette
- cable TV, Wi-Fi and room safe
- daily housekeeping and laundry service
- Check-in is 1PM, check-out is 11AM
- First child under 3 years stays free of charge, an additional child will be considered at the adult rate
- pets allowed

Prices: - 2 people for $ 105
          - 3 people for $ 120
          - 4 people for $ 140 (only Bungalow)
---
PACKAGE C  - PEAK SEASON - Dec 20 until Jan 10 + April 8 until 18 - from $ 150 per Night 
---
This package includes:
- Studio (up to 3 guests) or Bungalow (up to 4 guests)
- Bungalow: 2 single beds, and separate bedroom with 1 queen size bed
- Studio: 1 queen and 1 single size bed
- Cook and dine at home with a full kitchen and dinette
- cable TV, Wi-Fi and room safe
- daily housekeeping and laundry service
- Check-in is 1PM, check-out is 11AM
- First child under 3 years stays free of charge, an additional child will be considered at the adult rate
- pets allowed

Prices: - 2- 3 people for $ 150
          - 4 people for $ 150 (only Bungalow)
---
PACKAGE D  - SURF LESSONS-  from $ 60 per Person
---
This package includes:
- individual surf lesson or in a group (max. 4 people)
- approximately 2 hours