ABOUT THE SURF CAMP
---
LOCATION AND SURF CONDITIONS
---
Our surf apartment is located on a little side road in the heart of Póvoa de Varzim. To the city beach of Póvoa it's only a 5 minute walk!
---
CAMP CHARACTER
---
Our little surf apartment has room for a maximum of 7 travellers.
---
CAMP OPERATOR
---
Our host Clément is looking forward to welcoming you in his quarters!
ACCOMMODATION AND CATERING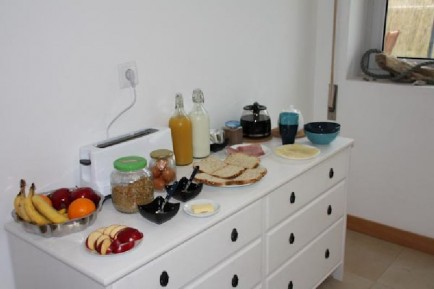 ---
ACCOMMODATION TYPES
---
You'll sleep in a shared bunk room with four beds or a private room with a double bed. All beds come with comfortable mattresses, bedding, bed linen and towels, so you can leave any extra luggage at home! 
---
CATERING
---
Our tasty breakfast buffet can be booked upon arrival. Next to our chill area on the terrace and a chill room with a TV and games, you will also find a modern, fully equipped kitchen in the apartment, which is free to use for all of our guests.
SURF COURSE AND ACTIVITIES
---
SURF COURSE DETAILS
---
We offer surf lessons consisting of 1.5 to 2 hours per day for all surf levels. In the lessons, we are not only teaching the students the basics of surfing but also water safety and surf theory. The highlight of every week is our video analysis, where your surf instructor is giving you the best individual feedback based on your own surf footage. Surf lessons are divided by levels, so whether you are a beginner, intermediate or advanced you will be with people your level and will learn and improve your surfing skills.
---
SURF MATERIALS
---
The surfboards and wetsuits are included in the surf course price and are free to use outside the surf lessons when available.
---
OTHER ACTIVITIES
---
There are a lot of activities to choose from when you are not surfing. You can always tell us what you like and we can try and arrange it for you. A few of our activities are:

Take a day trip to Porto. Discover this amazing city voted Best European destination 2016!
Movie night, game night, party at Póvoa de Varzim – our host Clément makes sure you never get bored during your holiday!
Chilling at the beach and enjoying the amazing sunset
Yoga on the beach
Enjoy some cold beers with your flatmates on our outside terrace
MORE INFO, HOW TO GET THERE & FAQ
---
 SURF CONDITIONS
---
Breaks directly at the main spot and at nearby spots

For the surf lessons we're taking you to the beach of Azurara, a beach break with few, little rocks in between.
Seasonal conditions
Water temperature 18-20°C in the summer, air temperature usually between 20-30°C. Low winds in the mornings, picking up throughout the day, dropping off in the evenings.
Crowd factor and local people
Relatively quiet surf spot with few, friendly locals.
---
 SURROUNDINGS / REGION
---
Characterization of surroundings/region
Here you will find a genuine Portuguese vibe with very affordable Portuguese restaurants and bars and a little supermarket just around the corner. English is spoken in most parts.
---
 JOURNEY
---
Ways to get to the camp
Via rental car, airport shuttle, public transports to Póvoa de Varzim.
PACKAGES & PRICES
---
Stay Only -  from 154 € per week / person
---
Including:


7 nights stay in our surf apartment in Póvoa de Varzim
Use of our fully equipped kitchen and chill-area
---
Surf & Stay - from 324 € per week / person
---
Including:
7 nights stay in our surf apartment in Póvoa de Varzim
Daily breakfast
5 days surf course à 1,5 hours/day incl. weekly video analysis
Surf equipment (surfboard & wetsuit) for the full stay
Use of our fully equipped kitchen and chill-area
---
Surf, Stay & Yoga - from 384 € per week / person
---
Including:
7 nights stay in our surf apartment in Póvoa de Varzim
Daily breakfast
5 days surf course à 1,5 hours/day incl. weekly video analysis
Surf equipment (surfboard & wetsuit) for the full stay
4 yoga session
Use of our fully equipped kitchen and chill-area