ABOUT THE SURF CAMP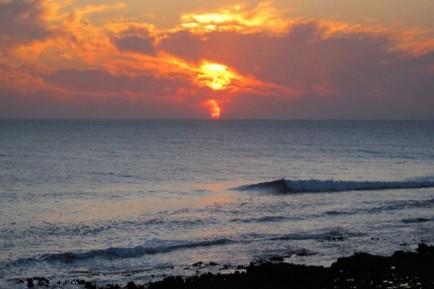 ---
LOCATION AND SURF CONDITIONS
---
You will enjoy the pristine waters and lush nature of Tarifa and its surroundings. Relax on the golden sandy beaches of the Costa de la Luz and discover the famous nightlife of Tarifa town and famous chiringuitos!

On the most southern spot of Europe, there is a small fishing village, between the Atlantic Ocean and the Mediterranean Sea, close to the Street of Gibraltar. A long time ago and due the narrows, this place counted as an important strategic fortress and was the center of historic happenings. They say, all the different energies come together at this place. Also the famous alchemist came to this lively place, in search of his treasure: Tarifa. Legends adorn this place. Now and then. Nowadays, Tarifa is quite famous for being the address for wind- and kitesurfer worldwide. That is also the reason why Tarifa is so charismatic. There is no mass tourism, no big building constructions, no department stores - but original spanish-andalusian fashion labels, typical andalusian cafe?s and tapas bars, lots of different restaurants, the historical town center and Tarifa's unique fish market: All those little details create the town scape. A hidden Surf Mecca.
The people who come to Tarifa once, will never forget 2 important words: Levante and Poniente. These 2 words rule the life of the people in Tarifa and gladden all the surfers !
---
CAMP CHARACTER
---
We guarantee fair prices, a friendly and professional team and a breathtaking and varied holiday in Tarifa with a lot of sports and a lot of nightlife. Whether you come on your own, with your partner, family, or with a group of friends, you will be warmly welcome and by no means alone on the road. 
Our kitesurf school offers professional and individual kitesurfing lessons, kite camps and accommodation at the top kitesurfing spot in Europe in Tarifa. Our kitesurfing courses are for interested children, women and men of all ages and abilities. Our courses are held in German, English, French, Arabic and Spanish.
ACCOMMODATION AND CATERING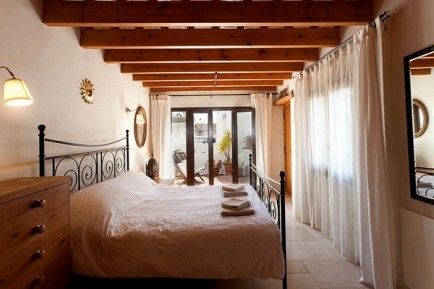 ---
ACCOMMODATION TYPES
---
You prefer an accommodation in the town centre, beach front or countryside, be sure we will offer the best options.

1. FREE YOUR MIND KITE VILLA 
The villa is just a few steps from the beach, right in front of one of the most famous kite spots! Two bedrooms with a double bed or two single beds, a large communal kitchen (with oven, stove, dishes, fridge), offers enough space to prepare meals together with all the flatmates. Enjoy your kitesurfing holiday in Tarifa to the fullest with free WiFi and a washing machine as well as a large parking lot on the property. Of course, you can rent the entire villa!
2. CASA LUNA TARIFA
Situated in the heart of the old town of Tarifa, Casa Luna is only 10 minutes walk away from the beach and right next to all the bars and restaurants as well as buzzing nightlife of our beautiful little city. This fantastic house as a 17 meter salon/dining room/ kitchen, 6 double bedrooms all with excellent en-suites using natural stone & mosaics. The kitchen is equipped with an electric range & gas hob, fridge freezer, dishwasher & microwave. There is a breakfast bar and large dining table. The salon is a large light and airy room with stereo and wifi. The terraces have sun loungers and bean bags, bbq and al fresco dining area. There are great rooftop views of the old town, the fishing port , Africa and the ocean. 
3. LA VEGA STUDIOS
The Hotel stands out for its spacious and comfortable rooms equipped with everything you need for a comfortable stay in Tarifa. If you prefer to enjoy your visit with total freedom the hotel offers spacious apartments that are perfectly equipped with a spacious rooms and a kitchen. The facility has a large swimming pool surrounded by gardens and a quiet place to enjoy the pleasant climate of Tarifa.
4. VALDEVAQUEROS HOTEL
It consists of 4 open plan studio apartments, all of which have a very cosy yet modern and fresh design. Each studio (living space / bedroom, bathroom and kitchen) have been fully renovated. During your stay, you can also enjoy a spacious community courtyard (Cortijo) for either a nice meal / BBQ or a good old fashioned sunbathing session. Free parking and facility for washing and storing surfing equipment. With 4 individual open plan studios there it is also a possibility for you to gather friends or family and rent 2,3 or all 4 studios together.
5. LA RESIDENCIA PUERTO - SPA HOTEL
La Residencia Puerto is a 4 star hotel & spa with 50 rooms and 5 junior suites, an open air pool, spa and restaurant. At the southernmost point of Europe and directly opposite the small port of Tarifa, the hotel is located in the immediate vicinity of the old town, in the middle of Tarifa's shops, restaurants and beaches. All rooms overlook the sea or the beautiful, Moroccan-style patio.
6. LA RESIDENCIA APPARTMENTS

Discover Tarifa in one of the 16 apartments of the Residencia Hotel, which is located directly at the port and the historic old town. In fact the Historic building lays within the old city wall. Most apartments overlook the Strait of Gibraltar and Africa. On the roof terrace you can enjoy your holiday in a heated pool, a sauna or on the large sun terrace.
SURF COURSE AND ACTIVITIES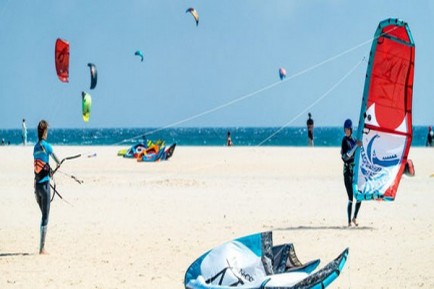 ---
SURF COURSE DETAILS
---
Our courses:
1. Beginner Kitesurf Courses
2. Advanced Kitesurf Courses
3. Private Kitesurfing Courses
4. Girls Kitesurf Courses
---
SURF MATERIALS
---
We propose kites from 3m² to 14m², so you will find the right kite for you for any wind condition.
All Zian kites are produced with the highest standards of quality and with the best materials available on the market. The kites are made exclusively from Tejin material. The board range of the best manufacturers, completes our range of materials that will guarantee your rental experience a success. And who knows, maybe you'll also fall in love with the brand, and get one back home with you!
So you can rent a complete kitesurf equipment or if needed, just some of the gear as:
- Kites in various sizes including Bar
- Kiteboards
- Wetsuits and harnesses
- Helmets, impact vests, life jackets
---
OTHER ACTIVITIES
---
Other activities like YOGA, wakeboarding, horse riding, stand-up paddle, surfing and enjoying great barbecues, awaits you.
MORE INFO, HOW TO GET THERE & FAQ
---
 JOURNEY
---
Ways to get to the camp
1. ARRIVAL BY CAR
WHEN ARRIVING FROM MALAGA OR GIBRALTAR:
Pass the two exits for Tarifa town towards Cadiz, and drive further until you pass the camping Rio Jara, that is on your left. Take the first exit on your right, that allows to turn left towards the beach, or to go right into a path next to Landsailing Tarifa. Follow the track to get to our premises, a lovely beach house, were our welcoming team will make you feel as home, with refreshments and the possibility of taking a dip in our nice swimming pool.
WHEN ARRIVING FROM JEREZ DE LA FRONTERA:
At 5 km from Tarifa, you will pass the exit, on your right, of the Hotel Dos Mares. Take the next exit on your right after that one, as it allows you to turn right towards the beach, or to go left into a path next to Landsailing Tarifa. Go left then and follow the track to get to our premises, a lovely beach house, were our welcoming team will make you feel as home, with refreshments and the possibility of taking a dip in our nice swimming pool.
Time from Malaga Airport: approx. 2 hours
Time from Jerez de la Frontera Airport: approx. 1h40mn
Time from Gibraltar Airport: approx. 40 minutes
2. ARRIVAL BY BUS
Find all information about bus connections from Malaga, Jerez and Gibraltar (Linea de la Concepcion bus stop), to our lovely Taria in the links below:
- http://www.gotarifa.com/en/arrival/bus_schedule.html
- https://www.goeuro.com
- http://www.tgcomes.es/
PACKAGES & PRICES
---
KITESURFING CAMP  - from 790€ per Week / Person
---
This package includes:
- Unlimited Kitesurfing classes
- Accommodation
- All transfers (excluding airport***)
- Breakfasts
- First night BBQ/Dinner
- Free equipment storage
- Guiding

Dates:

22 - 29  May 2021
03 - 11 July 2021
02- 09 October 2021
---
KITESURF AND SPANISH - from 459€ per Week / Person
---
This package includes:
- 3 hours of kite surfing per day
- 7 days intensive spanish course ( 3 hours per day)
---
KITESURF AND YOGA - from 330€ per Week / Person
---
This package includes:
- 3 days kite surf course
- 5 yoga session (1,5 hours)
---
BEGINNER SURF COURSE - from 250€ per 5 days / Person
---
Do you want to learn all the basics? Then this one is for you!
Get our 5 days course! (10 hours in total)