ABOUT THE SURF CAMP


LOCATION AND SURF CONDITIONS
---
Lahinch, County Clare:
The first, the most hardcore, the run by real surfers, the ISA Affiliated, the original Lahinch Surf School is located at the beach hut on Lahinch promenade.
Find the Lifeguards towers on the beach and walk a further 100m. On the opposite side of the road you will find our well sign-posted beach hut. This is not to be confused with our postal address. All the action happens at the beach!

The town of Lahinch is located in the mid west of Ireland in County Clare, 2km west of the town of Ennistymon. Lahinch is a seaside tourist town with a lot of charm. Lahinch Surf School is ideally located offering the closest surfing from the towns of Limerick, Ennis and Galway and with good access from Dublin and Shannon.
---
CAMP OPERATOR
---
John McCarthy is a former Irish Surf Champion. His crew consists of qulified surf instructors that will teach you how to surf!
ACCOMMODATION AND CATERING
---
ACCOMMODATION TYPES
---
Accommodation in Lahinch
Lahinch has no shortage of establishments to spend a few nights on the west coast. Contact us for a list of most of the Hostels, Bed & Breakfasts and Hotels in Lahinch. Just let us know if you need any help choosing which venue would suit you or your friends needs best. The list is also available on our website.

We have some special offers and packages in cooperation with accommodation partners in Lahinch:
Weekend Surf Package with Hotel Accommodation from €125
Our Weekend Surf Packages make the most of Lahinch and the waves...surf, accommodation, friends. The weekend suits parties, groups and couples.
This year for our 10 Year anniversary we have partnered with Lahinch Golf & Leisure Hotel to offer a great package at a wonderful price, we take the burden of organizing your weekend. Lahinch is a very fun and laid back place at weekends coupled with the best surfing in Ireland at the West Coasts original Surf School. The Burren and the Cliffs of Moher are just minutes drive away. With a bit of luck you'll get to witness Lahinch's famous sunsets..
Heres the breakdown
• 2 Surf coaching sessions from Irelands best surf Instructors (one each day or twice saturday) with the option to upgrade to 3 sessions
• 2 nights accommodation in the Four Star Lahinch Golf and Leisure Hotel
• 2 breakfasts in the Hotel
• Hotel Leisure Facilities and Swimming pool
->Package price depends upon the time of your visit!
The accommodation partner is the Lahinch Golf & Leisure Hotel (Terms & Conditions, This offer is available March 30th until October end 2012, Max of 12 rooms available for this offer)
Dates the LGL HOTEL is FULL:
-> If you want to come on a date the LGL Hotel is fully booked, just check out our accommodation listing page for another option and create your own package by booking your own accommodation and book the surfing lessons with us:)
- > Of course we will be delighted to advise you somewhere suitable. Hotel Full dates:
May 25th and 26th, June 2nd & 3rd also JUne 8th & 9th, August 3rd & 4th
-> SURF UPGRADE: To do the full 'Weekend Surf Course', surfing twice on saturday (morning and afternoon) and once on Sunday just pay 20 euro extra upgrade.
-> ROOM UPGRADE: For romantic weekends consider paying a little extra for the Hotels Deluxe rooms.


SURF COURSE AND ACTIVITIES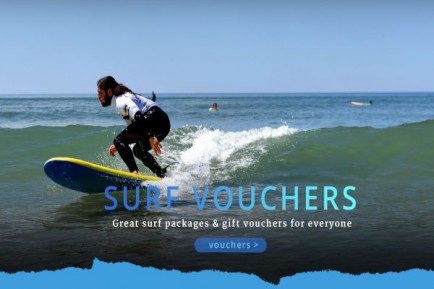 ---
SURF COURSE DETAILS
---
Lahinch Surfing Lessons and Surf Courses
Absolute first-timer or seasoned professional, you can expect to have a wonderful, safe and fun time in the surf with Lahinch Surf School!Each Surf Session is 2 hours long, 80-90 minutes of which is spent in the water. You will learn how to perfect your "POP" to your feet in 1,2 or 3 steps! Equipment is provided along with one of our Fully Qualified Irish Surfing Association Surf Coaches who will patiently take you through the complete surf experience. Lessons are held in waist deep water so you don't need to be an amazing swimmer. For adults the most popular course we run is the Weekend Surf Course and a Single Surf Class. For teen & kids & groms we run camps in Summer & School holidays. For Schools Tours we have half-day and full-day tour programme.
Courses
If you want to look your best on your board and impress your friends on the beach, you'll want to hang with us for a bit longer! We want you to enjoy surfing, to have positive experiences and progressively learn skills that will help you love surfing as much as we do. Surfing is easy to learn when you're in the right space!
For adults the most popular course we run is the Weekend Surf Course you can take the option to allow us to arrange your accommodation for you by choosing the Weekend Surf Package. Also for adults there is the option to do the Mid week surf course.
For Kids and Teens we have the longest running Surf Camp in County Clare with the most highly qualified group of surf instructors possibly in the world
Weekends
In case you haven't heard Lahinch is a very fun place at weekends coupled with possibly the best surf in Ireland.  If you want to get the full feel of the Surfing Capital of Ireland you have the option to to immerse yourself in a full Classic Weekend Surf Package, surf, accommodation, food, friends or do a Weekend Surf Course. The weekends suit everyone from couples to groups or if you're alone hang with everybody else!

Surfcourses Availability: All year round. All Months.

Single Surf Class
A Single Surf class is 2 hours long, 80 to 90 minutes of which is spent in the water. Prior to entering the water you will learn how to pop to your feet in 1,2 or 3 steps! Wetsuits and Surfboards are provided along with one of our fully qualified Irish Surfing Association Surf Coaches who will patiently take you through the complete surf experience. You will learn about water safety, ocean awareness and wave conditions. Warning: Taking a surf lesson can lead to the surf virus. You have been warned!

Weekend Surf Course
Our "Weekend Surf Course" is our most popular surf course. We have a lot of happy customers who have had a great weekend of surf. Apart from the surfing, the best part of this course is our surf coaches. They emphasize making it as fun as possible while giving you great tips to make it easier for you to master surfing. The course is for absolute beginners starting from scratch and also for the "Pro's" who have surfed multiple times before but need some coaching.
Two Surf Sessions with coaching on Saturday and one Sunday morning, you'll be surf-satisfied and carving by the time you leave lahinch on Sunday afternoon.
We want you to enjoy surfing, to have positive experiences and progressively learn skills that will help you love surfing as much as we do. What we try to do is fit as much water time into one weekend. We usually do a lesson on Saturday morning and again after lunch (depending on the tide times). By the time you take Sunday's lesson you are literally riding on the crest of a wave as you wave to your friends on the beach!

Kids & Teen Summer Surf Camps
In 2002 John introduced the now infamous "Lahinch Surf School 5 Day Surf-Camp" , the first of it's kind in the west of Ireland. Years later we are still perfecting and adapting the camp to make it safer, more exciting and more fun in the art of surfing. We'll never know how many great surfers have emerged from the camps.
AGES: KIDS SURF CAMP is for Age 9 to 12. TEEN SURF CAMP Ages 13 to 17. We also run a very special GROM SURF CAMP for Ages 5 to 8 (group size is smaller)!

Mid Week
Lahinch is usually busy at weekends, so surfing midweek can a bit of a treat. Quiet, more personal and laid back! In summer time you will be able to chose from a few different times mid week. In off-season months in the case there is no one else booked in you still have options. You can provisionally book that date to see if anyone else books in. If no body does your lesson then becomes a off-peak private lesson (which is obviously more expensive) so you have the option to try another date or do the private lesson. Usually in off-season (Oct-March) we'll have a few days a week where people are surfing mid-week. Checck our Upcoming Events page to see if we have anything on on certain dates.

-> contact us to enquire for prices and availability on certain dates!
---
SURF MATERIALS
---
What equipment is provided?
Winter & Summer wetsuits, surfboards (variety of 1 fin and 3 fin) and in colder months boots, glooves and hoods (and of course expert tuition).

What do I need to bring?
In warmer months all you need bring is a towel, a swim suit and a warm jacket. In winter months you can consider buying your own surfing gloves. We do provide these but usually have only about 20 pairs. Similarly in summer we don't provide all the kids with surf socks, which parents can consider buying.

Can I bring my own board and wetsuit?
You can certainly bring your own wetsuit. In Winter our suits will most likely be warmer if you only have a summer wetsuit. It is safer if you use our surfboards as they are all made of foam and are more suitable for a group of people surfing together. Most privately owned boards are hard which would be dangerous in the group.


MORE INFO, HOW TO GET THERE & FAQ
---
SURF CONDITIONS; SURROUNDINGS / REGION

---
Breaks directly at the main spot and at nearby spots
Check out our base at the end of the promenade in Lahinch. We also hold lessons in Spanish Point Beach and Doonbeg Golf Course Beach (surfers entrance) depending on tide and wave conditions.
If the surf is small in Lahinch we often move to Doonbeg Golf Course Beach, for weekend Adult lessons. There are always enough waves for a lesson in Doonbeg. Also keep in mind small waves are ideal for beginner surf lessons. Kids and Teen camps don't move location as we do games if surf is small.
---
JOURNEY
---
Ways to get to the camp
you can access Lahinch by Air, Sea, Train and Bus. There are some major airports nearby and the public transport system is quite good.
PACKAGES & PRICES
---
PACKAGE A - from 125€ per Weekend / Person
---
This package includes:
• 2 Surf coaching sessions from Irelands best surf Instructors (one each day or twice saturday) with the option to upgrade to 3 sessions
• 2 nights accommodation in the Four Star Lahinch Golf and Leisure Hotel
• 2 breakfasts in the Hotel
• Hotel Leisure Facilities and Swimming pool
->Package price depends upon the time of your visit
Lahinch Golf & Leisure Hotel (4 star)
HIGH Season - June/July/August: Price €145 pps
Lahinch Golf & Leisure Hotel (4 star)
LOW Season - April/May/Sept/Oct: Price €125 pps