ABOUT THE SURF CAMP
---
LOCATION AND SURF CONDITIONS
---
Noosa is located ninety minutes north of Brisbane International Airport, and is the most northerly of Australias east coast surf locations. The point set up is ideal for both beginners and advanced surfers. Swell regularly wraps into the north facing rainforest bays resulting in perfect one to three metre waves.<br />Noosa is the last recognised surf school travelling North and the first place travelling South on Queenslands East Coast. This is the warmest water location with perfectsuper safe, waist deep water for your surf lessons.


---
CAMP CHARACTER
---
After twenty minutes water practice we take a water break and get to know the other members of our group. More often than not lasting friendships are born.
The key to our first lesson is moderation. So after a 10 minute break we go through our beach side repertoire a second time, then any queries are answered before we shoot back out there and ride our boards to the beach.


---
CAMP OPERATOR
---
Former World Pro-Am Surfing Champion Merrick Davis provides you with all the skills and style you need.
Hi, I`m Merrick, owner of Noosa Learn to Surf. All of our coaches are well spoken, bright, friendly and professionally trained individually by me. They are all outstanding surfers. Each coach has a special way of making surfing simple. We believe it is important to know exactly who you are dealing with and our coaches are collectively the best surf coaches in the world and this is what sets us apart. We use a simple 1,2,3 method and it really works. 


ACCOMMODATION AND CATERING
---
ACCOMMODATION TYPES
---
Accommodation packages are here in Noosa on the Sunshine Coast of Queensland - Australia.
All the accommodation we have in our packages are safe, clean and friendly. Our backpacker accommodation options are passed by our strict standards, checked by Merrick`s Learn To Surf Noosa - Good quality and great value.
2 Persons Surf & Stay Twin Accommodation in a private room. 
Double bed on request.
- 1 Person Surf & Stay Share Dorm Accommodation
(max 6 persons per dorm) (all girls dorms on request - that means you can€t ask for this guys) 


SURF COURSE AND ACTIVITIES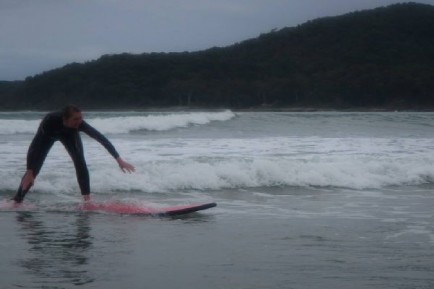 ---
SURF COURSE DETAILS
---
Noosa Learn to Surf Lessons - How we can help you.
Guaranteed to Stand first lesson !
It`s Fun, Safe and Easy !
Straight away you learn to Stand with Style, and we  teach you important Surf Wave Understanding, Ocean Awareness Skills and great Surf Safety tips.Welcome to Noosa Learn To Surf lessons. Classes run everyday and are designed for males and females of all ages. From 7 to 77.
Noosa Learn To Surf lessons run twice a day for 2 hours rain, hail or shine every day of the year and costs only $60 dollars per person.
Everyone is welcome.
Noosa is one of the best places in the world, when it comes to learning to surf. You can learn much faster here because the waves are softer than usual.
Noosa is Australia€s most beautiful surfing destination. Safe, gentle waves break in warm, waist deep water. The water is really blue and the sand is clean and white.
The water is only waist deep. We cater for the complete beginner and no prior ocean experience is necessary. 
For Intermediate level surfers who wish to improve their style and surf better, we offer very informative surf classes held by Merrick Davis , World Pro Am Surfing Champion, every day of the year. 


---
SURF MATERIALS
---
New technology soft boards and teaching techniques combine to make surfing lessons so much easier than ever before.
We hire both mini-mals and shortboards. We stock fibreglass boards as well as specially developed, new technology wide body soft boards, which are really stable and easy to learn and play on.
All surf boards are of great quality with name brands.
Boards range from 6 foot thrusters to 9 foot malibu`s.
We also hire body boards, kayaks and stand up paddle boards (includes map, paddles and lifejackets)
We offer a complete selection of wetsuits, rash shirts and surfing accessories
Every hire includes free wetsuit and or rashvest.
Free delivery service to your door.
Half day full day and weekly rates are the best in town.
We can even give you hints and tips on the best place to surf on different tides and wind directions.


---
OTHER ACTIVITIES
---
While in Noosa you may also be interested in doing other activities like hiring our famous  Ocean Kayaks, for a paddle around the Noosa National park or join us on a guided 2 hour kayak tour in search of wild dolphins and our beautiful resident turtles.


MORE INFO, HOW TO GET THERE & FAQ
---
SURF CONDITIONS
---
Make the most of your stay. Noosa`s main beach is where we usually teach from. It is the safest and easiest place to learn to surf in Australia. Beautiful clear clean warm water awaits you at the last most northerly recognisable surf break in Australia. The beach faces due north providing gentle easy to ride waves.


---
SURROUNDINGS / REGION
---
Characterization of surroundings/region
"Hidden up in the northern reaches of Queensland, Noosa exists in a strange dreamland of lush vegetation, warm water and a series of linked, perfectly sculptured, sand-bottomed right points. Not just as good as it gets, Noosa is better than it gets."
The quality of the Noosa experience has long been recognised by surfers from around the world, but it was only in 1998 that California-based Longboard Magazine summed it up by nominating Noosa as one of its four selections for the "all-time longboard wave".
Noosa Main Beach is one of the safest beaches to learn to surf and we have exclusive access to the safest, most consistant learner waves on the whole of the Sunshine Coast. All beginners start in waist deep water with coaches standing right beside you. 


PACKAGES & PRICES

* Discounts will be calculated in the booking process (first step)


---
PACKAGE A - BUDGET 5 NIGHTS-5DAYS - 270€ PER PERSON FOR 5 NIGHTS
---
This package includes:

5 x 2 hour sessions (either the morning or afternoon)
- stay for 5 nights in Noosa`s leading backpackers accommodation (Share Dorm Style)
- Free pick up and drop off every day
- All Surfing Equipment



---

PACKAGE B - BUDGET TWIN SHARE 5NIGHT-5DAY - 312€ PER PERSON FOR 5 NIGHTS


---

This package includes:

- accommodation in your own private room (share toilet) 
- 5 day courses (designed to fast track you to become a surfer)
- FREE pick up and drop off daily
- All Surfing Equipment






---

ONLY SURF COURSE A - CERTIFICATE COURSE - 161€ FOR 5 DAYS




---

This package includes:

- we teach you to stand
- we will teach you important surf awareness skills and safety tips
- lessons 2 hours each day 
- Pick up from your accommodation
- Surf Boards
- Westsuits and Rash Shirts
- Delivery back to your accommodation