ABOUT THE SURF CAMP
---
Location and Surf Conditions
---
Our Surfhouse is equipped with 8 exclusive rooms (22 beds), two modern kitchens, laundry area, big sport storage on site, relaxing lounge spaces, (smart)TV room and of course our beautiful big patio area including stone showers, outside dining area, BBQ zone and Bali-beds.   The North Shore has amazing surf spots for all experience levels which gives you lots of options depending on weather conditions of the day. Here is a bit of info on some of the most popular of them.
Rocky Point (2 mins from Camp)
Rocky point is a great wave that breaks over a shallow reef just outside Corralejo harbour. The Left wave, a little bit further out than the right, is great for both long and short boarders but can be a bit of a paddle out. The right hander is closer to the shore and closer to Corralejo town itself. This is the perfect wave for long boarders but when it is working it can get busy.
Majanichio (10 mins from camp)
This wave breaks in the bay by the small fishing village of Majanichio. It is a right point wave breaking over the rocky reef. Handles plenty of size and can be a good fun wave. Not as extreme as many of the waves around this part of Fuerteventura. El Cotillo ( 15 mins from camp) A very long sandy beach with a lot of peaks offering lefts and rights. The long white water waves are a ideal playground for the first surfing steps. It is not even necessary to paddle or swim out, making it an ideal location to start surfing at.    The spot works on a westerly swell and is offshore in an east wind. Best surfed at medium tide.
---
Camp character
---
We are proud to offer a home from home style of camp and have catered for people of all ages and from all over the world, With this in mind, whether your a solo traveller ready to meet new people or a group of friends looking to enjoy a vacation together... Line up surf camp is the place to be...
---
Camp operator
---
Info and Bookings - Edith Van der Ster
Owner - Manu Taub
ACCOMMODATION AND CATERING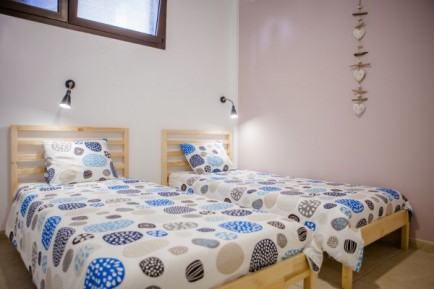 ---
Catering
---
With two fully equipt kitchens the camp is offered on a self catering bases... 
We also work very closely with various resturants and bars in the area offering discounted meal prices for large groups
SURF COURSE AND ACTIVITIES
---
Surf course details
---
Learn to surf with us!
We pride ourselves on offering premium, personalized surf lessons in our quality surf school in Fuerteventura to people of all levels. We provide our groups with the newest and best equipment on the market e.g: GSI soft top surfboards, leashes and high quality Excel wetsuits
In order to improve your surfing experience and to help you get the most out of your lesson. Our large range of surfboards and wetsuits can cater for people of all ages and sizes.
---
Surf materials
---
The quality of our surfing equipment and Longboard quiver does not mean that we don't have competitive prices, the savings are significant compared with the rates and costs of bringing your own equipment by airplane, plus the incomparable opportunity to test Firewire surfboards in almost all models and sizes.
No other store offers you the possibility of renting high-quality boards at a competitive price in Corralejo. In Lineup surfboard rental Fuerteventura, We have surfboards suitable for your level and physical qualities. With over 100 surfboards at your reach you will never miss a surf session in Fuerteventura.
---
Other activities
---
Stand UpPaddle (rental+lessons)
Kitesurfing(rental+lessons)
Kite-downwinds
Sup-downwinds
Oceanguides
Hiking
Wellness
Yoga,Pilates
---
SURF CONDITIONS
---
Breaks directly at the main spot and at nearby spots
Closest waves is at 5 min from the center (both reef and sand breaks).
Fuerteventura has waves for all levels, from the complete beginner to the pro.
There are both reef-breaks and beach-breaks.
Most waves in the north of the island, are situated within a maximum of 20 min by car from the camp..
But off course, there are waves all over the island.
---
Seasonal conditions
---
Fuerteventura has a very nice climate with stable temperatures.
The island gets about 3000 hours of sun troughout the year, which makes it the sunniest place in europe !
The best time for waves is during autumn and winter. The rest of the year you will still get great surf, but with a little more wind.
water temperature : between 18ºC and 23ºC degrees celcius
air  temperature : average of about 23°C
---
Crowd factor and local people
---
Some of the spots can get a little crowded, but there are always waves to find where you can surf quietly. In general the atmosphere in the water is good, and the locals friendly, as long as you respect the priorities !!
---
SURROUNDINGS / REGION
---
Characterization of surroundings/region
Fuerteventura has 150 km of beaches with turquoise colored water. The volcanic landscape is incredible, and the locals are friendly.
Spanish is off course the official language, but in most places english works as well.
The currency is the euro, the cost of living is similar to other european countries.
---
Activities and facilities
---
Fuerteventura is famous for it's beaches, so you can practise every watersport you can think of !
If you are looking for other activities: hiking, biking, spa's , on fuerteventura or lanzarote,nice restaurants, and a laid back nightlife is what you find here !
MORE INFO, HOW TO GET THERE & FAQ
---
How to get there
---
Line Up Ocean Sports Center is situated in Corralejo, about 40 min drive from the airport.
There is a bus service (one change of bus in the main terminal in Puerto del Rosario).
There is also the possibility to book a transfer.
---
Breaks directly at the main spot and at nearby spots
---
| | | | | |
| --- | --- | --- | --- | --- |
| Surf Spot                                       | Quality            | Wave direction               | Wave type                 | Crowd Level |
| Caletta | 3 | Right & left | Reef break | Can Get Busy |
| Cofete Beach | 2 | Right & left | Beach break | Empty |
| Derecha de los Alemanes | 4 | Right | Reef break | Not Too Bad |
| El Cotillo | 3 | Right & left | Beach break | Empty |
| El Muelle | 3 | Right & left | Point break | Can Get Busy |
| La Pared | 3 | Right & left | Beach break | Empty |
| Majanicho | 4 | Right | Reef break | Not Too Bad |
| Playa de Esquinzo | 1 | Right & left | Beach break | Empty |
| Pop Corn Reef | 4 | Right | Reef break | Mental |
| Rocky Point | 4 | Right & left | Reef break | Can Get Busy |
| Spew Pits | 5 | Right & left | Reef break | Not Too Bad |
| Suicides | 5 | Right & left | Reef break | Empty |
| The Bubble | 4 | Right & left | Reef break | Not Too Bad |
---
Ways to get to the camp
---
By Bus - take bus 03,10,16 from outside airport this will take you to Puerto Rosarios main bus station... from here take the number 6 bus to Corralejo... buses run every 30mins to 1hour depending on time of day Total travel time approx 1h30 By Car - Directions to Lineup Surfcamp : (calle Chorlitejo  nr 7, 35660 Corralejo)   On leaving the airport, follow the signs to Corralejo.   Just before Puerto del Rosario take the ring road around Puerto del Rosario ( you are still following the sign : Corralejo)   Then follow the FV1 (along the ocean) to Corralejo.   Arriving at Corralejo go straight ahead on the first 2 roundabouts. (The Line Up center is situated on the 2nd roundabout) On the 3rd roundabout, make a full turn, and take the parallel road to the right ( that passes BEFORE the shop FUERCHINA. Do not take the main road going to « La Oliva » !)   You are now in « Calle Chorlitejo ».   Pass the tennis courts on your lefthand side, the surfhouse is the 2nd (finished !) house on the left hand side. The gates are grey and white.
PACKAGES & PRICES
---
Package A  - SURF & SHARE (SHARED DORM) - from 295€ per person / week
---
295 Euros (per person) for 5 day pratical Surf tuition
325 Euros (per person) for 6 day pratical Surf tuition
This package includes:

7 nights stay in Surf Camp 
Bunk in Shared room of 4 (2 bed dorms also available)
Shared Bathroom
Practical Surf tution 
Inclusive towel and linen 
FREE WIFI on site 
Transfer to spots for lessons
All equipment included 

Acces to surfhouse communal areas
---
Package B - SURF & SUITE (PRIVATE ROOM) - from 695€ per person / week
---
695 Euros (per person) for 5 day pratical Surf tuition
755 Euros (per person) for 6 day pratical Surf tuition
This package includes:
7 nights stay in Surf Camp 
Private room for 2 persons 
Private Bathroom (shared bathroom option also available)
Practical Surf tuition

Inclusive towel and linen 
Smart TV with Netflix Subscription 
Transfer to spots for lessons 
All equipment included 
Access to communal area
---
ONLY SURF COURSE - from 250€ per person / week
---
| | |
| --- | --- |
| Surf                            | Price |
| 1 day | €45.00 |
| 2 days | €45.00 |
| 3 days | €120.00 |
| 4 days | €155.00 |
| 5 days | €190.00 |
| 6 days | €220.00 |
| 7 days | €250.00 |
| 8 days | €280.00 |
| Private Lessons | €99,00 |