ABOUT THE SURF CAMP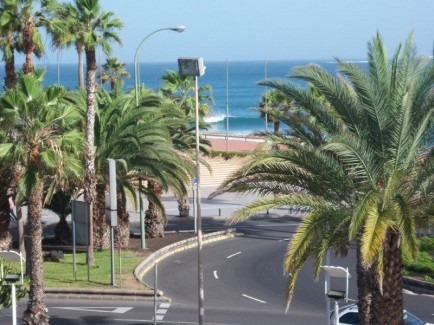 ---
LOCATION
---
The little surfhouse is located in the city of Las Palmas de Gran Canaria, integrated in the neighborhood of the quarter "guanarteme", in the surfer zone of the city and only two minutes far away from the beach "la Cicer".


---
CAMP CHARACTER
---
This accommodation is designed for people who want to enjoy long sessions of surfing, practical, simple and comfortable for enjoying the Surfing beach of Las Palmas.


---
CAMP OPERATOR
---
Little SURFHOUSE is created by a pioneering local surfer "Alfredo", who knows perfectly the great possibilities that the beach of "la Cicer" and its surroundings offer to you. 


ACCOMMODATION AND CATERING
---
ACCOMMODATION
---
On the ground floor of a two-story house, the little SURFHOUSE gets the facilities of four spacious bedrooms, 2 bathrooms and a lounge with TV, DVD and WIFI.


---
CATERING
---
Selfcatering. Supermarkets and Restaurants are close by.


SURF COURSE AND ACTIVITIES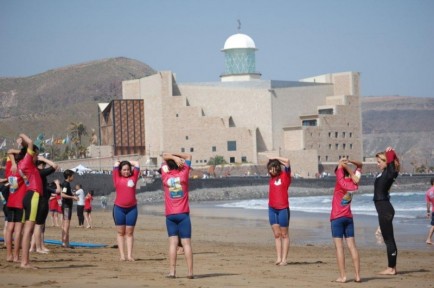 ---
SURF POSSIBILITIES
---
Once you are here we can book you a surf course with the best surf school in town for 160 Euro (20 hours - five days).
All around the year you got the great possibilities of learning how to surf, surf intensive and a cheap, quiet and clean accommodation.


MORE INFO, HOW TO GET THERE & FAQ
---
SURROUNDINGS & REGION
---
Little SURFHOUSE is placed close to the shopping center "las Arenas", one of the biggest shopping malls of the town, the opera house "Alfredo Kraus Auditorium", where they make important musical events.
Next to the auditorium is the Beach of "las Canteras", with the long promenade for footing, walking or a night walk to the restaurants of the seaside.
Surf shops are in the neighborhood, surfer pubs, restaurants, cafes, with very affordable prices, all these things make your stay of surfing authentic, nice and easy.
Within two minutes, you have also the Palms golf course, if you`re like practicing golf after surfing.
The Little SURFHOUSE has very good connection to any part of the city and the rest of the island.
---
OTHER ACTIVITIES
---
The island of Gran Canaria is 1.600 Km2 and is said to be like a miniature continent with its variety of natural areas, ranging from high mountains with pine forests and breathtaking cliffs and canyons that invite the practice of climbing, hiking, going through endless beaches bordering the island.
The capital, Las Palmas de Gran Canaria like Hawaii and some other capitals is among the world`s best climate. A lively cosmopolitan city with a major seaport, shopping and sports, connecting three continents.


---
JOURNEY
---
How to get there
We will pick you up from the airport for 30€.
You also have the possibility to take a taxi or rent a car.


PACKAGES & PRICES

* Discounts will be calculated in the booking process (first step)


---
ONLY ACCOMMODATION A - from 85€ / WEEK
---
This package includes:

- 7 nights accomodation in Little Surf House
- Free Wi-Fi
 -Towels and sheets
 Prices Accomodation 1 Week
1 PERSON

99 €

2 PERSONS / p.p.

95 €

3 PERSONS / p.p.

90 €

4 PERSONS / p.p. 

85 €