ABOUT THE SURF CAMP
---
LOCATION AND SURF CONDITIONS
---
We are located in El Gouna, a little town in the Red Sea, just about 30 minutes away from Hurghada, Egypt. Our kitesurf spot is located on the northern beaches of El Gouna, where steady winds makes us enjoy everyday kitesurfing.
ACCOMMODATION AND CATERING
---
ACCOMMODATION TYPES
---
El Gouna has lots of hotels. We choose to work with The Three Corners Hotels as premium partner. This are the hotels in El Gouna that we like most:

The Three Corners Rihana Resort
Built along the banks of a lagoon, the Three Corners Rihana Resort is a Nubian style architectural masterpiece, featuring clusters of buildings with typical domes and arches in warm sunset colors, complimented by lush, landscaped gardens. The sandy, shallow lagoon beach at the hotel is perfect for swimming. Towels, chaise lounge and umbrellas are free of charge. The Sea Beach for Rihana Resort is situated in the Mangroovy area, which is an environmentally protected area. It is a children friendly beach with shallow water.
At the beach is also a Beach Bar & Restaurant, where you will be served with soft drinks and water, and enjoy a light lunch with a small cold buffet, comprising a variety of salads, sandwiches & pasta. The shuttle bus takes 10 minutes from the hotel and runs every 1 hour to the beach and back for free.

The Three Corners Rihana Inn
The Three Corners Rihana Inn is built as an extension to Rihana Resort. The buildings, with their typical domes and arches in warm sunset colours, are gathered around a large swimming pool.

The Three Corners Ocean View 
The Three Corners Ocean View Hotel**** Prestige acclaims a special location in El Gouna. Stretched along the Abu Tig Marina, the hotel's swimming pool is unique: it overtops the Red Sea itself. The Three Corners Ocean View Hotel offers waterfront lodging, dining, shopping or poolside fun and prides itself in indulging your desires. Travelling alone, as a couple, or with a group of friends, Ocean View represents the best adults only quality holidays in an exclusive, stylish environment. Ocean View Hotel as a fully "Adults Only" hotel, offers you the possibility to spend a holiday in a fully child-free environment, where you can enjoy your well-earned time away in the company of other like-minded people.

We also have a shuttle bus at an arranged schedule, starting from the Three Corners Hotels Rihanna Inn and Ocean View. 
---
CATERING
---
Our Beach Bar, right on the beach, serves healthy fresh juices and great smoothies (try our Banana Rebel!) as well as soft and alcoholic drinks. Enjoy the healthy menu of the restaurant and sit and chill while watching the action on the water.
SURF COURSE AND ACTIVITIES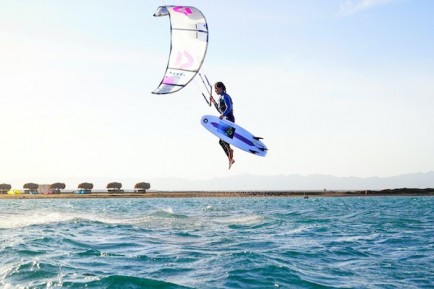 ---
SURF COURSE DETAILS
---
Do you want to learn kitesurfing in El Gouna? You landed on the right place! Kitesurfing is a relatively easy water sport to learn. Doesn't matter how old you are, you just need to be fit and be able to swim on the water. To learn kitesurfing you need to learn how to control your kite, how to manage its power. Its more about technique than strength. You will learn step by step, starting with the theory, how to set up a kite and the basics of kite flying. Once you mastered the control of the kite, we will teach you how to get on the board and make the first meters on it.
---
SURF MATERIALS
---
Save yourself the hassle of transporting your kitesurfing equipment to El Gouna and rent the latest models from Duotone from us, perfect for whatever the current conditions are.
We also have secure storage for individuals or groups so you can bring your own gear that you are comfortable with and keep it safely with us.
---
OTHER ACTIVITIES
---
Once in a while we organize a day trip to Tawila: an island just one hour away from our base in El Gouna. Over there, we find crystal blue butter flat water, where we go kiting and enjoy an amazing experience.

Those who like to train their body, can use the fitness center and take classes of spinning, CrossFit and much more. A good way to start fit for your kitesurf sessions. For those who need a massage, we also offer different massage types.
MORE INFO, HOW TO GET THERE & FAQ
---
 SURF CONDITIONS
---
Seasonal conditions
Makani Beach Club is the perfect destination all around the year. The temperatures are warm, with constant side on-shore wind, and on average there more than 70% good kiting days each year. The conditions are perfect for kiters of all levels with a lagoon that has flat water with a sandy bottom without reef or stones. Our lagoon is also unique in El Gouna, as even during low tide we still have good water depth to kitesurf safely, allowing our guests to get out and have a session anytime during the entire day. There is a high and low tide every 12 hours with up to 80cm difference in water depth between them. We have thousands of square meters of soft, sandy bottom flat water off of our beach, so there is always somewhere to find a safe depth for your experience.
---
 SURROUNDINGS / REGION
---
Activities and facilities
Progress in your sport with a stronger body. Our professionally qualified physiotherapist will work with you to establish an exercise regimine to help you achieve your goal safely that you can work on yourself after you leave. If you're feeling a bit tight or uncomfortable in places, let's take a look and see if we can relieve the tension before it becomes a serious problem. Get back into the game after injury with a rehabilitation plan that is based on examining your body and that you understand the body mechanics behind.
---
 JOURNEY
---
Ways to get to the camp
You can take a Tuk Tuk ride from anywhere in El Gouna for around 20 EGP per person per trip.
We also have a shuttle bus at an arranged schedule, starting from the Three Corners Hotels Rihanna Inn and Ocean View. Just scroll down to check the timetable!
For those coming from the airport, we also can pick you up from or bring you back to the airport.
PACKAGES & PRICES
---
PACKAGE Beginner Level: Basic Course I + II - from 349€ per Course/ Person
---
This package includes:
In the beginner basic course, you will learn all necessary to control your kite safely:
- Wind theory, equipment set up and safety
- Kite control, start and landing, wind window
- Relaunch
- Bodydrag and power control
- Selfrescue
- First water start exercises
- Ride downwind
Basic I (8 hours): Recommended for those who already have experience with kites and boardsports; 8 hours/ 2 days, 2-4 participants
Basic II (12 hours): Recommended for those who wants to start kitesurfing and have no boardsports experience, 12 hours/ 3 days, 2 - 4 participants


---
PACKAGE Intermediate Level: Refresh Course - from 225€ per Course/ Person
---
This package includes:
We'll go through all the fundamentals with you and make sure you're feeling comfortable again. All courses include all the equipment you need, so just bring yourself and get ready to learn kitesurfing.
- Equipment set up and safety
- Waterstart
- Ride downwind
- Body position on the board, learning to edge
- Learning to turn
- Switch riding
Recommended for those who already did a course and want to continue learning and ride safely.


---
PACKAGE Private instruction 1:1 - from 60€ per Hour/ Person
---
This package includes:
For those who don't want to be in a group course, we offer also private teaching / coaching. The instructor will focus just on you and you will get full attention. Recommended for all levels, from beginners to advanced kiters, as well as kids under 16 years.
- For all levels: beginners, intermediates and advanced
- one to one instruction
- with our equipment or your own
- For Kids: the only way to learn kitesurfing
Recommended for those who prefer private instruction rather than group courses

60€ exclusive equipment/ hour, 70€ inclusive equipment/ hour
If you book more than 1 hour, price discounts will apply.


---
PACKAGE Kite Camps/ Kite Events - from 599€ per Week / Person
---
This package includes:
The Kite-Event is addressed to all levels, from beginner, to intermediate, to advanced. The kite camps have an average of 8-12 people per week. Two to three experienced instructors are going to be responsible of the group. We will split the group in those different levels, so we can focus on each person more effectively.
All the equipment is included in the event. You will have the newest equipment of Duotone and Core Kiteboarding available for you. Wetsuit, harness and shoes are also included at no extra charge.
- 6 Days Intensive-Groupcourse
- 4-5 Student per instructor
- daily 4-6 hours, divided into 2 sessions
- professional supervision by VDWS licensed coaches
- Theory, Material Training & Self Rescue
- No-Wind activities (at extra charge)
- Premium training equipment Duotone (formerly North Kiteboarding), Core and Flysurfer
- common evening activities
- Event Tshirt Goodie