ABOUT THE SURF CAMP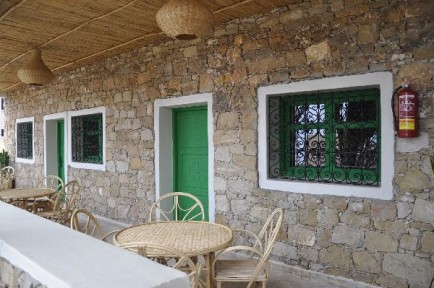 ---
Location and surf conditions
---
Marocsurfcamp It`s located 100 meters from the beach in the small town of Tamraght, next to Taghazout.
It's a perfect place to relax and discover the region, mainly for the surfers and for those who like adventures of every kind (jeep 4x4, trek, horses, camels, mules, VTT, quads...).

We have 3 surf spots in front of the camp, Banana Beach (point break with a long right, good for intermediate levels and if it's small for beginners too); Crou Crou (Beach break with lefts and rights); Devil's Rock (good rights on low tide, lefts and rights on high tide, perfect until 1,5m).
---
Camp character
---
We have guests of all ages, children, families, 18+, 25+, etc. We have all kinds of athmosphere at the camp, some weeks with families, some weeks with all kinds of guests, some with students groups.

At the surfcamp we speak english, spanish, french, portuguese and arabic.
---
Camp operator
---
Our team is composed by Mohcine Ababssa (moroccan) and his wife Maria Teles da Silva (portuguese), both surfers and owners of the surfcamp. We have 3 instructors more, accreditated by the Moroccan Surf Federation.

Together they will guide you through the moroccan waves!


ACCOMMODATION AND CATERING
---
Accommodation types and Catering
---
Marocsurfcamp Villa, our comfortable accomodation, stays a walk way from the beach. It as 3 panoramic terrasses with view to the ocean. The top terrasse as a common room with satelite tv, wifi conection, dining room, chill out zone, bathroom, kitchen, a barbecue, a small bar and a yoga place.
We provide towels for the shower.

Our guests can choose breakfast only, half board, full board or self catering.  We can also cook for vegetarians or for someone with a special diet.

There are small shops near the camp.


SURF COURSE AND ACTIVITIES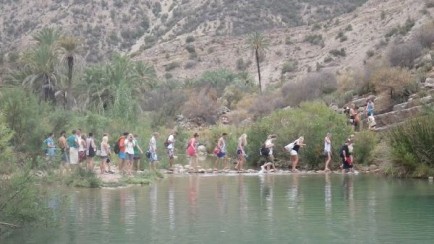 ---
Surf course details
---
We have guided tours to the best spots in the area according to every surf level.

Learn to surf, or improve your surf with fully qualifyed surf instructors, they will take you to the best spots suitable for each individual's skills.

Classes can be given in english, french, spanish or portuguese.
---
Surf materials
---
We have NSP boards of all sizes (from 6'4 until 8'2) for beginners, foam boards of several sizes as well and Fibre Glass boards for intermediate / advanced levels (from 5'10 to 9'4).

We provide boards and wetsuits, that can also be used out of the lessons for free.
---
Other activities
---
We organise short trips to Paradise Valley, to the Souk of Agadir, horse rides, camel rides, Hammam and massage, ATV's beach and mountain and Yoga.


MORE INFO, HOW TO GET THERE & FAQ
---
SURF CONDITIONS
---
Breaks directly at the main spot and at nearby spots
We have beach breaks, reef breaks and point breaks, all around the surfcamp. The waves are mainly rights, with a few lefts.
Seasonal conditions
Because it's sheltered by Cap Ghir and surrounding hills, sunshine is virtually guaranteed in the Agadir region, with over 300 sunshine days per year. The winter air temperature seldom drops below 22ºC during the day and the water temperature averages 18ºC. 
Crowd factor and local people
The locals are usually  friendly and the waves are never too crowded, sometimes but not always.
---
 SURROUNDINGS / REGION
---
Characterization of surroundings/region
The village of Taghazout is also known as the «surfers village».
Situated between the first Atlas mountains and the Atlantic Ocean, you can find a very different kind of local products such as argane oil, honey and all sort of spices every Wednesday in the «souk».
It is also one of the best places to taste our traditional plates like tagines, couscous, etc...
Situation
§  12 Km N of Agadir
§  145 Km S of Essaouira
§  300 Km W of Marrakech
Agadir International Airport (Al Massira), 25 Km
International flights with BA, Air France, Royal Air Maroc + Charters with LTU. Valid passport required. No need for vaccines or visa for EU citizens.
---
Activities and facilities
---
§  Yoga
§  Camel ride (beach and mountain)
§  Horse ride (beach and mountain)
§  Quads or buggies (beach and mountain)
§  Hammam + Massage
§  Paradise Valley
§  Paradise Valley with ATV's
---
JOURNEY
---
Ways to get to the camp
We provide Agadir airport and Agadir Bus station transfers to/from the surfcamp:
Agadir airport – 45 min driving
Agadir Bus station – 20 min driving
Marrakech airport – 3h by bus (we pick you up at Agadir Bus Station)


PACKAGES & PRICES
---
Package A - from €400 per week

---
Package with Lessons
Week: 400 EUR
2 Weeks: 750 EUR
Extra Single Room : 5€ / Day
Extra day: 50 EUR
All Included:
7 nights accommodation
Full board
Transfers to the best surf spots in the area
Surf course
Surf equipment
Instructors with french licence
Classes in English, French, Portuguese and Spanish
Transfers from/to Agadir International Airport
1 Visit to the Souk (market) of Agadir
Surf lessons all the day, 6 days a week


---
Package B - from €300 per week

---
Package for Experienced Surfers
Week: 300 EUR
Extra Single Room : 5€ / Day
Extra day: 50 EUR
All Included:
7 nights accommodation
Full board (break., lunch and dinner)
Transfers to the best surf spots in the area
Surf equipment (board and wetsuit)
Transfers from/to Agadir International Airport
1 Visit to the Souk (market of Agadir)


---
ONLY ACCOMMODATION 
---
Only Accommodation
We have also (for independent surfers):
- 7 nights with breakfast & dinner - 175 EUR/pax
- 7 nights with breakfast & dinner - 210 EUR/pax (single)
- 7 nights with breakfast - 140 EUR/pax
- 7 nights with breakfast - 175 EUR/pax (single)
- 1 night with breakfast & dinner - 25 EUR/pax
- 1 night with breakfast & dinner - 30 EUR/pax (single)
- 1 night with breakfast - 20 EUR/pax
- 1 night with breakfast - 25 EUR/pax (single)

- Transfers Agadir Airport (roundtrip) - 50 EUR (both)

- Car Hire - 35 EUR / Day 


---
ONLY SURF COURSE 
---
Only Surf Course
1 Day of Surf Course + Lunch + Equipment - 45€

1/2  Day of Surf Course + Equipment - 25€


---
ONLY SURF GUIDING 
---
Only Surf Guiding
1 Day of Surf Guiding + Lunch + Equipment - 35€

1/2  Day of Surf Guiding + Equipment - 20€