ABOUT THE SURF CAMP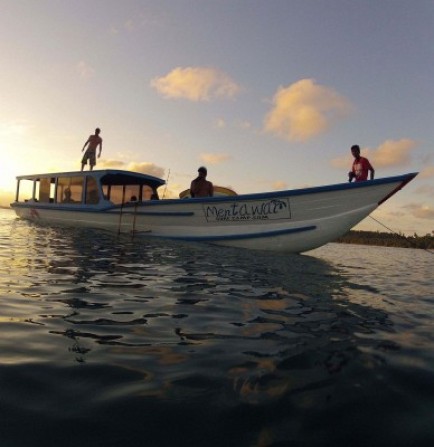 ---
LOCATION AND SURF CONDITIONS
---

The Surf

Mentawai Surf Camp is surrounded by over 20 flawless & perfect waves within a 10 km radius. Our location has been graced with year round swell consistency, variable elegant winds, exceptional tropical climate, and crystal clear ocean all around.

Swell Consistency

Between the months of May-October, the increased activity of low pressure in the Antartic Ocean pumps generous lines of swell, that get groomed over thousands of unimpeded kilometres, eventually unleashing their power & momentum over our colorful reefs. This time window is optimal for those who wish to experience the Mentawai Islands at its finest.

For the more playful surfer, there's always gentle waves to be had during peak swells. Ideally, the months of October-April, while still enjoying top consistency, shoulder to head-high waves can be expected.

Getting to the waves

We have a fleet of 4 speedboats and 5 outboard engines. Our crew is composed of the most qualified boat drivers, surf guides and photographers in the area.

Mentawai Surf Map

At Mentawai Surf Camp we specialize on boat based surf missions, ensuring optimal break choice and conditions.

Beng Beng

Distance from the camp: 5 minutes by boat
Description: This punchy left-hander offers an abundance of fun for all surfers. Breaking on all tides, but better on a lower tide, the wave is ideal around head high or slightly bigger. Its long wall offers a 100 yards or so of perfectly formed walls to practice your turns on.

Good Times (AKA ladies left)

Distance from the camp: 5 minutes by boat (25 minute walk from camp)
Description: Super fun left-hander. Can break for up to 300 yards. Good wave for beginners.

Ebay

Distance from the camp: 8 minutes by boat
Description: One of the areas best quality waves, this fast left-hander can offer a 200 yard long perfect barrel. Breaking on all tides, but hollower on a lower tide, the wave starts breaking properly around head high but is ideal around 4-6'.

Pit Stop

Distance from the camp: 10 minutes by boat
Description: This super fun short right-hander can offer 2 good barrel sections. The wave starts breaking around chest high but
can handle up to around 6'. It's situated on the other end of the reef from Ebay and breaks extremely close to the shore, ending on the white sand beach.

Bank Vaults

Distance from the camp: 15 minutes by boat
Description: Heavy, fast and barrelling, this right offers numerous barrel sections for any willing surfer.

Nipussi

Distance from the camp: 15 minutes by boat
Description: 150-yard right that offers a steep take-off with a super fun workable wall. Best around head high to double over head. Nipussy is a wave magnet and is rarely flat.

Hideaways

Distance from the camp: 15 minutes by boat
Description: One of the areas best waves on its day. This 100-yard left needs a decent swell to break but offers perfect tubes when it starts working. The wave breaks on all tides

Burger World

Distance from the camp: 20 minutes by boat
Description: This right point brake wave can offer a bit of everything from workable walls to some fun tubes and can peel for 200 yards. It's a swell magnet for the off season.

Kandui Left (Nokandui)

Distance from the camp: 25 minutes by boat
Description: High performance, fast and hollow – this left hander is a freight train barrel from start to finish. This 200 yard left needs a decent west swell to break flawlessly.

Kandui Left (Nokandui)

Distance from the camp: 25 minutes by boat
Description: High performance, fast and hollow – this left hander is a freight train barrel from start to finish. This 200 yard left needs a decent west swell to break flawlessly.

4 Bobs

Distance from the camp: 20 minutes by boat
Description: Super fun right, offering a couple of really fun sections with occasional barrels.

A Frames

Distance from the camp: 20 minutes by boat
Description: Longish left hander, offering a ledgey drop with some heavy inside barrels. ..

Rifles

Distance from the camp: 25 minutes by boat
Description: Long right hander, offering some of the longest and best barrels in the whole area.


---
CAMP CHARACTER
---
Back in 2009 Lora and Diego decided to set shop in the town of Pei Pei. It was back then when they started turning this little hut into a family gathering Uma (family house) for who would become their loyal employees and their guests. Now the camp enjoys plenty of room and space without anyone being able to build around its mangrove area. Walking down the road you will be able to interact with all sorts of Indonesian traders, Sikereis (local shamans), hundreds of little children running freely playing on the beaches, and surfing the beginners wave that brakes right in front of the camp.
Diego and Lora have been through an amazing journey, to say the least. Staying at par with development, keeping a check on it, with this portal providing a blog where relevant updates on community, surfing, sustainability, and the environment can be accessed by anyone. Mentawai Surf Camp is proud to be the most locally connected operator to the community.
---
THE EXPERIENCE
---

Island Lifestyle

Indonesians like to live on the playful side of life. You will often find yourself on a hammock sipping on coconut water, having a beer by the boat, or enjoying stunning sunsets while a gentle breeze graces your skin.

The energy vibrates at a slower tempo, allowing you to have enough time to breathe it all in. Locals here are usually engaged with the ocean and its ways, sitting by the shade and enjoying themselves and their community. They like to be grateful towards the earth by living from it. Fresh fish, and ocean water is their lifestyle. This archipelago offers above and beyond what comes to mind when thinking about paradise, and the rhythm is always soothing, no mater what.

The Mentawai Communtity

At Mentawai Surf Camp we work closely with the local community. By hiring and training local people we contribute to the general wellbeing of the community, and a portion of our operation is directed towards the community to support local schools and educational programs.

Two or three times a month we invite the local Sikerei tribe to come and meet our fellow guests. This creates an extremely interesting ambience, uniting humans in unprecedented ways that transcend language and culture. By doing this we assure our guests return home with a better grasp of global awareness and the local community becomes fully engaged with guests, tribe and themselves. Our service tax is given to the Mentawai Shamans, which motivates young tribes people to preserve their customs and traditions in folklore.

The Mentawai local people often suffer from extreme poverty. We try to diminish the impact of poverty the island by supporting local markets, fishermen, and relying on local goods/produce. This positively contributes to the economy and motivates the local people to work closely for a better future. We never outsource or disengage with our neighboring town of Pei Pei, supporting local artisans, farmers, fishermen, and workers.

We also routinely offer our main building to the government for official meetings, announcements or any type of public service. This keeps everyone around here updated and in the loop.

Sustainability

At Mentawai Surf Camp the environment is a priority. We have a strict recycling program and we try to minimize plastic use as much as we can. We filter and recycle our own water from a spring using UV rays, gather as much fresh produce as we can using artisanal practices and try to support healthy and sustainable fishing by means of supporting the local market, through education and community programs. All of our waste is either re-used, recycled or disposed of responsibly. By working closely with the local schools, we are striving for higher environmental awareness for the younger generations.
ACCOMMODATION AND CATERING
---
ACCOMMODATION TYPES
---
The Villa

Features:

    Mosquito nets on all beds
    Personal nightlamp on all beds
    All beds have 24hr fan inside mosquito net (can be turned off)
    4 Rooms w/ ensuite toilets & bathrooms
    Board rack
    Clothes Rack
    Robe
       
3 Rooms offer one single bed + one double bed
1 room offers 3 single beds

Built in 2009 this building was the initial structure where its founding fathers created a home, a family, and a business. In liaison and in touch with the local community, this villa would mark the stepping stone of the development of the Mentawai Surf Camp accommodation in the area. With its amazing beach front accommodation and the privileged position of the coolness of the mangrove and the forest at the back, guests can enjoy stunning views from the many hammocks hung around. It is marveling if not hypnotizing to observe the tumultuous wildlife that every square meter of this mangrove harnesses.

This villa has not only been the private chambers of all sorts of surfers from all walks of life, but it has been the university of up to 5 other local surf camps, who's owners worked with us in the beginning; now they also operate independently around our neighborhood with who we compete positively for the ever increasing value of our operations, environment, community and families welfare.

There is no better feeling than to get caressed by the SE wind after a delightful lunch affair on the hammock for an hour before embarking onto the next surf expedition.

The Tower

Features:

    Two story absolute beachfront with views to the ocean and waves
    Terrace w/ hammock on both levels
    Option of double bed or two singles (on each floor)

Conceived to be just a place to rest on a hammock overlooking the whole bay during its inception years, it later turned into Loras and Diego's family room and office headquarters to operate the camp. Their imminent success with the business had it transformed into arguably the most sought after corner by guests to spend their visit at Mentawai Surf Camp, specially by couples. Now providing a double bed accommodation on the second floor with a balcony and a hammock strapped to it, exposed to the surround stereo of the waves crashing on the beach at your doorstep, the tower will blind you foolishly into giving yourself to the night and its natural surroundings while being caressed by the subtle breezes and our fine linen, if you are traveling solo.

The bottom room is being developed into a twin share with the same capabilities. Be quick to demand it if available!


---
CATERING
---
We are offering all-inclusive packages.
Indonesian born Chef Lora Riska is on a mission to make every single meal at the camp a romantic affair. Initiated into the most prestigious and oldest schools of cuisine, Le Cordon Bleu, Lora has easily grasped and dominated an appetite and arrogance only comparable to her french counterparts with a strict objective to achieve perfection in every bite.

We guarantee that guests will always embark on a delicious new journeys every time the table is set at Mentawai Surf Camp.
SURF COURSE AND ACTIVITIES
---
SURF COURSE DETAILS
---
Surf Lessons

We offer surf lessons for the uninitiated, too. Luckily we have a beginner wave just a few short paddles away. This wave is often surfed by the local children and is a great place to enjoy your first surf. We guarantee our instructors will get you from the beach to the ocean in no time!

Full Daily Itinerary

A typical day at Mentawai Surf Camp as follows:
The evening before surfing we'll discuss how we should start the next morning. Usually we will wake up around 6am and try to leave before 7am. On some occasions we will leave earlier, other times later. During every boat trip we'll bring along a gallon of water plus a cold refreshment and some biscuits. Guest are welcome to buy sodas or beers and bring them along in the boat fridge. Just before departing, a quick wind and tide check to decide where to head first & if unclear we will head to our closest breaks and assess the situation from there.

We will usually surf until midday (or later) & come back for lunch and then head out again in the afternoon. We usually return from surfing around dusk, where we will head back to the camp cruising through wondrous sunsets for some well deserved dinner and epic evenings at the bar!

Parting from the principle that we are not the only ones in the water (at least not all the time) we want your surfing holiday to give you a bit more than some amazing memories. We want you to be a better surfer for yourself and the rest of the community wherever you travel to. We will HD video every single session and display it during the evening with the hopes that you can review your performance critically over and over for accountability and improvement purposes. Videos can be available for purchase as a prepaid packet (10 days $199AUD) or paid for directly at the camp ($299 AUD)

We also impose strict etiquette rules where common sense and sharing prevails. Not all waves are the same and size makes for different approaches. Our surf guides will be out there helping you out get the most along with the rest of the crowd if there is any.


---
SURF MATERIALS
---
Board Rentals
We offer a variety of up to 30+boards at camp for rent.


---
OTHER ACTIVITIES
---
Fishing

Fishing is one of our preferred non-surf activities. We usually like to troll for gamefish around the surf breaks. We also pack a few rods aboard in case we see something that catches our interest en route to the surf. At camp we have fishing gear for when our guests want to use it. Our local boat drivers and surf guides have plenty of knowledge regarding fishing, and we certainly have enjoyed legendary catches!

Spearfishing

We have a myriad of spearguns at camp and use them constantly. The islands are graced with shallow reefs that harbor plenty of fish. Feel free to catch dinner!

Snorkeling

These waters are known for their vivid colors and transparency. The abundant marine life around here is joyful to watch, and many local species are exclusive to the region, assuring great snorkeling potential. There is snorkeling gear available at camp for guests to use at any time.

Ping Pong

Epic tournaments have been held at our beachfront Ping Pong table. Guests typically spend time here enjoying a few beers or appreciating family time.

Hiking/Trekking

Many non surfing travelers visit the Mentawai Islands for its great treks into the jungle and because of the presence of the renowned local Mentawai Tribe. This ancient indigenous group has generated enormous interest worldwide and are some of the friendliest folk in the world. Tours can be arranged at camp, or through our sister company, Mentawai Tribe Tours (www.mentawaitribetours.com)

Motorbike tours

Motorbiking is a great way to get to know the neighborhood. Guests can rent motorbikes at camp and typically spend an afternoon driving around the island and meeting local people, as well as going to some nearby beaches and rivers.

Shaman traditional ceremony

Mentawai Surf Camp is proud to be one of only three camps that gets graced with the presence of the local Sikerei tribe. The tribe comes to camp for an evening of folklore, and perform their traditional ceremony to the guests, complemented by dancing and socializing.

Cooking lessons

Our head chef Lora gives free cooking lessons during the day to guests that sign up. Our firewood pizzas are famous around the islands, and she makes mean desserts and pastries.

Golf

Epic put put golf tournaments are also known around camp. We usually bet a few beers and have some fun.

Shooting range

Archery is the preferred way of hunting for the local people. As a way to honor their tradition, we have a shooting range. Sometimes we do tournaments and give away prizes!

Massage

We have a beachfront tower were guests can enjoy massages from our staff. Indonesian hospitality is never complete without its famous massages.

Board Games

There are many choices of boardgames. The most famous one, Coruña, is a local twist on parcheesi invented by Mentawai Surf Camps very own Diego Angel. A lot of passionate nights have been spent playing this one.

Karaoke

Epic bar nights are complemented with karaoke. With our big TV behind the bar, guests can sing along to their favorite tunes while enjoying a few drinks.

Sightseeing

Guests are free to enjoy surrounding beaches, trails and villages. There are a lot of natural treasures around the island and many cultural opportunities to be had. We encourage visitors to get in touch with their surroundings, as we feel this place is paradise at its finest.



MORE INFO, HOW TO GET THERE & FAQ
---
JOURNEY
---
Ways to get to the camp

GETTING TO THE MENTAWAI ISLANDS

Getting to Mentawai Surf Camp requires planning. Currently, we offer various flexible schedules for guests to arrive to the camp depending on their needs, flight schedules, visas, preferences, and time restrictions.

We recommend the following:


The Mentawai Islands lie approximately 150km off the coast of West Sumatra. The gateway to the islands is only via the city of Padang.
- Daily flights from Kuala Lumpur or Jakarta serve as your best option of arrival. All domestic airlines accept surfboards.
- We recommend the following airline based upon surfboard bag tolerance and punctuality: Garuda Indonesia Other Airline options include: Lion Air, & Air Asia. Garuda Indonesia typically has 5 daily flights from Jakarta. Garuda does not have service from Kuala Lumpur to padang Lion Air typically offers 3-5 daily services from Jakarta and 2 daily services from Kuala Lumpur. Air Asia:has daily services from Kuala Lumpur and Jakarta.
- The only way to get to the Mentawai Islands is by boat. Fast ferry boats leave the city of Padang on Tuesdays, Thursdays and Saturdays We encourage all our guests to arrive to the city of Padang either on the Monday/Wednesday/Friday prior to the Fast Ferry departure on Tuesday/Thursday/Saturday.
- Guests will be transferred by our staff from Padang Airport to the hotel when they arrive to spend one night before catching the Ferry the following morning. Our staff will then pick guests up the next day at the hotel at around 6AM to transfer them to Padang Harbor.
- The ferry departs Padang Harbor at 7 AM and arrives to Sikabalua port at 10AM for a brief layover. Then, the ferry will continue its path to Siberut, arriving approximately at 12 PM.
- Once in Siberut, guests will be picked up by our staff on one of our speedboats to transfer them to our camp. Guests will arrive at 1 PM to have some lunch and afterwards, enjoy their first afternoon surf session.
- Once guests return from Mentawai Surf Camp upon completion of their surf trip, our staff will then take them from Padang Port to the hotel.
- The next day, our staff will pick guests up to take them to Padang Airport.
- With our All-Inclusive package, ferry tickets and taxis are included, as well as two hotel nights. We take care of guests from the moment they land in Padang until they fly away at the end of their epic adventure with us.
- If your travel arrangements do not fit the above mentioned schedule, or if this itinerary currently presents a problem with your booking, please let us know and we will try our best to find a way for you to get to the camp in a timely manner.


Transfers include:

    Padang Airport collection & drop-off
    All Padang Taxis
    2 nights at Hotel in Padang
    Ferry ticket + surfboard storage.
    Speedboat from Siberut to the camp

We operate according to the Mentawai Fast Ferry, which only travels to/from the islands on Tuesdays, Thursdays and Saturdays. Guests coming to camp need to arrive into Padang the night before said ferry days, meaning on Mondays, Wednesdays, or Fridays, since the ferry leaves early in the morning towards The Mentawai Islands.

Private Speedboat

If the Fast Ferry does not fit your schedule and you might want to save a few hours travel time on your surfing holiday, a private direct speedboat transfer to the camp can be arranged by large groups traveling together. These consist of a fast speedboat departing either early morning or early afternoon 7 days a week. Prices start from $2,000 AUD one way with a max capacity of 16 people with boards

Fast Ferry Transfers Tuesdays, Thursdays & Saturdays

Padang-Siberut-Padang
We will be using the Mentawai Fast Ferry. However, if we have enough guests returning to Padang and leaving to the camp, we will upgrade to a private speedboat.

Travel times:

The overall travel time is detailed below.
You'll need to overnight on your first night in Padang (Mon or Fri) and your last night in Padang (Tues, Thur or Sat).
Ferry departs 7am from Padang, travels via Sikabaluan, has a brief stop, then continues to Maura Siberut. Here you'll be collected around 12pm (by speedboat) and taken direct to the camp. Approx arrival at the camp is about 2pm.

On return, you'll depart the camp approx 1pm by speedbpoat, arriving at Maura Siberut around 2pm. The Mentawai Fast Ferry departs 3pm and arrives in Padang approx 6pm.

Day 1:

Guests arrive Padang the night before their departure day from Padang.
Taxi to Mentawai Fast Ferry approx 6.15am
Depart approx 7am, via Sikabaluan. Arrive Maura Siberut approx 12pm. Collection by speedboat, arrive surf camp 2.30pm.
Guests quickly settle in, unpack boards & have a quick snack.
Evening Surf from 3pm-6pm.
Shower
Dinner 7pm
Lights out

Standard days once at the camp:
See our full Daily Itinerary below.

Last day:
Breakfast
Early surf, returning by 10.30am
Pack
Depart camp 1pm by speedbpoat, arriving at Maura Siberut around 2pm.
The Mentawai Fast Ferry departs 3pm and arrives in Padang approx 6pm.
Guests to overnight in Padang.

Important details

What to bring on your surf trip?

Whatever you bring, make sure you pack light & within the baggage restrictions on your air ticket. Airlines are becoming more stringent & do impose hefty charges for excess baggage

Travel essentials

- Passport valid for at least 6 months from date of departure and must have at least 1 completely blank page (no stamps, nothing) upon arrival in Indonesia for Indonesian Immigration to attach the visa on arrival.    
- A photocopy of each traveller's passport. The local police will impose a fine for non-compliance. We suggest you take a minimum two (2) copies of your passport.    
- Tickets, itinerary, travel insurance policy and any travel vouchers. Most tickets are now e-tickets so you need to bring your itinerary showing your flight code(s).    
- Visa (if necessary) – for most countries including Australia, NZ and USA a US$25 30-day tourist visa is issued on arrival into Indonesia, payable in most currencies, or by credit card.     - Money: Cash is and always will be preferred around the Mentawai Islands. You can pay with your credit card for your bar tab or any other surcharge you may incur here at the Camp. If you wish to purchase souvenirs or go into Pei Pei to buy some snacks or drinks be sure to carry cash. As a standard we encourage guests to bring at least 250 AUD cash (in Rupiah) while at the camp and throughout your stay in Padan

Safety

The Mentawai Islands are located in a remote location. Unfortunately, accidents sometimes do occur. To prevent any major occurrence and react accordingly during a sudden accident, we encourage guests to come prepared and to read the safety tips below:

Malaria

Fortunately, malaria cases are rare around these parts. With the involvement of SurfAid since the early 2000s, the known epidemic is very much controlled in the island of Siberut and neighboring islands. However, guests are encouraged to check with their local physician, doctor, or healthcare advisor for the latest information regarding malaria-preventive pharmaceuticals or any kind of information regarding known diseases.

Satellite Phone

At Mentawai Surf Camp we carry a satellite phone everywhere we go to in case we need immediate communication should an emergency arise.
 
Tsunami

Indonesia is situated in an seismically active zone. Fortunately, at MSC we are sheltered from Tsunami waves in a calm bay, and our neighboring island of Nyang Nyang acts as a wall to diminish wave impact should an emergency arise. In the case of a earthquake and ensuing tsunami, we have an evacuation route and procedure here at camp, and we have access to high ground within five minutes of our installations. Maps are available in all rooms and common areas of the camp for guests to look at. Our neighboring town of Pei Pei is well prepared to handle these types of situations, with remote satellite-activated alarms, indicated evacuation routes, first aid kits, and satellite phones to communicate with the navy, government and weather stations. Guests are encouraged to check up to date information on natural disasters before they arrive at camp.

Drugs

At Mentawai Surf Camp we condemn the use of illegal substances. Indonesia has very strict laws against drugs. Any guest that is found with illegal drugs will be removed from camp immediately.

Behavior

All of our guests should respect the local culture and people. Proper surf etiquette must be kept in mind at all times in and out of the water. Indonesian people are extremely friendly and pleasant individuals, and we should be eternally grateful towards them for sharing their beautiful country with us Remember, a little respect goes a long way. Any disrespectful behavior at camp or in the water will be taken seriously. Our goal is to maintain a cordial vibe throughout your stay and most of all to have fun!


FAQ

Where is the surf camp?

The camp is situated in a secluded bay on the southern end of Siberut, the largest of the Mentawai Islands. The camp is around 200-300m from a small and friendly village of Pei Pei. Situated "on the beach" we're just 5 mins from the nearest wave!

What is the local religion?

All Indonesians must profess one of the state-supported religions of Islam, Christianity, Hinduism & Buddhism. The Indonesian government views Jarayak, traditional Mentawai animism, as a primitive belief of ignorant tribal people. Although many Mentawai still practice Jarayak, most shamans will say they are Christian, to avoid the possibility of violence against them and their families. In Pei Pei, where the camp is very close to, there is a majority of Christian belief, as well as a small Islamic following.

Can you tell more about surfing in the Mentawai Islands?

We'll probably never know who actually first surfed the Mentawai islands. It is claimed that a Californian, name unknown, surfed the area in 1944 while stationed on a US patrol boat. A few hundred kilometers north, surfers were consistently riding Lagundi Bay, Nias, as early as 1975. By 1980 some Australian surfers claim to have visited Macaronis, but never returned due to the rigors of overland travel in the islands. Martin Daly had a chance to scope the area in 1989 and was soon back with a group of mates all sworn to secrecy. During the early nineties a handful of other pro surfers were lucky enough to visit and then finally the first magazine photo trip took place, although the area was still unnamed. By 1993, Rick Cameron was taking groups of surfers to the uncharted Mentawai surf zone and then gradually over the next decade, news of the islands gradually leaked into the surfing world. To this day, there are approximately 30-40 charter boats (max) sailing through the islands on any given day in the main season (May-Oct). There are relatively few surf camps due to the relative difficulty in land acquisition and then the subsequent problems with the development of the land. The Playgrounds/Nyang Nyang surf area (known as wave park) is the most wave rich area by far.

Do we need Visas?

All visitors to Indonesia need a valid passport (with over 6 months validity) and need to obtain a visa to gain entry. Travellers wishing to stay 30 days or less can obtain a visa at the airport.
Nationals of Australia, Austria, Belgium, Canada, Denmark, Finland, France, Germany, Hungary, Ireland, Italy, Luxembourg, Poland, Portugal, Spain, the UK and the USA can apply for a Tourist visa, valid for 30 days (non-extendable), on arrival, provided that they enter through one of the authorized airports or seaports. Those wishing to stay longer need to contact the Indonesian Embassy prior to travel to arrange this.

What are the health risks?

Travellers to Indonesia must contact their local medical centre at least 4 weeks in advance before travelling. All visitors need full health insurance including emergency repatriation cover. Adequate routine medical care is available in all major cities, but emergency services are generally inadequate outside major cities. Doctors and hospitals often expect immediate cash payments before any treatment is given. Although medical costs are fairly cheap, drugs can be expensive.

A yellow fever vaccination certificate is required from travellers coming from infected areas. The countries and areas included in the yellow fever endemic zones are considered by Indonesia as infected areas.

Cholera and Typhoid also occurs.

Malaria risk exists throughout the year everywhere except in the main tourist resorts of Java and Bali, Jakarta municipality and other big cities where risk is only slight. Please contact your local GP to arrange suitable preventative measures before travelling.

What's the dress code?

There is a minor dress code in the area. When around the camp and beach, men are allowed to wear just board shorts (no t-shirt). Women may wear bikinis/swim suits when swimming, or relaxing at the camp. Sarongs must be worn when on the beach or outside the camp.

Can we drink alcohol?

Yes. Alcohol should only be consumed on the premises. Drunken and disrespectful behaviour will not be tolerated and may result in an early departure from the camps.

Can we change money in the local area?

No. There's no local currency changing facilities, so all cash needs to be brought with you prior to travel. We'd recommend bringing a few hundred dollars as a safe guard. Alcohol isn't included in any of the packages. Some fuel charges may be incurred on some packages as well. Please also note that traveller's cheques are not accepted in the area.

What about general Indonesian Warnings, natural hazards and disasters?

All guests are advised to contact the following organizations for the latest up to date travel advice.

Australian Foreign and Commonwealth Office
1902 241 444 – Passport information line (Premium rate call – domestic calls only – charged at A$3.50 per minute)
00 11 44 20 8082 4726 – Passport credit card line (UK number – credit card only – charged at £0.69 per minute)
1902 941 555 – Visa information line (Premium rate call – domestic calls only – charged at A$2.75 per minute)
1300 858 472 – Visa credit card line (Premium rate call – credit card only – A$9.90 flat fee)

Website: http://www.fco.gov.uk/en/travel-and-living-abroad/travel-advice-by-country/asia-oceania/australia

British Foreign and Commonwealth Office
Tel: 0845 850 2829begin_of_the_skype_highlighting 0845 850 2829 end_of_the_skype_highlighting.
Website: www.fco.gov.uk

US Department of State
Website: www.travel.state.gov/travel
PACKAGES & PRICES
---
PACKAGE - from 1 388 € for 9 Nights / Person
---
Our package includes:
    Private western style bathrooms
    Daily speedboat surf expeditions
    Daily video footage for display during evenings to track progress
    (with option to be prepaid  or sold individually)
    Three big, delicious meals everyday cooked by our Le Cordon Bleu head chef
    Cooking lessons
    Drinking water, tea,
    FREE WIFI
    Experienced English-Spanish-
    Portuguese-Indonesian speaking surf guides/staff
    Snorkeling & Fishing/Spearfishing equipment
    Karaoke
    Begginer wave and surf guiding

Whats not included:

    Beer, alcohol, and soft drinks, capuchino and espresso machine
    Full media package (photography and video service)
    Massages
    Plane tickets
    Medical/Travel insurance
    Visas
    Mentawai Regency TAX 100AUD per 15 days stay per person

We do trips of 9 days or more

Number of Guest           Price per Person / Night (min 9 nights)

1                                                   173 € /  $255 AUD
2                                                   155 € / $229 AUD
3                                                   149 € / $219 AUD
4                                                   149 € /  $219 AUD
5                                                   149 € / $219 AUD
6-14                                             135 € / $199 AUD


Transfers includes:

    Padang Airport collection & drop-off
    All Padang Taxis
    2 nights at Hotel in Padang
    Ferry ticket + surfboard storage.
    Speedboat from Siberut to the camp

Price: 173 € / $225 AUD per Person on top of nightly rate

Non - surfers traveling with surfers up to 56% off.
Kids under the age of 10 stay for free.