ABOUT THE SURF CAMP
---
LOCATION AND SURF CONDITIONS
---
The surfcamp is located in the middle of the Basque forest, but only 1,7km away from the subway that will take you directly to Bilbao, and 7 minutes away from the beach.
Within minutes from the door of our hostel you can enjoy many amazing places between the sea and the mountain.

Sopelana 3km, 
Barrika     4km, 
La Galea  6km, 
Meñakoz  5km,
Mundaka 25km


ACCOMMODATION AND CATERING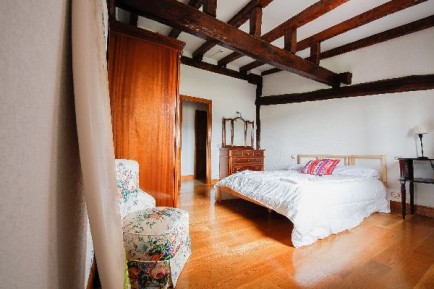 ---
ACCOMMODATION TYPES
---
Have a unique experience in the Moana Surf and Skate Hostel, a beautiful XIX century country house fully redesigned, with exceptional and original installations for this type of camp.

The surfcamp is set in Moana Surf and Skate Hostel, and it can accommodate 75 guests. Inside the house are 77 guest beds and two rooms for staff, 7 complete toilets plus two inside the shower area, a huge living room with giant TV.
Additionally our modern installations consist in a bar, an indoor heated swimming pool, a complete skatepark for beginners and another one for professionals, a rock climbing wall, ping pong tables and 5.000m² of green space.
We offer rooms for 2 to 9 people.


---
CATERING
---
 In our extensively equipped kitchen and dining room you can share experiences of the day in front of a hot plate with spectacular views.


SURF COURSE AND ACTIVITIES
---
SURF COURSE DETAILS
---
The « La Salbaje » school has been established and working since 2004 and its teachers are local people, who know about the land and are qualified by the Surf Federation. Some of them have a long tradition of worldwide competition. The surf classes are divided by level and age. It doesn't matter if you already have surf experience nor if it's your first time, the classes will adapt to you.


---
OTHER ACTIVITIES
---
Our camp will make you immerse into the amazing world of surf. 
In addition to surf, you will also be able to enjoy yoga classes, skate and/or longboard guided tours, classes to initiate yourself to rock climbing, archery, bike excursions.. everything for you to have unforgettable days of leisure and entertainment ! Besides all of this, you will be able to have great fun at our theme parties.


MORE INFO, HOW TO GET THERE & FAQ
---
SURF CONDITIONS
---
Uribe Kosta
Uribe Kosta contains some famous beaches as the Barinatxe "La Salbaje" one, Sopelana, Meñakoz, and Barrika.
The Uribe Kosta zone has been the cradle of renown surfers and skaters for more than thirty years.
It's a place where these sports are acknowledge as a way of living.
Because it didn't suffered from the urbanization some other places of the peninsula have experienced, and because of its lack of hotel infrastructures (around 3 hostels for 6 beaches), you will be able to enjoy a major city services, while being in a littoral landscape remained unspoilt.
Seasonal conditions
The summer temperatures are high but moderated. In this period the average temperature is 20°, with cool nights and hot days.


---
SURROUNDINGS / REGION
---
Bilbao
A little bit further than 1km from our surfcamp is the metro station that will take you directly to Bilbao.
It is a cosmopolite city well known for its Guggenheim Museum, its gastronomy and also its old/historic quarter.
The Basque Country
The Basque Country has been established by the prestigious Lonely Planet travelling guide as one of the 5 best places on earth to visit. It is famous for its gastronomy, its landscapes, its summer parties and the kindness of the local people.
25 minutes away from our camp is the village of Mundaka which is remarkable for its wolrwide famous wave and the city of San Sebastian, with its promenades, beaches, and old quarter is one hour away.
Getxo 6,9km
The airport is located 15km away
Bilbao is situated at 19km away
Zarautz 96km
San Sebastian is situated 114km away


---
JOURNEY
---
Ways to get to the camp
Taxi
Distance to the airport: 15.1 km (A taxi can cost you about 20 €)

Public Transport
Once you arrive at the airport in Bilbao (Loiu) take the local bus company A-3247 Bizkaibus line that connects to the city center. Lower Moyua Square stop once there go to the Metro stop Moyua Square (a few meters from the bus stop). Take Metro Line 1 plentzia direction and get off at metro for Urduliz. From there the house is 1.4 km. If you decide to walk in the direction you need to go down the street to City Hall Gotzon Aita, once you reach the council continued to meet about 10 meters with an intersection, continue to the right down the street Elortza, about 100 meters`ll come to a roundabout and you must continue straight along this street about 100 meters further to the right to meet with the street Elortza Auzoa. You go up that street 50 meters and you found Moana right.


PACKAGES & PRICES
---
PACKAGE A - ADULT SURF - from 530€ / WEEK
---
This package includes:

- 7 days of surfing
- 6 nights of accommodation
- Full board service
- 14 hours of surf classes
- 6 hours of skate/longboard classes
- Extra activities (archery, bulder, heated swimming pool, summer open air cinema, yoga classes, ping pong)
- Transfer from the airport, the bus station and the train station.
- DVD with pictures and videos of the camp
- Insurance
from monday to sunday:
Spring Break  595€ HIGH SEASON
May              530€
June             595€ HIGH SEASON
July               595€ HIGH SEASON
August          595€ HIGH SEASON
September    595€ HIGH SEASON

October        530€


---
PACKAGE B - KIDS SURF - from 590€
---
This package includes:

- 8 days of surfing
- 24H ward
- 7 nights of accommodation
- Full board service
- 14 hours of surf classes
- 8 hours of skate or longboard classes
- Extra activities (archery, bulder, heated swimming pool, summer open air cinema, yoga classes, ping pong)
- Transfer from the airport, the bus station and the train station.
- DVD with pictures and videos of the camp
- Insurance

from monday to monday:
Spring Break  690€ HIGH SEASON
May              590€
June             690€ HIGH SEASON
July              690€ HIGH SEASON
August         690€ HIGH SEASON
September   690€ HIGH SEASON
October       590€