ABOUT THE SURF CAMP
---
LOCATION AND SURF CONDITIONS
---
We are loctated beach front in Playa Tamarindo. This bay is one of the best places to learn how to surf. The accommodations are just behind our shop. The conditions in Tamarindo are good all year round but, if you are looking for bigger and hollow waves by 10´to 20´driving you can find great spots like Playa Grande, Playa Avellanas, Playa Negra etc.
Tamarindo is the most convenient of all Costa Rican beach towns a number of banks, a large supermarket, car rental companies, internet cafes, coffee shops, a gymnasium, restaurants, disco, live music, etc.


---
CAMP CHARACTER
---
The camp is open for all people that want to learn how to surf in a great atmosphere. We manage group up to 5 young/adult students per instructor. We do family camp too where instruction will be based in ages kids.
Lessons are given every day. Is a two hours instruction and then you can keep the board the entire day to keep practicing. The last day of the course we bring you to Playa Avellanas for your graduation day 


---
CAMP OPERATOR
---
My name is Martín, I am a 43 years old surfer. I have lived in Hawaii and California before and now I have 11 years living in Costa Rica into the Guanacaste area. I am running my second surf shop and surf camp located in Playa Tamarindo. 


ACCOMMODATION AND CATERING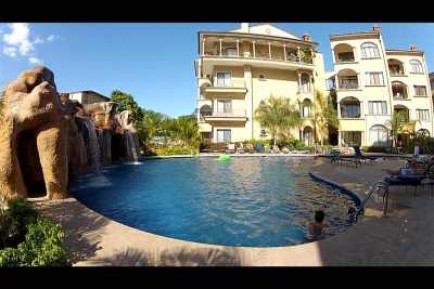 ---
ACCOMMODATION TYPES
---
Beach Front Condos
2 or 3 bedrooms accommodation
WIFI
Cable
TV
A/C
Swimming Pool
Cleaning Service
24hs Security
Fully Equipped Kitchen
Ocean view upon availability
---
CATERING
---
The condos have a full kitchen to cook your favorites meals. You can find several supermarkets on a walking distance. On the other hand since Tamarindo is a very cosmopolitan town there are restaurants from all over the world where you can taste the most delicious dishes.


SURF COURSE AND ACTIVITIES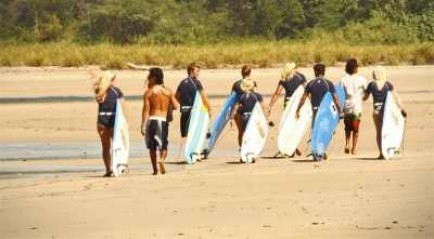 ---
SURF COURSE DETAILS
---
Courses are given for beginners and intermedia levels. Lessons last 2 hours every day. Group size is 5:1 instructor ratio. Then you can use our extense surfboard fleet to keep practicing.


---
SURF MATERIALS
---
All gear and equippment are provided by the surf camp. You don´t need to bring anything just your sunscreen and towell. We use softops for Lessons. Then if you want to keep practicing we give you fiberglass, tuflite, expoxy boards. Uses of the boards are free if you are doing the course with us. 


---
OTHER ACTIVITIES
---
Included into the course in our surf camp you can choose two activities in between:
canopy tour -  snorkeling to captain island - estuary river boat -  atv tour -  horseback riding -  yoga -  massage -  sailing sunset tour


MORE INFO, HOW TO GET THERE & FAQ
---
SURF CONDITIONS
---
Breaks directly at the main spot and at nearby spots
In Tamarindo there are 2 types of breaks: beach breaks, reef breaks. 
Seasonal conditions
Costa Rica has a tropical weather all year round.
Dry Season: from november thru april. Temperature goes from 30 to 35 celcious degrees. Only in January/february some times the water gets cold because of the trade winds.
Wet Season: from may thru october. Temperature goes from 25 to 30 celcious degrees.
Crowd factor and local people
no problems with local people.


---
SURROUNDINGS / REGION
---
Characterization of surroundings/region
Playa Tamarindo in Costa Rica is home to a gorgeous white sandy beach. Many visitors choose to visit Tamarindo to learn to surf as the waves are ideal for beginner surfers as well as for intermediate surfers.
There are also many activities to do like scuba diving, deep sea fishing, sailing, bicycling, and horseback riding among and others; and a great selection of restaurants form all over the world.
Tamarindo is the most convenient of all Costa Rican beach towns a number of banks, a large supermarket, car rental companies, internet cafes, coffee shops, a gymnasium, etc.
There is an international airport in Liberia which is an hour drive long to Playa Tamarindo and also a regional airport in Tamarindo.
Currency is colon $1 = C$ 500
---
JOURNEY
---
Ways to get to the camp
The best way is fly to Liberia airport in Guanacaste. From the airport is 1 hour driving to Playa Tamarindo. On the other hand if you fligth to the capital San Jose you can have a shuttle transportation that takes like 5 hours to arrive to Playa Tamarindo or take a custom fligth that last 40 minutes to Tamarindo airport wich is 5´from Tamarindo town.


PACKAGES & PRICES
---
PACKAGE A - from 1,420 dollars per Week / Person
---
Surf Lessons Package
7 nights accommodation in our Condo
Daily, private 2 hour surf lessons
Surf tour to a local beach on your "graduation day"
Private, round trip airport transfer (Liberia Airport) any day of the week
Unlimited use of our extensive surfboard fleet
Choice of two activities: canopy tour, snorkeling, estuary river boat, atv tour, orseback, yoga, massage, sailing sunset tour
Full concierge service for local restaurants, nightlife, tours and information
Photography session
---
PACKAGE B - from 1,420 dollars  per Week / Person
---
Surf Tour Package
7 nights accommodation in our Condo
Daily, privately guided surf tours to a local break
All day boat trip to the famous Witch's Rock and Ollie's Point
Private, round trip airport transfer (Liberia Airport) any day of the week
Unlimited use of our extensive surfboard fleet
Full concierge service for local restaurants, nightlife, tours and information
Photography session
---
PACKAGE C - from 1,420 dollars per Week / Person
---
Surf Lesson / SUP tour package
7 nights accommodation in our Condo
Daily, private 2 hour surf or SUP lesson
3 surf tours to local beaches with your personal guide/instuctor
Private, round trip airport transfer (Liberia Airport) any day of the week
Unlimited use of our extensive surfboard fleet
Choice of two activities: canopy tour, snorkeling, estuary river boat, atv tour, horseback, yoga, massage, sailing sunset tour
Full concierge service for local restaurants, nightlife, tours and information
Surfing Photography session