ABOUT THE SURF CAMP
ACCOMMODATION AND CATERING
---
ACCOMMODATION TYPES
---
SURF HOUSE
A sweet combination between sports, nature, stylish and comfort. The Surf House is a colorful hostel near by beach (walking distance 80m). If you want adventure, fun, surf and a lovely staff, this is the right place to stay!!
The Surf House have 6 bedrooms, 2 suite and 4 shared bathroom. some rooms with 4 beds and some with 6 beds ; and 2 open space capacity for 8 persons . Ideal for big groups , small groups and solo travelers. All rooms with wifi and cable tv.
Two large and sophisticated kitchen, with all equipment.
Self service breakfast system.
The guests can enjoy and share the same sociable moments in the sitting room our in the attic, with tv ;wifi and snooker. Possibility of transport to the beach, or rent a bike.
Staff available on the phone during 24 hours.


Private Accommodation
You get accomodated in a room for two persons in an apartment with 2 rooms (máx. 4 persons) .
SURF COURSE AND ACTIVITIES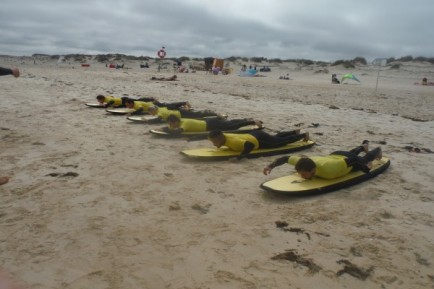 Why us?
From beginner to advanced users we can provide you the best experience in surf classes.

We offer:
- certified surf instructors
- transfer from the camp to the beach
- epoxy board and surf suit for all days
- free transfer from/to Peniche bus station
- surf insurance
PACKAGES & PRICES
---
PACKAGE A -ONLY ACCOMMODATION - from 87 € per Week / Person
---
This package includes:
- surf boards
- accommodation in surf house (less than 80m from the beach) including A/C, Laisure room, breakfast, TV and WiFi
- transfer from the camp to the beach
- epoxy board and surf suit for all days
- free transfer from/ to Peniche bus station
- surf insurance
Prices: - November- March: 87 € per week/ person
           - April- October: 100 € per week/ person
     
---
PACKAGE B - ACCOMMODATION AND CLASSES - from 250 € per Week / Person
---
This package includes:
- classes and accommodation in surf house
- accommodation (less than 80m from the beach) includes A/C, Laisure room, breakfast, TV and WiFi
- transfer from the camp to the beach
- epoxy board and surf suit for all days
- free transfer from/ to Peniche bus station
- surf insurance
Prices: - November- March: 250 €
            - April- October: 350 €
            
---
PACKAGE C - PRIVATE ACCOMMODATION - from 290 € per Week / Person
---
This package includes:
- surf lessons and accommodation in a room for two persons in an apartment with 2 rooms (máx. 4 persons)
- accommodation includes A/C, Laisure room, breakfast, TV and WiFi
- transfer from the camp to the beach
- epoxy board and surf suit for all days
- free transfer from/ to Peniche bus station
- surf insurance
Prices: - November- March: 290 €
            - April, May, June, October: 390 €
            - July- September: 450 €
---
PACKAGE D - JUST SURF CLASSES - from 115 € per Week / Person
---
This package includes:
- the best surf lessons (5 days)
- certified surf instructors
- transfer from the camp to the beach
- epoxy board and surf suit for all days
- free transfer from/ to Peniche bus station
- surf insurance
Prices: - all the year: 115 €