ABOUT THE SURF CAMP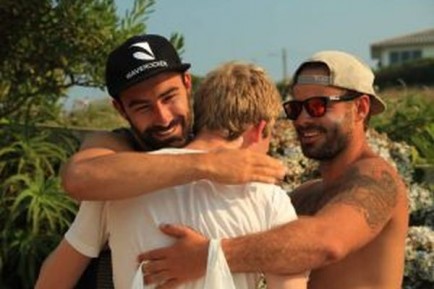 ---
LOCATION AND SURF CONDITIONS
---
Nordes Surhouse can be found in one of the area's most iconic and historical houses.
Villa Elita is part of the patrimony of the local village and one of the first houses ever built in the small town of Cobas. From the house, you will have views of the ocean and spectacular evening sunsets. The premise itself offers ample living space which makes it great for people who prefer privacy as well as those who want to hang out with all the rest in the common areas. If you want to grab a hammock and or practice yoga outside, we have a huge backyard, filled with all types of apple, fig and pear trees, in addition to our barbecue area where once a week we grill churrasco (Galician barbecue).
Nordes Surfhouse, will be your perfect home base to discover and experience all the endless possibilities this little paradise has to offer. Come and share our little slice of heaven!
---
CAMP CHARACTER
---
We are a small operation and happy to keep it that way, the house accommodates up to 12 people guaranteeing an intimate atmosphere and the highest quality surf instruction, apart from all the other activities one can enjoy. We can't wait to share this magical land with you.
---
CAMP OPERATOR
---
Manu has surfed swells from Morocco to England and has been to world famous spots like the Algarve, Hoossegor and Indonesia. From then on, he knew he wanted to share his passion with others and has been working as a surf coach in Morocco, Cadiz and Galicia for the past 4 years.

Adri has surfed breaks in California, up and down the U.S. Coast East, Costa Rica (Pura Vida!) and of course Galicia! This guy is all about the nose ride and having a ton of laughs. Adri started working with Waverocker last year and is a great surf teacher because of his deep knowledge and understanding of the local spots and waves.
ACCOMMODATION AND CATERING
---
ACCOMMODATION TYPES
---
Dorm Santa Comba
- Two bunkbeds (4 Single size beds total)
- Ocean Views
- Dresser for storage
- Individual lockers for personal belongings
- Room fitted with a lock

Double Room Ponzos
- Queen size bed
- Closet and large dresser for storage
- Private access separate for the rest of the living quarters
- Private access to terrace
- Room fitted a with lock

Double Room Sartaña
- Two full size beds
- Closet and dresser for storage
- Room fitted with a lock
- Reduced pricing (Check out prices section)

Double Room Esmelle
- Queen size bed
- Ocean view
- Roomy closet with hangers
- Reading area
- Room fitted with a lock


Common Areas
The common areas are for guest use where you can hang out and enjoy the Surfhouse.

They include the following:

- 2 Kitchens (1 upstairs & 1 downstairs)
- Living & dinning rooms
- 2 Terraces
- Surfboard room (for renting or storing personal surfboards)
- Garden
---
CATERING
---
 - breakfast is bookable
SURF COURSE AND ACTIVITIES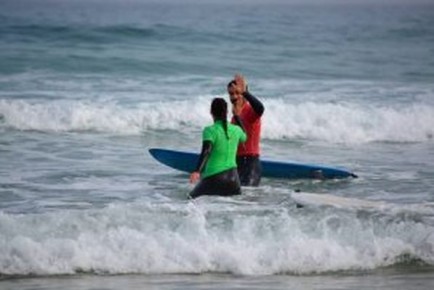 ---
SURF COURSE DETAILS
---
Come one come all. Regardless if you have come to catch your first wave or have spent the last years ripping pipeline, we welcome and cater to all levels of surfers, beginners, intermediate and advance. What's more is that our little paradise offers more than 10 surf spots all within a 20km radius.
Our philosophy focuses on providing our students with the best wave for their skill level as well as a continued focus on personal development through thorough feedback and analysis. Unlike many other surf schools, we always set our class based on the tides and conditions to give you the very best experience.
Moreover, you will be coached by some of the best instructors this area has to offer, having surfed some of the coolest breaks all over the world, these guys have a ton of experience in teaching and coaching, immense knowledge of all the local beaches and most importantly you will always be able to share some laughs with these dudes.
So come on you guys, lets hit those waves!!!

Course includes:
- 5 day (20hrs) 3 day ­(12hrs) or 1 day (3hrs)
- Practical instruction and feedback by ISA certified instructors
- Transportation to and from beach
- Video analysis and photo shoot (5 day & 3 day course only)
- Wetsuit and surfboard

Prices:

Surfcourse
Price
5 day (includes material, theory & video analysis)
239 €
3 days (includes material,
theory & video analysis)
189 €
1 day
69 €
---
SURF MATERIALS
---
| | | |
| --- | --- | --- |
| Rental | Per day | Per week |
| Surfboard | 19 € | 99 € |
| Wetsuit | 9 € | 39 € |
---
OTHER ACTIVITIES
<
---
| | |
| --- | --- |
| Transfer | Price |
| Transfer to Ferrol | 12 € |
| Dinner in Ferrol(round trip) | 12 € |
| Santiago/A Coruña | 109€/89€ |
| | | |
| --- | --- | --- |
| Rental | Per day | Per week |
| Mountainbike | 15 € | 75 € |
MORE INFO, HOW TO GET THERE & FAQ
---
 SURF CONDITIONS
---
An adventure awaits! With over 10 breaks within a 20km radius, you´ll have options from fast pitted waves & barrels, to chill out rides for the longboard, a protected bay famous for windsurf & kitesurf, all of course surrounded by the most beautiful scenery. For all likes and for all dislikes we have everything you need here in our little paradise. Surfs up!
---
 SURROUNDINGS / REGION
---
Right on the main street, it is within reach of all the local bars, restaurants and supermarkets, not to mention over 10 beach destinations.
The town of Cobas, is a short 10km from the city of Ferrol, which offers an assortment of high quality restaurants, a shopping district and an exciting night life. You are also in reach of cities like A Coruña, Santiago de Compostela and an array enchanting small fishing villages.
PACKAGES & PRICES
---
Surf & Stay Package  - from 329 € per Week / Person
---
This package includes:

- 7 Night discounted accommodation
- 5 Day surf course (theory lessons, analysis & transport to and from beach)
- Free use of surf material after course
- Transfer to dinner in Ferrol
- Arrival & departure transfer to & from Ferrol
- Breakfast service for an additonal 69€/per week


| | | |
| --- | --- | --- |
|   | High Season | Low Season |
| Double | 429 € | 369 € |
| Twin | 399 € | 349 € |
| Dorm | 369 € | 329 € |
High season 02.07 – 26.08
Low Season 01.05 – 01.07 & 27.08 -31.10

Sundays are arrival and departure dates, if you would like to arrive/depart on another day please contact us.

All prices are per person if not indicated otherwise.

5% discount for returning clients (same season), extension weeks & university students.
---
Prices for accomodation per week
---
| | | |
| --- | --- | --- |
|   | High Season | Low Season |
| Double | 199 € | 149 € |
| Twin | 179 € | 129 € |
| Dorm | 139 € | 99 € |