ABOUT THE SURF CAMP
Both surf instructors in the camp are certified:
Mathieu Babarit
6-time waterski worldchampion
former member of the french team

www.mathieubabarit.com

Caroline Angibaud
vice world champion 2014
french champion 2012, 2013 and 2014
part of the french team
8-time waterski worldchampion

ACCOMMODATION AND CATERING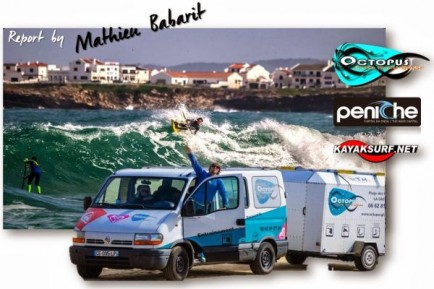 ---
Octopus House
---
house near a forest and the beach
two rooms, five beds - for six people
big garden, wooden terrace, trampoline and a lot more
BBQ, ideal for family holidays

detailed information: www.airbnb.fr/rooms/4577679
SURF COURSE AND ACTIVITIES
---
SURF
---
Glide on a board, which is made out of material that is adapted to all levels. This means we offer boards designed for beginners as well as for pros.
---
BODYBOARD
---
Glide on a sot bodyboard, which is ideal to develop a feeling for the waves - and it is even possible if you are still a child!
---
WAVESKI
---
Glide on waterski and surf the waves. Our waterski are very stable and allow you to surf the waves from the very beginning! This activity is performed with the world champions Caroline Angibaud and Mathieu Babarit.
---
KNEEBOARD
---
Slide on your knees on the board and surf the waves finned or without flippers. In addition to the spectacular view, the beginning is a lot easier than surfing and the sensations are merely the same! 
---
STAND UP PADDLE SURF
---
Glide on a board and surf the waves by using the help of a paddle. The new in-discipline of surfing (since 2007 by Octopus) allows you to surf the waves as quickly as possible.
---
STAND UP PADDLE BALADE
---
Glide on a board and surf the calm sea by using the help of a paddle. Our school octoSUP provides diverse possibilities: www.ecoledestanduppaddle.fr
MORE INFO, HOW TO GET THERE & FAQ
-
PACKAGES & PRICES
---
Only accommodation
---
The Octopus house can be rent for 50€ per night.
---
Surf / bodyboard / kneeboard
---
group course "Prawns" only for 6- to 10-year-old: 

1 unit 1h discovery ................................................. 25€ 
3 unit 1h mini practice ................................................70€ 
5 unit 1h prawn practice .......................................100€


group course adults: 

1 unit 1h30 discovery .............................................32€
3 unit 1h30 mini practice ............................................ 85€ 
5 unit 1h30 passion practice .....................................135€   


private course:

1 unit 1h one person .................................... 50€
1 unit 1h two people ..................................... 80€ 



---
Stand Up Paddle surf / Waveski surfing
---
group course adults:   

1 unit 1h30 discovery .............................................40€ 
3 units 1h30 mini practice .......................................... 110€
5 units 1h30 passion practice .....................................185€   

The price includes: board, wetsuit and assurance during the course