ABOUT THE SURF CAMP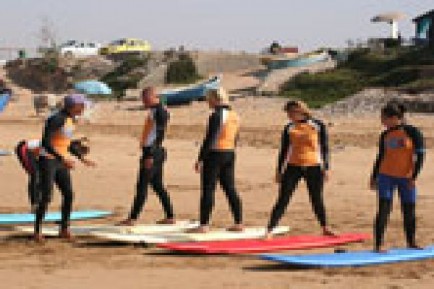 ---
LOCATION AND SURF CONDITIONS

---
The Original Surf Morocco is located in Tamraght which is a village 14km north from Agadir city and 2km south from Taghazout village. Tamraght (or banana village) area is known for its great waves and beautiful natural sandy beaches with more than 300 days of sun a year. The surf house offers an ocean view and is directly at the beach. Right in the town center you can find cafes, restaurants and bars.

In total there are 11 surf spots close to the camp. Banana Beach and Devil`s Rock are just in 5 minute walking distance and perfect for beginners or a relaxing day at the beach. The next four spots are between a 5 minute and 20 minute car drive and offer great waves for mostly any level. The last five spots are between a 25 minute and 45 minute car drive. Each surf spot is great with a different character and valuable to try.
With so many beautiful surf spots to choose from, you will be taken to the best location to learn surfing on the day.


---
CAMP CHARACTER

---
The atmosphere of the Original Surf Morocco will be similar to family one living together in one house and eating together. All age groups as well as beginners, intermediates or advanced are welcome to stay at the surf camp and improve their surfing skills with the friendly and qualified surf instructors. Still Original Surf guests need to be over 7 years old as there are no child care facilities.  
It is the individual decision what the guest wants to do after a day of surfing. It is easy to just relax at the house read, play billiard or go on the internet but also it is possible to go to town to enjoy a nice evening out and do some of the activities available in the Tamraght village (like Massage, Quad, Buggy, Horse and Camel riding). Moreover there are nightlife options as well.


ACCOMMODATION AND CATERING
---
ACCOMMODATION TYPES

---
The authentic Moroccan fully equipped surf house is located in a quiet Moroccan village with walking distance to the closest surf spots. The house in Berber and Moroccan style is equipped with a kitchen, a big living room, a garden and a terrace with a great ocean view. Additionally there is a satellite TV, DVD reader and free WIFI internet access as well. It can be decided between single, double or shared rooms in order to guarantee for everyone a great experience.


---
CATERING

---
Staying at the Original Surf accommodation breakfast, packed lunch on the beach and dinner are included. After a hard day of surfing the surf camp cook prepares daily the following typical Moroccan dishes:
-Chicken tajine with lemon and olives
-Chicken tajine with almonds and hard-boiled eggs
-Seven vegetables couscous
-Lamb tajine with dates and almonds
-Lamb tajine with figs and nuts
-Chicken or lamb couscous
Additionally there is also a kitchen in the house in case you rather want to cook for yourself or whenever you get hungry. The shops in the city are close by and there is also the possibility to go to cafes or restaurants which are offering Moroccan food but also European food if preferred.


SURF COURSE AND ACTIVITIES
---
SURF COURSE DETAILS
---
Original Surf offers group and private lessons in a great environment to learn a great sport. The instructors are friendly and qualified and will estimate your skills levels and keep an eye on your training, advising or correcting whatever is necessary to develop your surf skills. You will learn how to analyse your surf spot, kind of boards, push-ups and catching unbroken waves. Of course it depends whether you are a beginner or already advanced as you can choose between coaching packages or guiding packages. Still you are always being supervised by the instructors. Surf equipment is always included as well as transportation the the different surf spots every day. The total duration of the course is usually 6 days while surf lessons take 4 to 5 hours a day. Moreover it is also possible to participate in the surfing lessons with having an own accommodation or just renting surf equipment. Packed lunch on the beach is also included.


---
SURF MATERIAL

---
For the surf lessons Original Surf provides the surfers with a surfboard and a wet suit. It is also possible to just rent a surfboard, bodyboard and/or wet suit for just a few hours or a week for a rental fee.


---
OTHER ACTIVITIES

---
For people who do not take part in a surf course the rental fee for a surfboard is: 1 Day: 10€, 1 Week: 60€; for a wetsuit: 1 Day: 5€, 1 Week: 30€ and for a bodyboard: 1 Day: 8€, 1 Week: 40€.


MORE INFO, HOW TO GET THERE & FAQ
---
SURF CONDITIONS 
---
Seasonal conditions

Agadir is a sheltered beach break that does not work very often. Winter is the optimum time of year for surfing here. The best wind direction is from the northeast. Tends to receive distant groundswells and the ideal swell direction is from the northwest. Waves at the beach break both left and right. 
Crowd factor and local people
As there are a lot of different surf spots there are more than enough for everyone. It depends which one you choose it can be crowded but there also enough really quiet and relaxed places, perfect for beginners.


---
SURROUNDINGS / REGION 
---
 Characterization of surroundings/region
The Original Surf Morocco in Agadir, Morocco is located in Tamraght, a village 14km to the north of Agadir city and 2 km far from south of Taghazout village. Tamraght (or banana village) area is known for its great waves and beautiful natural sandy beaches. 

The most beautiful beaches in Morocco are: North of Agadir entourage Taghazout village. There are dozens of clean and great beaches and also smaller ones along the coasts Agadir-Essaouira. For example: Agadir beach, Tamaounza (12km), Aitswal-Beach or Devil`s Rock-Beach, Imouran(14km), Taghazout (19km), Bouyirdn( 20km), Timzguida 3lal (22km), Aghroud (30km), Imiouadar(27km),Aghroud (30km).
Activities and facilities
After a surf day, the town has plenty of "Action" to offer: cafes, fantastic restaurants offering a choice of Moroccan and European food and night life options too. Other activities are also available upon request: Massage, QUAD and Buggy, Horse and Camel Riding as well as city tours in Agadir.


---
JOURNEY 
---
Ways to get to the camp
Included in the package there is an airport or bus transfer to the surf camp and also back to the airport. The distance to the airport is 40km.
If you do not live in the surf house you get picked up and dropped off at your hotel for the surf course or surf lessons.
Important details

Visas are not required for European passports. Visitors are allowed to stay in Morocco for 90 days on entering. these people can claim for a three-month, individual-entry visa. In all cases, your passport must be legal for at least six months beyond your date of entry.

Original Surf Morocco accepts no responsibility for damage, theft or loss to persons. all our guests should be covered by their own travel insurence.


PACKAGES & PRICES
---
PACKAGE A - SURF COACHING PACKAGE - 400€ / WEEK
---
 This offer includes:
-7 Nights` accommodation
-All meals: breakfast, packed lunch on the beach and dinner
-Airport or Bus transfer: pick up and drop off ( Agadir area)
-Free WIFI
-Surf equipment( surf board + wetsuit)
-Qualified surf instructors
-6 days surf lessons (4-5 hours a day)
-Transportation to the surf spots every day
-Shower towel
-Full supervision


---
PACKAGE B - SURF GUIDING PACKAGE - 400€ / WEEK
---
 This offer includes:
-7 Nights' accommodation
-All meals included (breakfast, packed lunch on the beach and dinner)
-Transfer to and from the airport or bus station (region Agadir)
-6 days surf lessons (4-5 hours a day) - qualified instructor
-Transportation to the surf spots every day
-Full supervision


---
ONLY SURF COURSE A - DAILY SURF LESSONS - 230€ / WEEK 

---
This offer includes:

-No accommodation
-Transfers to and from the hotel (Agadir)
-Surf lessons (qualified surf coaches)
-Surf equipment (surf board + wet suit)
-Packed lunch


---
ONLY SURF COURSE B - DAILY SURF GUIDING - 220€ / WEEK
---
This offer includes:

-No accommodation
-Transfers to and from the hotel (Agadir)
-Local guide for surf guiding
-Surf equipment (surf board + wet suit)
-Packed lunch