ABOUT THE SURF CAMP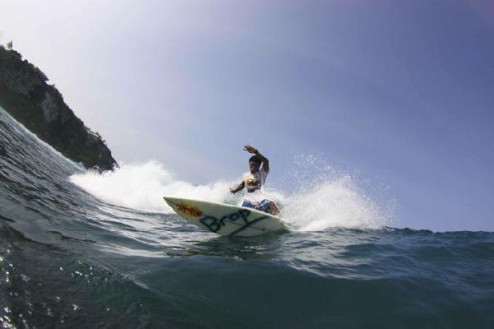 ---
LOCATION AND SURF CONDITIONS
---
Do you want to surf the best waves bali has to offer, while staying in comfortable accommodation with other traveling surfers? Look no further - you have found the best bali surfing camp, run by surfers for surfers. We offer surf guiding for experienced surfers, or surf lessons for beginner / novices.

Padang Padang Bali Surf Camp is architect designed and newly built. Located near the balinese pipeline, there are a variety of breaks nearby suitable for surfers of all standards - from beginners to professionals. Uluwatu, Padang Padang, Impossibles, Bingin, Dreamland and Balangan are all easily accessible from the centrally located Padang Padang Surf Camp.

Bali is the premier surf destination and this is the premier Bali Surf Camp and Surf School.

Padang Padang Surf Camp is not an ordinary resort. We get consistent waves year round. When the west coast of the Bukit is onshore we are in easy reach of the east coast. Always surf. Always offshore. Due to the variety of breaks, we can find waves appropriate for you whether this is riding triple overhead outside corners at Uluwatu, or waist high beach break for beginners and learning surfers.


---
CAMP OPERATOR
---
Western managed by experienced surfers, the camp has top local Balinese surfers who will guide you to the best breaks. We have expert local knowledge that allows us to take into account TIDES, WIND, SWELL to find the best quality waves on the Bukit peninsula.



ACCOMMODATION AND CATERING
---
ACCOMMODATION TYPES
---
Balian Beach Villa Rental
Beach, river and mountain view villa located directly in front of the peak at Balian which is one of the most consistent surf breaks in Bali. Newly built to very high specifications this is a luxury 3 bedroom surf villa and has the very best location in Balian with very easy access to the surf break. In addition to the 3 bedroom luxury villa, there is a 1 bedroom guest house giving a total of 4 bedrooms which can comfortably accommodate 8 people. To rent both houses costs £265/night and gives you perfect access to the surf break and river. This is the best accommodation in Balian and has excellent access to the surfing beach and balian river.

Do you want a comfortable, secure surf villa in bali set in a quiet location near the beach? We are 20 metres walking distance from the super consistent A frame peak of Balian. This wave breaks both left and right and offers fun long rides. 100 metres up the beach there is an excellent right hander that is always smaller than the A frame peak. Medewi is a 20 metre drive away and offers soft mellow waves with very long rides.

Within a walled 2,000M2 garden we have a luxury 3 bedroom villa and 1 bedroom guest house. Both houses have excellent beach, river and mountain views. Easy walking distance to the famous Balian surf break which is right in front of the 3 bedroom villa. Balian has some excellent restaurants and is a renown yoga location.

Upstairs the main villa has a master bedroom with sea and river views and a TV/lounge room which has great view of the river and mountains. Downstairs one of the bedrooms looks directly at the surf break while the other bedroom has views of the swimming pool. There is a fully equipped kitchen, dining room and lounge downstairs which has excellent sea and river views.

The guest house also has sea views and is located directly in front of the beautiful balian river. The guest house is finished to the same exacting standards as the main villa and can be rented seperately or with the main villa. Both houses offer excellent accommodation finished to a very high standard.

Facilities include a 10 metre * 4 metre swimming pool and outside cocktail bar.

All 4 Bedrooms are ensuite with hot water and and air conditioned. 60" tv with surround sound system.

Balian is possibly the most consistent surf break in Bali and is perfect for intermediate surfers as breaks left and right quite softly. Balian is famous for yoga and we can arrange both surf lessons and yoga classes. Our Villa in Balian is operated independently of the surf camp which is located in Padang Padang.


---
CATERING
---
Surf camp packages include 2 meals a day



SURF COURSE AND ACTIVITIES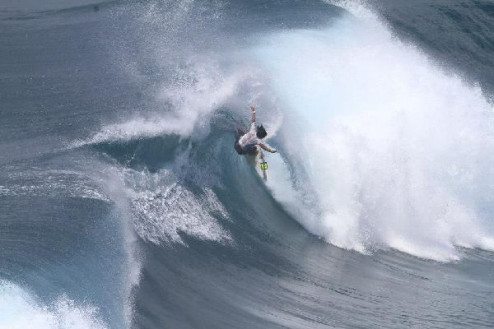 ---
SURF COURSE DETAILS
---
For those who have always wanted to try surfing, bali has very consistent surf and weather. The surf instructors will choose the best location according to your ability. The lesson begin on the beach, with the instructor advising on how to handle the board, paddle out, catch waves and stand up. All our instructors have surfed Bali since they were children and are qualified to Australian surfing instructor standards. They are experts on choosing the best time and location to surf.

No wetsuit is required as the water temperature is warm year round. You can bring your own surfboard or we will provide an appropriate sized board from the surf school. We cater for all standards of surfer from beginner to advanced.

You can arrange to have surfing lessons as part of a small group or have individual surfing instruction. The maximum group size per instructor is only 4 persons but to maximise the potential for improvement you can request one on one tuition by a balinese surfing tutor. Depending on your age and general level of fitness, we recommend you spend at least 2 hours surfing every day of your vacation, to maximise the potential for improvement.


Padang Padang surf camp opened the first surf school on the bukit. Most surfing lessons are at Dreamland or Padang Padang beach which are beautiful location to spend the day - white sand and clear blue sea. Other locations nearby such as Uluwatu and Balangan will be chosen depending on your ability and the conditions on the day. Our objective is to find the best surfing conditions so you have the maximum enjoyment riding the bali surf.

If you have never surfed before, then the first surfing lesson will include instruction on the basic theory of surfing. Our internationally qualified surfing instructors will teach you the correct technique to jump up on the board, how to select waves, how to paddle and catch waves, and how to ride the waves. As your surfing progresses the instructors will advise you how to turn the board, accelerate and proper techniques to progress to the next level of surfing. The instruction will be address your specific ability irrespective of whether you are a complete beginner, intermediate or advanced.

We also do theory classes at the surf camp and regular photo review sessions where we analyse your surfing photos and advise on the correct technique.

Bali surf school Surf lessons by balinese professional surfer, can be arranged for you individually or with your friends. For more advanced surfers we have specialist instructors who can teach you how to ride the barrel (tube) which is the ultimate surfing experience.

Please note that while Bali is rarely too small to surf, we sometimes get surf that is too big on the bukit for novice surfers. When the surf is too big at Padang Padang and Dreamland we will drive you to either Jimbaran bay (approx 20 mins) or Kuta beach (approx 40 mins). Alternative options are to visit the rice paddies at Ubud (breathtakingly beautiful scenery), Uluwatu temple (cultural highlight) or shopping. If the surf is very small, snorkelling and swimming are great in this area.



---
OTHER ACTIVITIES
---
We offer daily yoga classes at the surf camp and massages are available on request.
MORE INFO, HOW TO GET THERE & FAQ
---
SURF CONDITIONS
---
Breaks directly at the main spot and at nearby spots

We are located in an area, which is well known for its very consistent quality surf. There are a wide variety of breaks including reef, point and beach. Breaks within walking distance of the camp include Bingin (perfect barrel), Impossibles (long screaming rides), Dreamland (perfect A frame left & rights) and Padang Padang (Balinese pipeline). An easy 10 minute drive gets you to world famous Uluwatu or the more mellow Balangan. Within 20 minutes from the camp are various classic right handers including Nyang-Nyang, Green Balls, Nusa Dua & Sri Lanka. There are also many other waves in the area: Kuta beach, Kuta reef, Airport left & rights, Sanur reef, Ketewel, Serangan, Pandawa, Keramas & a few more we probably shouldn't mention. If we take you, you have to swear not to tell a soul!
Uluwatu
Uluwatu is the indicator break for the west side of the bukit and is very consistent. The wide reef offers many different peaks which all turn on at different tide stages. The Peak is immediately in front of you as you paddle out of the cave and is a consistent wave that works at all tide stages. Outside corners only breaks at low tide on the biggest swells and is a classic wave. Racetrack is a fast racy wave that works best at low tide. Temples is a bit of a paddle from the main peak so tends to be less busy. The bombie will break on the biggest swells and is rideable at up to 20' or even bigger!

Padang Padang
Padang Padang is known as the balinese pipeline. It is a very fast long barrelling wave that lives up to it's reputation as the most serious wave in bali. Similar to Hawaii's very own pipeline, the bali pipeline also breaks over a shallow coral reef and is only for expert surfers.
Lesser known is Padang Padang rights which breaks in front of a beautiful white sandy beach. This is a very easy wave and is suitable for beginners, longboarders and intermediate surfers. This is a perfect surf spot for learner surfers to progress from riding whitewater to unbroken waves. The conditions at high tide are very forgiving - a long slow unbroken wave which can reform from whitewater to swell. It is also a beautiful location for sunbathing and watching the sunset.

Impossibles
Impossibles is a fast racy wave that is very picturesque. There are 3 seperate peaks on this wide reef which breaks up the crowds. On the right conditions with a good size swell and offshore wind it is possible for the sections to link up and to get a ride of a mile or more to the warungs at bingin.

Bingin
Bingin is a perfect machine wave that works best around mid tide. It is a very consistent wave and throws out many perfect barrels. If you want to practice barrel riding lefts - bingin could be the perfect location. At low tide it can be very shallow and for expert surfers only. At high tide the wave can break very soft and is where the bali children learn to surf. High tide can be perfect for long boarders or intermediate surfers.

Dreamland
Dreamland is a beautiful white sand beach a short walk from Impossibles & Bingin. There are many different breaks that work at different satges of the tide and is suitable for novice surfers as it breaks over sand. The best wave is an A frame peak that works best at low tide on a big swell. There is also a punchy shorebreak wave where you will see balinese and visitng surfers exhibiting their skills at the water's edge. Dreamland is a perfect location to spend the day surfing, sunbathing and handing out in the local warungs.

Balangan
Balangan is the next break on the bukit and is waking distance from dreamland. It is a reef break but has a beautiful white sand beach which is very quiet and beautiful. Balangan is a fun left hander that is not so fast as the other reef breaks on the bukit and is suitable for intermediate surfers.

Medewi
Bali's wild west coast

Seasonal conditions
We get consistent waves year round. When the west coast of the Bukit is onshore we are in easy reach of the east coast. Always surf. Always offshore.


---
SURROUNDINGS / REGION
---
Characterization of surroundings/region
Bali is predominantly Hindu. Balinese traditions and culture are breathtakingly beautiful and surround you. The Uluwatu temple dance is simply unmissable. Many other cultural and beautiful sites abound in this magical island.
Bali has a mild and agreeable tropical climate the whole year round. Average day time air temperatures is 28C°/82F° to 29C°/84F°. There is always a cooling breeze at Padang Padang Surf Camp and it is not stifling hot. The water temperatures varies between range from 27C°/81F° to 29C°/84F°. You can wear boardshorts all year.


---
JOURNEY
---
Ways to get to the camp
The closest airport is Denpasar international airport (DPS) which is 30 minutes drive from surf camp. Airport transfers are included if you stay minimum 1 week or additional cost for shorter stays. You will be met outside international arrival terminal by someone holding a sign Padang Padang Surf Camp.

Tell the driver to take you to Padang Padang which is near Uluwatu. At the village of Pecatu, before reaching Uluwatu, there is a right hand turning to Jl Labuan Sait. On the left hand side of the road Jl Labuan Sait you will see JIWA JUICE internet cafe. Continue on road. On right hand side is turn off to C151 and Padang Padang laundry. On left hand side is White Monkey surf shop and BUDDA SOUL restaurant. You will see a sign for Padang Padang Surf Camp next to Budda Soul restaurant. Follow the sign, go down the hill, cross the small bridge, go up the hill and you will see our parking area.
We are located 180 Metres behind BUDDA SOUL restaurant which is on main road Jl Labuan Sait between Bingin and Padang Padang beach.
Important details
Visitors from most countries can get a 30 day tourist visa on arrival for 25 US$. A 60 day visa is applicable if your nationality does not allow you to get a visa on arrival, or you want to stay more than 30 days.
No vaccinations are required to enter Bali, and Bali is considered safe from Malaria. Medical facilities are quite good but comprehensive travel insurance is a requirement. Consult your doctor for specific medical advice.


PACKAGES & PRICES
---
PACKAGE A - Surf Camp - from 295 £ per Week / Person
---
Western managed by experienced surfers, the camp has top local Balinese surfers who will guide you to the best breaks. We have expert local knowledge that allows us to take into account TIDES, WIND, SWELL to find the best quality waves on the Bukit peninsula. We are located within walking distance of Dreamland, Bingin, Impossibles & Padang Padang beaches.

It is our desire to share our local knowledge and Balinese hospitality with you. World famous Uluwatu with it's many peaks is only a 5 minute drive from Padang Padang Surf Camp. If you want to surf in Bali this is the very best location for variety of waves, swell size and wind options.

This package includes:
Airport Transfers - To and from the airport is included. No hassle meet and greet at the airport. The surf camp is only a 30-40 minute drive from Denpasar international airport.
Transportation - A reliable and trustworthy driver to the beach, several times per day. Daily excursions to tourist spots.
Surf Guides - To the best waves in the area, every day. Top local surfers who will help you find the best waves.
Breakfast - Fresh cut fruit & hot food are waiting for you after the morning session.
Lunch - Western & Indonesian food served at the surf camp after morning surf.
Dinner - Usually go to local restaurants. 1 free fish BBQ a week is included.
Drinks - Free flow coffee and tea. Fruit juice & soft drinks are free at meal times.
Rooms - All bedrooms are private: Standard fan, Standard air-con, Deluxe with fan or air-con or superior room with air-con.
Bathrooms - All bedrooms are private and have private en-suite bathrooms, with hot showers.
Facilities - TV/DVD player with latest movies. Tennis court. Swimming pool.
Wifi - Internet hot spot. Free broadband Wifi internet access in most areas of surf camp.
Satellite TV - International news, English language TV programs, sport & movies.
Video / Photographed sessions - Every morning we take surfing photos or video and will provide at least 2 photo/video analysis sessions per week to identify problems with your surfing technique, and propose the solution. Our photographer captures the best of the action for our daily surf report. High quality Video and Photos are free and given to you on a disc at end of your stay..


| | | | | | | |
| --- | --- | --- | --- | --- | --- | --- |
| all prices |    | Single Rooms |   |    | Double Room |   |
| per person |   | 1 week | 2 weeks |   | 1 week | 2 weeks  |
| Standard Room |   | 399 £ | 766 £ |   | 295 £ | 566 £ |
| Standard Aircon Room |   | 510 £ | 979 £ |   | 370 £ | 710 £ |
| Deluxe Room |   | 599 £ | 1150 £ |   | 430 £ | 825 £ |
| Superior Room |   | 689 £ | 1322 £ |   | 485 £ | 931 £ |
Deluxe Room - Top Floor Includes Large Open Air Lounge Furnished With Comfortable Settee, Hammock & TV/DVD
Superior Room - Top Floor of Newly Constructed Villa

We run weekly surf camp - arrive and depart on a Saturday. If your booking is a little complex or arrival/departure date is not Saturday, please contact us.

Surf lessons additional cost £23 a day including equipment. Surf lessons are mandatory for beginner/novice surfers. If not taking surf lessons, board rental £8 a day.