ABOUT THE SURF CAMP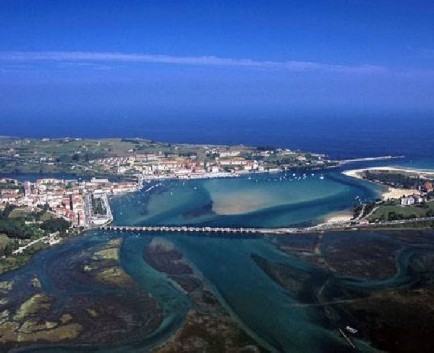 ---
LOCATION AND SURF CONDITIONS
---
As the camp is located right behind the dune, a surf check is within minutes. As soon as the surf is up, you will know about this and in the water before the rest of the surfers even know there are waves. The beach is facing a north westerly direction, perfect to pick up all the swell of the Atlantic. If there are waves in the Ocean, San Vicente will deliver!
For days when the waves might get to big at the main beach, there is a beautiful back up beach just around the corner.
The town is a beautiful old fishing village. It lays in the middle of a national park and allows fascinating views on the mountains in the distance. Also you will find everything one needs: supermarkets, shops, restaurants or bars – San Vicente de la Barquera has it all!



ACCOMMODATION AND CATERING
---
ACCOMODATION
---
The surf camp is located right behind the dunes at the main beach of San Vicente. You are accommodated in pairs in 4-person tents, where everyone has got their own cabine (sleeping bag, duvet, sleeping mat etc have to be brought).
Our camp also has got a dining tent and a material tent for all the equipment. Furthermore it offers a large party- and chill tent with beanbags and Astroturf floor. It also has a TV, DVD player and a stereo system. It is perfect to chill during the day and listen to some tunes and get ready to party at night.

In the camp you will also find a volleyball pitch, a pool table and a table tennis.
---
CATERING
---
For interested people we can offer a full board. This includes a healthy breakfast buffet with coffee, tea, milk, juice, ham, jam, cheese, cereals, fruits, vegetables etc. For lunch everyone prepares their own lunch packet. As it is important to have a good and healthy diner our in house chef will prepare something special every night, which will come with salad and desserts.



SURF COURSE AND ACTIVITIES
---
SURF COURSE DETAILS
---
The surf course is available as a 15 or 25 lesson surf course. Every lesson is 45 min long. That means during a 15 lesson course you will have one 1hour and 30min lesson every day. During the 25 lesson surf course you will have 3 hours surf lessons per day. These will be divided into two classes of 1hour and 30min each to give you the chance to rest in between lessons. Furthermore there will be theory classes at night in the camp to teach you the essentials about the Ocean, the waves and safety!
For us it is really important that all of our surf teachers are fully licensed and qualified as surf teachers and lifeguards! Also we make sure they all have plenty of experience and are very good surfers. In our team in San Vicente de la Barquera there are even 2 surfers of the German National Surf Team who compete in national and international competitions.


---
SURF MATERIALS
---
We only have top of the range surf equipment! Our surfboards are from "Quiksilver" and our wetsuits are from "Rip Curl", two of the leading brands in the surfing industry. The boards are available in all sizes, to ensure everyone finds the perfect fit!


---
OTHER ACTIVITIES
---
After nice days on the beach surfing and relaxing our friendly team will organise entertainment for the night. This may include a movie night, a volleyball tournament, flunkyball etc.



MORE INFO, HOW TO GET THERE & FAQ
---
HOW TO GET THERE
---
The two easiest ways to get to the camp is 1. by coach from Germany (bookable on our website) or 2. by car.
Another good possibility is the airport in Santander. Public transport to San Vicente is available and only takes about 30 min. The airport of Bilbao is a little further but still a good otion to make you way to the camp.
PACKAGES & PRICES
---
PACKAGE A - SURFCAMP FROM 239€ PER PERSON/WEEK
---
The surfcamp is located in San Vincente de la Barquera and is opened from the end of June until the beginning of August. Only weekly bookings are available.  
The listed prices include the following services:

- Accommodation for 2 peope in a 4-man tent for 7 to 14 days
- 10 (Surf and Chill), 20 (7 day) or 40 (14 days) hours of surfing lessons with professional coaches (speaking german, englisch and spanisch)
- Top Surfmaterial (Wetsuits, Surfbretter, Bodyboards + Accessories) which you are free to use also outside of the surfing lessons (excluded in the Surf and Chill Package)
- Other sport gear, table-tennis, Billiard and Bodyboards are available
- Various activities such as sunset-surf, dvd-evenings or beachvolleyball contests
- Outreaches to various sights or surf contests with the team
- Insurance during the surf courses
- Kurtaxe

More information on http://www.surfcamp-surfschool.com/surf-camp-vieux-boucau/