ABOUT THE SURF CAMP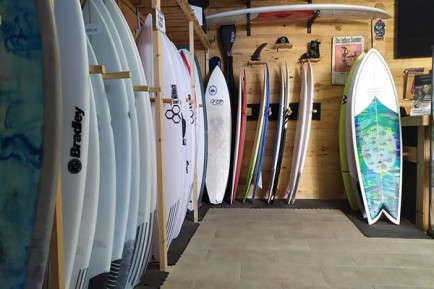 ---
LOCATION AND SURF CONDITIONS
---
Fuerteventura, with its long and paradisiacal beaches, its crystal clear waters, its mild temperature even in winter and its waves suitable for every level, is certainly a perfect place to learn surfing. The "North Shore", the northern coast of Fuerteventura, is in fact a playground for surfers: a succession of spots on reefs with tubing waves, for the more experienced surfers, and with softer waves, suitable for intermediates and beginners. That's not all: always to the north of Fuerteventura there are numerous beach breaks, perfect for those who surf for the first time, and that will allow you to surf practically 365 days a year. 
---
CAMP CHARACTER
---
We were also beginners, and to get where we are we have already done the path that you will have to follow. And starting from our past experience we have created our teaching method, an effective method, which works, and which has already led many people to become experienced riders. Surfing is a wonderful sport, adrenaline and fun packed, where everything has to be done in due time. We will follow you in a step by step progression, which will allow you to face each level only when you are ready for it. Rest assured, trust us: the safest method is also the quickest way to learn this sport effectively!

What you will find at our Fuerteventura surfing school will be a highly professional atmosphere but at the same time relaxed and friendly one.
ACCOMMODATION AND CATERING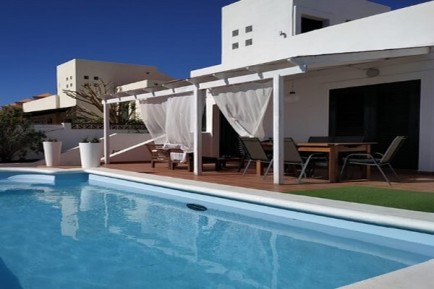 ---
ACCOMMODATION TYPES
---
We have several accomodation types:

1. SURF HOUSE - Our cheapest offer particularly suitable for solo travelers or groups of friends who want to share their surfing holiday with other people from all over Europe
2. SURF HOSTEL - Our most complete offer designed with different types of holiday makers in mind: solo travelers, couples and groups of friends. You can choose between shared rooms, double rooms with private bathroom, triple rooms and quadruple rooms.

3. APARTMENT COMPLEX WITH SWIMMING POOL "BASIC" - This package is suitable for those seeking greater privacy without sacrificing autonomy, suitable perfectly for couples, families and/or groups of friends.

4. APARTMENT COMPLEX WITH SWIMMING POOL "PLUS" - The tourist complex has an area of 100,000 m2 and is located 38 km from the airport, 1,700 meters from the Grandes Playas de Corralejo, 2,500 meters from the Las Dunas Natural Park.

5. APARTMENT IN COMPLEX WITH SWIMMING POOL AND DIRECT ACCESS TO THE BEACH - The ideal starting point to enjoy dream beaches and explore the villages, culture and natural wonders offered by the north of the island of Fuerteventura

6. SURF & YOGA CAMP
---
CATERING
---
We organize barbecues and dinners every week. Breakfast is included in every type of room chosen. In addition, every accomodation has its own fully equipped kitchen.
SURF COURSE AND ACTIVITIES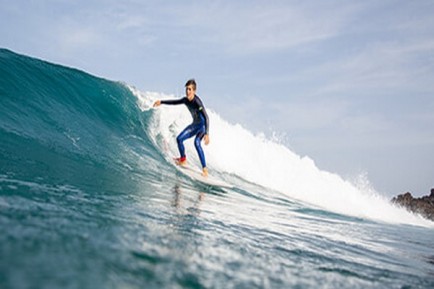 ---
SURF COURSE DETAILS
---
The Point Break surf school Fuerteventura surfing course for beginners is designed for two types of people, that is, for those approaching surfing for the first time and for those who have already surfed sometimes, maybe in the past, and therefore want to start again from the basics and learn the right moves to be enjoying riding waves.

We will introduce you to the world of surfing in a fun and encouraging way, and during your course we will teach you how to surf easily, safely and in the right way. With this course we will provide you with the essential knowledge that will allow you not only to make the most of your sessions, but above all to get excited and move on to the next level, aiming for bigger waves. The goal of this beginner course is therefore to convey our passion, make you feel comfortable in the waves and progressively allow you to connect with the ocean.
---
SURF MATERIALS
---
The quality of your board, in fact, can make the difference between a session in which you have surfed several waves and one in which you didn't take any. In addition to being of good quality, the surfboard must be suitable for the level of the surfer and his state of physical training. That's not all: the right board can allow the beginner to progress faster, and therefore have more fun. Precisely for this reason at Point Break surf school Fuerteventura we use only the best brands on the market: with us you can be sure that you will enter the water with the equipment that best suits your specific needs, and that all the equipment we use during the surfing courses are in perfect condition. Only with the right surfboard, in fact, you can have fun and take advantage of every wave to learn something new. Precisely for this reason we offer you the possibility to change model and size of your board at any time: this means that every day you will have the right board under your feet!
All you have to do is bring the desire to have fun and stay in touch with nature: we'll take care of the rest!
---
OTHER ACTIVITIES
<
---
SUP, Windsurf,Yoga and Kite Surf


MORE INFO, HOW TO GET THERE & FAQ
---
 SURF CONDITIONS
---
Breaks directly at the main spot and at nearby spots
By signing up for our surfing courses you will therefore have the opportunity to surf in different spots, facing from time to time different waves, although always surfing waves suitable to your level. This way you can discover the north of the island as you go searching for the perfect wave!
Seasonal conditions
The north of the island receives good sea storms throughout the year, more consistent from September to April, and more contained between May and August. Fuerteventura, with its long and paradisiacal beaches, its crystal clear waters, its mild temperature even in winter and its waves suitable for every level, is certainly a perfect place to learn surfing


---
 SURROUNDINGS / REGION
---
Characterization of surroundings/region
You will find several supermarkets, bars and restaurants just 100 meters away from the residence. 
Activities and facilities
SUP, Windsurf, Yoga and Kite Surf


---
 JOURNEY
---
Ways to get to the camp

The tourist port of Corralejo, from where ferries leave for Lanzarote, is 1.5 km away. La Oliva is 15 km from the complex and Puerto del Rosario and Fuerteventura Airport can be reached in 40 minutes by car.


PACKAGES & PRICES
---
PACKAGE A - SURF HOUSE - from 260€ per Week/Person
---
This package includes:
- shared room with 4 beds
- 7 nights
- 5 days course of surf course for BEGINNERS
---
PACKAGE B - SURF HOSTEL - from 315€ per Week/Person
---
This package includes:
- shared room with 8 beds
- 7 nights
- breakfast included
- 5 days course of surf course for BEGINNERS
---
PACKAGE C - APARTMENT BASIC - from 350€ per Week/Person
---
This package includes:
- 7 nights in a one bedroom apartment
- 5 days course of surf course for BEGINNERS
---
PACKAGE D - APARTMENT PLUS - from 430€ per Week/Person
---
This package includes:
- 7 nights in a one bedroom apartment
- 5 days course of surf course for BEGINNERS
---
PACKAGE E - APARTMENT IN COMPLEX - from 390€ per Week/Person
---
This package includes:
- 7 nights in a two bedroom apartment in a residence with direct acess to the beach and view of the Corralejo bay
- 5 days course of surf course for BEGINNERS
---
PACKAGE F - SURF AND YOGA - from 860€ per Week /Person
---
This offer includes:
- 1 anti-stress back massage (30min)
- 1 Thai food massage (1h)
- 3 yoga classes (1,5h per session)
- 5 surf lessons (4 hours per session)
- 7 nights
- 1 hike (2h)
- Pick up and drop off for surf courses