ABOUT THE SURF CAMP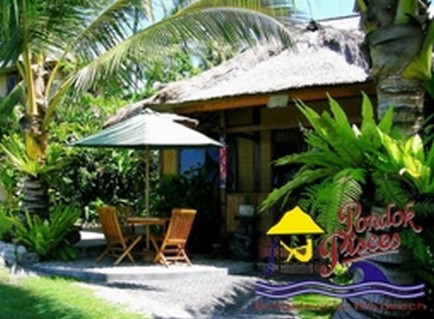 ---
LOCATION AND SURF CONDITIONS
---
Located on beautiful Balian beach in Banjar Pengasahan, Desa Lalanglinggah in the Tabanan district of Bali. Whilst Balian beach is just two hours north west of Denpasar international airport, it's a world away from the hustle and bustle of Kuta and Legian…no vendors, sellers, touters or hair plaiters here, just traditional villagers going about their everyday lives.
Tabanan district is renowned for it's stunning terraced rice fields overlooking the ocean and the mountain villages where top quality coffee and cloves are farmed. The weather here is milder than the south and there is no need for air-conditioning as refreshing sea breezes keep you cool all year.
---
CAMP OPERATOR
---
Tom Wilson, a visiting artist from Australiadiscovered and fell in love with Balian in 1990. A few years later (1995), he purchased a small piece of land. In '99 he began to build a modest house and 2-storey bungalow. At this time, he was still the only foreigner setting in this isolated bit of Bali paradise. 
Tom opened his home as a unique surfer accommodation in 2000, sharing his dream as he had now relocated to Balian Beach permanently. He named it Pondok Pisces after 'pondok' meaning small house and 'pisces' meaning fish. 
ACCOMMODATION AND CATERING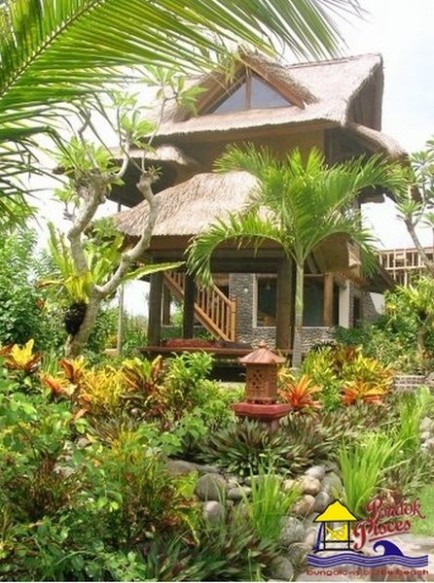 ---
ACCOMMODATION TYPES
---
Pondok Pisces Bungalows
Located on the hillside the road to the Balian beach, Pondok Pisces bungalow has four types of accommodation, each of them has its own style. Tropical-style accommodations with accessories and colorful decorations all set in lush tropical gardens overlooking the ocean. All rooms are private and have their own private access. The complex is a short 100 metre stroll from the surf at Balian Beach.

Balian Riverside Sanctuary
Just a few minutes walk from Pondok Pisces Bungalows, yet nestled beside the sacred Balian river we have another resort, Balian Riverside Sanctuary. This small boutique resort has a much more secluded peaceful atmosphere. Offer 5 unique bungalows and a small natural stones swimming pool overlooking the beautiful Balian river, available for all guests. The Beach only 50 meters walk along the riverside.
---
CATERING
---
- Breakfast in the price included
- Self catering

Our restaurant (Tom's Garden Café), located at Pondok Pisces Bungalows on the main road, head to Balian Beach. With a beautiful view overlooking the Indian ocean in the afternoon, watch the orange to purple sunset in the evening and the view of the lights fishing boats at night time. Fresh daily ingredients and talented local cooks combine to offer you a wide selection of tasty, healthy meals available from 7.30am to 9pm, 7 days a week.
SURF COURSE AND ACTIVITIES
---
OTHER ACTIVITIES

---
- Guided City Tours
- Mountain Tours
- Waterfall Tours
- Sunset Tours
- Sunset Turtle Releases
- Snorkling
MORE INFO, HOW TO GET THERE & FAQ
---
 SURF CONDITIONS
---
Balian beach is one of the best surf breaks in Bali and is also well known for fishing and kite surfing. Bali's second largest river the sacred 'Yeh Balian' enters the sea here and provides safe paddling and fishing for families and children. Balian surf beach is a river mouth break over sand and smooth stones and produces a variety of breaks.
The main break is for the goofy footers…a long sweeping 'lefthander' that can be worked right into shore. A fast current provides an easy paddle back out to the lineup.
For the natural footers, the same break gives a long 'righthander' and a short fast 'inside right' that can even barrel when it's big…and it can get pretty big, around 2 metres.
There is often too, a small fast 'lefthand' shore break that can be lots of fun and for the old fellas with their mals, an 'outside break' that's big and full for a leisurely left or right long ride back into shore for a cold Bintang.
---
 SURROUNDINGS / REGION
---
Characterization of surroundings/region

The destination Bali is well-known for its volcanos, the typical rice fields as well as for its beautiful and unique beaches and coral reefs. An important aspect for the locals is religion. But also tradition and culture are values, which have a great importance for the islanders.
PACKAGES & PRICES
---
Surfer Package - from Rp. 1.900.000 per Week / Person
---
This package includes:

Stay for 7 nights in a room or bungalow overlooking the Indian ocean at Pondok Pisces Bungalows. Or stay in one of the cottages in our small teak jungle at Balian Riverside Sanctuary. Both have unique and different sensation. Either you come by yourself or in a group, this place is perfect for you. Want to try surfing somewhere else? Madewi is the closest destination. We offer 2x visit there.
- 7 nights accommodation
- Welcoming Fresh Fruit Juice & Daily Good Breakfast
- Voucher Meal from Tom's Garden Café
- 2 (60 minutes) Balinese Relaxation Massages
- 2 Medewi Surf Break Return Trip (5 hours each)
- Pick-up and return to Airport or Hotel