ABOUT THE SURF CAMP
---
LOCATION AND SURF CONDITIONS
---
Asu island, Hinakos islands, Nias island, North Sumatra, Indonesia. The climate in Asu is hot and humid with rainfall occurring all year. Seasons vary from year to year; El Nino conditions typically deliver Southerly trade winds during the Southern hemisphere winter time, while La Nina conditions typically produce more Northerly winds. Powerful swells arrive from March – November, while December – February produces smaller long period swells, ideal for beginners and those who prefer quality medium sized waves with no crowds. Air 26° – 32° C / 80° – 90° F. Water 26° – 29° C / 80° – 85° F.

ASU
The wave Asu is Perfect left hander – WORD CLASS – providing tubes and fast maneuvers from 2 to 15 feet. When the southerly winds blow, Asu is on the best waves in the Sumatran Arquipelago. Asu get's classic at 4 – 12 feet.
Classic Size: 3-8 ft
Quality: 9/10
Bottom: Live Coral Reef
Length of Ride: 50 – 300 meters
Ability Level: Intermediate / advanced / expert
Swell Direction: South / South West
Best Wind: South / None
Best Tide: Med – High
Video/Photo Access: Excelent!!! We have a bungalow (platform) in front of the wave of Asu, made especially for photography, filming, watching the surf and the sunset.

BAWA
A solid right-hander that breaks in deep water, Super consistent basically NEVER FLAT. Made famous by Tom Curren's  " Beyound the Boundaries". it work from 2 to 15 feet, and it will be a challenge of a life time.  The bigger it gets, more expertise is needed. The wave is not that long but barrels from take off and dishes up a good bit of adrenalin. Very ripable up to 3-6 feet.
Classic Zize: 3 – 12 ft
Quality: 8/10
Bottom: Live Coral Reef
Length of Ride: 50 – 170 meters
Ability Level: Intermediate / advanced / expert
Swell Direction: South / South West
Best Wind: North /  North West / None
Best Tide: Med – High
Video/Photo Access: Great, best option is taken on the boat in the channel

SIROMBU
rippable and short right hander, located near the harbour, its is best opition for beginners and intermediate surfers. (occasional barrel section).
Classic Zize: 3 -5 ft
Quality: 6/10
Bottom: Live Coral Reef
Length of Ride: 50 – 125 meters
Ability Level: Beginner / Intermediate / advanced / expert
?Swell Direction: South / South West
Best Wind: North West – None
Best Tide: Med – High
Video/Photo Access: Great, best option is taken on the boat in the channel

BOMBIE
deep water slab, located between Asu and Hinako Island, provides short, wide and challenging tuberides with a rippable end section, best for intermediate to expert surfers.
Classic Zize: 3 -5 ft
Quality: 6/10
Bottom: Live Coral Reef
Length of Ride: 50 – 125 meters
Ability Level: Beginner / Intermediate / advanced / expert
Swell Direction: South / South West
Best Wind: North West – None
Best Tide: Med – High
Video/Photo Access: Good, best option is taken on the boat in the channel

Hamutala
right harder neighboring Bawa Island, friendly up to 8 feet, with 2 perfect sections with barrels and rip able walls
Classic Zize: 3 – 8 ft
Quality: 6/10
Bottom: Live Coral Reef
Length of Ride: 50 – 150 meters
Ability Level: Beginner / Intermediate / advanced / expert
Swell Direction: South / South West
Best Wind: North West – None
Best Tide: Med – High
Video/Photo Access: Great, best option is taken on the boat in the channel

Afulu
Located 40-50 minutes from Asu. This left hander on Nias mainland offers incredible tube riders with rippable walls.
Classic Zize: 3 – 8 ft
Quality: 8/10
Bottom: Live Coral Reef
Length of Ride: 50 – 225 meters
Ability Level: Intermediate / advanced / expert
Swell Direction: South / South West
Best Wind: North – East – None
Best Tide: Med
Video/Photo Access: Great, best option is taken on the boat in the channel

Salonako
30 minutes from Asu, this long right hander can provide challenging down the line rides with the tubes on the larger ground swell days. On the smaller days it can be enjoyed by beginners as well.
Zone: Nias
?Overall Rating: 8/10
Best Size: 3-6 feet
?Consistency: 5/10
Difficulty: ?3/10
Bottom: sand covered reef
?Reef Factor: 3/10
Length of Ride: 20-250mtr
Ability Level: Beginner/intermediate/advanced
Swell Direction: Bigger the better
Best Wind: Any direction MAXIMUM 5 knots
Best Tide: ANY
Video/Photo Access: 2/10


---
CAMP CHARACTER
---
Predominantly 18-50 years old. Some couples and families with children. A very relaxed atmosphere centered around preparation for surf and recovery for the next surf session. Puri Asu Resort has many guests from Brazil and United States, so there will be a surf guide fluent in English and Portuguese. The locals speak Bahasa Indonesia and a local Nias language.


---
CAMP OPERATOR
---
American, Brazilian and Indonesian. Over 30 years combined experience in Indonesian marine activities. Started as a rustic surfing outpost in 1999 and slowly developed into a full service resort.


ACCOMMODATION AND CATERING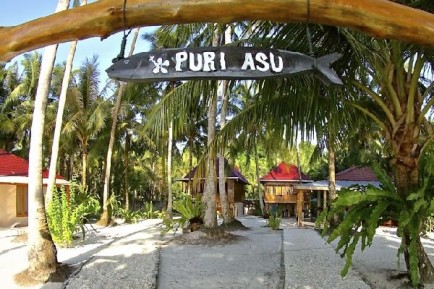 ---
ACCOMMODATION TYPES
---
With an area of 8,000 m2 front sea, surrounded by coconut trees and palms, jungle in the background and an amazing Asu bay view.
"The unique private 40m pier in the island". Loading and unloading with convenience and safety in any weather condition. We have a fleet of three boats on our disposal.
 
With two traditional Sumatra`s bungalows, 4 feet high from the soil, we offer wide rooms with air conditioning, bathrooms with hot shower which are on the second floor, with spectacular view! Our bungalows have balconies and large rooms. Undoubtedly, our Resort provides the best structure in the archipelago! Furthermore, our private beach is located 20 meters from the suites, we also have a beach club, a beautiful gazebo for yoga practice so you can relax day and night, and especially enjoy the sunrise – UNIQUE!
 
We accommodate up to 12 guests
 
• Plugs with adapters to charge your electrical devices. ( Please note that we use a 220V current) , everyone should be careful before connecting anything!
• Your bedroom must be enough to: store all your clothes, toiletries and miscellaneous items. Larger items such as surfboards, are stored in a designated room or area where you can find surfboards, leashes, fins and other things you might need. The staff is able to help you find space for all your belongings in a safe place where you can find them easily if necessary.
• Each bagalow has beautiful hand polished timber floors and custom wood furniture.
• Each bathroom has a sink, western toilet, mirror, coated shower floor.
• Towels are available for all rooms, but we encourage people to bring their own beach towels.
• Plugs with adapters for charging electrical devices.
• There is a specific area to hang wet clothes, in and out of the bathroom.
• The team will be able to help you find space for all your belongings in a safe place where you can find them easily if necessary.
• With the help of local builders, and under the guidance of an American development team, Puri Asu Resortmaximizes its local surroundings and functions as a partial eco – resort but still offers a high standard accommodation and personal space.


---
CATERING
---
Each day the resort's chef prepares a variety of food with an emphasis in seafood caught by local fisherman's and our guests. Sit back and enjoy the relaxed atmosphere of our restaurant – which serves some of the tastiest food in Sumatra in front of one of the most idyllic settings possible. Guests find our open air dining to be as much fun as it is delicious and varied. We offer full meals ranging from local Indonesian dishes to pasta plates, pizza, chicken and of course fresh fish. We consider every meal extremely important to give you the energy you need to surf all day. There is a set schedule for meals so you don't have to wonder what time you eat. We will also have as many BBQs as possible; nothing is tastier or more satisfying than having a bbq with your close friends on a remote, tropical island with perfect waves reeling perfectly. Beer, hard alcohol, and mixed drinks are available for a standard fee.
Desserts are served after lunch and dinner and include chocolate cake, banana cake, coconut bread, fruits…

• Breakfast: 6:30am – 09:30am – Please order with the bartender.
• Lunch: 12:30pm – 2:30pm
• Dinner: 7:30pm – 9:30 pm

 Beer is available for all of our guests, a variety of hard alcohol, wine and mixed drinks will also be available for purchase when available.
Chefs can accommodate any food allergies or eating preferences, please let us know in advance so we can prepare for your visit.


SURF COURSE AND ACTIVITIES
---
ACTIVITIES
---
The tropical paradise that surrounds Puri Asu Resort offers more than amazing surfing. The resort has plenty of recreational equipment to make exploring and enjoying the local environment easy for all guests. Stand-up paddle boards, fishing equipment, snorkeling gear, and more are available for use free of charge so the whole family can get out and enjoy the surroundings. We offer guided speed boat rides to village visits, snorkeling trips, scuba diving trips, fishing trips, madness lighthouse, crocodile lake and exploring. Puri Asu Resort has a private pier right out front where you can start your paradisiacal Indian Ocean experience.


Surfing Scuba diving Fishing Snorkeling Spearfishing Table Tennis Board Games Movies Satellite TV with Big Screen Visit a Local Village Yôga (when instructor on site) Jungle Cruise Cultural Tours Wakeboard
MORE INFO, HOW TO GET THERE & FAQ
---
SURF CONDITIONS
---
Seasons & Swell
During your stay at Puri Asu Resort, you will most likely witness 1-3 predominant swells come and go, depending on your trip duration. As the swell rises, Asu grows from medium size (fun for everybody), and gradually becomes more intense suiting those surfers with a little more experience. 
The peak of the swell may last 1-3 days, and then gradually begin to subside, making Asu more friendly for everybody. 
This cycle continually repeats itself throughout the main surfing season (April  01 – October 30), which makes Puri Asu Resort an ideal travel destination for any surfer. Asu breaking just 700m away from the resort pier. (Guests of Puri Asu Resort are dropped off in the line-up by boat. No reef walking or extra long paddles. We want our guests to save their energy for waves ridden!)  
Wave Overview
Asu – is a perfect, consistent left hand wave that works on all tides, big and small swells, and south wind conditions. Asu is a unique wave. From 2-8 feet, it is a perfect very fun wave peeling over coral reef. For the surfer, Asu provides the opportunity to improve your surfing. At 4-5 feet, Asu becomes more challenging and starts to barrel from the take off, offering more power and lip for doing maneuvers and getting barreled. When get's 6-12 feet, it becomes a tube on the take off, and two more barrel sections in some waves, intense walls. Over 8 feet, is needed a little more experience.
Bawa – is a great option in north winds days with a south swell. Ideal for those who want empit solid waves on their own.
Hamutala – right harder neighboring Bawa Island, friendly up to 8 feet, with 2 perfect sections with barrels and rip able walls
Bommie – deep water slab, located between Asu and Hinako Island, provides short and challenging tuberides with a rippable end section.
Sirombu – rippable and short right hander, located near Sirombu harbour, its is best for beginners surfers. (occasional barrel section)
Salonako – 30-40 minutes from Asu. This "SUPER PERFECT" right hander can provide challenging barrels rides. Works on the larger ground swell
Afulu – 40-50 minutes from Asu, this peeling left hander on Nias mainland offers incredible tube riders with rippable walls.
---
JOURNEY
---
Ways to get to the camp
1 – FLY TO NIAS ISLAND
Guests arrive at Kuala Namu (KNO) International Airport in Medan, North Sumatra, Indonesia.
Medan is reachable from Singapore, Kuala Lumpur, Jakarta, Bali, Bangkok, Hong Kong, Manilla, and other major Asian capitals.
We pick up guests at the airport in Medan and take them to a hotel close to the airport for the night. 3-4 star hotel. In the morning around 6am guests fly to Nias Island, Binaka Airport, in Gunungsitoli. 1 hour flight.  (guests must arrainge all transfer procedures with our booking agent!)
** Make sure you understand all travel arrangements!!
 
2 – DRIVE TO SIROMBU HARBOR
Our driver picks up the guests in an air conditioned car and to Sirombu Harbor. + or- 2 hour drive.
 
3 – SPEED BOAT TO ASU ISLAND
We pick up guests in our speedboat  on the beach in Sirombu and take them to Asu Island. 20-40 minute boat depending on weather conditions.
A trip to Puri Asu Resort involves planes, automobiles, boats, and in general a lot of work! But, that is the point!!!  We look forward to welcoming you to surf paradise!


Important details

When is the best time to visit?
Traditionally, March through November is regarded as the best time to surf the Hinakos, when the swell is most consistent. However, perfect glassy surf in the 2 – 5 ft range can also be found with less crowds from December to February.
 
How many surf boards & how much luggage can I bring?
Bring at least 3 surf boards and as little luggage as possible, Keeping in mind that there will be luggage restrictions on your international and domestic flights.
 
How do we get to ASU ISLAND?
Getting to ASU requires flying into GUNUNGSITOLI airport in Nias, North Sumatra, Indonesia . From there you take a 2 hour drive to Sirombu harbour. Our speed boat will take you to ASU.
 
If I arrive before departure day can you help arrange a hotel in Medan or Gunungsitoli?
Yes, we can reserve a hotel room for you and payment is taken when you arrive. All arraingments can be provided as long as its done accordingly


PACKAGES & PRICES
---
PACKAGE A - One Week Surfers Holiday - from 1015 $ per Week / Person
---
This package includes:

Accommodation in Puri Asu Resort, catering and surf/leisure infrastructure for 7 nights



---
PRICES
---
Puri Asu Resort averages between 6 and 15 guests per trip date. All trips are on a set schedule and are 10 nights / 11 days in duration. 
Season Rates
- 1.300,00 U$ / package accommodation, meals and surf/leisure infrastructure. (10 nights / 11 days)
- extra nights 110,00 U$
- if you want to stay less than 10 nights, the standard price is 145,00 U$ / per night
- non surfers companion 100,00 U$ – per night 
Sport Fishing Program
- 200,00 U$ per group of 4 people.
- Departure: 6:30am / return 11:30am
- Departure: 3pm / return 7:30pm 
Scuba Diving Program
- we charge 100,00 U$ for 2 tanks, it mens 1 exit by boat and 2 dives in different spots (each dive has the duration between 40 t0 55 minutes).  
Please Note
- Transportation Fee: 150,00 U$ From Medan (local airport) to Nias (Gunungsitoli). Private van ride to Sirombu harbor, then speed boat to Asu. (include a airline ticket, private car ride to sirombu harbor and speedboat to Asu) if you 2 ways (Medan – Asu / Asu -Medan) it will coast 300,00 U$
we arrange the airline tickets and everything for you?.
- All wire transfers are subject to a 25,00 U$ bank handling charge.
- All guests are required to purchase travel insurance to travel to Puri Asu Resort.