ABOUT THE SURF CAMP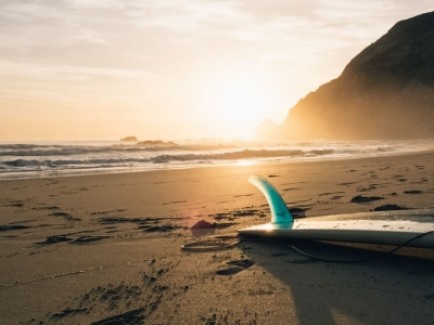 ---
LOCATION
---
Our Raised by the Sea Camp is part of the South Pacific Costa Rica beach front. In the vicinity of the surf camps various shopping opportunities are located, and can be reached by foot.
---
CAMP CHARACTER
---
Our surf camp is perfect for every age. We provide several accommodation types which are adapted to your needs. Whether with relaxation zones, party offers, pet friendlyness, or family accommodations.
---
CAMP OPERATOR
---
"More" is the Head Teacher & Surf Lifeguard (ISA certification) and grew up in Dominical. He knows the environment and the best surfing spots as his own pocket. More is an avid surfer and is always up to date relating to lifeguards and surf instructors courses. His girlfriend Vanessa does all the organizational work. After your trip through throughout Central America she fell in love with the country Costa Rica and never returned back to Switzerland.
ACCOMMODATION AND CATERING
---
ACCOMMODATION TYPES & CATERING
---
Mavi Surf Hotel with pool and air conditioning (reopening 2014), 100 Meters from the beach. Includes breakfast, Tropical Bar, WIFI & Parking.
Montanas de Agua is a quiet hotel, which is situated only 100 meters from the beach. Guests can choose between standard rooms and rooms with air-conditioner. For big groups, we offer a studio apartment with air conditioning and its own kitchen. For travelers with a little budget, we offer four non air-conditioned rooms with outdoor hammocks. All our rooms have a private bathroom with hot water, Fans, WIFI and a shared kitchen. 
Cool Vibes Hostel is right at the beachl. Cool Vibes provides shared dormitories with sea views. Perfect for packpackers and people who like to make new acquaintances. Communal kitchen & shower, WIFI, hot water & fans.
SURF COURSE AND ACTIVITIES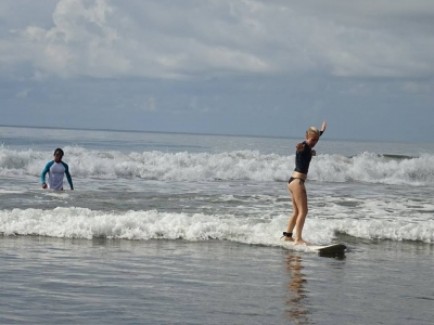 ---
SURF COURSE DETAILS
---
The surf course takes 2 hours. We pick you up, or we meet at the agreed beach. Surfboard, t-shirt and meals are provided. There are 3 surf instructors. 
Beginners' courses:
First part: brief introduction, driven by sea and flow recognize
Of behavior in water, dry exercises on the beach.
Second part: Wave paddeling beginners start in the white water. Share some time in the White Water to the popping and soft landing on to practice the Board. The White Water Wave pushes the board through the shallow water. This gives beginners enough time to get to his feet. Later, when you you'll get along in the white water, the more exciting green waves surfing.
Advanced Courses:
For those who already have experience with the surf. 
First part: Refreshing from a learned already.
Second part: Now paddling is at the center. Observing the waves, Anpaddeln and Take off in green wave and after surfing.
---
OTHER ACTIVITIES
---
After every hour of surfing we recommend a refreshment in the the nearby waterfalls. There is nothing better than a cold Waterfall pool plunge after a tiring surf lesson.
Language Courses:
We offer a Spanish + Surf Course Package. With our specially tailored to you the package you can Spanish timpani and surfing.
Other activities: 
-Yoga classes
-Diving
-Sport fishing
-Tours dolphins or whales
-Zip-line
-Corcovado National Park tour
MORE INFO, HOW TO GET THERE & FAQ
JOURNEY
---
We offer a transfer from San Jose to Dominical. 
By car from San Jose International Airport to Dominical you have about 3 hours. There are also daily bus service to the right Dominical travel. From Quepos to Dominical you should have aout 30 min.
PACKAGES & PRICES
---
PACKAGE A - from $ 430 per Week / Person
---
This package includes:

-Surfkcourse for beginners (5x 2 hours)
-7 nights in one of the 3 accommodation:
Cool Vibes Hostel 
Mavi Surf Hotel 
Montanas de Agua Hotel 
---
PACKAGE B - from $ 740 per Week / Person
---
This package includes:
-Surfguiding (5x 4 hours, 2x per day)
-7 nights in one of the 3 accommodation:
Cool Vibes Hostel 
Mavi Surf Hotel 
Montanas de Agua Hotel 
---
SURFCOURSE
---
2 hours course:
Erwachsene:    $65  per person 
6 - 10 years:   -20%
2 - 6   years:   -50% 
0 - 2   years:     -
---
ACCOMMODATION

---
                                               
Green Saison           
Semana Santa &
Christmas
Mavi Surf Hotel                                      
$130 per night
$ 150 per night
Montanas de Agua standard
$ 30 per night
$ 40 per night
Montanas de Agua with AC
$ 50 per night
$ 60 per night
Montanas de Agua apartment
$ 75 per night
$ 85 per night
Cool Vibes Hostel
$ 15 per night
$ 18 per night