ABOUT THE SURF CAMP
---
LOCATION & SURF CONDITIONS
---
Rancho Cecilia is located 7 kilometers north of San Juan del Sur in Southern Nicaragua We are located off the Chocolata Road which is the Coast Highway of Nicaragua. And are in the Playa Maderas neighborhood. 
And we provide daily transportation for our guests to Playa Maderas or Playa Marsella.


---
CAMP CHARACTER
---
Wake to the sounds of the howler monkeys in the trees and enjoy your morning coffee with the birds in the jungle. Then, head on down to the beach at Playa Maderas for a day of surfing, warm water and world class waves!
Surf, Learn to Surf or just Hang at the Beach!
Also we have built our Rancho with as minimal disruption to the environment as possible. Our closest neighbors, the howler monkeys thank us for this as do the other woodland creatures that still call Rancho Cecilia home.
---
CAMP OPERATOR
---
We are Scott Behrens and Elizabeth (Liz) Hart-Behrens. Just a couple of crazy Gringos that set off to find some good surf on our sailboat "Ocean Lady" in 2004. 
We sailed over 15,000 miles up and down the Pacific coast of California, Mexico and Central America with 2 dogs and a cat! 
We sailed into Nicaragua in the Spring of 2007 and fell in love with the country, the people and the surf! So, we swallowed the anchor and settled down on our little slice of paradise and built us Rancho Cecilia.
 
ACCOMMODATION AND CATERING
---
ACCOMMODATION
---
Rancho Cecilia is a Green, Eco-community nestled in the jungle close to Playa Maderas.  
Rancho Cecilia is a small rancho, located on three jungle acres with three accommodations between our Casita and Cabanas. These units sleep between 1 to 3 persons. 

Casita del Bosque 
is a fully furnished, one bedroom, one bath little house with a full kitchen and a wrap around patio with outdoor BBQ; it is perfect for a couple, a nice quiet place for a romantic getaway or a honeymoon vacation.

- 1 bedroom
- 1 bath home 
- with full kitchen
- sleeps 1-2 people, perfect for couples

Also it has a music system with a CD player and a CD library with a AM/FM radio. 
And WiFi Internet is available

Jungle Cabanas 
Large Studio Suites with private baths and kitchenettes, sleeps 1-4 people, perfect for families.
You can also rent BOTH of our Jungle Cabanas: sleeping 6-8 people.
Two large studio units, nestled under the trees, with kitchenettes that have two-burner cook tops, refrigerators and private baths. 
The Jungle Cabanas have a nice large patio with views of the surrounding woodland jungle. 
Perfect for your vacation stay with family and friends and WiFi Internet is available.


---
CATERING
---
Don`t feel like cooking dinner? 
No problem, we cook nightly at our house, aka "The Surf Lodge". Just ask for our sample menu of our Surfer Cal-Mex cuisine or Nicaraguan cuisine.
Enjoy breakfast or dinner with us at the Surf Lodge or at our local restaurant and sample Nicaraguan cuisine and hospitality. 
Rancho Cecilia also uses their acreage for small, low impact farming and we enjoy cooking with our fresh crops! 
We grow our own beans, plantains, papayas, bananas, jalapenos, basil, oregano and cilantro (yes, this is in the same family as cilantro) and our rice is locally grown by our friends in our own neighborhood.


SURF COURSE AND ACTIVITIES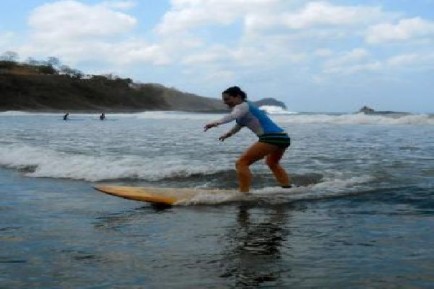 ---
SURF COURSE DETAILS
---
We surf at Playa Maderas and the wave is great for beginners, novice, intermediate, and experienced surfers. Getting you into the best waves is our top priority, we will work with you to advance your surfing with tips and feedback after each surf session and if you are willing to think positively and push yourself a little, you will leave the retreat a better surfer!
Our surf instructors, Liz and Scott have "each" been surfing for over 25 years and have been teaching people to surf for a couple of decades! Our goal is to help introduce you to surfing or advance your surfing and to always have fun!

Surf Clinics:
Custom tailored for you and your friends, for a group of 2-8 persons, for beginner, novice and intermediate surfers.
Come on a surf vacation to Rancho Cecilia and we will set up a surf clinic for a combination of surf skills. Whether you are a beginner and will be standing up for your first time on a wave, or a novice surfer that is ready to advance from ridding the white water to getting into the face of a wave for your first time, or an intermediate surfer that is ready for personalize coaching to catch more waves and do more turns, we can provide custom packages that include daily surf instruction, 
accommodations and meals and…more.

Surf Trips:
We do surf trips via land and panga to various surf breaks, both north 
and south of San Juan del Sur

- Surf day at Playa Maderas $ Free for our guests
(Our local surf break)

- Surf day at Playa Hermosa $17.50 per person 
for 2-3 people and $15 per person for 4+ people 
(includes entry fee)
(South of San Juan del Sur, has a palapa restaurant on the beach and 
horseback ridding)

- Surf day via panga $250.00 ½ day
( Includes picnic lunch)
(Enjoy surfing our surf spots that are accessible by boat. 
Go North for Manzanillo, Colorado, Panga Drops, Popoyo
Or South for Tamarido, Hermosa, Yankee)


---
SURF MATERIALS
---
Don`t want to travel with your surf board? We have surf boards for rent. Short boards, long boards, fun boards and boogie boards. 
Surf board rentals $12.50 per day
Boogie board rental $5.50 per day


---
OTHER ACTIVITIES
---
Head back to the Rancho at the end of the day and enjoy a yoga class before relaxing with sunset cocktails on the deck of the Surf Lodge.

Also enjoy all the other possible activities:
- Want to go sailing?
There are day trips and sunset sails available! 
- how about going fishing 
- Or whale watching!
- go horseback riding
- Or zip line canopy tour 
- take a yoga class on the beach! 
 
MORE INFO, HOW TO GET THERE & FAQ
---
SEASONAL CONDITIONS
---
We have two distinct seasons, the wet season and the dry season. 
The wet season (invierno) winter is May-October. A quick thundershower or a downpour may be the daily rain at this time of the year. This is the time of the year when the jungle is lush and green. The dry season (verano) summer is November-April. Early in the dry season thundershowers are not uncommon and the jungle is still beautifully green. 
As the dry season progresses, the jungle dries out with almost no rain for five months. During the dry season it is easier to spot our native wildlife, especially the howler monkeys. 


---
SURROUNDINGS / REGION 
---
Characterization of surroundings/region
San Juan del Sur, Nicaragua was once a tranquil fishing village that has transformed into a cool, beach town for the adventure traveler. 
If you are looking for a tranquil jungle setting to enjoy your beach or surf vacation and close to Playa Maderas and Playa Marsella for beach activities and not too far from San Juan del Sur then check out our Casita and Cabanas !

Want to take a day or overnight trip to one of the surrounding areas? 
Granada is Nicaragua`s oldest Spanish city. Founded in 1524 this colonial town has trim churches, a palm lined plaza and colorful architecture. 
The village of Catarina is a great place for buying plants and furniture and is known for its mirador (lookout) which has sweeping views of Laguna de Apoyo.
Take a trip down to the lagoon and enjoy swimming in the calm, clean, warm waters.

Ometepe is the ecological jewel of the area. Sparsely developed it has views of Volcan Concepcion and Volcan Maderas from which the island was formed. Many small villages dot the shores and hiking, kayaking, boating and horse back ridding are a few of the activities available. 
Petroglyphs of indigenous art are found on the island. 

Masaya is the cradle of Nicaragua folklore. Visit the Mercado Viejo, the main arts and craft market and the center for cultural activities. Hammocks, basketry, wood carvings, paintings, ceramics and 
leatherwork are a few of the items to be found in Masaya.
Activities and facilities
After the surfing day kick back and enjoy a tranquil evening sipping rum, star gazing or maybe a live music night! 
Or head into town for some nightlife!

How about a stroll around the plaza and the church with the locals. Or stop at the Mercado for provisioning of fresh veggies and fruit. Stop at the carniceria for fresh chicken or meat.


---
JOURNEY 
---
Ways to get to the camp
The Augusto C. Sandino International airport is located in Managua, which is approximately a three hour drive, although only about 125 kilometers from San Juan del Sur. 
You will drive out of Managua on the Pan American Highway which goes through numerous small towns on your way to San Juan del Sur.
There are shuttles services that run from San Juan to the airport in Managua daily. E-mail us and we can set up transportation from the airport in Managua to San Juan del Sur and Rancho Cecilia.

Important details
Rancho Cecilia is an "off the grid" community, as we are not hooked to conventional electricity. 
Our electrical needs are supplied through our solar panels, wind generator and battery banks, we also have back-up generators  and a generator for pumping water from our well to our water tanks.
When there is a power outage in the neighborhood, we still have electricity!


PACKAGES & PRICES
---
PACKAGE A - THE SURF, SUN & FUN PACK - from 553€ per person and week
---
This package includes:
- 2 group airport shuttles from Managua to Rancho Cecilia and back 
- 6 Nights of accommodations (shared Cabana or in the Casita)
- 6 breakfasts and 4 dinners
- Daily surf trips to Playa Maderas
- 4 surf lessons or 4 surf clinic coaching sessions 
- Surf board rental
- Surf trip to Playa Hermosa
- Choice of 2 additional adventure activities (e.g. horseback riding)


| | |
| --- | --- |
| 4 Persons |  553€ per person and week |
| 3 Persons |  625€ per person and week |
| 2 Persons |  699€ per person and week |
| 1 Person |  847€ per person and week |
---
PACKAGE B - SURF AND YOGA PACKAGE - from 570€ PER PERSON AND WEEK
---
This package includes:

- 2 group airport shuttles from Managua to Rancho Cecilia and back 
- 6 Nights of accommodations (shared Cabana or in the Casita)
- 6 breakfasts and 4 dinners
- Daily surf trips to Playa Maderas
- 3 surf lessons or 3 surf clinic coaching sessions 
- Daily yoga classes 
- Surf board and rash guard
- Choice of 2 additional adventure activities (e.g. horseback riding)


| | |
| --- | --- |
| 4 Persons |  570€ per person and week |
| 3 Persons |  644€ per person and week |
| 2 Persons |  718€ per person and week |
| 1 Person |  865€ per person and week |
---
PACKAGE C - THE SURFER´S LONG WEEKEND - 184€ FOR 4 DAYS
---
This package includes:
- 3 Nights of accommodation in a Jungle Cabana (double occupancy)
- 3 Breakfasts
- 3 dinners
- Daily surf trips to Playa Maderas
- either 1 surf lessons or 1 surf clinic coaching session 
- Surf board rental


| | |
| --- | --- |
| 2 Persons |  184€ per person for 4 Days / 3 Nights |