ABOUT THE SURF CAMP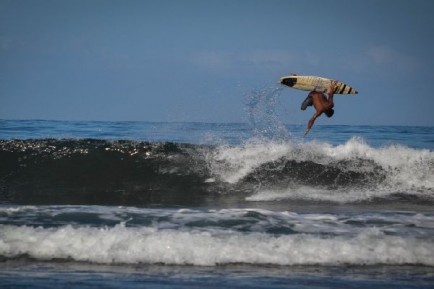 ---
LOCATION AND SURF CONDITIONS
---
We are located in a quiet neighborhood close to the center of town, and are just a few minutes walk from the beach.
Costa Rica is home to some of the best surf in the world. The Playa Jacó / Hermosa area is widely regarded as the most consistent surf in the country. The water temperature stays warm year round and the variety of breaks in the area insures uncrowded waves for everyone.


---
CAMP CHARACTER
---
This isn't your typical vacation. This is a chance to vacation with a passion. Learn to surf, speak Spanish, practice yoga, use a GoPro or master digital photography, all in the beautiful tropical setting of Playa Jaco, Costa Rica. The facilities include a common kitchen and dining area, a yoga studio, photo/video editing studio, 2 Spanish classrooms, offices, 12 guestrooms, a small swimming pool, and a relaxing garden.


---
CAMP OPERATOR
---
In 1997 artist and traveler Zach McDuffie had a dream about the ocean that inspired him to move to Costa Rica. His goal was simple – live a healthy life, make art, learn to surf, and learn Spanish. Realizing that a lot of other travelers were seeking the same, he came up with the concept for the School of the World. School of the World was the first learning vacation school in the world to offer combined Spanish and Surfing courses, and continues to set trends for cool, creative, and affordable learning vacations to travelers of all ages. The school's innovative programs have been featured in guidebooks, magazines, and newspapers from the U.S.A. to Hong Kong.
Great learning vacation programs are just the beginning. What really makes time here a special experience is the staff. Our staff functions like a family; most have been working here for more than five years and all are passionate about their work.


ACCOMMODATION AND CATERING
---
ACCOMMODATION TYPES
---
Everyone is pleased to discover how beautiful our facilities are when they arrive. It is filled with many beautiful design details including tropical hardwoods and bamboo, stained glass, handmade ceramic sinks, mosaic floors, custom furniture, a zen waterfall fountain, and artwork throughout.
Shared Rooms
All of our shared guestrooms (double occupancy) have private bathrooms, air conditioning, ceiling fans, hot water, refrigerators, cotton sheets and comfortable beds. We will pair you with someone of the same gender and age range if you are traveling alone or you can request a roommate and we will happily accommodate you. Traveling with your main squeeze? We have great rooms for couples too.

Single Rooms
This option includes all of the amenities listed for the shared room but you will have the room to yourself. Most of the private guestrooms are located in the main building, which has the peaceful feel of a tropical treehouse. These rooms are available on a first-come first-serve basis so please reserve in advance, especially during our peak seasons (Dec-March and May-Aug).

Homestays
Homestays are also available for those that wish to experience life with a local family. Students have their own room in the family home, with a shared bathroom. Rooms usually have fans, but not A/C. Breakfast and dinner, prepared by the family, are included. (Check with us for availability.)


---
CATERING
---
The facilities include a common kitchen and dining area. We are located in a quiet neighborhood close to the center of town, and are just a few minutes walk from the beach, dozens of great restaurants, bars, grocery stores, and everything else you could need.
SURF COURSE AND ACTIVITIES
---
SURF COURSE DETAILS
---
The School of the World offers surf programs for all skill levels, from first time beginners to hard core shredders. We are one of the most established and well respected surf schools / surf camps in Costa Rica. Start a surf program any week of the year, and combine it with any of our other programs. Get ready to drop in!

Beginners learn the basics of paddling, standing, and turning, as well as wave selection and other fundamental skills from our instructors, some of the best and most experienced in the country. They have completed rigorous international surf instructor and ocean lifesaver training, so you will feel comfortable and safe in the water. In addition to the daily surf sessions, we also incorporate land based balance training and photo + video review sessions into our programs.
Already a surfer? Then you know great surf is a recipe of a lot of elements coming together perfectly- swell, direction, tide, wind, time of day, and season are all factors. Local knowledge is key to scoring great waves on vacation. Let our experienced guides show you the best waves around and help you take your surfing to the next level.


---
SURF MATERIALS
---
Surfboards are provided for use during class, however to minimize our equipment loss and damage we do not loan them out after class. If you wish to surf outside of class time you will need to bring your own board or rent one from a surf shop in town. Surfboards cost about $10-20 per day to rent.
Costa Rican waters are warm and you will not need a wetsuit. Rashguards are recommended as they protect from the sun and surfboard wax rashes. If you cannot buy one before you arrive there are many surf shops in town where you can get one.


---
OTHER ACTIVITIES
---
Spanish
School of the World was one of the first language schools to offer Spanish classes near the beach in Costa Rica, back in 1997. Our program teaches reading, writing, and speaking, but focuses most heavily on conversational Spanish to get you comfortably communicating with native speakers in real world situations.
Our Spanish program is designed to help you become proficient and comfortable communicating in Spanish, while enjoying a relaxing and fun environment conducive to learning.Beginner 1, Beginner 2, Intermediate, and Intermediate-Advanced levels are available, in durations ranging from 1 week to 1 month and beyond.

Yoga
Whether you are a beginner or have years of experience, our intention is for you to leave with the tools necessary to enrich and deepen your practice. Adding Yoga to your schedule is especially beneficial for building the flexibility, balance, and strength needed for your surfing.
Our certified instructors blend a variety of styles (including Ashtanga yoga, Iyengar yoga, Anusara yoga, and Vinyasa flow) to make every day's practice unique. Yoga classes are an hour and a half in duration each day, Monday- Friday.

Photography
We've developed a photography program at the School of the World that satisfies everyone from first time photographers to working professionals looking to learn new techniques, and every level in between. Our photography program was started by S.o.t.W. founder Zach McDuffie, an award winning photographer whose travel and beauty photography have appeared in publications around the world.
Beginners become acquainted with the fundamentals of photography, digital workflow, and basic digital editing. Advanced photographers learn new techniques, and students of all skill levels benefit from having a local guide take them to amazing locales to shoot that they otherwise would never see.

GoPro
The compact, durable, and affordable GoPro cameras have taken action photography and video by storm. Strap them on a helmet, mount them on a surfboard, bike, car or any other type of vehicle on land or in the water and document the story of your inner action hero. School of the World partnered directly with GoPro and a seasoned Hollywood filmmaking expert to create this program.
Our GoPro classes meet for aprox. 2 hours per day, Mon-Fri, and alternates between lessons and practice on campus, trips to shoot in the field, and editing in our digital darkroom using GoPro Studio and Adobe Premiere. You will learn shooting techniques, camera settings, how to use different mounts, dollies, and accessories, time lapse, speed ramping, and more.


MORE INFO, HOW TO GET THERE & FAQ
---
SURF CONDITIONS
---
Breaks directly at the main spot and at nearby spots

One of the focal points of Jaco has always been surfing with many other great breaks in the area. The surf in this region is some of the most consistent in the country and the various breaks offer something for all surfers from beginner to advanced. Jaco is a  sandy bottom beach break that works best on northwest and southwest swells and offers surfers both rights and lefts. The ideal time for surfing is when the tide is rising from mid to high. Jaco can handle swell size up to about head high (6-7 feet) and then it starts to close out. The north end of the beach breaks closer to shore and generally has bigger waves while the south end is more protected by the point and a more gradually rising sand floor Several small river mouths form sand bars in the rainy season which form great A-frame peaks.
Seasonal conditions
Our stretch of coastline is considered to be the most consistent for surf in all of Costa Rica, a country that is blessed with warm water and waves all year round. The biggest swells tend to hit between May and December, but we surf almost every day of the year.


---
SURROUNDINGS / REGION
---
Characterization of surroundings/region
Playa Jaco, approximately 2 hours from San Jose (140 km) is the closest major beach from the Juan Santa Maria International airport.
It is not necessary to change your dollars ahead of time, as they are accepted in most tourist towns and areas of Costa Rica. You can also withdraw money in the local currency through an ATM or exchange money at one of the local banks if you wish.
For the most up to date medical information for travelers check with the Center for Disease Control in Atlanta, Ga. U.S.A. Malaria medication and other tropical disease preventatives are usually only recommended if you plan to travel to the remote regions of the rainforest.


---
JOURNEY
---
Ways to get to the camp
You will want to fly into Juan Santa Maria airport (SJO) in San Jose. We can arrange for an airport pickup for $90 US. When possible we help arrange car pool for guests arriving at the same time so they can share the costs. If you would like us to organize this for you we will need your flight number, airline name and arrival date and time.


PACKAGES & PRICES
---
PACKAGE A - Spanish Course - from 506 $ per Week / Person
---
This package includes:

- Spanish Course: daily Spanish Course from Monday to Friday
- 2 hours Spanish Class and 1 hour Spanish Lab per day
- Lodging: Shared Room or Homestay
- self-catering


---
PACKAGE B - Intensive Surf - from 676 $ per Week / Person
---
This package includes:

- Intensive Surf Course daily from Monday to Friday
- Surf Course: at least 2 hours per day
- surf equipment
- Lodging: Shared Room or Homestay
- self-catering


---
PACKAGE C - Surf, Yoga and Spanish - from 719 $ per Week / Person
---
This package includes:

- Surf Course, Yoga Course and Spanish Course daily from Monday to Friday
- Surf Course: 2 hours per day
- surf equipment
- Yoga Course: 1.5 hours per day
- Spanish Course: 2 hours Spanish Class and 1 hour Spanish Lab per day
- Lodging: Shared Room or Homestay
- self-catering


---
PACKAGE D - Surf and Photography - from 838 $ per Week / Person
---
This package includes:

- Surf Course and Photography Course daily from Monday to Friday
- Surf Course: 2 hours per day
- surf equipment
- Photography Course: 2 hours per day
- use of photo/video editing studio
- Lodging: Private Room
- self-catering