ABOUT THE SURF CAMP
---
LOCATION AND SURF CONDITIONS
---
Nosara, Costa Rica is paradise for surfers and yogis looking for a warm, sunny getaway. This popular retreat location is renowned for its unspoiled beaches and zen culture. Only reachable by 4x4, this little slice of heaven has been ranked by National Geographic as one of 20 top locations for surfing in the world. Stop by in December or January for a kick of energy from the Christmas rodeo season, post up with a coconut, and surf the waves to your heart's content.

High season: December to April
Medium season: May, July, August and November
Low season: June, September and October
Black Out dates: from 9th to 11th of April and from 26th to 31st of December
ACCOMMODATION AND CATERING
---
ACCOMMODATION TYPES
---
Standard twin
Traveling in a pack or need a little extra space? We've got the room for you. A standard twin room is perfect for small groups and pairs who want to keep an eye on their budget. These rooms have two twin beds and a private bathroom. Enjoy the Selina community and still spend quality time with your squad.
Amenities: Wi-Fi, Private bathroom, Towels, Electricity, Household linen, Internet

Standard Room - Queen Size Bed
Treat yourself to the full Selina experience and room upgrade, all without breaking the bank. A standard room is the perfect option for someone who likes their privacy and also needs to stick to a budget. Enjoy a comfortable bed and a private shower. The perfect option for someone who wants to be a part of the community, but also needs a little space to chill.
Amenities: Wi-Fi, Private bathroom, Towels, Electricity, Household linen, Internet

Quadruple Private Room
Whether your family consists of your closest friends or your little ones, we've got the perfect room for you. Stay in our large family rooms, which feature one bunk bed and two single beds (these can be merged into one Queen bed). Classic Selina design and attention to detail make these rooms comfortable for everyone. Plus: peace and quiet when you need it – especially around naptime.
Amenities: Wi-Fi, Private bathroom, Towels, Electricity, Household linen, Internet
Deluxe room
The next level of comfort for someone who needs a break after the day's adventures. These large rooms come with a private bathroom, king or queen-sized bed, sofas and chairs, and – depending on the location – a private balcony to enjoy scenic views. The deluxe room is equipped with your comfort as the top priority.
Amenities: Wi-Fi, Private bathroom, Towels, Electricity, Household linen, Internet, Desk

6-Bed Dormitory Room
The classic Selina option! Bunk up with your new friends without sacrificing comfort – or privacy. Selina's dorms are not like you'd find in your typical hostel. We set the standard at a whole new level with a seating area, your own light, a personal shelf and locker for each bunk bed to keep your things secure. This is the best way to immerse yourself in the Selina community and meet your fellow travelers – all while getting the most value for your budget. Bathrooms are shared.
Amenities: Wi-Fi, Household linen

8-Bed Dormitory Room
The classic Selina option! Bunk up with your new friends without sacrificing comfort – or privacy. Selina's dorms are not like you'd find in your typical hostel. We set the standard at a whole new level with a seating area, your own light, a personal shelf and locker for each bunk bed to keep your things secure. This is the best way to immerse yourself in the Selina community and meet your fellow travelers – all while getting the most value for your budget. Bathrooms are shared.
Amenities: Wi-Fi, Electricity, Household linen, Security locker, Internet

12-Bed Dormitory Room
The classic Selina option! Bunk up with your new friends without sacrificing comfort – or privacy. Selina's dorms are not like you'd find in your typical hostel. We set the standard at a whole new level with a seating area, your own light, a personal shelf and locker for each bunk bed to keep your things secure. This is the best way to immerse yourself in the Selina community and meet your fellow travelers – all while getting the most value for your budget. Bathrooms are shared.
Amenities: Wi-Fi, Private bathroom, Electricity, Household linen, Internet
---
CATERING
---
Breakfast and Lunch included, Dinner depends on the package.
SURF COURSE AND ACTIVITIES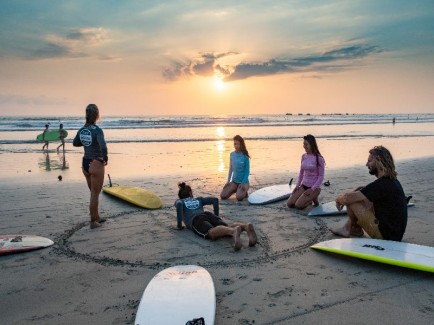 ---
SURF COURSE DETAILS
---
At Selina Surf Club we teach surfers of all levels. We provide surf lessons for those who want to learn how to step on to the water and surfers that want to improve having more speed and control in the green waves. Also for advanced surfers who wants to go one step further in their technique and style. Professional and experienced surf teachers coach you. They will get you to that next level and help you get the most from your surfing. 
---
SURF MATERIALS
---
We use the latest and most advanced equipment to provide the best feeling ever, all the lessons include surfboard and all the equipment needed.
MORE INFO, HOW TO GET THERE & FAQ
---
 SURF CONDITIONS
---
We have incredible year round surf conditions for all surfing levels, probably one of the best places worldwide to improve your surfing or learn to surf for the first time.
---
 SURROUNDINGS 
---
Activities 
Fresh air-fun is what's in store for visitors to Nosara, Costa Rica. This stunning natural setting strikes the perfect balance between relaxation and exploration. Surf the famous waves of Playa Guiones all day long with Selina Surf Club. Balance out the swells with a yoga session, or head out to the nearby Ostional Wildlife Refuge to see olive ridley sea turtles hatch.
---
 JOURNEY
---
Ways to get to the camp
From another Selina: Selina Tamarindo is the closest destination. You can book a Selina shuttle or take a local flight.
By bus: The Route 160 bus arrives to the Nosara Downtown terminal. From there, take a taxi or tuk tuk to Selina Nosara. A private taxi should cost you around $15, while a tuk tuk will be $10 for a 15 minute ride.
From the airport: The closest airport to Selina Nosara is Nosara Beach Airport (NOB). Once you land, take a taxi or tuk tuk to Selina. We're about 15 minutes away from the airport.
PACKAGES & PRICES
---
Surf Lesson Package  - from $736 per Week / Person
---
This package includes:

5 NIGHTS:
- 5 nights accommodation in Selina
- Daily breakfast, 4 lunches and 2 dinners
- 4 days of surf lessons (2h)
- Transportation to the best surf spots
- Free surf time in the afternoon
- Extra activities at the location
- Free Wifi
- Selina staff on hand

7 NIGHTS:
- 7 nights accommodation in Selina
- Daily breakfast, 6 lunches and 3 dinners
- 6 days of surf lessons (2h)
- Transportation to the best surf spots
- Free surf time in the afternoon
- Extra activities at the location
- Free Wifi
- Selina staff on hand

10 NIGHTS:
- 10 nights accommodation in Selina
- Daily breakfast, 9 lunches and 4 dinners
- 9 days of surf lessons (2h)
- Transportation to the best surf spots
- Free surf time in the afternoon
- Extra activities at the location
- Free Wifi
- Selina staff on hand
 Prices in $
Room
 
 
 
5 Nights
 
 
 
 
 
 
 
7 Nights
 
 
 
 
 
 
 
10 Nights
 
 
 
 
 
 
 
 
High Season
 
Mid Season
 
Low Season
 
 
 
High Season
 
Mid Season
 
Low Season
 
 
 
High Season
 
Mid Season
 
Low Season
 
 
 
 
 
 
 
 
 
 
 
 
 
 
 
 
 
 
 
 
 
 
 
 
 
Dorm
 
 
 
563
 
552
 
540
 
 
 
767
 
751
 
736
 
 
 
1 093
 
1 059
 
1 037
 
 
 
 
 
 
 
 
 
 
 
 
 
 
 
 
 
 
 
 
 
 
 
 
 
Quadruple
1 pax
 
 
 
954
 
904
 
884
 
 
 
1 315
 
1 245
 
1 217
 
 
 
1 865
 
1 765
 
1 725
 
 
 
 
 
 
 
 
 
 
 
 
 
 
 
 
 
 
 
 
 
 
 
 
 
Quadruple
2 pax
 
 
 
1 398
 
1 348
 
1 328
 
 
 
1 916
 
1 846
 
1 818
 
 
 
2 709
 
2 609
 
2 569
 
 
 
 
 
 
 
 
 
 
 
 
 
 
 
 
 
 
 
 
 
 
 
 
 
Quadruple
3 pax
 
 
 
1 842
 
1 792
 
1 772
 
 
 
2 516
 
2 446
 
2 418
 
 
 
3 553
 
3 453
 
3 413
 
 
 
 
 
 
 
 
 
 
 
 
 
 
 
 
 
 
 
 
 
 
 
 
 
Quadruple
4 pax
 
 
 
2 286
 
2 236
 
2 216
 
 
 
3 117
 
3 047
 
3 019
 
 
 
4 397
 
4297
 
4 257
 
 
 
 
 
 
 
 
 
 
 
 
 
 
 
 
 
 
 
 
 
 
 
 
 
Standard
1 pax
 
 
 
834
 
809
 
784
 
 
 
1 147
 
1 112
 
1 077
 
 
 
1 625
 
1 575
 
1 525
 
 
 
 
 
 
 
 
 
 
 
 
 
 
 
 
 
 
 
 
 
 
 
 
 
Standard
2 pax
 
 
 
1 278
 
1 253
 
1 228
 
 
 
1 748
 
1 713
 
1 678
 
 
 
2 469
 
2 419
 
2 369
 
 
 
 
 
 
 
 
 
 
 
 
 
 
 
 
 
 
 
 
 
 
 
 
 
Deluxe
1 pax
 
 
 
934
 
909
 
884
 
 
 
1 287
 
1 252
 
1 217
 
 
 
1 825
 
1 775
 
1 725
 
 
 
 
 
 
 
 
 
 
 
 
 
 
 
 
 
 
 
 
 
 
 
 
 
Deluxe
2 pax
 
 
 
1 378
 
1 353
 
1 328
 
 
 
1 888
 
1 853
 
1 818
 
 
 
2 669
 
2 619
 
2 569
---
Surf Guiding Package  - from $716 per Week / Person
---
The surf guiding package is designed for those who know how to surf but prefer a local guide who finds every day the best spots, finding epic uncrowded surf during all the stay. Our guides have a deep knowledge of the area and will make sure you surf the right spot at the right time. The surf guides will surf with you and tell you everything you need to know about the specific spot (currents, winds, sandbanks, rocks etc.)
This package includes:

5 NIGHTS:
- 5 nights Selina accommodation - Daily breakfast, 4 lunches and 2 dinners - 4 Days surf guiding for your level to the best surf spots - Transportation to the best surf spots - Free Surf Time - Extra activities at the location - Free Wifi - Selina staff on hand
7 NIGHTS:

- 7 nights Selina accommodation
- Daily breakfast, 6 lunches and 3 dinners
- 6 Days surf guiding for your level to the best surf spots
- Free Surf Time
- Transportation to the best surf spots
- Extra activities at the location
- Free Wifi
- Selina staff on hand
10 NIGHTS:

- 10 nights Selina accommodation
- Daily breakfast, 9 lunches and 4 dinners
- 9 Days surf guiding for your level to the best surf spots
- Transportation to the best surf spots
- Free Surf Time
- Extra activities at the location
- Free Wifi - Selina staff on hand
Prices in $
Room
 
 
 
5 Nights
 
 
 
 
 
 
 
7 Nights
 
 
 
 
 
 
 
10 Nights
 
 
 
 
 
 
 
 
High Season
 
Mid Season
 
Low Season
 
 
 
High Season
 
Mid Season
 
Low Season
 
 
 
High Season
 
Mid Season
 
Low Season
 
 
 
 
 
 
 
 
 
 
 
 
 
 
 
 
 
 
 
 
 
 
 
 
 
Dorm
 
 
 
503
 
492
 
480
 
 
 
747
 
731
 
716
 
 
 
1 097
 
1 074
 
1 052
 
 
 
 
 
 
 
 
 
 
 
 
 
 
 
 
 
 
 
 
 
 
 
 
 
Quadruple
1 pax
 
 
 
894
 
844
 
824
 
 
 
1 295
 
1 225
 
1 197
 
 
 
1 880
 
1 780
 
1 740 
 
 
 
 
 
 
 
 
 
 
 
 
 
 
 
 
 
 
 
 
 
 
 
 
 
Quadruple
2 pax
 
 
 
1 278
 
1 228
 
1 208
 
 
 
1 876
 
1 806
 
1 778
 
 
 
2 739
 
2 639
 
2 599
 
 
 
 
 
 
 
 
 
 
 
 
 
 
 
 
 
 
 
 
 
 
 
 
 
Quadruple
3 pax
 
 
 
1 662
 
1 612
 
1 592
 
 
 
2 456
 
2 386
 
2 358
 
 
 
3 598
 
3498
 
3 458
 
 
 
 
 
 
 
 
 
 
 
 
 
 
 
 
 
 
 
 
 
 
 
 
 
Quadruple
4 pax
 
 
 
2 046
 
1 996
 
1 976
 
 
 
3 037
 
2 967
 
2 939
 
 
 
4 457
 
4 357
 
4 317
 
 
 
 
 
 
 
 
 
 
 
 
 
 
 
 
 
 
 
 
 
 
 
 
 
Standard
1 pax
 
 
 
774
 
749
 
724
 
 
 
1 127
 
1 092
 
1 057
 
 
 
1 640
 
1 590
 
1 540
 
 
 
 
 
 
 
 
 
 
 
 
 
 
 
 
 
 
 
 
 
 
 
 
 
Standard
2 pax
 
 
 
1 158
 
1 133
 
1 108
 
 
 
1 708
 
1 673
 
1 638
 
 
 
2 499
 
2 449
 
2 399
 
 
 
 
 
 
 
 
 
 
 
 
 
 
 
 
 
 
 
 
 
 
 
 
 
Deluxe
1 pax
 
 
 
874
 
849
 
824
 
 
 
1 267
 
1 232
 
1 197
 
 
 
1 840
 
1 790
 
1 740
 
 
 
 
 
 
 
 
 
 
 
 
 
 
 
 
 
 
 
 
 
 
 
 
 
Deluxe
2 pax
 
 
 
1 258
 
1 233
 
1 208
 
 
 
1 848
 
1 813
 
1 778
 
 
 
2 699
 
2 649
 
2 599