ABOUT THE SURF CAMP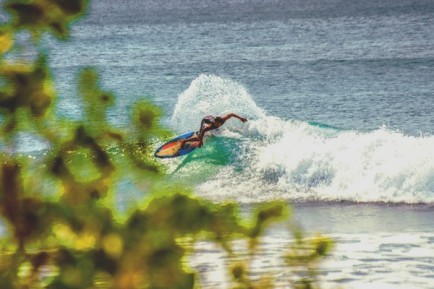 ---
LOCATION AND SURF CONDITIONS
---
This is a great area in a beach town that has a certain special something. This hippie-enclave-meets-surfer's paradise will suck you in with its seductive energy, white sand beaches, and amazing culinary scene. A broad strip of forest frames the beach of Santa Teresa, creating a pocket of paradise. Nearby nature preserves offer tons to see and do for wildlife lovers, including 150 species of birds to seek out.
---
CAMP CHARACTER
---
Selina Santa Teresa is located in the best surf location in the area of Santa Teresa, directly at the beach in the surf spot. Santa Teresa is a remote beach town in Costa Rica that seems to have a little something more, a secret power if you like. It's an energy that can't be explained but can definitely be felt by all. The long white sand beaches, the endless barrels, the music, the parties, the mind-bending culinary experience, and the beautiful people that walk the streets will bring you to Santa Teresa, but it's that magnetising energy that makes you never want to leave.
---
CAMP OPERATOR
---
Selina Group
Selina provides guests with beautiful places to stay, travel, and work abroad indefinitely.
Plus, we use our in-depth local knowledge to create thousands of authentic activities and experiences in over 60 destinations worldwide.
From the heart of urban cities to the depth of the Amazon Jungle, we put our heart, soul, and wanderlust into providing forever-travelers, break-takers, and staycaters with a new and exciting way to explore the world.
ACCOMMODATION AND CATERING
---
ACCOMMODATION TYPES
---
We provide an accommodation solution for every budget. From luxury suites to hammocks under the stars and everything in between, embrace the option to stay your way.
Our beds boast high-quality linens and mattresses with unbeatable comfort. Plus, you'll benefit from a range of useful amenities and of course, Selina's signature artistic touches.
---
CATERING
---
From organic, authentic dishes to locally-sourced produce, high-quality nutrition is especially important on the road. Plus, our Grab and Go section makes 'missing breakfast' is a thing of the past!
SURF COURSE AND ACTIVITIES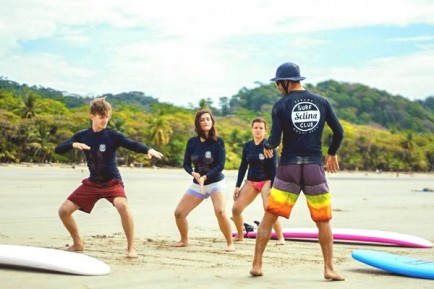 ---
SURF COURSE DETAILS
---
Serious about surfing? So are we. Ride waves and safely learn professional techniques with Selina Surf Club. Whether you're looking to dip your toe in the water or perfect your roundhouse cutback, our specialist classes and state-of-the-art equipment will help you improve skills fast. 
---
OTHER ACTIVITIES
---
Stay at Selina and you'll have no trouble finding things to do in Santa Teresa Costa Rica. If you can tear yourself away from the perfect waves or the pool deck, we've got a ton of tours and activities lined up to keep you busy! Wondering what to do first? Start with a day trip to Tortuga Island for some world-class snorkeling and diving. Cabo Blanco Nature Preserve is just a short distance away, and boast over 150 species of birds within its 1270 hectares of land. Take your travels to the clouds with a canopy tour in the nearby Mal Pais forest, or hike to explore the La Florida waterfalls. Book a sunset horseback ride along the beach, or wind down at the end of the day with a relaxing yoga class.
MORE INFO, HOW TO GET THERE & FAQ
---
IMPORTANT INFORMATION
---
Seasonal information
Costa Rica is a tropical country and only has two seasons: humid and dry. The dry season usually lasts from the end of December to mid-April. The wet season lasts the rest of the year. The Caribbean coast remains humid all year long. Temperatures do not change too much.  The minimum temperature in Costa Rica is 23 degrees Celsius or 74 degrees Fahrenheit and the maximum temperature is 33 degrees Celsius or 91 degrees Fahrenheit. The water temperature is around 28 degrees Celsius. No wetsuits needed. 
Electricity information
Use an American outlet with flat connections because the electric current is 110 Volt. 
Passport / visa
For French nationals, a passport valid six months after your return home is compulsory. No visa for stays of less than a month.
Vaccination 
No vaccine is required to enter Costa Rica. Nevertheless, think about taking treatment against malaria if you wish to hazard in the jungle.
Medical information
Do not drink the tap water and bring along medicine for intestinal problems.
Local expenses/money information
The local currency in Costa Rica Colon (CRC) but it is not exportable. Selina recommends you to have US Dollars (USD) in small denominations and change on the way there. Credit cards are not accepted everywhere.
Important information
Smoking is not allowed inside bedrooms. In case you omit this rule, 300 USD fine will be applied for smoking.
---
 JOURNEY
---
Ways to get to the camp
From another Selina
Take one of our shuttles from Selina Tamarindo, La Fortuna, Manuel Antonio, Jaco or San Jose. These depart every morning and you can book them under the Explore tab or at the front desk of each location.
By bus
Take the public bus from San Jose (Terminal 7-10) to Santa Teresa. The bus departing at 6am will drop off passengers in Cobano, Puntarenas, the nearest town. You will have to switch to another local bus to ride another short distance into Santa Teresa, where it will drop you off right in front of our location. Otherwise, the bus departing at 2pm from San Jose will drop you off directly in Santa Teresa. We advise double checking departure times in advanced in case of any bus or ferry schedule changes.
From the airport
If you arrive early in the morning to the San Jose airport, you can reserve a spot on a Selina shuttle to take you directly to Selina Santa Teresa. Also, you can rent a car at the airport and drop it off at Selina once you arrive. Alternately, you can take a taxi to the bridge of Villa Bonita in Alajuela (about 30 minutes away), where the public bus to Santa Teresa passes at around 6:20AM and 2:20PM.
PACKAGES & PRICES
---
8 DAYS SURF LESSONS PACKAGE - from 987.41 USD / Person
---
This package includes:
7 Nights accommodation
6 Surf Lessons (2h duration)
6 Breakfasts, 6 Lunches, 3 Dinners
One natural drink or soda per meal
Surf equipment, Board rental is included
Extra activities at the location
Free Wifi
Selina staff on hand
Discounts for extra services: airport shuttle 10% discount, retail 10% discount

*Additional Item Available on request*
 Private room, shared bathroom - 2083.30 USD
 Standard room - 2206.69 USD
---
11 DAYS SURF LESSONS PACKAGE - from 1407.10 USD / Person
---
This package includes:
10 Nights accommodation
9 Surf Lessons (2h duration)
9 Breakfasts, 9 Lunches, 4 Dinners
One natural drink or soda per meal
Surf equipment, Board rental is included
Extra activities at the location
Free Wifi
Selina staff on hand
Discounts for extra services: airport shuttle 10% discount, retail 10% discount
*Additional Item Available on request*
Private room, shared bathroom - 2971.49 USD
Standard room - 3147.77 USD
---
6 DAYS SURF GUIDING PACKAGE  - from 703.55 USD / Person
---
This package includes:
5 Nights accommodation
4 Surf Guidings (2h duration)
Transportation
4 Breakfasts, 4 Lunches, 2 Dinners
One natural drink or soda per meal
Surf equipment, Board rental is included
Extra activities at the location
Free Wifi
Selina staff on hand
Discounts for extra services: airport shuttle 10% discount, retail 10% discount
 
*Additional Item Available on request*
Private room, shared bathroom - 1485.74 USD
Standard room - 1573.88
---
8 DAYS SURF GUIDING PACKAGE - 987.41 USD / Person
---
This package includes:
7 Nights accommodation
6 Surf Guiding (2h duration)
Transportation
6 Breakfasts, 6 Lunches, 3 Dinners
One natural drink or soda per meal
Surf equipment, Board rental is included
Extra activities at the location
Free Wifi
Selina staff on hand
Discounts for extra services: airport shuttle 10% discount, retail 10% discount
*Additional Item Available on request*
Private room, shared bathroom - 2083.30 USD
Standard room - 2206.69 USD
---
11 DAYS SURF GUIDING PACKAGE - from 1407.10 USD / Person
---
This package includes:
10 Nights accommodation
9 Surf Guiding (2h duration)
Transportation
9 Breakfasts, 9 Lunches, 4 Dinners
One natural drink or soda per meal
Surf equipment, Board rental is included
Extra activities at the location
Free Wifi
Selina staff on hand
Discounts for extra services: airport shuttle 10% discount, retail 10% discount
*Additional Item Available on request*
 Private room, shared bathroom - 2971.49 USD
Standard room - 3147.77 USD
---
6 DAYS SURF & COWORK  PACKAGE - from 767.15 USD / Person
---
This package includes:
5 Days Cowork
5 Nights accommodation
4 Surf Lessons (2h duration)
4 Breakfasts, 4 Lunches, 2 Dinners
One natural drink or soda per meal
Surf equipment, Board rental is included
Extra activities at the location
Free Wifi
Selina staff on hand
Discounts for extra services: airport shuttle 10% discount, retail 10% discount
*Additional Item Available on request*
Private room, shared bathroom - 1605.74 USD
Standard room - 1693.88 USD
---
8 DAYS SURF & COWORK  PACKAGE  - from 1071.41 USD / Person
---
This package includes:
7 Days Cowork
7 Nights accommodation
6 Surf Lessons (2h duration)
6 Breakfasts, 6 Lunches, 3 Dinners
One natural drink or soda per meal
Surf equipment, Board rental is included
Extra activities at the location
Free Wifi
Selina staff on hand
Discounts for extra services: airport shuttle 10% discount, retail 10% discount
*Additional Item Available on request*
Private room, shared bathroom - 2251.30 USD
Standard room - 2374.69 USD
---
6 DAYS SURF & FITNESS - from 763.55 USD / Person
---
This package includes:
5 Nights accommodation
4 Surf Lessons (2h duration)
4 Breakfasts, 4 Lunches, 2 Dinners
2 Fitness Lessons
One natural drink or soda per meal
Surf equipment, Board rental is included
Extra activities at the location
Free Wifi
Selina staff on hand
Discounts for extra services: airport shuttle 10% discount, retail 10% discount
*Additional Item Available on request*
Private room, shared bathroom - 1605.74 USD
Standard room - 1693.88 USD