ABOUT THE SURF CAMP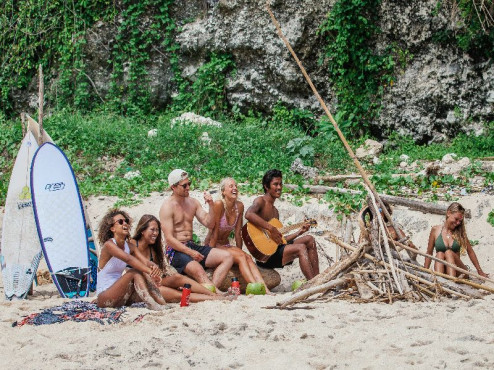 ---
LOCATION AND SURF CONDITIONS
---
On the move - by land and sea - our strong point
Discovering Bali
The major concept of the Kima Bali Surf Camp is to get to know what's near and far in Bali. Whether the shorebreak in Dreamland, reef of Bingin or Kuta´s beach breaks: our long-term experience of Bali promises to take you to the best waves all around the island. 

Here on the island you don't have to miss out on culture and other activities. Hindu Bali offers endless temples, royal palaces and rice terraces in the island's interior, the coastal towns have loads of opportunities for shopping, dining and hanging out with the right people.
For the sports fans there is a wide spectrum: diving, wake/kiteboarding,stand-up paddling, volcano trekking, rafting, mountain biking or tree top climbing.
Culture and Sport Trips
So that you can get to know Bali's inland we, at Kima Surf Camp, also offer organised culture and sport trips with a driver at the weekend.
Bali off your own bat
So you can get to know your "own" Bali our car pool with minibuses (min. 3 guests), jeeps and mountain bikes is available free of charge for island tours or other activities. – just check with us for availability and refill the gasoline after your trip. You can hire a moped with a board carrier for 4 euro /day.
For short trips to the supermarket or ATM a driver can be organised – just check with us.
An international driver's license is necessary for all vehicles!
---
CAMP CHARACTER
---
The Team
Winda, the manager and host during your stay in the Surf Villa is your primary contact, is always all ears for your needs and does his best to make your stay as pleasant as possible. Our surf guide team consists of qualified local surfers who have years of experience in surf guiding and are also trained life savers.
Our butler is available 8 hours a day for errands and services of all kinds.
Together with the whole team of the Surf Villa, the drivers and the surf videographer, we do our best to make sure you have a memorable stay with us.
ACCOMMODATION AND CATERING
---
ACCOMMODATION TYPES
---
Accommodation
The focus of Kima Surf Villa Bali is on comfort and relaxation and is divided into two sectors:
Villa
The Villa area is on the two lower levels with two bedrooms, living and dining room, kitchen and the outdoor area with pool/children's pool and seating arrangement. The Villa can be booked with both bedrooms, or if only one room is booked the Villa guests share the living space. For larger groups access to Apartment 1 can be made.
Appartements
The apartments are on the upper floors and all have a terrace with a Jacuzzi and a wonderful view over Seminyak; from the top floor a panorama over the sea.
The entire surf resort is geared towards luxury and relaxation and combines modern lifestyle with a tropical flair. Free WiFi is available throughout.
Villa Bedroom 1 & 2
The air-conditioned bedrooms in the Villa are located on the upper floor and have either a king-size bed or two single beds. Each room has a satellite TV, a WC and shower area with hairdryer and bathroom amenities. The Villa bedroom guests share the spacious living and outdoor area of the Villa on the ground floor.
Apartment 1
The air-conditioned Apartment 1 has a bedroom with a queen-size bed, large bathroom with shower, WC, hairdryer and bathroom amenities and a modern eat-in kitchen and living room with satellite TV and DVD.
If required, the sofa in the living room can be converted into a bed so there is another sleeping place. The large glass front of the living room leads out on to the large terrace with a private Jacuzzi and outdoor sofa, surrounded by tropical plants.
This apartment is a separate unit on the first floor of the complex; if required, it can also have access to the living and outdoor area of the Villa.
Apartment 2
The air-conditioned Apartment 2 has a bedroom with a king-size bed, large bathroom with shower, WC, hairdryer and bathroom amenities and a modern eat-in kitchen and living room with sofa bed, satellite TV and DVD.
Access to the terrace with Jacuzzi and tropical plants is available from the living and bedroom.
The rooftop terrace with beanbags, sound system and a wonderful view over Seminyak also has an air-conditioned glass cube which, with a double bed, offers another place to sleep.
Apartment 3
The air-conditioned Apartment 3 has a bedroom with a king-size bed, satellite TV and DVD and a bathroom with double shower, WC, hairdryer and bathroom amenities. The living room with a large sofa, sound system and big screen also has a glass front with folding doors leading on to the terrace with the BBQ and Jacuzzi.
Apartment 3 also has a fully equipped modern kitchen with a large dining table and a second bedroom on the second floor with one more king size bed and a shower. Also there is a guest toilet.
All bookings include

    Airport transfers -  with 5 nights min stay
    Standard 3 Course Breakfast or Deluxe 5 Course Breakfast - Healthy start of the day
    Surf Guiding - Personalized to your needs
    Surf video analysis - 6 x Per week
    Surf theory - 6 x Per week
    Boat shuttle to the outer reefs - 1x (advanced surfers)
    Concierge Service - Concierge & Butler service
    Kima Refill Bottle
    Camp Van - Shuttle Service
    Kima T-shirt - For your camp feedback
    Free flow coffee & tea
    Wifi
---
CATERING
---
Breakfast included
A good start for the day is served for you every day by the Villa service team. Breakfast comprises fresh bread or croissants, eggs and fruit salad. Coffee and tea are available all day free of charge. Our butler will be pleased to arrange anything else you may want for breakfast. Just let us know the day before.

Lunch and Dinner

Indo Food
The cost of living on Bali is extremely low. A healthy and filling meal (e.g. chicken with a side dish) will cost around 3 €. There are lots of local cuisine restaurants within walking distance.  Fruit salads and a filling nasi or mie goreng can be had for less than 2 € even on the most remote beaches.

Western Food
Seminyak in particular has numerous restaurants geared towards the western palate. Just a short stroll away many international culinary favourites can be found just round the corner at the food boulevard "Oberoi" with its many restaurants and cafes.

Our employees are happy to help with food delivery service from the various restaurants nearby.

Add ons
Deluxe Breakfast 5 EUR/day
Pimp your standard breakfast to a deluxe spread for little money. You will receive a wider selection of breakfast options such as freshly prepared smoothies, muesli, bagels, Nutella and more. The perfect start for your surf day.

Halfboard 8 EUR/day
Receive additionally to your standard breakfast a 2-course menu in our restaurant every day after 5:30 p.m.

Kima Refill Bottle 10 EUR/pcs
Use this bottle to refill it with our fresh drinking water in the camp at any time The enormous amounts of plastic waste is becoming an increasing problem in Bali. Therefore help to keep Bali as plastic-free as possible.


SURF COURSE AND ACTIVITIES
---
SURF COURSE DETAILS
---
Beginners
For beginners the many semi-beach breaks on our doorstep are ideal for riding your first green wave and improving your take-off.
Total beginners we recommend booking our 3-day learn-to-surf package.

Intermediates
For intermediate surfers Bali has a whole series of soft reef breaks and semi-beach breaks in store.
Many perfect waves nearby or famous spots a bit further away will push your skills and maybe even make you an advanced surfer by the end of your stay.

Advanced
Of course it is also the advanced surfers that really get their money's worth on Bali.
The best waves all around Bali are on our schedule: the legendary Airport breaks, the classic Bali waves such as Dreamland and Balangan or the world famous spots like Padang-Padang, Keramas or Uluwatu.

Surf Guiding
Kima Bali Surf Camp's big plus is that surf guiding is inclusive!

Twice a day and seven days a week we offer exclusive guided surf tours for all surf levels to all surf spots around Bali. Our surf guide - guest ratio never exceeds 1:3 (one surf guide for a maximum of 3 guests) and if you happen to be the only guest at a certain level then you will have the pleasure of private surf guiding.

When it comes to surf guiding, we at Kima Surf Villa Deluxe have our focus on your special wishes and preferences. That means, we always discuss the surf plan for the next days with you on an individual basis. In choosing the surf spots we take into consideration the level of your skills, the swell, the wind and the tides.

7 days a week we head out to two different surf spots either by car or boat. Our experienced surf guides are there for you for two surf sessions - every day. Our surf guides are all trained in life-saving and will take you to the appropriate surf spot, give you instructions and will be with you in the water all the time to give you tips and advice.

For absolute newcomers to surfing we recommend our Learn-To-Surf package, which is a three-day training course for beginners on Kuta beach – the perfect preparation for taking part in our daily guided surf tours.
Twice a week we run a video analysis of your surf sessions to help you see your mistakes and improve on them and up your surf level.  With our years of experience we can guarantee you will be riding on the wave of the best surf spots for your level!

The diversity and sheer perfection of the Bali waves is enough to make any surfer's heart miss a beat. No matter what time of year, Bali has constant surf and ideal conditions for beginners, intermediates and pro's.
And don't worry about the swell - that's 100% guaranteed!

Add ons
Board Rental 10 EUR/day
Don´t worry about bringing your own board, we have it covered. We have shortboards (6'0'' - 7'0''), funshapes and mini-malibus (7'0'' - 7'8'') available for every level and all conditions. Leashes and lycras are included in the rental. Any repairs or loss of equipment need to be paid for.

Board Insurance 50 EUR up to 3 weeks or 10 EUR/day
Be on the safe side and "insure" your rental board. We will carry the costs for any repairs over a period of 1 – 3 weeks, whether it's a tiny dent or a major break. Any damage will be repaired professionally. If the board or parts of it get lost - even if it is in the water - the costs have to be borne by the user.
---
ACTIVITIES

---
Offroad Moto Cross
Discover Bali's amazing landscape off the beaten tracks, beginner and intermediate tracks, Transfers & Equipment included 
From €82 p.p
Learn-to-Surf
3-day beginner surfschool course, perfect preparation for the Kima surfguiding program, equipment, transfer, insurance included 
From €79 p.p
Vulcano Trekking Tour
Climb Bali's holy mountain "Gunung Agung" or "Gunung Batur" and enjoy a breath taking view over Bali 
From €59 p.p
Private Surfcoaching Bali
Customized surf coaching program with experienced surfguide, without surf camp stay, hotel transfer included 
From €69 p.p
Scuba Diving
Discover Bali's and Lembongan's underwater world at world-famous diving spots, individual packages, diving licenses, small groups 
From €95 p.p
Yoga
Private sessions with experienced and licensed Yogis, optional at the surfcamp, on the beach or in a Yoga-centre nearby 
From €32 p.p
Custom Surfboard
Order a custom made surfboard designed for your individual preferences, different shapes and designs from international shapers 
From €339 p.p
Beginner Surfschool Padang Camp
The surfing school in Bali offers beginners' courses and several training classes. Well-versed surfing instructors make it easier for you to take up this sport. 
From €11 p.p
MORE INFO, HOW TO GET THERE & FAQ
---
JOURNEY
---
Airport Transfer
For bookings of 5 nights or more we provide an airport pick-up and drop-off free of charge. If you stay less than 5 nights we will charge a reasonable fee for those transfers.
PACKAGES & PRICES
---
7 -, 10 - and 14 - Days; price per Person

---
Room
 
Nights
 
 
All year long
Deluxe 2-bedroom Villa (min. 4 persons booking)
 
7
10
14
 
 
549
719
959
 
 
 
 
 
 
Apartment (1,2, & 3) (min. 2 persons booking)
 
7
10
14
 
 
549
719
959
 
 
 
 
 
 
 
 
 
 
 
 
Add ons
 
 
 
 
 
Board Rental
 
 
 
 
10 €/day
Board Insurance
 
 
 
 
50 € up to 3 weeks or 10 €/day
Deluxe Breakfast
 
 
 
 
5 € / day
Halfboard
 
 
 
 
8 € / day
Kima Refill Bottle
 
 
 
 
10 € / pcs
Airport Pick-Up
 
 
 
 
15 € / person (for stay less than 5 nights)
Airport Drop-Off
 
 
 
 
15 € / person (for stay less than 5 nights)
| | | | | |
| --- | --- | --- | --- | --- |
| Activities |   |   |   |   |
|  Learn-to-Surf |   |   |   | 79 € / person |
| Vulcano Trekking Tour |   |   |   | from 59 € / person   |
| Offroad Moto Cross > Beginner Tour |   |   |   | from 82 € / person |
| Offroad Moto Cross > Intermediate Tour |   |   |   | from 139 € / person |
| Offroad Moto Cross > Advanced Tour |   |   |   | from 175 € / person |
| Private Surf Coaching  |   |   |   | 69 € /person (min. 2 persons or 2 sessions/day)        |
| Scuba Diving |   |   |   | from 95 € / person |
| Custom Surfboard |   |   |   | from 339 € / person |