ABOUT THE SURF CAMP
---
LOCATION AND SURF CONDITIONS
---
Fuerteventura, only 100 km away of the african western coast is considered one of the top destinations across Europe to practice surfing. It is also known as the Hawaii of the Atlantic, the island of Fuerteventura offers its visitors great conditions for surfing, as it enjoys of mild temperatures all year through. You will find a great variety of spots with beach breaks and reefs suitable for every surf level, from beginners to surf pros. For these reasons and much more Fuerteventura is also known as the Hawaii of the Atlantic amongst surfers.
---
CAMP CHARACTER
---
Spanish group course:

We make different groups based upon the level of our students, the courses run from 1 week duration until full semesters. Each week comprises 5 sessions of 2 hours each, running form Monday through Friday. This course is eminently functional, being the goal of it to improve the communicative competences of the student through individual activities and group dynamics. The teacher leads the session covering the different language skills, with the help of all the classroom resources, tasks and micro-tasks include: Exercises, scheduled homework, games, videos, songs etc. We select the material based upon current issues and topics taking place generally referred to the Ibero-American culture.

Spanish private course:

A natural environment, as heavenly as the island of Fuerteventura, inspires us both teachers and students to reach your goal of speaking Spanish.  Private sessions are a unique opportunity to  improve your communicative skills, both the oral expression & comprehension. It is also a great way to practice the kind of language spoken in real life as you will be taught by a native Spanish speaking teacher. You will be also able to tailor the content of your sessions with the help of your teacher, in order to cover those aspects that you both may consider important. If you are determined to learn and boost your Spanish, our highly experienced and motivated lecturers will support you to reach the goal. We will set the agenda at your criteria, so you will be able to enjoy your vacation fully while in Fuerteventura.
ACCOMMODATION AND CATERING
---
ACCOMMODATION TYPES
---
Casa Carmen, a real home with all the amenities:
- Ocean views from Rooftop
- Option to accommodate in private and shared bedrooms
- Free internet service
- Private lockers in the rooms
- Fully equipped kitchen at disposal of guests
- Laundry service
- Door pick-up service for water sport activities
Our student residence/Surf house, affectionately called Casa Carmen, is located in the heart of Corralejo—a small, vibrant town with a surfer soul in the northern part of Fuerteventura. Casa Carmen is a classic Canarian-style building with a large rooftop terrace overlooking the sea. The coliving can house up to 22 people, providing many moments for meeting and spending time with interesting people in an international environment. The people who tend to come to Casa Carmen are often young Europeans traveling solo and seeking a warm and inspiring place to take refuge. One of our favorite aspects of Casa Carmen is the location—it's why we picked it after all! From the house you can walk anywhere in about two to ten minutes: beaches, the supermarket, shops, the surf school, bars, restaurants, and even some surf spots!
---
CATERING
---
The stay at Casa Carmen is accommodation only. The student house includes a fully equipped kitchen, with all the basic appliances and kitchenware, so you can cook any meal and share the experience with other students. Conveniently, there are two supermarkets near Casa Carmen, both only a five minute walk away.
Every Tuesday, the surf school organizes a dinner for students and instructors. For only €10 you'll enjoy dinner while sharing a table with your fellow surf students, as well as enjoy a live music show! It's common for students to go out every evening for dinner and drinks… Corralejo offers many good restaurants with reasonable prices. For between €10 and €20 you can have anything from an authentic Italian pizza to delicious fresh fish. Over the past few years many Europeans have made the north side of the island their home, giving way to a new wave of international cuisine restaurants, at more than fair prices.
SURF COURSE AND ACTIVITIES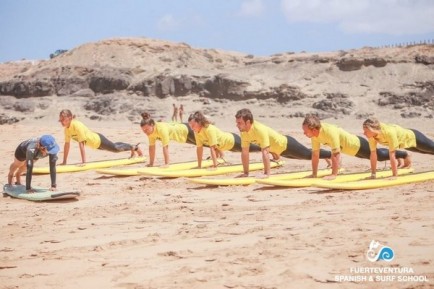 ---
SURF COURSE DETAILS
---
Instructors  are highly motivated and  will make your surf time simply unforgettable! The school will provide you with all the necessary  equipment: Surf boards, wetsuit, booties… assuring you the best surfing experience. We drive 4×4 vehicles and vans to reach the best surfing. Every day we have a look to the wind & swell forecast, so we decide where to go according to the level of the group and other factors such as the tide, wind, swell… So you will be able to check out a bunch of different surf spots and beaches across the whole island. Our surf courses are designed for every age and level, we make  3 different surf levels. The school  follows all the security aspects strictly. These are some of the surf spots you will be able to surf with the school. In the west coast: El Cotillo, Tindaya or La escalera. In the North shore: Punta Blanca, Punta Gorda & Boneyard. In the East Coast: Rocky point, Flagbeach, Glass beach, El Moro and Playa blanca.
---
SURF MATERIALS
---
The material is provided by us. 
---
OTHER ACTIVITIES
---
SUP, Yoga and Kite Surfing
MORE INFO, HOW TO GET THERE & FAQ
---
 SURF CONDITIONS
---
Seasonal conditions
The climate in Fuerteventura is pleasant throughout the year. We recommend you bring a windstopper or similar attire, despite the pleasant temperature there sometimes can be a chill factor, produced by humid wind, particularly in the evening. You won't need a wetsuit to surf for 6 months out of the year, but from January to March it's recommended you use a wetsuit of 3.2mm, the water temperature goes as low as 17/18ºC. During the course we'll provide you with a long wetsuit, to keep you warm and comfortable during your surf lessons.
---
 JOURNEY
---
Ways to get to the camp
We'll pick you up at the airport any day of the week and we'll organize your course schedule based on your stay. Stop worrying, all we want is for you to have an unforgettable time with us, here in Fuerteventura!
PACKAGES & PRICES
---
SPANISH + SURF + ACCOMODATION - from 495€ per Week / Person
---
This package includes:

- Accommodation: 7 nights in Casa Carmen, our surf house with ocean views!
- Spanish course: 10 hours in 5 sessions. Fees & course material incl.
- Surf course: 15 hours in 3 sessions. Equipment, transport & insurance incl.
- Airport transfers: Both ways included
- Levels: We make  Spanish and Surf groups at different levels
- Starting date: Fully flexible. We arrange agendas accordingly to your staying dates
- Extra sessions: Possibility to extend your Surf & Spanish sessions at your will
---
SURF + YOGA + ACCOMODATION - from 410€ per Week / Person
---
This package includes:

- Accommodation: 7 nights in Casa Carmen, our surf house with ocean views!
- Surf course: 5 sessions. 5 hours per session. Equipment, transport & insurance incl.
- Yoga: 2 guided sessions
- Airport transfers: Both ways included
- Levels: We make  Spanish and Surf groups at different levels
- Starting date: Fully flexible. We arrange agendas accordingly to your staying dates
- Extra sessions: Possibility to extend your Surf & Spanish sessions at your will
- Surf Gear: Students may use equipment free of charge after each sessions with school
---
SURF + ACCOMODATION - from 390€ per Week / Person
---
This package includes:

- Accommodation: 7 nights in Casa Carmen, our surf house with ocean views!
- Surf course: 25 hours in 5 sessions. Equipment, transport & insurance incl.
- Surf Equipment: Students may use the material after each session with the school Free of Charge
- Airport transfers: Both ways included
- Levels: We make groups every day at 3 different levels
- Starting date: Fully flexible. We arrange agendas accordingly to your staying dates
- Extra sessions: Option to Book extra sessions spontaneously on the spot