ABOUT THE SURF CAMP
---
LOCATION
---
Whilst you can see Morocco from the cities of Southern Spain, once you're on the ground you'll realise that you couldn't be further away... In a wonderful way!
This is North Africa baby! This is a place of camels and forts and snake charmers. Where date palms grow out of sandy deserts, and kids run up to your car snotty-faced asking for sweet, sweet candy.
Our surf palace is located in the south of Morocco, in the village of Taghazoute, near the resort city of Agadir. An area so lovely the King of Morocco has his beach palace down there. Here the High Atlas Mountains complete their run down to the North Atlantic Ocean, where goats reside in trees and where fishermen make their nightly drift out to the horizon on seaworthy car tyre inner tubes.
Taghazoute is a stereotypical North African fishing village, with a series of narrow lanes winding either side of the one road, Highway 1, which runs through it's middle and provides the village's central focal point. Along this road there are a handful of shops, a market place and mosque and a few hotels. You can walk through Taghazoute along Highway 1 from end to end in about 5 minutes, which is taking into account stopping to pat cats and high five locals.
ACCOMMODATION AND CATERING
---
ACCOMMODATION

---
The Stoke Travel SurfPalace is located just off Highway 1. Whilst from the outside it looks identical to the houses surrounding it, tall and narrow and salmon in colour, once inside you will realise that it is very, very different. The palace is populated with sun worshipers and surf rats from every corner of the globe, and they can be found lounging in one of the four indoor common areas, or slothing about on the roof top terrace. There is a combination of shared and private accommodation, though most nights you'll pass out on the terrace with the ever-clear North African night sky twinkling away above you...
*A note on the terrace: Because it deserves it. This terrace is amazing and is definitely the focal point of the house. This is where we eat, drink tea, share stories, chug beers and smoke hookah. This is the place where you can play a game of chess or kiss a beautiful stranger. We BBQ up here, we surf the net, we sloth around and we dry our wetsuits. From this terrace you can check the surf at three of Morocco's best breaks, from this terrace the sunset will burn so bright and beautiful your eyes will bleed, from this terrace the sounds of a Moroccan fishing village will drift up and mingle with chatter from all around the world. This is the terrace.
SURF COURSE AND ACTIVITIES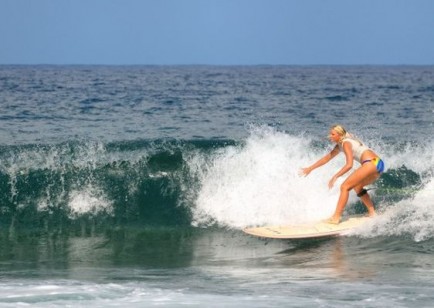 ---
TOUR DETAILS
---
City and
Surf Tour

(Trips run Thursday/Friday until Sunday/Monday but if want us to be flexible you know that we can)
The best of all worlds. Fly into Marrakech and be met at the airport by our legendary guide, spend a night in this famous North African city in a hotel by the main square, the world famous Djemaa el Fna, shop until you drop and then shop some more, bath yourself in a traditional bath house (we'd love to say that nudity is optional, but sometimes it just ain't. When in Marrakech...) and eat dinner surrounded by snake charmers.
The next day we set off along the foothills of the High Atlas Mountains to the coast. This short drive takes us through some truly breathtaking landscapes where the 30 degree desert heat is complimented by the high snow-capped mountains to the south. One of the world's greatest short drives. Upon our arrival in Taghazoute, surf city Morocco, we'll go for a surf. Then we'll lay in the sun. Then we'll go home and smoke some shisha and drink some beers and socialise like chimps until we decide it's time to either a) go to bed, b) start a beach party, or c) head into rocking Agadir for a night on the tiles. In any case we'll be having one whale of a time.
Once we wake up we wash the cobwebs away with coffee and massive breakfast before hitting the waves again. Then we pack it all and head to Marrakech, so we can get our flights back to the real world, loaded with souvenirs, sun tans and an addiction to surfing that will last forever.
A day at the Morocco Surf Palace:
This is a guide itinerary with everything in the all inclusive package. Times are a guide only. Morocco is very chilled out, so things tend to happen when they happen and no one worries too much what time of day it is. 
8-10am - breakfast 
10am - head to the beach for 2 hours of surf lessons followed by free surf (time varies depending on conditions and tides)
2pm - lunch on the beach or at the surfhouse
3pm - 5 hours of free time
8pm - dinner at the house
9pm - free time
---
OTHER ACTIVITIES
---
camel rides, horse rides, jet ski rides, trip to the soukh market in Agadir, exploring the town, swimming, sun baking, hiking, cliff jumping, trip to Paradise Valley, visit the hammam (bathhouse), drinking Moroccan beer, and much more.
Night time activities include: party nights in Agadir, movie nights, dinners in our favourite restaurants in town, beach BBQ and bonfires, watching the sunset from a surfboard, playing cards on the terrace.
MORE INFO, HOW TO GET THERE & FAQ
---
JOURNEY
---
Ways to get to the camp
Come fly to us...
This is really the only practical way to get here. Because it's on another continent fool! (Unless you live in Africa, thereby making us the fool) Anyway, to get here grab a flight to either Agadir, which is the airport nearest the surf palace, or to Marrakech, which is also close-ish and usually cheaper, and with more frequent flights.
The airlines we usually fly with are Ryanair, Easyjet and Royal Air Maroc. Like with most of these trips the earlier you book the cheaper it will be. So book now homegirl!
If you are flying to Agadir we will preorder a taxi for you. They don't cost the earth, especially when you are traveling in a group (and we'll let you know if anyone else on your flight is coming to the palace so y'all can share).
If you land in Marrakech you can either prearrange a taxi to take you to the Surf Palace, or make your own was here on the public bus (see details below). In any case we'll go through all of this with you personally when you book.
---
SURF CONDITIONS
---
Surfing on the edge of the Sahara

Taghazoute, Southern Morocco, North Africa.
Seasonal Conditions
All year, though the best season is October to June (European winter)
---
REGION
---
Optional: Camel rides, quad bikes, traditional bath house, jet ski rides, ski trips, desert safari.
Perfect surf and year 'round sun.
PACKAGES & PRICES
---
PACKAGE A - All inclusive - from 60 € per day/person
---
Where: Taghazout, Southern Morocco, North Africa.
When: Packages are available all year, though the best season is October to April (European winter).
Age: Young at heart traveler 18+. Free trip if you bring your grandma
Sleep: Accommodation in our surf house right on the water's edge with a beautiful panoramic view of the bay
-All year long
including:
– Accommodation in our surf house right on the water's edge with a beautiful panoramic view of the bay
– Breakfast, lunch & dinner
– 2 hour surf lesson with equipment hire
– Surf guiding
– Trip to the souk market
– Trip to the local hammam (bathhouse)
– Agadir airport transfers
– Agadir town transfers

*If you stay a week, a trip to the rock pools at Paradise Valley is also included.

Add ons: 2 person room upgrade (10€/night), camel rides, quad bikes, jet ski rides, desert safari, trips to Paradise Valley, and nights out in Agadir.