ABOUT THE SURF CAMP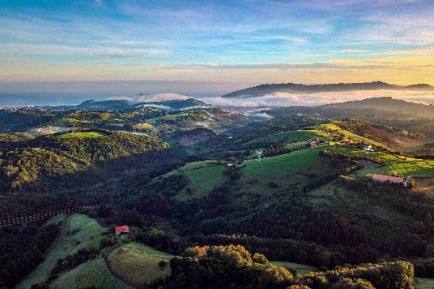 ---
LOCATION AND SURF CONDITIONS
---
 We welcome surfers of all levels, travellers, and yogis far and wide to call our slice of paradise their home away from home. Here, you will find an experienced team of surf and yoga instructors, an instant family of like- minded internationals, unlimited beer and sangria, amazing chef- prepared food, and a stunning view. Come and experience Spain to the fullest. 

The price includes includes: 
· Stoke surf house dorm accommodation (bedding included)
· Breakfast, lunch and dinner included daily (all dietary requirements)
· Daily pickups to and from Zarautz 
· Daily 2 hour surf lessons with wetsuit and board included
· Experienced surf guides and transfers to local beach break
· Local activities and party nights
· Daily yoga class with qualified instructor 
· Free access to onsite equipment inc yoga mats, skim boards, skateboards, half pipe, slackline, beach games and poi balls
€10/day UNLIMITED BEER AND SANGRIA
There is a small surcharge for single occupancy tents.

Surf some Europe's hottest spots.
The San Sebastian Surf Camp offers a boutique surfing experience in the Basque country, where you won't only surf all day, but you'll also eat well, meet new people, explore the local area, practice your yoga and simply enjoy the house, location and the people you're with. 
ACCOMMODATION AND CATERING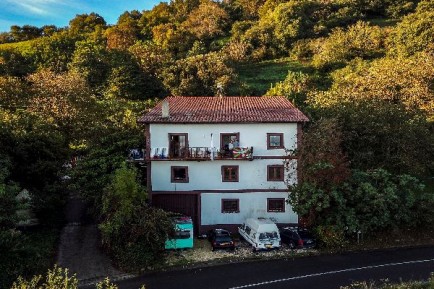 ---
ACCOMMODATION AND CATERING
---
You will get 3 hearty chef- prepared meals every day to give you the energy to keep you on the waves. Dietary requirements are catered for, so vegetarians we cater for you guys too! 
For drinkers, pay €10/ a day for unlimited beer and sangria and plunder our beer fridge and sangria jugs! 
We often head on down to the beach at nights for an impromptu beach party.

Accommodation Information

We stay in a huge converted farmhouse - where we sleep on real beds and use real bathrooms . What was once an active traditional farmhouse is now transformed into a surfer's haven. The Surf House is uniquely situated in one of Europe's most stunning nature reserves - Pagoeta, with panoramic views overlooking the North Atlantic ocean and basque countryside. The new surf house offers a hub for like- minded travellers from all around the world so surf the picture- perfect summer waves of Playa Zarautz. 
Location Information

The camp is located in Pagoeta nature reserve in the town of Aia, in the hills behind Zarautz Surf Beach. The location provides the best of both worlds with close proximity to beautiful San Sebastian town and the beach with the freedom to retreat to our surf house in the hills for some peace and quiet as well. The home is just a short deviation from the beaten track, only 20 minutes from the hustle and bustle of San Sebastian city and easily accessible by train or San Sebastian Surf Camp's private daily shuttle.
SURF COURSE AND ACTIVITIES
---
SURFCOURSE DETAILS
---
Surfing..
We can provide a mix of theory and practical instruction for anyone from raw beginners to experienced surfers. We provide great boards and equipment (or you can bring your own) and we've got anything you need to catch the best wave that you can. Our emphasis is always on the fun of surfing, the best surfer in the water is the one having fun...
MORE INFO, HOW TO GET THERE & FAQ
---
JOURNEY - HOW TO GET THERE 
---
San Sebastian Surf Camp provides free transfers from San Pelaio station in Zarautz at 9 a.m., 1 p.m., and 7 p.m. It is important to inform them which one you would like to jump on ahead of time, make sure to send San Sebastian Surf Camp an inquiry when booking. If you are unable to make it for the last 7 p.m. free transfer, please call or email San Sebastian Surf Camp to arrange to pick up.
Arrival by airplane
If you plan to travel by airplane, arriving at Bilbao Airport (BIO) is the easiest option. There is a bus straight from the airport to San Pelaio station. Moreover, there is Pesa Airport Bus that leaves every 30 minutes out front of the airport direct to San Pelaio Station Zarautz as well. You may ask the driver to alight at the station. Moreover, San Sebastian Surf Camp offers free pick up from Zarautz (San Pelaio) at 9 a.m, 1 p.m and 7p.m.
If you arrive at Biarritz Pays Basque Airport (BIQ), you can take the train changing at Hendaye or bus directly to San Sebastian central station.
If you arrive at San Sebastián Airport (EAS), there are buses from the airport to San Sebastian town. Although this is the closest airport but not the easiest to get from.  
Arrival by train
The Regional and International trains will arrive at Donostia Station in San Sebastian. You will need to head over to Amara Station (Euskotren), then jump on any train headed towards Bilbao and get off at San Pelaio Station in Zarautz. The journey is approximately 20 minutes.
In order to get from San Sebastian and Bilbao to the surf house, you can board the local train called Euskotren, it is a good way to get there. The trains run from San Sebastian (Amara) to Zarautz (San Pelaio) from the early morning until about 10 p.m, the trip costs 2 EUR and takes 20 minutes. Moreover, there is a free pick up from Zarautz (San Pelaio) at 9 a.m., 1 p.m., and 7 p.m.
PACKAGES & PRICES
---
The quickie package - ALL INCLUSIVE FOR €70 PER PERSON/PER NIGHT 
---
What you get:
The price includes: 
· Stoke surf house dorm accommodation (bedding included)
· Breakfast, lunch and dinner included daily (all dietary requirements)
· Daily pickups to and from Zarautz 
· Daily 2 hour surf lessons with wetsuit and board included
· Experienced surf guides and transfers to local beach break
· Local activities and party nights
· Daily yoga class with qualified instructor 
· Free access to onsite equipment inc yoga mats, skim boards, skateboards, half pipe, slackline, beach games and poi balls
€10/day UNLIMITED BEER AND SANGRIA
---
The pro package - ALL INCLUSIVE FOR €490 PER PERSON/ 7 NIGHTS 
---
What you get:
The price includes: 
· FREE unlimited beer and sangria for your entire stay
· 2 professional surf photos
· Surf theory lesson - Get the upper hand with some extra surf knowledge
· Stoke surf house dorm accommodation (bedding included)
· Breakfast, lunch and dinner included daily (all dietary requirements)
· Daily pickups to and from Zarautz 
· Daily 2 hour surf lessons with wetsuit and board included
· Experienced surf guides and transfers to local beach break
· Local activities and party nights
· Daily yoga class with qualified instructor 
· Free access to onsite equipment inc yoga mats, skim boards, skateboards, half pipe,       slackline, beach games and poi balls
€10/day UNLIMITED BEER AND SANGRIA
---
The hang 10 package - ALL INCLUSIVE FOR €700 PER PERSON/ 10 NIGHTS 
---
What you get:
The price includes: 
· Private surf lesson with one of our qualified surf instructors 
· FREE unlimited beer and sangria for your entire stay
· 5 professional surf photos
· Surf theory lesson - Get the upper hand with some extra surf knowledge 
· Stoke surf house dorm accommodation (bedding included)
· Breakfast, lunch and dinner included daily (all dietary requirements)
· Daily pickups to and from Zarautz 
· Daily 2 hour surf lessons with wetsuit and board included
· Experienced surf guides and transfers to local beach break
· Local activities and party nights
· Daily yoga class with qualified instructor 
· Free access to onsite equipment inc yoga mats, skim boards, skateboards, half pipe,       slackline, beach games and poi balls
€10/day UNLIMITED BEER AND SANGRIA