ABOUT THE SURF CAMP
---
LOCATION AND SURF CONDITIONS
---
Whether you are a beginner or have surfed since you were 6, Ericeira is one of the best and most consistent summer surf destinations in Europe. With beautiful beach breaks for beginners as well as Portugal's most hollow point breaks and reefs – there is something for everyone and all within a 10-minute drive.
---
CAMP CHARACTER
---
Surf Berbere Surfcamp Portugal guides will take you to all of the best spots that are most suited to your level of surfing. For the beginners we offer cheap surf lessons all day as well as guiding with our Australian Certified Instructors, which means that you'll have every opportunity to improve your surfing.
And, by the way, wireless hotspot available!


ACCOMMODATION AND CATERING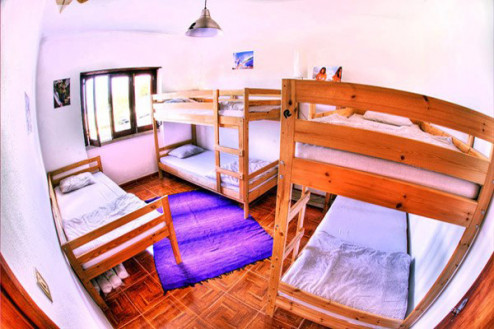 ---
ACCOMMODATION TYPES
---
OPTION A - DOUBLE BED & BREAKFAST
Here you have the choice, you either go for the comfort of a double bed, or a bunk bed. The double rooms are fairly basic, but a necessity for couples. The good news is that if you are a couple then only one of you needs to pay for the bed. The partner not paying for the bed needs only list the group leader when they make their booking.
The daily rate stays the same whether you are a single person, or a couple sharing. This is a great incentive for couples coming out as they immediately make a saving on their trip. You also get your breakfast thrown in as well. This is normally served between 8am and 9am, but the camp manager will keep you posted if there is a change of plan.
OPTION B - BUNK BED & BREAKFAST
You need a bed, why not go for the back to school experience, ideal for groups of three or four people that want to share a room together.
Again you get your breakfast included in this. Just tick the box and we'll work out the cost for your stay
SURF COURSE AND ACTIVITIES
---
SURF COURSE DETAILS
---
Need some help perfecting your bottom turn, or a beginner our coaches are all qualified by their respective national surfing bodies, and are perfect for helping you improve your surfing. We have a ridiculous number of spots that are perfect for every level and normally we will split the groups up into the different standards and send them off to the best waves of the day!
---
SURF MATERIALS
---
SURFBOARD HIRE

We don't discriminate between long boarders and short boarders. In fact we even had a body-boarding manager! The price is the same, we have a pretty decent quiver, catering for most people's needs. These range from big foamies, NSPs of all sizes, some fishes and a few short boards. The second you start taking the short boards out, you start taking out the staff favourites, so be sure that they come back in one piece!
WETSUIT HIRE
We have excel, ripcurl, billabong, adler, boys, girls, mens, ladies, xl, xxl, xs and just mediums! Unless you are going to really throw a curveball at us, or you are a group of 16 XXL's we should have a few wetsuits that will fit you pretty well!
MORE INFO, HOW TO GET THERE & FAQ
---
SURF CONDITIONS
---
Breaks directly at the main spot and at nearby spots
FOZ DO LIZANDRODistance From Surf Berbere: 
On the doorstep!
A nice, sandy beach which is very consistent. There are plenty of peaks so chances are you'll have one all to yourself if you want! It's where we take our surf school each morning.
Great spot for beginners.
RIBEIRA D'ILHAS
Distance From Surf Berbere: 5 min drive
Ericeira's most accessible reef break is just a short drive from Surf Berbere, Portugal. It can hold a big swell and get fairly heavy at times. It's a long right hander, with fat walls for some advanced surfing - Ericeira's answer to Anchor Point!
 

SANTA CRUZ
Distance From Surf Berbere: 13.5 miles
Santa Cruz is a small town north of Ericiera. The breaks tend to get a little busy as town breaks often do but a short walk up the hill north of the town will offer less crowds.

PRAIA AZUL
Distance From Surf Berbere: 12 miles
Beach break of good quality. There's a slab at the north end of the spot offering a hollow left but more regular right.

PRAIA GRANDE SINTRA
Distance From Surf Berbere: 10miles
One of the most popular breaks in the Central Portugal area. Long and slow waves and low and faster shore breaks at high.


Seasonal conditions
During the summer the weather is beautiful. You can expect long days of sunshine with temperatures averaging around 25degrees. The winter months can get a little cooler though.

The surf is great all year round. As with everywhere else on the Atlantic, winter brings huge waves but summer can still bring many great waves. The pros visit Portugal towards the end of summer
Crowd factor and local people
What stormriders have to say about Ericiera.
As with Peniche, Ericeira has no shortage of Atlantic swell to play with. Numerous classic reef set ups, rocky headlands and small rivermouth bays shape the swells into world class waves such as Coxos. Ericeira can be considered the centre of Portuguese surfing with its concentration of classy breaks a mere 30km from Lisbon. It doesn't quite have the wind protection of Peniche and big, stormy swells tend to favour the south-facing coast of Lisbon, but for consistent quality and challenging waves, Ericeira rules.
Ericeira is the Mecca of Portuguese surf and like Peniche, it offers a truly staggering variety of waves, crammed into just a few kilometres of coast. There's something to suit every standard but unlike Peniche, most of these waves are rock bottomed and there is little wind or swell shelter. Coxos is the best known wave, a long, hollow world class right, but sitting proudly next to it in the quality stakes are the barrels of Pedra Branca and Reef. Such high class waves attract crowds and with Lisbon only a short drive away there are no shortages of surfers wanting a piece of Ericeira action.
---
SURROUNDINGS / REGION
---
Characterization of surroundings/region
Ericiera is a great little town with a huge amount of history. There's some incredible architecture and culture to take in. Lisbon is also only about 40 minutes away by bus or taxi again with a huge amount going.
---
JOURNEY
---
Ways to get to the camp
The easiest way is to book an airport transfer through us! It's 30Euros per person.
Important details
Portugal is in the Schengen area so you may need a VISA for this, but not specifically for Portugal. It would be best ot check with your embassy though.


PACKAGES & PRICES
---
ACCOMODATION - from 37€ per Person / Night
---
4-6 bed dorms: €37pppn
Double room: €45 pppn
Accommodation price includes daily breakfast and 5 dinners (Monday to Friday) plus daily surf guiding.
---
SURF LESSONS - from 30€
---
(no surf lessons on Sundys)
One week including board, instructor and wetsuit: €165
One day including board, instructor and wetsuit: €30
---
RENTAL - from 10€
---
Wetsuit: €10pppd
Board: €10pppd
---
AIRPORT TRANSFER - 30€ per Person / Way

---
Transfer to and from Lisbon airport: €30 per person each way.