ABOUT THE SURF CAMP
---
LOCATION
---
Our Surf School and Surf Shop are situated at the foot of the famous sand dunes of Maspalomas.
Our Surf Apartments are just a 1 minute walk from the Surf Center, overlooking the sand dunes and, more importantly, the waves...


---
CAMP CHARACTER
---
We are based in the south of Gran Canaria where we live the dream of an endless summer with year-round waves. We were set up in 2007 and quickly developed into a popular surf school due to our fame for offering really high quality surf courses with a real personal feel and attention to detail.
In 2008, we changed our name from "Surf Experience" to "Surf Canaries" and we are one of the few surf school on the island to be working with the major tour operators.

The secret to our success is a culture of really concerning ourselves with the well-being of each client. We strive to ensure that each one has a fantastic experience in and out of the water, either as a one day surf experience or a week long surf course.

Out of this, we can share this islands beauty and fantastic waves whilst giving everyone the chance to experience what it is to catch a wave...


---
CAMP OPERATOR
---
Our permanent team of highly trained, enthusiastic instructors are what sets our Surf School apart from the others.
It is our strict safety protocol and well tried and tested teaching methods, combined with a real good sense of fun that keeps our school highly recommended.


ACCOMMODATION AND CATERING
---
ACCOMMODATION
---
These self-catering apartments consist of one bedroom with 2 single beds, bathroom, couch/bed for 1 extra, kitchenette (water heater, coffee machine, cooking stove, fridge etc), TV, free WiFi, big balcony, swimming pool, Guitar, Street Longboard (definitely the coolest way to get about town!) and fresh bread rolls in the morning!!
---
CATERING
---
The apartments are all self-catering; supermarkets and all important little stores ar reachable within a few minutes only.
SURF COURSE AND ACTIVITIES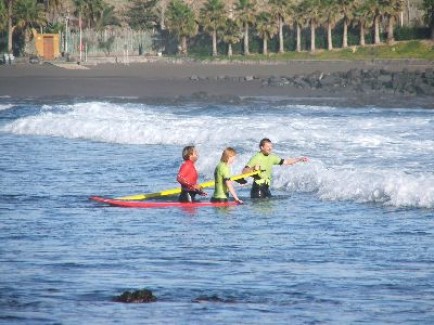 ---
SURF COURSE DETAILS

---
The pick up from the hotel is usually between 09:00-09:30 in the morning (depending on surf conditions) where we then meet up in the surf school and have the introductions + surf videos.
Then, if there are no waves on our beach we head off on our Surf Bus "journey" to wherever we will be surfing on that day.
10:00 - 11:30 Theory and stretching on the beach. The theory is different depending on which part of the course the student is on.
11:30 - 12:30 First practical session in the water with the instructors.
12:30 - 13:00 Light lunch on the beach (provided by us).
13:00 - 14:00 Second practical class.
14:30 de-brief and pack down.
15:30 ish - arrival back in the south. The instructor/student ratio is 1:5 and the maximum group size is 15 students. The course language is primarily English with options in German and Spanish.


---
SURF MATERIALS
---
We use different sized beginner surf boards made exclusively from soft materials for maximum safety. We provide all materials needed – surf boards, leash, wetsuit (long and short), rash vest.
Participants only need to bring a change of clothes, towel and swimwear.
Materials can be rented outside of the surf school hours from 15,-Euros onwards.


MORE INFO, HOW TO GET THERE & FAQ
---
SURF CONDITIONS
---

Breaks directly at the main spot and at nearby spots

Gran Canaria has some outstanding beaches for learning to surf. Thanks to being a mobile surf school, we can access these beaches at any time when they are good!  
| | |
| --- | --- |
| Playa del Ingles, beach break | 5 min walk from the surf school |
| Maspalomas, reef break | 10 min drive (or 1 hour walk) |
| Arguineguin, reef break | 15 min drive |
| Playa del Hombre, beach break | 30 min drive |
| Media Luna, beach break | 35 min drive |
|  La Laja, beach break | 40 min drive |
| La Cicer, beach break and reef break | 50 min drive |
Seasonal conditions
Often overlooked as a surf destination, the island (described as the Hawaii of the Atlantic) has incredible surf, fantastic learner waves and an endless summer climate.Water temperature is around 20 degrees Celsius, air temperature between 25 and 30 degrees Celsius.


---
CROWD FACTOR AND LOCAL PEOPLE

---
Depends entirely on the spot but we take students to places which aren´t affected by localism.


PACKAGES & PRICES
Discounts will be calculated in the booking process (first step)



---

PACKAGE A - 3 DAYS SURF COURSE+7 NIGHTS ACCOMMODATION - from 228€

---


Included in this package:

- Hotel Transfer within our pickup area
- 3 Days Surf Course
- 7 Nights Accommodation
- Full equipment
- Surf Stretching Class
- Surf Theory Class
- Surf Practical Class
- Full Insurance
- Picnic and Suncream

3 Surfers:  228€ / p.P.
2 Surfers:  275€ / p.P.
1 Surfer:   380€ 



---

PACKAGE B - 4 DAYS SURF COURSE+7 NIGHTS ACCOMMODATION - from 263€

---


Included in this package:

- Hotel Transfer within our pickup area
- 4 Days Surf Course
- 7 Nights Accommodation
- Full equipment
- Surf Stretching Class
- Surf Theory Class
- Surf Practical Class
- Full Insurance
- Picnic and Suncream

3 Surfers:  268€ / p.P.
2 Surfers:  310€ / p.P.
1 Surfer:   415€ 



---

PACKAGE C - 5 DAYS SURF COURSE+7 NIGHTS ACCOMMODATION - from 298€

---


Included in this package:

- Hotel Transfer within our pickup area
- 5 Days Surf Course
- 7 Nights Accommodation
- Full equipment
- Surf Stretching Class
- Surf Theory Class
- Surf Practical Class
- Full Insurance
- Picnic and Suncream

3 Surfers:  298€ / p.P.
2 Surfers:  345€ / p.P.
1 Surfer:   450€ 




---

ONLY SURFING

---




| | | |
| --- | --- | --- |
| Number of days surfing       | Price          |   |
| 1 Day | € 55,- |   |
| 2 Days | € 106,- |   |
| 3 Days | € 150,- |   |
| 4 Days | € 190,- |   |
| 5 Days | € 228,- |   |