ABOUT THE SURF CAMP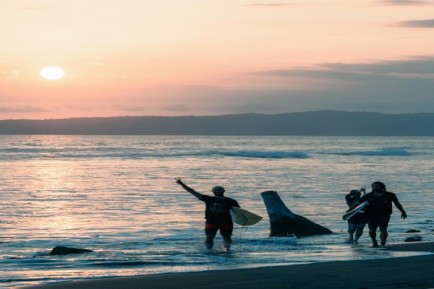 ---
LOCATION AND SURF CONDITIONS
---
Surf Expedition Inc is based in Bocas del Toro, Panama but operates surf tours in Nicaragua and a surf camp in Costa Rica.
---
CAMP CHARACTER
---
For the surf trip to Nicaragua, since there are a few nights of parties during the trip and we will be going out to bars, you must be at least 18 years old. The only exception is if you are 17 and that you provide us with a signed parental consent. For the surf camp in Costa Rica, we accept participants from 14 years old and above but you must come accompanied by a parent if you are less than 17 years old.
ACCOMMODATION AND CATERING
---
ACCOMMODATION TYPES
---
All accommodations are beach-front or less than a minute walk from the beach, in shared-rooms (double or triple private rooms optional, depending on availabilities).
Coming on your own? Half the people also come on their own and quickly become friends with everyone so no need to worry, our surf trip creates new friendships quickly.
---
CATERING
---
Breakfast and lunch included. First welcome dinner included. Other dinners are for you to explore the area, depending on your preferences. Vegetarian meals available everywhere.
SURF COURSE AND ACTIVITIES
---
SURF COURSE DETAILS
---
THIS SURF TRIP IN NICARAGUA IS PERFECT FOR YOU IF YOU'RE LOOKING TO:
- Learn to surf or improve your existing surfing technique
- Travel around Nicaragua on a surf trip to discover different destinations
- Discover the real Nicaragua and surf far from the main touristic areas
- Push your limits with adrenaline-filled activities and create the best memories of your life


Our surf lessons were built from the best practices of highly-regarded surf schools in France and of the International Surfing Association. Our experimented surf coaches are there to give you confidence in the water. Personalized surf classes in small group with a maximum of 3 students in the water per coach for a safe experience. Depending on surf conditions this ratio can go 2:1 or 1:1.
3 surf theory classes and 7 practical surf classes
4 yoga classes to stretch from surfing


During the trip, we will take a short break from surfing to take you to one of the most beautiful area of Nicaragua, a laguna of turquoise water created inside a volcano crater. From there we will embark on a boat party where you will be able to dive from the boat into this beautiful natural paradise. Enjoy the sun rays with music, jacuzzi and barman on board and let the rum flow to the sound of your all-time favourite music hits.
---
SURF MATERIALS
---
You have you own surf board and want to take it with you? No problem, but let us know so that we can plan the space accordingly. For all the others booking a "Learn to surf" package, we will supply surf boards, but we recommend you to bring your own rash gards/ 1-2mm wet suit tops ( if travelling to Nicaragua January to March). If you're booking a "Guided surf" package, surf boards are available for rent for $100 extra.
---
OTHER ACTIVITIES
---
If the surf is flat or the ocean is calm enough, we have a some very unique activities to propose! Explore and swim in a natural wave pool in oceanic caves. Find a secret white sand beach to go down sand boarding on a surf board. Hop on a sailing cruise until sunset.
MORE INFO, HOW TO GET THERE & FAQ
---
SURROUNDINGS / REGION
---
Characterization of surroundings/region
Taken in hostage by pirates many time during the past centuries, Granada is an architectural beauty from the Spanish colonial era. We will stop for lunch and for a visit of the main features and cathedral of this famous city.Nicaragua is one of the only places on earth where it is possible to get to an active volcano's crater. If we're lucky we might even see molten lava!
---
 JOURNEY
---
Ways to get to the camp
Between 30 and 60 days before your departure, we will send you an email with a proposed flight so that all participants arrive on the same flight. The shuttle is free if you book that flight or arrive +-30 minutes of that flight arrival time. If you arrive on an earlier or later different flight, we cam send you a trustworthy chauffeur to pick you and the cost is $80USD (day time) or $85 USD (night time). The drive to the first destination is about 2.5h in Nicaragua and 1.5h in Southern Costa Rica (from Golfito Airport). We strongly recommend using a reputable taxi service to avoid taxi scams.

Important details
Travel insurances are not included and a minimum of an emergency health insurance abroad is MANDATORY to travel with us. We also suggest to get a full coverage (late bagages, loss & theft, trip cancelation, etc.) but that is up to you. Just make sure to wait for our confirmation that the trip have reached the minimum amount of participants before purchasing your airline ticket.
PACKAGES & PRICES
---
LEARN TO SURF - SIMPLE START - from 1066€ per Week / Person
---
This package includes:
- 7 days/6 nights to visit 2 destinations (5 days at surf beach + 2 days of discovery)
- 7 days/6 nights in shared room
- Accommodation with pool (1rst destination)
- Beach front accommodation
- Private room option for 1-2 pers (+$300) and triple room option (+350$)
- All breakfasts and lunches
- Welcome dinner
- 6 practical surf lessons with experimented surf coaches
- 2 surf theory surf classes
- Practical classes in small groups of avg. 3 students per coach in the water
- Surfing equipment (surf board, leash, wax. You must bring your own rash guard/1mm top wetsuit (January to March) and your own sunscreen)
- Photo/video analysis of your technique reviewed by our surf coach
- Airport pickup (if you arrive around 45 min from our departure or arrival time)
- Return shuttle to the airport at the end of the trip with proposed flight
- Transportation between the 2 different destinations and for included activities
- Visit of Central America's biggest cathedral
- Night out in Leon at local salsa bar
- Lunch and Tour of Granada's oldest architecture and cathedrals
- Kayaking in a laguna inside a volcano crater
- Visit of a local craft market to find artisanal souvenirs
- Visit of an active volcano where you might see lava in fusion
- Boat Party
---
LEARN TO SURF - ZERO 2 HERO - from 1407€ per 10 days/ Person
---
This package includes:
- 10 days/9 nights to visit 3 destinations (8 days at surf beach + 2 days of discovery)
- 10 days/9nights in shared room
- Accommodation with pool (1rst and 3rd destination)
- Beach front accommodation
- Private room option for 1-2 pers (+$400) and triple room option (+450$)
- All breakfasts and lunches
- Welcome dinner
- 9 practical surf lessons with experimented surf coaches
- 4 surf theory surf classes
- Practical classes in small groups of avg. 3 students per coach in the water
- Surfing equipment (surf board, leash, wax. You must bring your own rash guard/1mm top wetsuit (January to March) and your own sunscreen)
- Photo/video analysis of your technique reviewed by our surf coach
- Airport pickup (if you arrive around 45 min from our departure or arrival time)
- Return shuttle to the airport at the end of the trip with proposed flight
- Transportation between the 3 different destinations and for included activities
- Visit of Central America's biggest cathedral
- Night out in Leon at local salsa bar
- Lunch and Tour of Granada's oldest architecture and cathedrals
- Kayaking in a laguna inside a volcano crater
- Visit of a local craft market to find artisanal souvenirs
- Visit of an active volcano where you might see lava in fusion
- Boat Party
- Emerald Coast exploration trip : Swim in a natural wave pool in an oceanic cave**
- Hike to the top of a cliff with breath taking view of the Pacific Coast
- 2 yoga sessions