ABOUT THE SURF CAMP
---
LOCATION AND SURF CONDITIONS

---
Taiwan, especially the east coast is still a "grey" spot on the international surf map. Not totally unknown but only slowly are the surf community and tourists discovering its beauty and quality waves. We have it all here, from beach breaks, to reef and point breaks – from protected harbor waves to fast barreling typhoon swell waves. There is something for every level – and we can help you find it.
We have surfed these waves for years already and know where and when the surf is on. You just hop in the car, relax and we will bring you to the most suited spot. We obviously can't promise that you surf empty perfect barrels every day but we make sure that you score the best waves around!
Within a 10 min walk or a quick bike ride from the surf house you can reach the local beach and a bit further a point break. So if you are hungry for another surf session grab your board and go for it whenever you feel like. Oh, and did we mention that the average water temperature in Taitung is 27° degrees C?!
So be among the first to surf in Taiwan and bring back some surf stories – show your friends that besides laptops and cell phones there are also awesome waves – Made in Taiwan.
---
CAMP CHARACTER
---
Improver, Intermediate, Advanced
ACCOMMODATION AND CATERING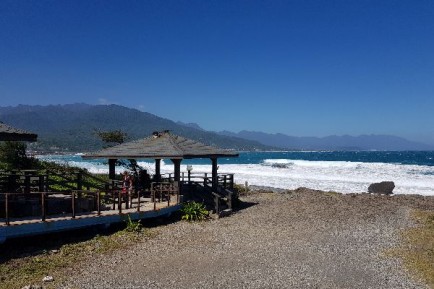 ---
ACCOMODATION
---
Conveniently located in the heart of Dulan village, in a quiet alley behind the main road away from the noise is where you'll set up camp. There is plenty of space for everybody to hang out, socialize, read a book or even learn your first Chinese words from the locals. The common areas feature a fully equipped kitchen if you want to cook your own meal, fast and reliable Wifi, stereo system, covered rooftop area with hammocks and chillout space,  free laundry. We also provide surf necessities in case you need to replace fins, wax, leash, etc…
All of our rooms are airconditioned – towels, hair dryer, shampoo and body wash, international plugs are already here, so you can pack light leaving more space in your bag to bring home local specialties.
An accommodation for surfers with all you need for a perfect holiday.
---
CATERING
---
The perfect day starts with a good breakfast, everyday the Surf house provides a full breakfast around 8:30 with homemade bread, fresh fruit smoothies, oats,  fresh ground coffee, nutella, jam, peanut butter & eggs or we can stop at a characteristic Taiwanese breakfast shop. Coffee & Tea and drinking water are freely available the whole day at the Surf House!
Over time travellers from around the world have made Dulan their home adding a broad range of authentic international cuisines. This results in a tasty mix of local and western food for you to choose from – satisfying everyone's taste and budget (starting from 2-3 EUR for a simple meal).
A lot of time we end up eating together at local restaurants around the spots after surf and we can help with translating menus or recommendations!
SURF COURSE AND ACTIVITIES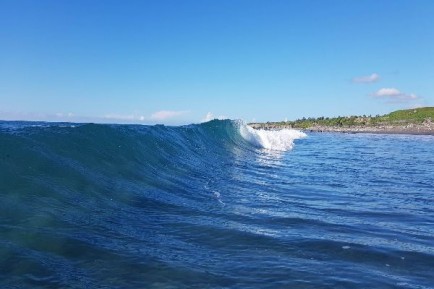 ---
SURF COURSE DETAILS

---
Save your money and time on a rental car, wrong directions or having to take Chinese lessons. We will take you to where the waves are best depending on tides, wind, and swell direction. After surfing it's time to explore the surroundings and become a part of this vibrant small village community and beautiful landscape.
For the more individualistic explorer, that nevertheless likes to be part of a small surf community, we have a trimmed down and also cheaper offer. You still can use all the benefits from the surf house amenities and get to use your own motorbike with a surf rack. Optional you can still jump in the van and join us exploring new spots.
---
SURF MATERIALS

---
free use of foamboards (8? / 7'3 ) and snorkelling gear
Surf equipment included
---
OTHER ACTIVITIES

---
Cycling, hiking, fishing,  stand up paddling, river tracking, canoeing, snorkeling, sailing, skateboarding, rock jumping, yoga, learning Chinese, learning calligraphy, relax in hot springs, attend balloon festival, swim under waterfalls, diy pizza, stroll through nightmarkets, eat fresh sashimi in a harbour, visit nearby islands, watch dolphins or whales, enjoy local breakfast shops, eat indian, mexican, vietnamese, french, japanese, aboriginal, thai, italian foods, try homemade beers and meads, visit day markets, rice padding surfing, learn arrow bow shooting from aboriginals, feed monkeys, car beach-surfing, visit museums, …
MORE INFO, HOW TO GET THERE & FAQ
---
SURF CONDITIONS
---
Climate

Just a bit south of latitude 23°, Dulan has a tropical monsoon climate. From March to November the there is plenty of sunshine, with constant hot temperatures in summer time. During Winter (December to February) it can still be pleasant weather but normally it's windier and not the best time for sun seekers.

Seasonal conditions
October to March: Very consistent winter swells coming in and there is always something to surf. Good for all types of boards, altough not the best time to learn surfing, since the sea can be a bit rough. From December to February a spring suit keeps you warm enough on cloudy days.
April to September: The temperatures go up and the size of the waves goes down. This is a very good time for beginner or intermediate who surf a fun/longboard. No wetsuit needed – just a lot of suncream!
Typhoon season June to October: This is the time to chase the long period typhoon swells and score some epic waves. Enlarge your chance of surfing typhoon waves by staying for a longer time at the Surf House (ask us for deals on long term stays). Or just come over spontaneously when you see the storms are building up. Most typhoons activites are between July and September – don't miss this unique chance of surfing great waves.


Which is the right season for me?

Apr – Aug: smaller waves / calmer sea / lots of sunshine / also suitable for less experienced surfer
Sep – Nov: swell is increasing / still very sunny and warm / good for surfers that can handle themselves safely in the lineup /
Dec – Feb: sea can be rough / good for experienced surfers / duckdive a must / wind can become chilly
Jan: no guided tours / only Room & Bike offer
June – September: Typhoon season – chances to surf epic waves!
---
SURROUNDING / REGION

---
The Surf House is in a laid-back coastline village called Dulan originally a fishing and farming village with a large indigenous population. Over the years more and more Taiwanese and foreigners have made this little hidden gem their home, creating a vibrant and colorful community of surfers, artists, wood-workers, eco-farmers and other lost souls. On the weekends and holidays there are live music venues, handicrafts markets and a microbrewery selling their homemade beer. Everything the village has to offer is within walking distance (convenience stores, restaurants, bars, cafe's, tea shops, atm, pharmacy, post office).
Taiwan is located between the Philippines and Japan, 100 miles off the coast of China and is roughly the same size as the Netherlands.
Due to Taiwan's economic boom many people settled in the cities along the north and west coast, leaving behind a magnificient coastline in the east, still unspoiled and dotted mostly with small fishing and farming villages. Dulan is a village in Taitung county, located just 30 minutes north of Taitung city which has a train station and an airport, offering domestic flights.
There are numerous colorful temples to visit, bustling festivals to attend and huge variety of local foods for you to discover. Besides that there is stunning nature waiting for you – hiking trails, waterfalls, deep valleys and much more. It's a lively mix embedded between beach and mountain, order and chaos worthwile to dive into.
One of the best things about Taiwan is undisputed the friendly, generous and helpful people living here. Even though outside of the big cities English is not widely spread, the Taiwanese are very interested in foreigners and you might end up chatting with random people on the street and be invited to snacks or even share a beer or two.
---
HOW TO GET THERE
---
From Taipei By airplane:
 Most international flights will land at Taoyuan airport (TPE). From there you have to transfer to Songshan (TSA) airport and grab the domestic flight to Taitung.
By train:
From Taoyuan airport take the MRT to Taipei main station (there is a fast and a slow one!). At the main station change to the highspeed train platform and go to Taitung station (4h)
From Kaohsiung By train
: From the aiport take the MRT to Kaohsiung (KHH) main station (30min). The train takes about 2,5 hours to arrive in Taitung and stops quite frequently. It is a good occasion to see a beautiful part of Taiwan and already check the waves.
From Taitung to Dulan :
As mentioned we will pick you up from Taitung and give you a lift to Dulan. Take public buses 8101, 8102, 8103, 8109, 8119 or 8120 (NTD 58), or the East Coast Line tour bus (NTD 82) from outside Taitung Train Station – ask the driver to drop you in Dulan, it is about a 30 minute ride. A taxi ride cost you about 600 NTD – tell the driver to drop you at 7-11.
Surfboard on trains :
Take a ride on a Taiwanese train is almost a great experience and almost a must do but it can be a problem to bring your surfboard with you. Officially you are not allowed to carry luggage that exceeds 150m in height. Most of the time the staff doesn't care about short boards but it definitely will with a longer board. That's why we suggest to fly to Taipei and take a domestic flight to Taitung or just travel light and rent a board from us.
PACKAGES & PRICES
---
PACKAGE SURF GUIDING
-
from 540€ per 6 nights / person

---
This package includes:
- accommodation private AC room - shared bathroom
- 6x surf guiding (2-3h)
- daily homemade breakfast in surf house or breakfast shop
- transfer to and from Taitung airport or train station
- free use of foamboards (8? / 7'3 ) and snorkelling gear
- 1x excursion (hot spring, hiking, sightseeing night market)
- coffee, tea, water during the day
- Wifi
- Photo's of your surf & stay
Optional:
- Rent surfboard
- Rent motorbike with surfrack
- Yoga class
- SUP adventures
- Pick up from Kaohsiung one way, price per car ~ 120€
- additional nights 76€
- accommodation Private AC room 'ensuite' own bathroom for 690€ per 6 nights
- additional nights 97€
2 people 6 nights in Private room shared bathroom : 750€
additional nights 106€
2 people 6 nights in Private room 'ensuite' own bathroom: 840€
additional nights 119€
---
PACKAGE ROOM & BIKE - from 330€ per 6 nights / person
---
This package includes:
- Private AC room shared bathroom
- 1 motor bike
- Homemade breakfast
- Wifi
- Coffee, tea, drinking water
- Free use of foamboards (8? / 7'3 ) and snorkelling gear
Optional:
- Join guided surf tour
- Pick up & drop off to Taitung airport / train station
- Rent surfboard
- Join excursion (I.e hot spring, hiking, sightseeing, nightmarket visit)
- Yoga class
- SUP adventures
- Pick up from Kaohsiung one way, price per car ~ 120€
---
A full package starts from 6 nights but of course you can freely choose the amount of days you want to stay with us. If you book less than six days the pick up is not included and we can not guarantee that the excursion takes place when you are here.
Thinking about staying long term? We can make you a special deal.