ABOUT THE SURF CAMP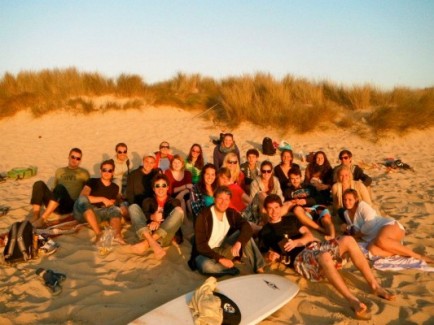 ---
LOCATION AND SURF CONDITIONS
---

At Surf Lisbon - The School we don't want people to just learn or improve their Surfing technique but also to give them knowledge and motivate them to relate to the context and unique culture that this sport represents. We give priority to quality over quantity and, above all, our clients safety, leading us to the various stages of training (beginner, advanced and competition) as well as for different environments (social or recreational and competitive) with the aim of bringing anyone to Surfing through a safe and fun process of teaching and learning, based on the latest research in training methodology of this sport.

Surf Lisbon provides lessons every day and all year round. Our lessons take place between Lisbon / Cascais sea line and Costa da Caparica.


---
CAMP CHARACTER
---
Feel at home at Surf Lisbon - The House

This typical portuguese Summer house combines a boutique style accommodation with many other services that will make you experience true Lisbon. Surfing Lessons, equipment rental, Yoga lessons, massage and physiotherapy, surfboard and wetsuit repair, rent a car and many other activities that we can organize while staying at a city Surf Camp and providing you an unforgettable time at this magnificent city of Lisbon.

This Surf Hostel has three floors with high ceilings, big windows with a great view of the ocean and large, white rooms, shared or double. It also has a big garden where you can store your boards, wash and dry your wetsuit, relax and take a nap in a shadow or barbecue with friends and other guests.

Guests have access to all the common areas: cosy living room with big LCD screen, large dining room where breakfast (included) is served daily, sea view internet room, fully equipped kitchen, garden with barbecue facilites, free wireless internet, cable TV with free movies, bar service with sodas, beer, açai and even a special edition of a Red Wine from Algarve with Surf Lisbon´s label.

With high ceilings and thick walls, the Surf House is very fresh during Summer and has central heating for the cold Winter days after you arrive from one more epic session at the nearby surf breaks.

Surf Lisbon - The House is located where Lisbon gets together with the ocean and the waves. The Estoril coastline is the ''beach area'' of Lisbon, where you can enjoy magnificent beaches, amazing seafood restaurants or play golf in excellent golf courses. ''One place. A thousand sensations.'' is the best way to describe this area, where surf represents a big part of the sensations you may experience.


---
CAMP OPERATOR
---
Nuno Sequeira, General Manager and Surf Instructor

With 38 years of age, has more than 22 sliding the waves. In his childhood and back in the long summer vacations, spent the days at Caparica´s small white water waves until age 15 when started more seriously within Bodyboarding, activity in which became Vice Champion of the University National Championship in 1998 along with a degree in European Studies.

Though changing his Bodyboard for a Surfboard on a few occasions, the final change came only in 1999. At the same time, Nuno return to the University and to the area that always fascinated him (Sports). Today he is one of the few academically skilled professionals in Surfing: Graduated in Sport Sciences with specialization in Surfing by the Faculty of Human Movement. His internship supervisor was Prof. Miguel Moreira (now the Portuguese Surfing Federation´s Technical Director), recognized Coach and researcher of this sport. Nuno also conclued the II Post Graduation in Surfing at the same University in June 2011.

Nuno Sequeira was also Assistant Teacher at the Faculty of Human Movement where in 2011 / 2012 taught the Surfing module in the subject of Didactics of Physical and Sports Activities I. Besides this academic positions Nuno also has the Portuguese Surfing Federation´s Instructor Course since 2003 and worked alongside some of the most respected portuguese coaches like David Raimundo, Hugo Zagalo, Pedro Soares and Nuno Telmo. Currently, Nuno is also one of the Portuguese Surfing Federation´s Instructors Courses Head Coaches.

Like all other surfers, Nuno also has some favourite waves: Carcavelos, some "secret" beaches of Caparica and Praia da Rocha tops the list in Portugal. Have also traveled to surf in places like Hawaii, California, Florida, Maldives, South Africa, Mozambique, Brazil, Costa Rica, Venezuela, Dubai, Ghana, France, Spain, Tenerife, Lanzarote, Cape Verde (islands of Sal, Boa Vista and S. Vicente) so he knows what means to "be on the other side" and this reflects the friendly way he welcomes surfers and visitors from all over the world in his city and beaches.
 
Susana Lucas Coelho, Surf Lisbon - The House Manager

Susana´s the Surf House Manager and coordinates all services related to it. Born and raised in Lisbon, Susana loves her city and the wonderful beaches that surround it so she will always be available to recommend you the best that our beautiful city has to offer.

Graduated in History of Art, Susana is the person you will look for when the ocean is "flat" and you need some tips for a cultural tour in Lisbon. In her spare time, Susana also join the group to enjoy some waves since she can no longer live without surfing that came into her life for more than six years now.
 
Bruno Matos, Surf Instructor

Born in Lisbon, in the year of 1984, but moved to Caparica at early age where lived all his life until nowadays. Started boogieboarding at 7 years old and started surfing at 17 which makes already 13 years standing tall on a surfboard.

Bruno is completely passionate about sports and activities connected to the ocean. His hobbies, besides surfing when he´s not teaching, are diving, skateboarding and spearfishing. He also travels the most possible searching for new places to go surfing. Already surfed in Brazil, South Africa, Cape Verde, France, Spain, Indonesia and Azores.
 
David Ferro, Surf Instructor

30 years of age, graduated in Sport Sciences, especialization in Swimming, by the Faculty of Human Movement in Lisbon

David holds the Surfing Instructor Course (level I) of the Portuguese Surfing Federation since 2003 and after having collaborated with several Surf Schools in the area is now working exclusively with Lisbon Surf since 2009. His other main occupation is a Swimmning Coach at the Portuguese Swimming Federation. He is also a Physical Education Teacher in a college. As a Coach he has already been present in Swimming World Championships and World University Championships. As an athlete he was National Champion and record holder at various distances and styles.
 
Hugo Mergulhão, Surf Instructor

At 38 years of age and with more than 20 years surfing, Hugo is the teacher everyone wants to learn with: dedicated, responsable, always in a good mood and ready to start a new chat out of the water.

Graduated in International Relations and with the Commercial Line Pilot License he´s getting ready for higher "flights" in his career but for now keeps working exclusively at Surf Lisbon and providing the best surfing experiences to our clients.
 
Jorge Silva, Surf Instructor

With 31 years of age and a degree in Osteopathy, Jorge had its first connection to the sea through the skimming but quickly realized that only by droping bigger waves would be happy forever.

He surfs now for 15 years and is a Surf Instructor since 2005, keeping his passion for the sport since the first time. In a daily basis he searches for the best waves to get in the water and conciles his training with other activities like rock climbing, cycling and longskate. All this makes Jorge the person and professional he is nowadays.
 
Manuel Gameiro, Surf Instructor

Manuel is now on his last graduation year in Sports Sciences at Faculty of Human Movement. He´s specializing in Surfing Training Methodology and even being the youngest Instructor on our team he arrives to Surf Lisbon with really good references, one of them from the current National Surfing Director, Miguel Moreira (PhD)

Manuel has a large experience about teaching surfing (worked with other surf schools and camps in Algarve) and with all his academic and pratical skills we will work with Surf Lisbon and guarantee a total dedication to our clients. Manuel is the responsable for the intermediate / experienced levels at Surf Lisbon - The School.
 
Paulo Santos "Tom", Surf Instructor

Started practicing Surfing in the waves of Costa da Caparica, more precisely in São João da Caparica, in 1989. Since then, Surfing is part of his life either in Portugal or through the surftrips he had opportunity to made (and will continue to do) across the world. Paulo´s choice as his favourite beach for Surfing is the one where he was raised for this sport, São João da Caparica. Other peaks that he´s fascinated by are the ones at Ericeira and also at the Portuguese Vincentian Coast.

He graduated in Urbanism and plays his main professional activity in the Municipality of Lisbon. However reconciles always sporting with his professional practice.

The accumulated experience of long years and the pleasure he gets when surfing sparked her interest in sharing it with others. What motivates him most in teaching is "the Surf stoke he sees in his pupils regardless of age of each one", Paulo tells us.

The biggest lesson he drew from surfing over the years is that "despite my Surfing level is higher today, it amuses me exactly as the day i started." And that´s what is all about, having fun!
 


ACCOMMODATION AND CATERING
---
ACCOMMODATION TYPES
---
Surf Lisbon - The House can accommodate up to 18 guests in 4 splendid private rooms and 2 shared rooms, all sharing three comfortable bathrooms.
Private Room - Queen Size Bed with Ocean & Garden View

This Room has an amazing Queen Size Bed with a big window where you can appreciate the magnificent view over the ocean, the Lisbon bridge and the Christ. The high ceiling, white walls and wood roof give and extra Portuguese style to this excellent room.

Private Room - Mezzanine with Ocean & Garden View

This Room has a double bed and a single bed, excelent for couples, a couple and its child or just for three friends that prefer more privacy and comfort and beautiful views over the ocean. With a perfect combination between modern and vintage decoration, this room can make your dreams come true.

Private Room - Double Room Ocean & Garden View

This Room has a comfortable Double Bed, a partial ocean view and has our nice garden right in front. Appropriate to a couple who wants to Surf all day and relax in a private mood to be ready for the next beach day.

Private Room - Twin Room Garden View

The Twin Garden View Room is a very clean and white room in the 1st floor of Lisbon Surf House, with 2 Single Beds that can be separate to make a Twin Room or together to make a Double Room. The window is facing the front garden of the house, giving a green color to this comfortable room. It also has a partial Ocean View with the Bugio lighthouse in the middle of the sea.

Shared Room - Attic Room (Ocean & Garden View)

The Attic Room is a large room with 5 Single Beds and two windows, one with ocean view and the other with our garden view. Here you can feel like old times, forget your worries and be stoked with your waves and Lisbon´s lifestyle.

Shared Room - Bunk Beds (Garden View)

This is a room with 4 comfortable bunk beds. White walls, brilliant light during all day, wood floor and a nice view to our barbecue garden compose this shared room for surfing partners.


---
CATERING & HOUSE FACILITIES

---

    - 4 Private Rooms
    - 2 Shared Rooms
    - 3 comfortable bathrooms with 4 showers
    - daily breakfast included
    - Bed linen and Towels provided for free at Check In (Deposit of 30€)
    - Free Internet Wireless
    - Cable TV with Movies and Sports Channels (Fuel TV!)
    - Fully equipped kitchen
    - Self Service Bar with sodas, beer, tonic water, wine,...
    - Garden with barbecue and chill out area
    - 1 minivan (6 pax) + 2 vans (8 pax each)
    - Hardryer
    - Iron for your clothes
    - Fire extinguishers and fire blankets
    - Heaters and Central Heating for Winter season
    - Smoking only allowed in the garden / barbecue area


SURF COURSE AND ACTIVITIES
---
SURF COURSE DETAILS
---
After 6 years under the name of "Puro Surf - Boardsports Academy" and the growth and internationalization that this prestigious portuguese surf school gained we decided to come across for a rebranding which updated and made our brand stronger, facing various segments and appropriate to the new era of teaching modern Surfing in a professional way.

We remain connected to our original mission and, as such, at Surf Lisbon we don´t want clients just to learn or improve their Surfing technique, but also to give them knowledge and motivate them to relate to the context and unique culture that this sport represents.

We give priority to quality over quantity and, above all, the safety of our clients, leading us to the various stages of training (beginner, advanced and competition) as well as for different environments (social or recreational and competitive) with the aim of bringing anyone to surf through a safe and fun process of teaching and learning, based on the latest research in training methodology of Surfing.

Surf Lisbon - House & School is licensed with permit No. 333 / 2014 of Turismo de Portugal, IP (public institution that regulates maritime activity companies) and it´s a school certified by the Portuguese Surfing Federation (No.180). Our General Manager is also one of the Portuguese Surfing Federation´s Instructors Course trainers and taught a Surfing course in the Sports Sciences graduation at one of the best Sports Universities in the World, Faculty of Human Movement, in Lisbon.

How it works?
Surf Lisbon - The School comprises three technical levels: Beginners, Intermediate and Advanced / Competition. With the exception of one of the Intermediate options and the Advanced (which works in a monthly fee basis), classes are developed by packages of 5 or 10 units or even single classes both group and / or private lessons. These packages have a one year validity and surfers can join / book lessons according to their availability.

Our schedules are set weekly, according to the best conditions for the matching levels and students are notified via email.

Beginners

Beginners level is open to everyone who never surfed before and to those who had some previous contact with the sport, regardless of age, gender or fitness level. We have boards and wetsuits appropriate to each person so that learning is done in an effective, safe and pedagogic way.

Surf Lisbon provides all the equipment needed, including surfboard and wetsuit. Any student who carries out activities with us is covered by a personal accidents insurance and also a liability insurance. Each Surfing lesson has approximately a 2 hours duration.

Intermediate

The Intermediate level is appropriated for those who have already some experience in Surfing and want to evolve to a superior level. After an inicial evaluation by the Head Coach the surfer will join an homogeneous group.

The acceptance on these intermediate groups is subject to assessment of the Head Coach and surfers must have their own equipment (but if the Instructor sees some specific need the surfer can use a surf school board). These lessons can take place at different spots around Lisbon depending on the forecast and wave conditions.

Sometimes we use video and photo shooting on these lessons for further technical analysis.

Surf Lisbon Kids - Surfing Lessons for Children between 4 and 8 years old

Other goals, in a more advanced and medium / long-term stage, is the formation of surfers and competitors.
In these lessons we apply an appropriate method considering the children´s age and technical level, with special attention to safety through the use of appropriate equipment ("softboards", for example) and preferably with private lessons: 1 kid to 1 Instructor.


---
SURF MATERIALS
---
Surf Lisbon - House & School provides its material resources for those who want to surf but do not have their own equipment.

We provide an advisory service so you can buy equipment appropriated to your needs as well as a range of discounts on surfboards and wetsuits at Surf Lisbon - House & School´s partners. We Also take care of your surfboard and wetsuit if they need repair. Conditions for equipment rental:

- All equipment is checked to ensure it is in good condition.
- The customer is personally and financially responsible for the equipment during the rental period.
- The equipment must be returned in good conditions: wetsuit and surfboard washed and cleaned.
- It is necessary to leave an ID card with the Surf Instructor during the rental period.



---
OTHER ACTIVITIES
---
Extra services we can provide for you

    - Airport Transfer Service
    - Hertz Rent a Car
    - Soccer Matches or other Sports Events
    - Surfing Championships Transfers (ASP World Tour in October, for example)
    - Yoga
    - Physiotherapy / Osthepoaty / Massages
    - Golf (Jamor public course only 5 minutes away from the Surf House
    - Surfboard and Wetsuit Repair


Besides all the mentioned services Surf Lisbon´s Team is at your disposal. We have maps, every kind of touristic information and recommendations for you to visit points of interest, museums, restaurants and nightlife, among others.

SUP Lisbon

Despite Stand Up Paddle Surfing (SUP) have a secular history it jusst became more popular after 1940 when Surfing Instructors needed to control their students in a more effective way across a wider field of view given the standing position taken on board.

SUP is a great activity for water sports enthusiasts. Can be practiced by anyone, regardless of age or fitness level.

At Surf Lisbon we provide boards with plenty of stability and buoyancy which makes it easy, fast, secure and fun learning!

Given its versatility can be practiced all year round because it is not dependent on the waves or wind. If practiced in waves the adrenaline and radicalism are present but in calm waters serenity and relaxation are privileged.

Team building activities and outdoor training

Surf Lisbon - House & School organizes team building activities and outdoor training, with the aim of producing packages of days / weekends of activities related to Surf (and other board sports) and bring these arrangements to companies from various fields.

Based on fun and motivating, Surf helps professionals of each company to internalize fundamental core values ??for better performance in their daily activities. Reasons to use Surf Lisbon - House & School as your team bulding event organizer:
- Participants establish relationships between them and together they learn something new being all in the same place;
- Participants interact in a unique and unusual context, seeing themselves and their partners learn and evolve in a sport;

Through the relationship with the Surf Instructors, participants learn things that they can apply in their jobs:
- Learn and recall what it is to be directed by others;
- Appreciate and value the importance of being patient when explaining certain concepts to others;
- Learn to trust their instructors / leaders;

These activities include the Surf initiation and its ethics, environmental, beach and sea awareness. We also organize activities with Stand Up Paddle Boards (SUP). If you want, we provide a certificate of successful activity and organize lunch / snack to finish the event in a good mood at Restaurant-Bar "Masstige", right at the beach.


MORE INFO, HOW TO GET THERE & FAQ
---
SURF CONDITIONS
---
Surf Spots


Lisbon picks up all the north, west and south swells from the Atlantic, making surf conditions very consistent. From May till October, the waves are smaller but you can always expect waves of 3-5ft with really great water temperature. During winter the swell size is always bigger, making it a place for those looking for challenging surf. Even for beginners there are lots of sheltered spots where the waves break perfect while in most exposed spots can be stormy.
From the wild and uncrowded sandy beaches of Caparica to the urban spots like Carcavelos (famous for its winter barrels) or the point break of São Pedro do Estoril you can find a big variety of surf breaks in the Lisbon area. Also, we are a short driving distance to beaches like Guincho, Praia Grande, Ericeira (World Surfing Reserve) and Peniche, famous for hosting one of the ASP World Tour events that brings professional surfers like Kelly Slater among others to Portugal in October.
All this plus the beauty of a city with almost one thousand years of history makes Lisbon a priviledged surfing destination.
Caxias
The nearest break from Surf Lisbon - The House, at only 2 minutes walking distance. Only works on big winter south / southwest or west swells but if you get the right tide and wind (offshore winds come from N / NW / NE) you can score some barrels on the perfect lefthander that breaks near the pier. On really big swells you have a righthander point break at the opposite corner of the beach.
Santo Amaro de Oeiras
One of the best point breaks in Portugal! It works with big winter NW / W / S / SW swells. If you are confident, you can jump into the peak from the rocks in front of the castle, but make sure you time it right or you'll be washed back up onto them. It's a heavy, fast and often hollow wave which will be populated by the best surfers in Portugal, so make sure you let them have their waves. Basically, GO BIG and don't stop. This can be one of the best waves in Portugal when it is on. In Summer, you will see a lagoon, so best to come between September-March when the Winter swell rolls in.
Torre
Another winter spot, sheltered from the big W and S / SW stormy swells. When every spot is blown up and stormy you can find some small but perfect rights near the fortress, on the right side of the beach. For advanced surfers you also have fast and hollow waves, breaking left and right, on the center and on the left side of the beach, near the jetty.
Carcavelos
Carcavelos is Lisbon's gem. When it's on, like from 4 to 8 feet, you have multiple peaks to both sides along the large beach. All hollow and with some juice with shallow sandbars. One of the best beachbreak's that Portugal has to offer. It works with NW / W / S / SW swells and offshore wind come from N. Fits every surf level from beginner to professional.
S. Pedro do Estoril
Another righthander point break that holds swell. It´s longboarder´s paradise! Long rights from the outside peak until the shore. Good spot also for beginners due to the soft and long white water waves. At paddling distance, you have Bafureira, a spot for more advanced surfers, another righthander point break but a more powerful and tricky wave.
Costa da Caparica
Actually, Costa de Caparica, has 30kms of beachbreaks. From the city center, where the jetties and the beach orientation makes waves bigger and with more defined breaks, to the wild and uncrowded south beaches. Depending on the swell and the sandbars you can find a dream wave just for you on the south of Caparica. Works all year round and is better with NW / W swells and winds from the East. It´s one of the places our school goes often due to uncrowded waves and the beauty of the landscape. Its one of the places where Surf Lisbon has its location, with uncrowded waves and a beautiful landscape along with a great bar at the Beach.
G-Point
Want to have a really different surfing experience? If you are lucky and your stay at Lisbon Surf House matches with the elements you can surf a wave generated by the ferry boats that cross Tejo river every morning coinciding with a particular wind/tide/sand equation. It's a 45-minute drive from Lisbon -- pretty much in the middle of nowhere.
Guincho
One of the most beautiful beaches around Lisbon... Lefts and rights with many spots along the beach. A good alternative when the waves are small at the spots near the Surf House but better to surf in the morning before the wind shows up. Hosts lots of national and international surfing competitions all year round.
Praia Grande
Situated in Sintra area it´s one of the most consistent breaks near Lisbon. A good option for those flat summer spells, Praia Grande rarely hasn´t got rideable waves. Hosts the Bodyboard World Tour event in August / September every year.
Ericeira
The region of Ericeira has been recently awarded as World Surfing Reserve. It´s a world-class surf zone encompassing approximately 8 km of coastline. It contains a high density of outstanding surf breaks, including iconic breaks such as Ribeira d'Ilhas and Coxos, among others.
The coastline of Ericeira is dominated by rocky cliffs, and these are what gives the area its character, along with its famous beaches located in small bays. The diversity of waves in the area, along with their various degrees of difficulty, enables good surfing conditions for all levels of surfers, from beginners to professionals. Also, Ericeira is home to regional and international surf competitions. Ribeira d'Ilhas currently hosts the Quiksilver Pro Portugal each year, an ASP men's prime professional contest.
Peniche
The peninsula of Peniche offers both north and south-facing coastlines. The result is the finest surfing conditions everyday regardless of the swell and wind direction. The Peninsula of Peniche always offers you a beach where the wind is off shore, creating perfect waves. Along the 15 Km of coast line you can find more than 20 surf spots for all levels of surfers, from beginner to advanced.
Annually, in October, its famous break of Supertubes hosts one of the ten events of the ASP World Tour of Surfing, the Rip Curl Pro Portugal. Surf Lisbon Team is always there and will take you to see all the action live with Kelly Slater, Mick Fanning, Taj Burrow, Gabriel Medina, among others.
---
SURROUNDINGS / REGION
---
Lisbon


Lisbon region is the perfect destination for an intense and complete journey.
From the possibility of enjoying and relaxing at the huge sandy beaches or to practice water sports and discover protected and stunishing landscapes. Lisbon is the only european capital with golden beaches and waves for Surfing only 10 minutes away from the city center.
Lisbon, Portugal´s capital, it´s an historical city enlightned by the sun almost all year round.
Destroyed by the earthquake of 1755, the city center, also called "Baixa", has its streets geometrically planned. Up on the hills that surround the center, the narrow streets of Alfama and Bairro Alto make the city even more interesting for the visitors.
There´s a lot do see and to do in Lisbon from walking in the historical center where the visitor can see really old churches, shopping in portuguese tyipical stores or get on the old tram and oly stop at St Jorge´s Castle.
In Belém you´ll find the Jerónimos Monastery and the Belém Tower. This monuments are witnesses of a maritime past and the Discoveries Era. You can´t miss the famous "Pastéis de Belém", a local pastry which tourists and locals eat every day.
The city has a wide range of options that fill everyone´s expectations: to know the party nights at Bairro Alto and dancing at Lux, the most famous disco in town, to relax at the many parks, sightseeing places and coffee shops, to see every corner and feel enchanted all the time.
In the eastern part of Lisbon, you can visit the modern Parque das Nações and there you´ll find the Oceanarium (a modern and internationallly well known aquarium) or the Lisbon´s Casino and you can finish the day above the Tejo river on the cable car, an amazing experience.
All this, followed by great food and wine!
Really close to Lisbon is Sintra with its amazing location. The city is recognized as World Heritage by UNESCO since 1995 and attracts thousands of visitors every year.
Not so far from Sintra it´s Cascais. Full of glamour it´s a cosmopolitan village with fancy stores and an historical center revealing important arquitectonic and artistic works. At Cascais you can also taste some of the best regional typical dishes like fish and seafood.
Cascais and Sintra

The Cascais area is a natural playground for adults and children of all ages. The fishing village of Cascais is charming and has a small marina, some great hotels and shops and various white sandy beaches and coves. The coast road from Cascais to Guincho Beach is about five kilometres long and has some of the best fish restaurants in Portugal . The town of Estoril is five minutes drive from Cascais and has a huge casino if you are feeling lucky! Close by is the most western point of Europe, Cabo da Roca with spectacular sea views, a rugged coastline and stunning scenery.

A short drive through Sintra National Park brings you to the very scenic and romantic town of Sintra which is surrounded with castles, palaces and trees. All this within a 25 minute driving from Surf Lisbon - The House. Many of the best local restaurants, beaches, coves and locations are off the beaten track but with our local knowledge you will have no trouble finding them.

Oeiras

Oeiras has several points of cultural interest and many pleasant places for sport and leisure. In addition to the Fortresses of Saint Bruno and Saint Julião da Barra which mark its coastline, you will also find the fantastic Ocean Pool, right next to Torre, a beach where you can surf in Winter.

Regarding cultural life, Oeiras has one of the best examples of Portuguese houses from the eighteenth century, the Palace of Marquês de Pombal. The former residence of the prime minister of King D. José, Marquês de Pombal and also Count of Oeiras, follows the Baroque and Rococo. In the elegance of its gardens, filled with statues, panels, tiles and cascades, joins a fascinating interior, with paintings, frescoes, tiles and statues of rare quality. The cellar of the Palace is equally impressive because of its monumental scale.

In this county, do not miss the opportunity to visit the Royal Estate at Caxias (walking distance from the Surf House) and the Mother Church.

For more recreational outings, visit the Powder Factory (Fábrica da Pólvora), and the Vasco da Gama Aquarium if you are travelling with children.


---
JOURNEY
---
Find out how to arrive at Surf Lisbon - The House

By Public Transports:
From the Airport or Lisbon City Center, take the Metro (Red Line) till Alameda and from there get the Green Line till Cais do Sodré. There, take the train to Cascais with the name of "Todas", because that's the one that stops in every station. Tip: Sit on the left side of the train for the best views! Train departs every 20 minutes. Get out at Caxias train station. Walk left on the main road (on the side of the ocean), facing the ocean when turning. You will see the name of our street "Rua Direita de Caxias" after one minute walking. Continue until number 38, where you see a light pink house with a "Lisbon Surf House" wood sign on the front garden.
By Car:
Take the A5 Highway towards Cascais and then take the "Av. Marginal" exit. Keep straight and continue to Av. Marginal. When you see the ocean in front of you just turn right towards "Cascais". After 700m you see a traffic light in the end of a descent. You have to turn right before that traffic light, on a small street, and turn right again immediately. Continue that street till the end and stop in the number 38. You´ll see a light pink house so you just arrived at Surf Lisbon - The House!
Airport Transfers
We provide transfer services from the airport to the Surf House. This service has a cost of 35€ from Monday to Friday (9am to 9pm) and 45€ on weekends and also on weekdays from 9pm to 9am, each way. Please give us your flight details so we can arrange it.
Find out how to arrive at Surf Lisbon - The School
During most part of the year we are located at Costa da Caparica, more precisely at S. João da Caparica at our partners Kontiki Beach Bar where all our activities take place. However, depending on specific situations as Winter conditions, lessons will take place at other beaches likes Carcavelos and / or Praia da Torre.
Hot to get there:
When driving at IC 20 towards Costa da Caparica, take the exit to Trafaria / Praias de S. João. Drive about 2 kms until you get to Trafaria and then turn left and follow the signs to Praias de S. João. Ypu´ll see a toll to get into the beach access. After the toll just drive straight and Kontiki Beach Bar is the first beach right in front of the main road. You just arrived!
PACKAGES & PRICES
---
B & B - from 245 € per Week / Person
---
This package includes:
Accommodation and Breakfast

Shared Room

3 nights       105 € per Person
7 nights       245 € per Person
Extra Night    35 € per Person

Double / Twin / Single Room

3 nights       300 € per Room
7 nights       700 € per Room
Extra Night   100 € per Room


---
Surf School Package (October to May) - from 385 € per Week / Person
---
This package includes:

    Accommodation and Breakfast
    2h Lessons per day (2 days for the 3 Nights Package - 5 days for the 7 Nights Package)
    All Equipment Included
    Fully Insurance
    Transfer to the beach and return

Shared Room

3 Nights       175 € per Person
7 Nights       385 € per Person
Extra Night     70 € per Person

Double/Twin Room

3 Nights        220 € per Person
7 Nights        420 € per Person
Extra Night      85 € per Person

Single Room

3 Nights         310 € per Person
7 Nights         610 € per Person
Extra Night     115 € per Person


---
Summer Surf School Package (June to September) - from 425 € per Week / Person
---
This package includes:

    Accommodation and Breakfast
    2 x 2h Lessons per day (2 days for the 3 Nights Package - 5 days for the 7 Nights Package)
    All Equipment Included
    Fully Insurance
    Transfer to the beach and return

Shared Room

3 Nights      190 € per Person
7 Nights       425 € per Person
Extra Night    90 € per Person

Double/Twin Room

3 Nights       250 € per Person
7 Nights       495 € per Person
Extra Night   105 € per Person

Single Room

3 Nights       365 € per Person
7 Nights       740 € per Person
Extra Night   140 € per Person


---
Surf Rental Package  - from 280 € per Week / Person
---
This package includes:
    Accommodation and Breakfast
    Surfboard + Wetsuit
    Transfer to the beach and return (upon availability)

                  
                                              October to May           June to September

Shared Room

3 Nights                                   165 € per Person            195 € per Person
7 Nights                                   280 € per Person            350 € per Person
Extra Night                                 60 € per Person             80 € per Person

Double/Twin Room

3 Nights                                     200 € per Person           240 € per Person
7 Nights                                     350 € per Person           400 € per Person
Extra Night                                   75 € per Person             95 € per Person

Single Room

3 Nights                                     320 € per Person            360 € per Person
7 Nights                                     560 € per Person            600 € per Person
Extra Night                                 115 € per Person            135 € per Person


---
SURF COURSE (NO ACCOMODATION) - from 12 € per Lesson / Person
---
Surf School Rates

Registration fee: 10€
Includes all equipment needed + fully insurance

Beginners
 
Group Lessons
1 Lesson         25 €
5 Lessoons      95 €
10 Lessons    165 €

Private Lessons
1 Lesson         60 €
5 Lessons      250 €

Intermediate / Weekend Warriors

Monthly Fee
1 x Week        45 €
2 x Week        70 €

Intermediate / Weekend Warriors Packs
5 Lessons       65 €
10 Lessons     120 €

Surf Lisbon Kids

1 Lesson        50 €
5 Lessons     250 €

Universities / Erasmus

1 Lesson         12 €
Transfer           6 €  (both ways from and to Lisbon)

On weekends, holidays and between June 1st and September 30th there´s an extra fee of 5€

Hotels / Hostels / Tourism

Includes surfing equipment, insurance and transfer from Lisbon´s city centre or your Hotel
Half Day (1 Lesson)    35 €
Full Day (2 Lessons)   55 €

SUP (Stand Up Paddle)
1 Private Lesson       60 €
5 Private Lessons    250 €


---
SURF RENTALS (NO ACCOMODATION) - from 5 € per Hour / Person
---
This package includes:


                                 1 Hour            Half Day        All Day

Surfboard                     10 €              20 €                 30 €
Wetsuit                         5 €               10 €                 15 €
Surfboard + Wetsuit      15 €              25 €                 40 €
SUP Board                    15 €              25 €                 40 €