ABOUT THE SURF CAMP
---
LOCATION AND SURF CONDITIONS
---
Typically, we depart from Padang in the first evening of the trip and cross over to the Mentawai/ Telo region overnight. As the conditions are always different for each trip, we will adapt to the current scenario and start our journey from wherever is pumping. Our priority is to make our guests happy, so we will always be aware of the requirements of each group and make our decisions aiming to provide the best possible experience for everybody whilst making sure to show a good variety of waves and conditions. In evening of the 11th day , we leave the archipelago and travel overnight back to padang. 
---
CAMP CHARACTER
---
We offer a discount for groups booking the whole boat!
Ask us about our deal before booking it on your own.
---
CAMP OPERATOR
---
The surf guides onboard are also the owners, so they are there to make sure you and your friends have a great time getting the waves of your life while being treated like royalty. 
ACCOMMODATION AND CATERING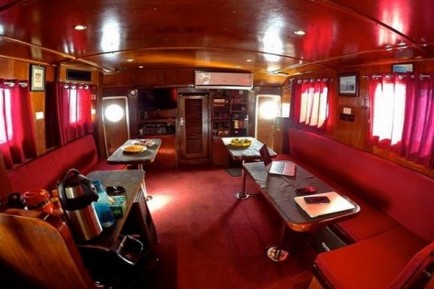 ---
ACCOMMODATION TYPES
---
1. SWELL LINES BOAT
- 3 cabins
- Up stars just by the living room area with 4x single beds (2 bunk beds)
- Down stars with 6x singles beds
- Inside the second is a separated double bed with a door for more privacy for a couple
- Bathroom
- Kitchen 
- Living / Dinning Room with TV and home theater
- Upstars dining area
Designed for surfing, game fishing and eco trips one of the safest boats in Padang. The hull is made of Australian high Carbon steel L.O.A 18.05 meters custom built for offshore long range charter. It has twin engines and two generators. Luxury open plan for up to 10 pax live aboard all in air condition comfort. If you do not like crowds, we take small groups of 6 - 8 up to 10 surfers for the best price guarantee. 

2. WAVE HUNTER
- 12 single beds on a comfy AC dormitory  with space to keep your bags
- 3 private Couple Cabins
- Big table and sofa on the living/dinning room
- 100% cotton bed cover, sheets, curtain. * Beautiful & Cozy decoration
- New big sofa and table on the back top deck
---
CATERING
---
You will get breakfast, lunch and dinner provided by us.
SURF COURSE AND ACTIVITIES
---
SURF COURSE DETAILS
---
Equipped with smaller craft to get you to the surf quicker an aluminium boat equipped with a 40HP Yamaha to get you to the surf in a flash. The boat can also be taken for other activities such as fishing, diving or exploring the islands nearby. Access to great surf spots secret and popular.
---
OTHER ACTIVITIES
---
The charter is constantly improving its service, boat features and equipment, to make sure that you have all you need and more: SUP for when you need a break, a spearfishing gun, and a spare dinghy so that there is no wait for you to join the lineup.
MORE INFO, HOW TO GET THERE & FAQ
---
 SURF CONDITIONS
---
Breaks directly at the main spot and at nearby spots
1. MENTAWAI
The Mentawai Islands offer a wide variety of breaks. Catering to Intermediate (long soft walls) and advanced surfers (shallow dredging barrels). Your group will be able to communicate to the expert western guide what type of waves you would like to surf before going out and the guide will figure out the best spots to take you too depending on the size & direction of the swell and Wind.

Seasonal conditions
He will work closely with the highly experienced captain to read weather and wave conditions to find the best waves that suit the desire of the particular charter group. We have also an avid photographers and videographers team who will work to ensure the best waves of the trip are captured so you've got maximum bragging rights when you return home. We are confident that our photographers and filmakers will get you the best waves on offer, ensure your safety and show you a good time while surfing the best waves in the world.
---
 JOURNEY
---
Ways to get to the camp
1. International > Jakarta / Bali > Padang

- International flights to Jakarta or Denpasar (Bali)
- Jakarta / Denpasar (Bali) > Padang
There are a few Indonesian airlines offering Bali - Padang  and Jakarta - Padang routes, but we recommend you to choose Garuda since it's the most reliable airline in Indonesia or you can consider Lion Air for cheaper air-fares. If you would like to book your own flight, you can use www.tiket.com or www.traveloka.com to easily book any domestic flights in Indonesia without the help of an agent.. Please ensure you arrive by 4pm in Padang for the first day of the trip. Your flight out of Padang needs to be departing later than 10am on the last day of the charter.
2. International > KL > Padang

- Flight to Kuala Lumpur > Padang
There is a budget airline AirAsia fly from KL to Padang return on selected days.


3. International > Singapore > Batam > Padang

If you are a very adventurous this option may save you up to $500 return for flight from Australia but it also might be the slowest one. This option is quite good if you would like to enjoy Singapore prior to your arrival in Padang.
PACKAGES & PRICES
---
PACKAGE A - SWELL LINES - from 1922€ per 12 days/Person
---
This package includes:

- Pickup and return from Minangkabau International Airport in Padang (PDG), Sumatra. Transfers: Airport/ (Hotel) / Boat - Boat / (Hotel) / Airport. It takes around 40 min from the airport to the Boats harbour
- 12 nights charter
- Air conditioned accommodation
- TV, video, speakers
- Breakfast, lunch and dinner
- Snacks and fruits any time of the day or night
- Water, coffee, tea, hot chocolate, cappuccino, juices, soft drinks
- FREE 24 BEERS PER Person. This is transferrable - if your mate doesn't drink you get more
- Use of all onboard equipment: dinghy, stand up paddle board, snorkelling, spearfishing gear and safety equipment
- Surf guide, skipper and crew onboard to make sure sure everything runs smoothly
---
PACKAGE B - WAVE HUNTER - from 1922€ per 12 days/Person
---
This package includes:

- Pickup and return from Minangkabau International Airport in Padang (PDG), Sumatra. Transfers: Airport/ (Hotel) / Boat - Boat / (Hotel) / Airport. It takes around 40 min from the airport to the Boats harbour
- 12 nights charter 
- Air conditioned accommodation
- TV, video, speakers
- Breakfast, lunch and dinner 
- Snacks and fruits any time of the day or night
- Water, coffee, tea, hot chocolate, cappuccino, juices, soft drinks
- FREE 24 BEERS PER Person. This is transferrable - if your mate doesn't drink you get more
- Use of all onboard equipment: dinghy, stand up paddle board, snorkelling, spearfishing gear and safety equipment
- Surf guide, skipper and crew onboard to make sure sure everything runs smoothly