ABOUT THE SURF CAMP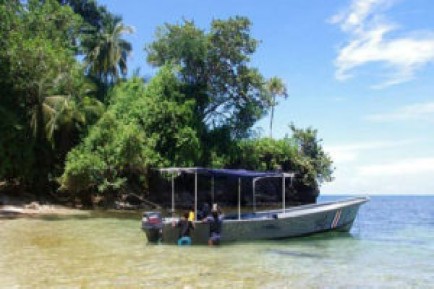 ---
LOCATION AND SURF CONDITIONS
---
Puerto Viejo has become one of the best surf spots for surfers in search of the epic waves in Costa Rica. With more than 50 miles of incredible white sand beaches, turquoise waters, beautiful coral reefs and hollow waves of low tide that characterize the South Caribbean, Puerto Viejo attracts surfers of different levels to find their perfect break. From beginner to advanced level, there is a wave for everyone along Puerto Viejo's  spectacular beaches.
During your stay, you will see an explosion of life and cultural contrasts that will wrap you into a thrilling experience. Different ethnicities live together in this wild setting, the indigenous, Afro Caribbean , along with many nationalities from all over the world.
Enjoy chasing some waves under the sun, adopt the Costa Rican "pura vida" philosophy, reflecting the locals positive view of life and find a place to get lost while you connect with nature and yourself in the wild!
---
CAMP CHARACTER
---
Surf the  Jungle school is a tropical, lush, breathtaking,  super-fun immersive experience in the heart of the colorful Caribbean of Costa Rica and has quickly become one of the leading surf companies in the country.
The private clinics and all inclusive packages are full of care and adventure. we personalize, we charm, and we create forever memories with you and the water. Ocean-certified lifeguards, professional surf instructors, surf experts and enthusiasts provide our students with the best possible learning conditions using the best equipment in the most fun way. From beginners to veteran riders, we have the lesson for you. Our services are available for locals and visitors, whether in a private or group setting, lessons for couples, surf camps, and special events.
Our high quality surf team has earned us the recognition and loyalty of our students.
Our mission is to enrich people's lives. We believe that the experience of traveling and surfing transforms people's lives.  Join us in this experience where happiness and personal growth awaits.
---
CAMP OPERATOR
---
Founder Misael Brown
Free surfer and surf ISA certified instructor with more than 20 years of experience, is a local Salsa Brava expert, one of the most famous waves of tubular breaks in Costa Rica, Central America and known among surfers from all over the world .
He is a true dedicated surfer, who has competed at the local and national level throughout his life. His love for surfing and the ocean is what has led him to dedicate himself to what he loves most, to teach and transmit his knowledge. Misael has dedicated his life to surfing and has made it a successful international business.
ACCOMMODATION AND CATERING
---
ACCOMMODATION TYPES
---
Stay in Villas del Caribe  and enjoy the best hotel site and beaches on the South Caribbean coast of Costa Rica. Located directly on the beach. Take advantage of great facilities in the villa with pool, big lounge, hammock , restaurant. Also offers the best of surf, a laid back feel, and great surroundings.
---
CATERING
---
Breakfast is provided at The Villas and lunch and dinner is included daily (except on day off). Your meals are prepared with fresh, local ingredients. Dietary requirements accomodated.
SURF COURSE AND ACTIVITIES
---
SURF COURSE DETAILS
---
You will have 2 hours of surf classes per day (one day off)  and approximately two additional hours of video coaching with your instructor throughout the week to improve technique.

We will document your surf journey through videos and photos both in and out of the water and will make them available to you shortly after your stay with us. Groups will even receive a complimentary movie of your surf and jungle adventure in addition to individual photos and raw videos for a memorable keepsake.
---
SURF MATERIALS
---
All surf equipment for surf classes including board, wax, leash and rashguard is included.
---
OTHER ACTIVITIES
---
During the week there is one built in free day where you have no planned activities and can use the day to relax, play and explore. We have many options for additional tours and excursions if you choose.
MORE INFO, HOW TO GET THERE & FAQ
---
 SURF CONDITIONS
---
Breaks directly at the main spot and at nearby spots
Puerto Viejo has become one of the best surf spots for surfers in search of the epic waves in Costa Rica
---
 SURROUNDINGS / REGION
---
Characterization of surroundings/region
PERFECT GATEWAY TO ADVENTURE Explore every spot that our Caribbean has for you, walk into the jungle and get ready to experience the real jungle life with our excursions.
Activities and facilities
Cahuita Tour, Bike Tour, Local Fishing Tour, SUN SEA AND SUP or KAYAK, Manzanillo Wild Life Refuge Tour, Chocolate Tour & Waterfall
---
 JOURNEY
---
Ways to get to the camp
We'll transfer you to/from San Jose airport, or from anywhere in Costa Rica, and bring you to Puerto Viejo.
PACKAGES & PRICES
---
PACKAGE A  - from 2480 $ per Week / Person
---
This package includes:

Your transfers to and from Puerto viejo
7 nights accommodation
Surf coaching
Meals
Yoga for Surf Class
Get to know the area tours
"Free Time" Activities
Photos and Video Footage
Transportation