ABOUT THE SURF CAMP
---
LOCATION AND SURF CONDITIONS
---
Tired of feeling like a fat seal while surfing in a wetsuit? Bali offers tropical water temperatures all year long and you'll only need to bring your Boardshorts or Bikini.

Yes – Bali is THE wet dream to every true surfer! Also known as "the island of gods" or "surfers paradise" it guaranties world-class waves during all seasons. Sure, there are spots like Uluwatu, Balangan and Padang Padang – barrelling waves that attract professional surfers and board-freaks from all over the world. But don't you worry! There are suitable surf spots for every imaginable surfing-level. The Surf WG will find you the perfect spot each and every day!
The tropical island of Bali is every surfer's paradise, with its world class waves of Uluwatu, Balangan or Padang Padang. Furthermore, the ability to surf in tropical water in just your board shorts or bikini attracts many to the island. Beginners don't have to worry due to the infinite amount of Surf spots there is a wave for every Level.
The Surf WG is located in a small village called Berawa, next to Canggu. The Camp is surrounded by Balinese rice fields – Bali-feeling right at your doorstep!
Due to the location next to several great surf spots, our surf guides will find you the perfect wave everyday.
East coast, west coast – no matter what! We'll reach the spot within a quick car ride and will hopefully find empty line-ups and great waves.
---
CAMP CHARACTER
---
Feel home and stay easy. That's what it's all about! The camp gathers like-minded people who already fell in love with surfing or will soon do so.
Whether you have never surfed before or want to surf with an amazing group of surfers to improve your surfing skills, Surf WG is the right place for everyone.
People from all over the world visit the Surf WG and we mainly speak English. Also there are people from all different age groups staying with us and everyone is welcome. Families and younger one as well, we have a capacity of 34 persons!
We heard many stories of guests, having found friend for life, while enjoying their time in the Surf WG.
We would be pleased to welcome you in out tropical camp – our Balinese staff is waiting you and so are the other guests.
---
CAMP OPERATOR
---
 For many years, the Surf WG has been a sweet dream of two friends from Germany and Switzerland. Being guests in other surf camps themselves, their vision has always been to create a "Homestay" for surfers. "Feel Home- Stay Easy" has been their aim.
And that's what they actually did! The Balinese Surf WG staff will welcome you as if you would be staying in their home. Learn more about the Balinese culture and share some of your own – everyone will be happy. You are searching for an extraordinary experience outside the normal touristy-things? Just ask someone at the front desk – they'll be helping you out!
ACCOMMODATION AND CATERING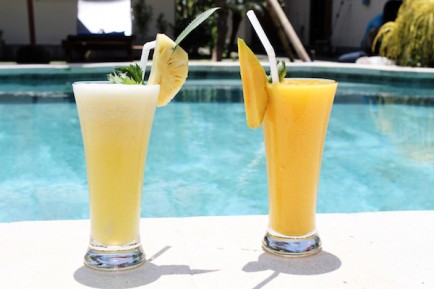 ---
ACCOMMODATION TYPES
---
Balinese style combined with western amenities – the Surf WG offers it all. With its green garden, tropical flowers and rice field views it feels like a small jungle, right in the middle of a paradise island.
If you'd ask: "What's the heart of the camp?" there would be one single answer: the big and sunny swimming pool in the middle of the garden. Together with a gazebo it offers the perfect space to relax and chill after a long day of surfing. It's also famous as meeting-place for drinking beer or cocktails in the evening.
The rooms are fully equipped with everything you'll need, during your stay in Bali. Every room has High speed Wi-Fi, comfortable mattresses, AC and a safety box.
The main building contains 4 rooms. One 4-bed bunkroom, two 2-bed bunkrooms and one double room. It also offers a kitchen area with a fridge and storage space, TV lounge and an extra small swimming pool. And of course all guests can use all of these areas! There is also a roof terrace, offering a stunning view at the rice fields. Equipped with comfortable sun lounges and a seating area, it invites you to just go there and chill hard.
Next to the main building the Surf WG offers 2 traditional Balinese Lumbungs – both having a twin/ double room and a 4-bed bunkroom (upstairs and downstairs).
Then there is the Surf WG Villa, which contains one double room and one twin room. You'll get all the luxury feeling while havening your own separate kitchen, dinning room and lounge area with TV, HiFi and DVD player. The Separate pool area is surrounded by a lush garden and the roof terrace offers spectacular views.
---
CATERING
---
 Right next to the main building you'll find the Surf WGs great indo-western fusion restaurant. The chefs create a mix of traditional Indonesian and western dishes, so everyone will be happy and content. Our drinks menu is how you would imagine a tropical drinks menu to be: impressively diverse! We are offering everything from fresh fruit juices, detox juices, fresh coconuts, lemon squash to Beer, cider and cocktails.
Good News: Breakfast is included. Feel free to order a small breakfast before going to surf in the morning and have a big breakfast once you'll come back from your first session.
There is also free flow coffee and tea until 6pm.
And: The Surf WG goes environmental-friendly: You'll receive a reusable Surf WG water bottle that can be refilled at our free flow water stations at all times.
SURF COURSE AND ACTIVITIES
---
SURF COURSE DETAILS
---
Attention please – you entered the surf-zone! Surf guiding will be offered twice a day, 7 days a week. Experienced guides will take you to the spots and keep you safe! There is always someone watching and staying in the water with you.

The Camp is working with a 5 star system. Absolute beginners would be a "one-Star" and Surf-Pros a "five-star". This way we can guarantee a great time for everybody, not only for the beginners, but also for those who already know how to surf and just need a quick spot introduction and some guidance.

For absolute beginners who never surfed before, the camp is offering a special beginners surf course. A personal guide will train you for two days and get you on the board quickly.

If you want to know more about surfing, you are always welcome to take part in one of the theory of surf classes. The Surf WG offers two theory classes and two pool sessions per week to improve your surfing-skills. You'll learn everything you need to know about rules, surf etiquette, how to improve your position on the board as well as useful things about improving your paddle technique.
---
SURF MATERIALS
---
Surfboards and more
You could leave your board at home – or bring it here – it's your choice! The Surf WG is renting surfboards on a daily or weekly basis. Charges are 10 euro a day and 50 Euro a week for one board. Of course you'll also receive a leash, lycra and some surf wax on top.
We have a wide range of boards of all sizes and shapes, so everyone finds the perfect match.
---
OTHER ACTIVITIES
---
There is a Camp BBQ every Friday and you shouldn't miss it! You can eat as much as you want and its truly delicious! There is Seafood, Fish, Chicken or tempeh and a lot of different vegetables waiting for you.

Did you every wanted to go to Java?
Sure, no problem: the camp will organize a four days trip to Grajagan in Java. Grajagan is a small fishing village at the bay of the well-known G-Land. You'll stay in a bungalow next to the beach, surf a lot and enjoy the chilled atmosphere. Wanna go? Just tell the front desk and we'll do our best to keep you satisfied.
MORE INFO, HOW TO GET THERE & FAQ
---
SURF CONDITIONS
---
Breaks directly at the main spot and at nearby spots
The Surf WG is positioned in the middle of Berawa, so the main spots are everything from Batu Bolong to Punch. Where you will find a great mix of different waves for all levels. But we don't limit ourselves and choose from all surf spots in Bali in order to find you the perfect wave and empty line-ups.
Seasonal conditions

Water and air temperatures stay at a steady 28 Degree all year around: Yes, Bali is a tropical paradise. Nevertheless there is a raining season and it starts from November until March. Some days it only rains for a short amount of time and sometimes there won't be a single rain drop.
Crowd factor and local people

As Bali has many wonderful Surf spots, our experienced Guides have a lot to choose from to find empty line-ups and perfect waves. If you follow the surfing etiquette, the locals and other surfers will respect you and you will have a better experience in the water. But don't worry! We will go through them in our theory sessions.
---
SURROUNDINGS / REGION
---
Characterization of surroundings/region
Canggu and Berawa have developed quickly over the past few years and you'll find everything you could need at your doorstep.
With a scooter, Seminyak, Legian and Kuta are only 20-30 minutes away. You don't know how to drive? That's no problem: our drivers are more than happy to drive you whenever you fancy a bit of shopping.

Many of Bali's cultural sights can be reached in within an easy day-trip or a short drive, depending on what you want to experience.  Our front office is happy to help you plan any trips or give you directions.
---
JOURNEY
---
Ways to get to the camp

Airport pick-up and drop-off is included in the camp price. Our drivers will wait for you at the airport and bring you and your luggage safely to the camp.

Important details
To enter Indonesia, you will need a passport that is valid for at least six months. For more than 168 nationalities the visa is free on arrival and you will just receive a stamp in your passport. This Visa (actually there is no real visa, though to being Visa-free) is only valid for 30 days. The website of the Indonesian Embassy in your country will tell you which countries are affected by this. If you want to stay longer than 30 days, there is the possibility to get the paid so called "Visa-on-Arrival" (VOA), which costs 35 USD. The VOA can be extended during your stay for another 30 days, after this you will have to leave the country. Another possibility is to apply in advance for a tourist visa for 60 days at the Indonesian Embassy in your country.
PACKAGES & PRICES
---
PACKAGE A - from 299 € per Week / Person
---
This package includes:

Low Season for 1 Week including

- Surf guiding 7 days a week
- Airport transport
- Accommodation
- Breakfast
- Free flow coffee and tea
- Free refillable water bottle
- Free flow water
- Free high-speed Wi-Fi
- Video Analysis
- Pool Theory
- Theory session
- Surf Photos
- Free use of Scooters for up to 3 hours
- Driver service

is all for 299 Euro.
---
PACKAGE B - from 397 € per Week / Person
---
This package includes:
Mid Season for 1 Week including

 - Surf guiding 7 days a week
- Airport transport
- Accommodation
- Breakfast
- Free flow coffee and tea
- Free refillable water bottle
- Free flow water
- Free high-speed Wi-Fi
- Video Analysis
- Pool Theory
- Theory session
- Surf Photos
- Free use of Scooters for up to 3 hours
- Driver service

is all for 397 Euro.
---
PACKAGE C - from 430 € per Week / Person
---
This package includes:

High Season for 1 Week including

- Surf guiding 7 days a week
- Airport transport
- Accommodation
- Breakfast
- Free flow coffee and tea
- Free refillable water bottle
- Free flow water
- Free high-speed Wi-Fi
- Video Analysis
- Pool Theory
- Theory session
- Surf Photos
- Free use of Scooters for up to 3 hours
- Driver service

 is all for 430 Euro.
---