ABOUT THE SURF CAMP
---
Location and surf conditions
---
- next surf spot (3 of them) at 150 meters from camp
- we have many kinds of spots in the center next to the camp , beach break , reef break
- spots for all levels of surfing
---
Camp character
---
- open to everybody
- medium sized camp
- mainly relax camp, but some party as well
- average age of participants: 15-40
- main language used in camp: English/Portuguese
---
Camp operator
---
- Who is the owner of the camp? Roberto Moretto - ISA level 2 - life saving ILS; luan meseiros ISA level 1
- Everything began when Roberto discovered his love for surfing and his country, Brasil
ACCOMMODATION AND CATERING
---
Accommodation types
---
- types: hostel, Pousada
- situation: next to the centre in a quiet road
- room types: single room, double room, room 3/4/5/6 ., shared room 4/6 girl or man , balcony
- extras: swimming pool, parking ,internet , wi-fi , tv room
- bed linen and towels provided
- you need to bring along an electrical adapter
- non-smoker accommodation
The hostel has 60 beds distributed among dormitories and rooms for couples, families or small groups.
In Pipa Hostel you find all the information you need to enjoy all that Pipa has to offer, without spending a lot of money.
Private Rooms:
- Air conditioning or ceiling fan;
- Private bathroom;
- Fridge
- Tv;
- Double bed or twin bed rooms;
- Capacity up to 04 people (air conditioning) or 06 people (ceiling fan).
Dormitories:
- Ceiling Fan;
- Private bathroom;
- Balcony with hammocks;
- Lockers
Facilities:
- Breakfast included;
- Guest's kitchen;
- Laundry service;
- Luggage storage;
- Internet access;
- Free Wi Fi;
- Free Parking.
Leisure:
- Swimming pool;
- Barbecue;
- TV and video room;
- Pool table
- Football table;
- Board games;
- Small library and Book Exchange.
Security:
- 24 Hours Reception;
- Safe building with security cameras;
- Lockers.


---
Catering
---
- only breakfast
- shared kitchen
- all kinds of shopping facilities
- restaurants nearby, starting from 7 reals/3 euros (self service) up to 80 reals/35 euros (top restaurant)
SURF COURSE AND ACTIVITIES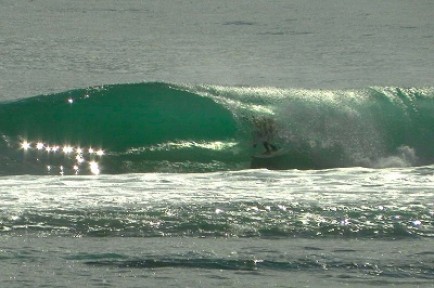 ---
Surf course details
---
- courses are held by 3 surf instructors
- 3 course hours/day (1h theory, 2h practice)
- course duration: 3-6 days
- location and programme depending of students´level
- courses for all levels
- breaks: only for surf trip
- course language: english - spanish - pourtuguese - italian- french
- only course participation (without accommodation) possible
---
Surf materials
---
- materials used during surf course: soft board okilled for beginners, all kind of boards for advanced
- fiberglass boards for advanced surfers
- 3 hours of instructions per day
- professional surf coaching Certified ISA and ILS
- wax - leash - licra provided
- soft board for beginners and all kinds of surfboards for advanced
- theory classes with video and photo analysis of the practical surfing sessions
- Surf School DVD with your surfed waves for free
- beach shuttles to the best surfing peaks , depending of the condition of the sea and of the level of the surfers
- free rental board
- free kayak
- free sand board in Pipa dune
---
What you will be learning
---
What you will be learning as a beginner:
- Introduction to surf equipment and gear;
- Safety issues;
- How waves form in the ocean;
- The geography of Praia da Pipa: waves and beaches;
- The history of surf. From inception to today;
- How to position yourself on the board and how to paddle, handle, and sit on the board;
- How to clear the breaking zone and deal with white water;
- Priority rules;
- Initiation to take-off techniques (standing on the board);
- Take-off timing;
- Line-up positioning;
- Surfing waves before they break;
- Surfing green waves in safety and with some control
What you will be learning as an intermediate surfer:
- Go through a diagnostic and appraisal session;
- How to select surf gear that is adequate for your level;
- Improving your paddling, sitting, and wave-catching techniques;
- How to improve your positioning on line-up
- Timing, reading the waves, and priority rules;
- The hydrodynamics of a surf board;
- Positioning your body for a bottom turn;
- How to surf various types of wave;
- How to gain speed and trimming;
- Manoeuvres: Off-the-lip, cutback, and floater
- free use of materials outside course hours
- rental: 25 reals (€10.70)/day
---
Other activities
---
Do you know a great way to combine surfing and exploring different beaches, towns, villages and the ever changing landscape? Booking a Surf Trip with surf camp Pipa Brazil !
A team of experienced surfguides takes you to the best waves in this region, fitting your surfing skills. You will surf in secrets spots, where you will not have problems of overcrowding, 28/30 different types of waves that break during the year (about 14 in the summer and 16 in the winter) within 40km of coastline around Pipa.
The Surfari is ideal for those who travel alone or in small groups. Your fellow travelers are with you for three or five days, so you get a good chance to make some friends and learn from each other in the water and on the land. Our groups in general age from 18 to 35 years of age with a 50/50 mix of sexes, from all various walks of life and countries. Groups sizes of maximum 8 people plus two guides.
Surf Pipa School stands for a high level of water safety. People with zero or little surf experience will follow some classes before we will let you go free surfing. It does not matter if the waves are big, because we keep all beginners very close to the beach where the waves have less power.
Experienced Surfers paddle straight past the beginners into the line-up. Local knowledge and the use of surf forecasts will determine at which places we surf during the surf trip. Usually we will surf at three or four different places along the coastline.
The Surfari kicks off in Praia da Pipa from our surf camp and takes you in 3/5 days to the best waves, exploring marvelous beaches.
Suitable for complete beginners. All gear and properly organized daily surf classes provided. Advanced and expert surfers will be amazed by the region wave potential.
Many people find here, apart from a great holiday, inspiration that widens their vision and broadens their life. This is the biggest reward for us and it motivates us to continue sharing our idea of paradise.
The one price includes:
- Surf instructions from certified experienced staff
- A wide range of surf boards, pre booking a specific model is possible
- Transport between pick-up and the end of your surf adventure by 4x4 or buggy
- Sandwiches and drinks (please specify if vegetarian or vegan)
- See parts of Pipa away from the usual tourist trail
- Good surfing conditions that match your personal level of surfing
- Surfing on beautiful uncrowded beaches
- No worries surfing close to nature
- A free drop of at Pipa Bus station
- Accommodation (if you choose all included package)
We run the Surfari all year round!
More offers:
- kite surf courses and rental
- surfboard rental: 25 reals (€10.70)/day
- Yoga, Pilates,...
MORE INFO, HOW TO GET THERE & FAQ
---
Seasonal conditions
---
- water temperature: 25-29 ºC
- air temperature: 25-35 ºC
- waves all year long from 3 feet to 10 feet


---
Crowd factor and local people
---
- crowded and quiet spots
- the locals are normally very gently


---
Characterization of surroundings/region
---
Praia da Pipa
Welcome in the tropical paradise !
6 km south of Tibau do Sul, Pipa's collection of beaches are the most exciting and well-known in Rio Grande do Norte and include some of the most spectacular in Brazil. It is cosmopolitan and international where many Brazilian accents & languages from around the world flow together. Tours through the forests, dunes and along the beaches are always a pleasure and the flavours provided by the town's gastronomy will satisfy even the most demanding of palates. Pipa's nightlife is always buzzing with many bars offering live music, the energy is contagious and resistance is futile. A little further south is Praia das Minas: 7km of deserted beaches featuring segregated areas for the protected turtles.
The world over Pipa is famous for it's natural beauty. With the media numbering Pipa's beaches amongst the most beautiful Brazil has to offer, the area attracts both national and international visitors. Here, as in Porto de Galinhas, one encounters natural pools, utopian beaches and excellent surf breaks, like Fernando de Noronha the presence of dolphins is constant; the imposing coloured cliffs remind us of Arraial d'Ajuda (Bahia); the preserved areas of Atlantic Forest compare to those in Itacaré; and, Pipa's winds compete with those of Jericoacoara. Not least, the area boasts the dune fields of Natal and the dazzling Guaraíras Lagoon (ideal for fishing, boating and canoe trips and the stage for a truly golden sunset).
If the nature does not charm you, the architecture, fashion, culture, art and pace of life certainly will.
Pipa at night is an attraction on its own: stylish bars; restaurants with the best in regional, national and international gastronomy; cafés; art galleries; and, a rich and varied artisan tradition.
The community is made up of fishermen and small-business owners alongside Brazilians and people from all around the world who have chosen this small slice of paradise in which to live all warm-hearted people dedicated year-round to helping you feel at home.
Make your reservation in this magical place now, but be warned a few days will merely serve to wet your appetite for morePraia da Pipa your surfing vacation in Brazil.
- health: no vacination required , medical post in the village hospital 6 km from camp


---
Activities and facilities
---
- shopping
- no cinema , many bars, good night life , many little concerts and good international restaurants
---
Journey
---
Ways to get to the camp
- bus, car, taxi
- shuttle service from airport/train station to camp for 120 reals (€ 52)
- distance to airport: 85 km
- public transport
- taxi costs airport-camp: 130 reals (€ 56)
Important details:
- camp accepts credit cards
- cash mashine in the village
- costs for bus transfer/public transport: 10,5 reals (€ 4.50) natal pipa
PACKAGES & PRICES
---
Surfari - 3 days surf trip from 450 reais per person
---
The one price includes:
Surf instructions from certified experienced staff
A wide range of surf boards, pre booking a specific model is possible
Transport between pick-up and the end of your surf adventure by 4x4 or buggy
Sandwiches and drinks (please specify if vegetarian or vegan)
See parts of Pipa away from the usual tourist trail
Good surfing conditions that match your personal level of surfing
Surfing on beautiful uncrowded beaches
No worries surfing close to nature
A free drop of at Pipa Bus station
Accommodation (if you choose all included package)  
---
Surf Camp Pipa Hostel
---
| | | |
| --- | --- | --- |
|   | HIGH SEASON |   |
|   | 30 reais | shared room - NO Breakfast |
|   | 70 reais | private room for 2 people - No breakfast included |
|   | LOW SEASON |   |
|   | 20 reais | shared room |
|   | 50 reais | private room for 2 people |
|   | - |   |
|   | break fast not included       | shared kitchen |
|   |   | free wi-fi |
|   |   | surf books and magazine |
|   |   | air fan |
|   |   | surf dvd & tv |
|   |   | bed sheets and linen are provided for all rooms |
|   |   | terrace |
---
Beginner / advanced surf course, 3 days - 380 reais

---
| | | |
| --- | --- | --- |
|   | COURSES | COURSES Our 3 day progressive surf course at surf camp is designed for beginner and advanced surfers . 3-hour lessons each day for 3 days. |
|   | ACCOMODATION | Your accommodation is only a short walk to the beach and local bar. . Rooms at surf camp are either 3 or 4 berth and upgrades to to a private/double room can be requested at the time of booking. |
|   | INSTRUCTORS | Certified from International surfing association ISA level 1 &2 - Life saving ILS |
|   | EQUIPMENT | All equipment is current technology and in excellent condition. A full range of surfboard sizes are available. |
|   | TRANSPORT | All transportation to the courses on the beach are provided in our buggy or jeep |
|   | FOOD | no food included |
|   | EXPLORE | Learn to surf on Brazil's best beachs with our local instructors |
|   | FREE DVD | video and photo of your surf lessons in a free DVD . |
---
Beginner / advanced surf course, 6 days - 580 reais 
---
Included
 
 
BONUS 1 surf trip included
 
theory classes with video and photo analysis of the practical surfing sessions
 
wax - leash - licra
 
3 hours instructions a day
 
professional surf coaching Certified ISA and ILS ,
 
soft board for beginner and all kind of surfboards for advanced , licra , wax , leash
 
Surf School DVD with your surfed waves for free
 
beach shuttles to the best surfing peaks , depending of the condition of the sea and of the level of the surfers .
 
free rental board
 
free kayak
 
free sand board in Pipa dune
What you will be learning       


Beginner:

- Introduction to surf equipment and gear;
- Safety issues;
- How waves form in the ocean;
- The geography of Praia da Pipa: waves and beaches;
- The history of surf. From inception to today;
- How to position yourself on the board and how to paddle, handle, and sit
on the board;
- How to clear the breaking zone and deal with white water;
- Priority rules;
- Initiation to take-off techniques (standing on the board);
- Take-off timing;
- Line-up positioning;
- Surfing waves before they break;
- Surfing green waves in safety and with some control

Intermediate:

- Go through a diagnostic and appraisal session;
- How to select surf gear that is adequate for your level;
- Improving your paddling, sitting, and wave-catching techniques;
- How to improve your positioning on line-up
- Timing, reading the waves, and priority rules;
- The hydrodynamics of a surf board;
- Positioning your body for a bottom turn;
- How to surf various types of wave;
- How to gain speed and trimming;
- Manoeuvres: Off-the-lip, cutback, and floater
(current exchange rate: 1€ = 4,17 Brazilian Reais (BRL)