ABOUT THE SURF CAMP
---
LOCATION AND SURF CONDITIONS
---
The Surf Hotel is located in the hills of the Tamraght Ou Fella between Agadir and Taghazout and in  10 minutes walking distance from the beach. The region is famous for its 330 sunny days and favourable warm climate all year round. Tamraght is renowned for its laid back pace and word-class waves for all surf levels. Located 40 minutes from the international airport in Agadir, it's a short flight from most central European cities. it's the closest place for any European surfer to get a year round warm water, perfect waves and a unique cultural experience. 

The Surf Hotel is surrounded by many famous surf spots. From our beautiful rooftop terrace you can overlook the charming surfer villager, check the waves in the morning and enjoy the stunning Moroccan sunsets. The closest beaches "CroCro" and "Devils Rock" are reachable in a short drive or in 10 minutes walking distance. Discover the most beautiful waves of Morocco and enjoy your surf holidays with nice weather, perfect waves and surf spots for every surf level.
---
CAMP CHARACTER
---
We focused to build a professional and high quality surf camp in Morocco with great comfort, delicious food and great hospitality. Guests are our top priority and we always try to fulfil all of their expectations. Our goal is to make your surf holiday memorable and unique!
We are proud to offer a high quality services, from our brand new hotel with modern installations with our new surf equipments and well maintained vehicles to our friendly and well trained staff, our goal is always to provide the best quality in the region.

Our modern hotel has high quality equipment, from our furniture to our surf gear we always aim to provide the best. We offer in our climatize lobby room a Playstation with an LCD 42" screen, in our rooftop we provide a ping pong table, balance board and a notebook connected to a pair of speakers to enjoy the view with some nice music in the background. All our surfboards and wetsuits are from the best brands in the surf industry in order to provide our guests the best surf holidays!
---
CAMP OPERATOR
---
We have the local insight and surf experience, our staff have been surfing in the area for many years, they are not only professional surf guides, they are surfer themselves which together create the best experience for ours guests, we are proud to see the progress from our guests and use all our knowledge to keep pushing them to next level! From completely beginners to advanced surfers we provide the best surf experience.
ACCOMMODATION AND CATERING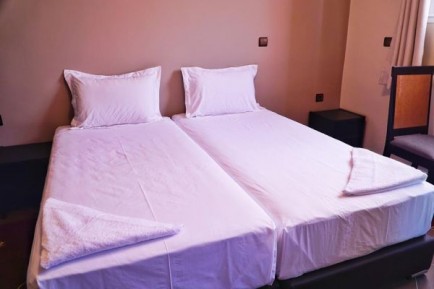 ---
ACCOMMODATION TYPES
---
We offer a wide range of accommodation to all surfers and travellers. Nine bedrooms with surfer style design are available through the whole year. We offer deluxe double rooms, two beautiful junior suites and two master suites with spacious living rooms. Even a shared dorm room with five comfortable beds is available. All our rooms have an en-suite bathroom to offer you more comfort and privacy. Enjoy the high quality of our hotel, relax at the air conditioned lobby or chill on the large and sunny rooftop terrace with magnificent view over Tamraght village as well as sea horizon.
---
CATERING
---
A surfer can not perform well in the water, if he has an empty stomach! Thinking about that, we offer superb food in our restaurant on site. From the traditional Moroccan cuisine we can highlight our Tajine, Pastillas and CousCous to our international cuisine which range from burgers, pizzas and pastas to our vegetarians options. We also prepare a menu for your need in case you have any type of food restriction. We always give preference for food sourced locally, organic, fresh and with extremely quality. Our modern kitchen aligned with our chef experience we have absolute sure you are going to love the food, especially when eaten in our lovely rooftop.
SURF COURSE AND ACTIVITIES
---
SURF COURSE DETAILS
---
Our local instructors with years of experience and knowledge of the surf conditions will help you to get the most out of your surf-time in Morocco! They will show you the best spots depending of your level: no matter if you are a complete beginner or a pro-surfer – with us you gonna step to the next level!
Freedom of surfing is a freedom of choice: you can take a surf lesson or surf guiding with our instructor, or just a transfer to the beach. 
---
SURF MATERIALS
---
If you don't take your own board or wetsuit with you, you can rent it here.
---
OTHER ACTIVITIES
---
If you need a break from surfing or just want to discover more of Morocco and it's culture, we give you a few options for authentic excursions in the region. All the trips can be done in one day so you will be back for surfing at the next day.

- Paradise Valley
- The Bay of Imsouane
- Essaouira
- Marrakesh
- Agadir (Souk/Kasbah)


We also offer:
- Yoga
- Hammam & Massage
- Quad
- Horse Riding 
MORE INFO, HOW TO GET THERE & FAQ
---
 SURF CONDITIONS
---
Seasonal conditions
The Surf Hotel Morocco is the best place to spend your surf vacation in Morocco. Located right in front of the best surf spots in Morocco you'll find the familiar surf camp to spend a great time. Morocco is famous for its long-running surf season during the winter months. But even in summer months you find consistent conditions to learn surfing.
---
 SURROUNDINGS / REGION
---
Characterization of surroundings/region
Around The Surf Hotel you find a few cafés and restaurants in 5 minute walking distance from our place. You reach the city-center of Agadir in 14 km and the Airport Al Massira in Agadir in 33 km.
---
 JOURNEY
---
Ways to get to the camp
We will pick you up and drop you off at the Agadir Airport or a nearby bus station. 
PACKAGES & PRICES
---
SURF COACHING  - from €443 per Week / Person
---
This package is optimal if you already have basic skills in surfing or if you never tried to surf before. Our experienced Surf instructors will bring you to the best surf spots according to your surfing skills and the surf conditions. Optimal wave and wind conditions will let you make huge advances in learning to surf and will improve you to the next level of surfing. Throughout the course, we will explain you theory and show you the practice. You will start to surf the white water and go on to catch some green waves soon so that you enjoy your surfing experience from the very beginning.

This package includes:
- Agadir Airport pick up and drop off
- 7 nights in our beautiful hotel rooms with comfortable beds and en-suite bathrooms
- 7 healthy and organic breakfasts to start powerful in the day
- 6 days delicious dinner on the rooftop terrace (every Thursday the kitchen is closed)
- 6 days lunch at the beach (sandwiches/salads/fruits)
- 6 days of 2 hours surf lessons with professional surf instructor in the morning
- 6 days of 2 hours self-practice surfing under surveillance of the surf instructor
- daily transport to the best surf spots according to the surf conditions
- 6 days surfboard use 6 days wet-suit use
- free WiFi internet access
- fresh towels and room cleaning
- possibility to book excursions around Agadir
---
SURF GUIDING  - from €383 per Week / Person
---
The Surf Guiding package is optimal if you already know how to surf but need a local guide who finds the best waves for you. You can either bring your own equipment or rent it here. Our local surf guides will find the best surf sports according to the surf conditions for you around the Tamraght area. Our friendly staff will fulfill all your needs and share our passion for surfing with you. Optimal wave and wind conditions will let you make huge advances in surfing.

This package includes:
- Agadir Airport pick up and drop off
- 7 nights in our beautiful hotel rooms with comfortable beds and en-suite bathroom
- 7 healthy and organic breakfasts to start powerful in the day
- 6 days delicious dinner on the rooftop terrace (every Thursday the kitchen is closed)
- 6 days lunch at the beach (sandwiches/salads/fruits)
- 6 days of 6 hours with professional surf guide
- daily transport to the best surf spot according to the surf conditions
- 6 days surfboard use
- 6 days wetsuit use
- free WiFi internet access
- fresh towels and room cleaning
- possibility to book excursions around Agadir
---
SURF & YOGA  - from €551 per Week / Person
---
The Surf Hotel offers you a Surf and Yoga package. This package is a perfect match as you will highly appreciate your yoga skills when you're out in the water trying to catch waves. Yoga helps you to find your focus, work on your flexibility and balance. Enjoy your yoga sessions in the morning and evening in our special yoga room on the rooftop terrace. You will love the peace up there!
 
This package includes:


- Agadir Airport pick up and drop off
- 7 nights in our beautiful hotel rooms with comfortable beds and en-suite bathroom
- 7 healthy and organic breakfasts to start powerful in the day
- 6 days delicious dinner on the rooftop terrace (every Thursday the kitchen is closed)
- 6 days lunch at the beach (sandwiches/salads/fruits)
- Daily 1 hour yoga session in the morning (except Friday)
- A daily 1-hour yoga session in the evening (except Friday)
- 6 days of 2 hours surf coaching or guiding w/ professional surf instructor in the morning
- 6 days of 2 hours self-practice surfing under surveillance of the surf instructor
- daily transport to the best surf spots according to the surf conditions
- 6 days surfboard use
- 6 days wet-suit use
- free WiFi internet access
- fresh towels and room cleaning
- possibility to book excursions around Agadir
---
BED & BREAKFAST  - from 157 € per Week / Person
---
Choose this package if you want to be free in your daily program and decide spontaneously what you are up to. You can book surf coaching, surf guiding, and yoga lessons day by day for an additional charge.

This package includes:

- Agadir Airport pick up and drop off
- 7 nights in our beautiful hotel rooms with comfortable beds and en-suite bathrooms
- 7 healthy and organic breakfasts to start powerful in the day
- 6 days delicious dinner on the rooftop terrace (every Thursday the kitchen is closed)
- free WiFi internet access
- fresh towels and room cleaning
- possibility to book surf coaching, surf guiding, yoga lessons or excursions on the place
- possibility to rent surfboards and wetsuits if you are an experienced surfer
- possibility to book excursions around Agadir