ABOUT THE SURF CAMP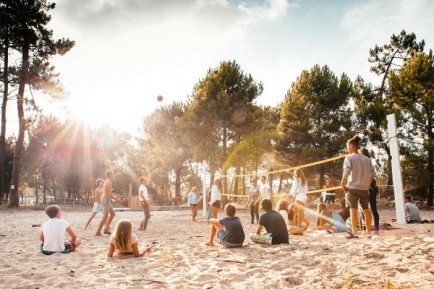 ---
LOCATION AND SURF CONDITIONS
---
Surf lessons are delivered by our best surf coaches. We will present surfing, waves and the ocean to you and your children: you will learn everything about equipment, water movement, standing on a surf board and power of the ocean. Once you catch your first wave, you are hooked for life.
---
CAMP CHARACTER
---
Large area surrounded by pine trees is best suited for families, couples and 25+ individuals who are seeking more comfort for themselves on one hand and a pristine nature filling on the other. Campsite is 700 m away from the sea and about the same distance from the town of Montalivet. Small town with local market, bars, surf shops and restaurants. Campsite is equipped with bathrooms, showers, kitchen, volleyball court and so on.
---
CAMP OPERATOR
---
We are a bunch of ocean lovers, enthusiasts for movement and of course, passionate surfers. We strongly believe in freedom, simplicity and happiness. We share our love for surfing while offering an authentic travel experience. Ujusansa is more than a surf camp, we do more than teach people how to surf. We take care for our community all year long with different events, surf trips and educations. Our team of passionate surf enthusiasts are dedicated to help you learn how to surf, progress and enjoy your vacation with us.


ACCOMMODATION AND CATERING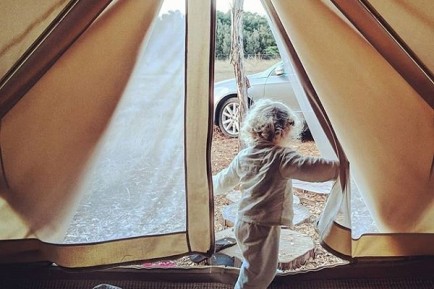 ---
ACCOMMODATION TYPES
---
The modernly decorated TIPI tents are fully equipped with simple yet comfortable sleeping (1 double sized bed & up to 1 cot/2 single beds for children) and living (small furniture, wardrobe, …) facilities. One TIPI tent accommodates to up to 4 people.
---
CATERING
---
We serve two main meals per day – breakfast and lunch or dinner. In between there are several snacks available for you (on request). Empower your surfing day in the morning by having a wide array of fresh fruits, muesli, freshly baked bread, yogurts, etc. served for breakfast. Lunch/dinner represents a wholesome meal – containing lots of veggies and other various healthy food ingredients. We provide vegetarian and vegan options for all meals too, just please indicate what your preferences are while you book.


SURF COURSE AND ACTIVITIES
---
SURF COURSE DETAILS
---
Ujusansa Surfing School has two important goals performance and personal satisfaction. Our licensed surf coaches will adapt to your level regardless if you are a complete beginner or you already carve the waves.
---
SURF MATERIALS
---
We have a wide range of surfboards to choose from, so we can find the right one for you and your youngsters. The wetsuit and surfboard are yours to use all through your stay at our camp.
---
OTHER ACTIVITIES
---
For all children that are under 7 years, we organise a surf kinder garden, so parents have a peace of mind while surfing, enjoying easy beach life, having a glass of a great Bordeaux wine, practicing yoga, going for a run or just having some simple spare time for themselves. We set the kinder garden schedule and tailor it to the group needs on the first day when you come to our camp.


MORE INFO, HOW TO GET THERE & FAQ
---
 SURF CONDITIONS
---
Breaks directly at the main spot and at nearby spots
We are located 800 m from French cost where you can find many sand breaks where small to medium size waves are during the summer. 

Seasonal conditions
It is summer time on Atlantik cost in France. Sea temperature is from 20 - 23°C and air temperature below 30°C during the day and around 20°c during the night.


Crowd factor and local people
This is more quite place with a low crowd factor white nice locals.


---
 SURROUNDINGS / REGION
---
Characterization of surroundings/region
Medoc region is one of the regions where excellent Bordeaux wine is produces. There are many vineyards with castles in the center. Bordeaux is charming town ideal for a day trip.


Activities and facilities
Le Bambou Rum bar (rum & cocktails, band weekly), Caipi bar, Brunch bar, Trendy lunch place with art, second handstore, retro hairdresser, and good food.
Wine tasting, Oyster tasting, Daily market, Restaurants, CITY TRIP to Bordeaux (1h), Visit Lacanau (50min), Go sailing on lac de Hourtin (30min), Rent a boot on lac the Hourting (30min), SUP, Wakeboarding (30min and 1h), Inflatie Aquapark (30min and 1h), Paintball, Karting, Skydiving, Horseback riding on the beach, Party in the Club.
---
 JOURNEY
---
Ways to get to the camp
If you are flying to the region, the best way is to fly to Bordeaux. From there its only an hour of a car drive to us. We offer a van pick from (or drop off) the airport for 60 EUR. There are also other great options such as going to Bordeaux with a direct, fast going train.
Important details
If you are coming with a car or camper van to our Family surf camp, contact us to advise you for the best road trip option.


PACKAGES & PRICES
---
PACKAGE A  - from 199 € per Week / Person
---
This package includes:

7x Cozy and modernly equipped TIPI tent accommodation
7x breakfast, light lunch and dinner
Kindergarten: from 4 years, 5 times per 4 hours/day
Free use of surf equipment
Free use of bicycles
Free use of camp facilities for children
1 free yoga class
Ujusansa free gift