ABOUT THE SURF CAMP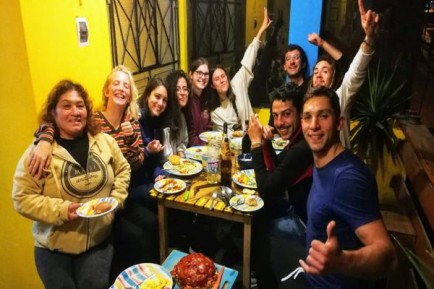 ---
LOCATION AND SURF CONDITIONS
---
The Urcia family surf school is based in their home town, the UNESCO World Surfing Reserve of Huanchaco, Peru. Surfing originated in Huanchaco with traditional reed boats, Caballitos de Totora. On days off from surfing you can take a caballito tour and even fish and prepare your own ceviche. Learn more about caballitos with us.

Our surf school is located in front of El Helio beach in Huanchaco (known locally as "El Elio"), where you can always count on good surfing conditions.
---
CAMP OPERATOR
---
The three Urcia brothers; John, Giancarlos and Juninho, have excelled in surfing competitions since they were young. They opened their first surf school together 17 years ago.

Giancarlos now manages a surf school in California and Juninho is travelling around the world competing in the World Surf League Qualification Tour.

John specialized in training Juninho and other professional surfers.

John continues to share his many years of surf experience and coaching in Huanchaco at Urcia Surf School.
ACCOMMODATION AND CATERING
---
ACCOMMODATION TYPES
---
We offer:

5 rooms (10 people max)
Well equiped kitchen
Balcony with sea view
Family atmosphere
Surf lessons and rental
Caballito Tours
Walking distance to the beach and surf spots
SURF COURSE AND ACTIVITIES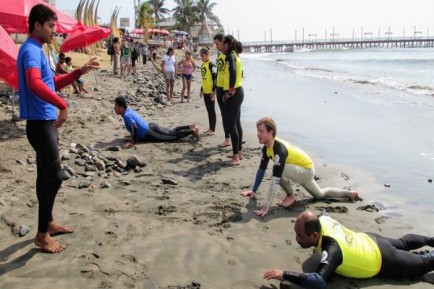 ---
SURF COURSE DETAILS
---
We offer group lessons and one-to-one surf coaching up to competitive level.
---
SURF MATERIALS
---
We have surf equipment available to rent for beginner, advanced and professional surfers. If you're not sure what's best for you we're always ready to help.
We follow the agreed surf equipment rental rules of our local surf school association.
---
OTHER ACTIVITIES
---
Surf trips to Chicama, Puemape and Pacasmayo
Experience the best breaks the La Libertad area of Peru has to offer. Get together with a group for a day trip from Huanchaco to Chicama, Puemape or Pacasmayo.
Each day trip sets off from the surf school at 7am. We aim to return to Huanchaco by around 7pm.

Check out the surf reports on magic seaweed below:

Chicama – the world's longest left hand breaking wave
Puemape – known locally as "Poemape", a long and consistent left hand reef break
Pacasmayo – Chicama's big brother
PACKAGES & PRICES
---
PACKAGE A  - 3 Days Camp -  from 222 € per Week / Person
---
This package includes:

2 nights accomodation at Indigan Surf Hostal
3x surf lesson for 1,5h
Equipment for 3 days
Optional paid: breakfast, unlimited drinking water, coffee and tea


---
PACKAGE B  - 6 Days Camp -  from 222 € per Week / Person
---
This package includes:

5 nights acommodation at Indigan Surf Hostal
5x surf lesson for 1,5h
Equipment for 6 days
Optional paid: breakfast, unlimited drinking water, coffee and tea, Video Analysis,  Caballito tour


---
PACKAGE C  - 11 Days Camp - from 197 € per Week / Person
---
 This package includes:

10 nights acommodation atIndigan Surf Hostal
8x surf lesson for 1,5h
Equipment for 11 days
Optional paid: breakfast, unlimited drinking water, coffee and tea, Video Analysis, Caballito tour


---
PACKAGE D  - 1 Month Special - from 147 € per Week / Person
---
 This package includes:

Surf and Spanish

30 nights accomodation at Indigan Surf Hostal
10x surf lesson for 1,5h
Equipment for 1 month
1x video analysis
10x Spanish lessons
Caballito tour