ABOUT THE SURF CAMP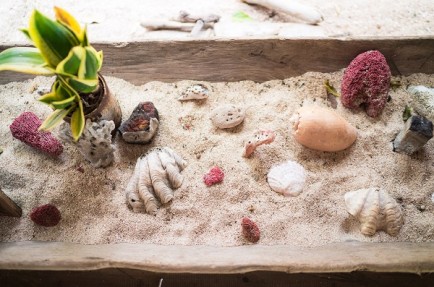 ---
LOCATION AND SURF CONDITIONS
---
Rote island has an identity of its own with endless exploration and discoveries to be done.
Located in the Southern most point of Asia this exotic island has much to offer from amazing surf breaks to hectares of coral reef which are home to a rich diversity of marine life. Not only will it satisfy any ocean lover – Rote also stands our for its beautiful ancient rock and land formations, magnificent views and a unique indigenous Christian culture.
From rolling hills to stunning cliffs, caves and coves, powdery white sand beaches, untouched forests, lagoons and one of the oldest and biggest mangroves tree forests in Indonesia - there is plenty of  beauty and wilderness to take in .
Season:
Throughout the year the land transforms from lush green vegetation to golden rocky landscapes – its "dry" season beginning in April to November and "wet" season stretching through the remaining months of November to March.

The surf season starts as the trade winds turn offshore from April to November. During this season the island is very with little or no rain. The trade winds are very consistent, making every day offshore in Nemberala (main break). They are blowing the strongest in the month of June, July and August. The wave is working with all kind of winds, from light to strong wind. From June through August/September Rote is a swell magnet. The swells in the shoulder season March&April and October&November arrive less consistent but some big days are not unusual. It is a good time to enjoy Rote with a variety of waves and less crowd. The shoulder season provides ideal conditions for the spots and the islands around Nemberala. Rote offers waves for all kind of surfers, doesn't matter if you are beginner, intermediate or an advanced surfer. 
---
CAMP CHARACTER
---
If you are a solo traveler with a deep love for nature- the ocean and the wilderness or an adventurer seeking for an off the grid experience... If you are a honeymooner or couple looking for a romantic gateaway, or friends who wish to escape the madness of a busy life - if your simply looking for an alternative holiday experience, a yoga or surf vaccation, a space of peace and calm to retreat or a place to enjoy a wide variety of outdoor acivities -then Yes, Utopia Lodge is just the right place for you.
---
CAMP OPERATOR
---
The lodge is a family run business set in the midst of the forest in the hills of Nemberala with full focus on providing the experience you seek. With that in mind, know that we are there to help you arrange, plan or go on adventures with you.


ACCOMMODATION AND CATERING
---
ACCOMMODATION TYPES
---
At this point we have availability to 3 different private lodgings with stunning ocean view.
All accommodation is designed to make you feel part of the surrounding nature: simple, earthy Indigenous architecture with tasteful touches to make you feel at home in the wild.
Our buildings are constructed using only local materials such as Rotes famous and remarkable lontar palm tree which has over 100 uses to the local people. You will find many different kind of stones used in all features sourced from the land directly or from nearby.
We also value the art of Recycling and therefore have included old boat wood as a building material. The inspiration to our decoration in the whole territory springs from Rotenese craft making and traditional weaving which we wish to support in every way. All Rooms have traditional thatch roofs, open air bathrooms with solar heated showers and dry compost toilets. Each unit has its own balcony with forest and ocean views facing Rotes vibrant sunsets.

Pride Rock Suite
The Pride Rock suite accommodates 2 people in a queen sized bed. Located on the top point of the property it has more than 180 degrees ocean view overlooking the lush forest valley that seems to stretch for miles.
There is a private bale which can be transformed into an extra bedroom.
The Price Rocks outdoor panoramic toilet is something you will not forget.

Palm Suit
The Palm suite originate from a local building style called Ding Ding using the stems of the coconut and lontar leaves for construction of walls, doors and windows. This house is designed for 2 people fitted in a queen sized bed with possibility of 2 extra sleeping spaces. There is a grand balcony to enjoy the majestic sunset and the glowing milky way in the evenings. The outdoor shower is a spiraling unit of its own.
Old Farm House Suite
This house has been found in a remote village and has been reconstructed on our land in ways to suit modern needs. This unit is very spacious with a big balcony and can accommodate 4 people with its one double bedroom and two single bedrooms. It is ideal for families or groups of friends.
What makes the space special is the historical native construction that we wish to preserve.  

CHECK LIST SUITES
 YES
- Ocean forest views
- kind sized bed with mosquito net
- private bathrooms with solar heated shower systems
- spacious balonies with view
- compost toilets
- fan
- cubboards and chill out sofas
- drinking water and tea and coffee station

NO
- AC
- kitchen
- fridge
- TV
- wireless internet


---
CATERING
---
Our menus are balanced with the season, our garden and the local community. Since we make everything from scratch using fresh ingredients to create a variety of healthy dishes we are able to meet everyone's needs. We specialise in vegetarian meals, but if requested we are happy to prepare seafood and occasionally can try catch a wild pig or chicken for you on request.
Our food is raw and cooked, sweet and sour, light and vibrant and rich and comforting.
Our daily feasts will revolve around the community table, bringing everyone together to share, connect and make plans for the day. We also specialize in preparing candle lit dinners under the stars.


SURF COURSE AND ACTIVITIES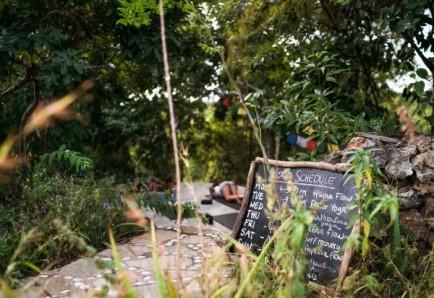 ---
SURF COURSE DETAILS
---
If you are interested in learning how to surf or you just wanna improve your surfing we can arrange surf lessons for you. 

30€/surf lesson 
---
SURF MATERIALS
---
We work together with surf shops in Nemberala where it is possible to rent surfboards or any other surf gear. We can take you there to find the perfect board for your stay. 
---
OTHER ACTIVITIES
---
Rotes many amazing surf breaks are attracting people from all over the world, from the famous Besialu Reef (local name) - T-land break to Sucky Mama and Boas wave.
But there is a whole lot more to Rote.
At Utopia Lodge we are offering daily Yoga classes for 7,50€/90 min class. 
Other than that there are so many more beautiful things to do in Rote and we are happy to assist you in all the following activities some which are on extra cost:
- boat adventures to other islands and coral reefs
- motor bike exploration
- spearfishing and fishing (with own equipment)
- snorkeling trips  
- diving
- mangroves walks
- mangrove canoeing
- stand up paddling
- trekking in the remote hills and forests
- lake excursion
- massages
- BBQ under the stars
- one night camping adventure on uninhabited island
- off road island safari


MORE INFO, HOW TO GET THERE & FAQ
---
 SURF CONDITIONS
---
Breaks directly at the main spot and at nearby spots
Besialu Reef (T-land) - Main Break - long left 
Boa 
N'Dana
Do'o
Peanuts
Sucky Mama
Squillers 
Seasonal conditions
The water is the whole season tropical warm (26-30°C average). When the trade winds start to blow stronger in May a springsuit is recommend to not get cold from the wind. 
Crowd factor and local people
During the shoulder season April&May and October&November you can enjoy Rote with less crowd. In June, July and August, when the swells arrive more often and more consistent in Rote it can get crowded. 


---
 JOURNEY
---
To get to us is pretty easy and straight forward. To leave Rote requires more planning and can be subject to change.
Here is our most updated travel information:

Bali – Kupang  - Rote
Lion Air flight at 8:55Am OR 11am flight with Garuda
15:10 flight with Wings air from Kupang to Rote
15:40 pick up at the airport
45 minute drive to Utopia
Rote – Kupang – Bali

The return trips has two options:
1) Taking the morning ferry on the available dates*** to make the afternoon connection flight with either Lion air or Garuda.
Note that on stormy/ windy days this ferry can be canceled leaving you the only choice of flying an unplanned day earlier with Wings air at 4.10 from Rote to Kupang (unless you are free and able to change your return date from Kupang to Bali and extend your holiday)
2)Taking it easy and without any risks - deciding to spend a night in Kupang on the return day. This allows you to take the afternoon wing air flight from Rote to Kupang and the morning flight from Kupang to Bali the next day.

Important information for option 1)***
To get back in one day via ferry you can only choose to fly on the following days of the week:
MONDAYS, WENDESDAYS,   THURSDAY , FRIDAYS, SUNDAYS
Kupang – Bali
Lion air 4.20 Pm on Mondays, Wednesdays, Fridays, Sundays
Garuda 1.30 Pm on Thursdays
Price Airport Pick up and Drop off: ca. 20€ (1 car/4 person) 


PACKAGES & PRICES
---
PACKAGE A  - 10 Day Surf Package / 2 Person / ~2.330€
(38.220.000 IDR)
---
This package includes:
Airport Pick up from Bali to The Temple Lodge 
Enjoy 2 nights at the Temple Lodge 
Return flight tickets to Rote 
All airport transfer from and to Utopia
6 nights full board at Utopia 
1 motor bike with surf rack for 6 days
Overnight stay in Hotel La Hasienda (meals not included) 

Luggage allowance with Garuda Airlines Bali – Kupang 20kg
Surf Boards are usually allowed for free but this can be subject to change
Luggage allowance with Wings air Kupang – Rote 10 kg extra weight is very cheap, 1,5$ per Kg
Surf board to be paid extra 200 000 IDR


---
Package B - Breakfast Only - from 130€ per day / person
---
Prices per Room: 
1 Person - 130€
2 Person - 170€
3 Person - 205€
4 Person - 245€ 

This package includes:
Breakfast
Water 
Accommodation
---
Package C - Full Board - from 160€ per day / person
---
Prices per Room: 
1 Person - 160€
2 Person - 205€
3 Person - 265€
4 Person - 330€ 
This package includes:
3 meals a day
Water, tea, coffee
2 x a day Boat ride to Besialu Reef (T-Land Surf Break)
Snorkel mask and fins