ABOUT THE SURF CAMP
---
LOCATION AND SURF CONDITIONS
---
Morocco is a fantastic surf destination. This place is full of endless beaches, amazing surf spots, sunshine 300 days a year and we have collected the best spots around your holiday area here in Tamraght/Taghazout.
The endless coast line supplies surfing opportunities for all levels of surfing and the winter swell brings some amazing and stunning waves along the Atlantic.
If you have never surfed before or you are looking for a refresher course our Surf Packages are just perfect and are suited for all ages and abilities.
Take the stress out of your holiday and let us organise everything for you leaving you simply to come to us and have an unforgettable trip.
---
CAMP CHARACTER
---
We are a small, cosy and friendly surf camp - quality is important to us. 
It is important to us that you have a relaxed and recreative holiday with great waves, good food and lots of time to relax.
---
CAMP OPERATOR
---
Taoufiq grew up here in Tamraght/Morocco and knows his place like no other. He started surfing at age of 12 and ever since his passion are the waves. For more than 5 years he has been teaching surfing on a daily basis. He is on his mission to help others find their own feeling for the board and the water.  
Franky came from Germany to Morocco 3 years ago and instantly fell in love with surfing and the amazing culture. She decided to leave her old life as a fashion designer and became a surfer and free soul. Her destiny is the ocean. She is holding a Surf Coach Certificate (ISA Level 1) and is very spirited to teach people the techniques of catching waves. 
ACCOMMODATION AND CATERING
---
ACCOMMODATION TYPES
---
The house is a typical Moroccan riad. You enter the building through a quiet courtyard with a garden and a fountain. The spacious living room is shared. There you will meet for breakfast and dinner or to relax after surfing. From the large roof top terrace you can watch the waves and have a breathtaking view of the sea and the sunsets.
The house has double rooms and single rooms with private bathrooms. Each room is beautiful decorated. Moroccan handcrafts meet tasteful design.
Small supermarkets, surf shops and restaurants are within walking distance. In only five minutes you are at the sea.
---
CATERING
---
All our packages are full board and offer you daily a delicious breakfast buffet, lunch on the beach days and delicious homemade dinners. 
SURF COURSE AND ACTIVITIES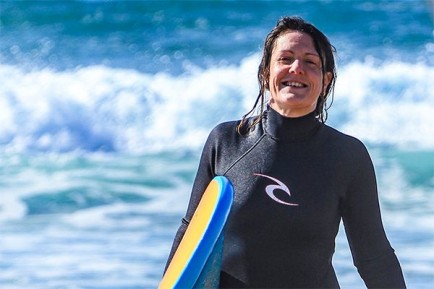 ---
SURF COURSE DETAILS
---
We offer surf classes all year round and are suitable for all ages and abilities! Our qualified and experienced team is at your disposal to ensure that you surf in a safe and pleasant environment. We aim to limit our surf lesson groups to no more than 7 students per instructor so that you can progress in a comfortable way. Our surf lessons begin daily on the beach with a warm-up session, followed by 2 hours of surf lessons in the morning, a delicious picnic on the beach for lunch followed by an afternoon free surf session where you can practice your skills.
We hope that after a week with Wave Gypsy Surf & Yoga you have not only discovered a new passion for surfing, but also take home a great holiday experience.
---
SURF MATERIALS
---
All surf materials are included in the surf course - softtop surfboards, leashes and wetsuits. 
You only need to bring your own towel for the beach.
---
OTHER ACTIVITIES
---
Yoga
Join us for a fantastic Yoga Session. The perfect training and follow-up after a day of surfing, our yoga classes are aimed at all ages and levels. Each participant is motivated and encouraged by his or her individual possibilities. The lesson is around 1 hour and includes strengthening and stretching exercises for all the areas needed for surfing. Enjoy the sea breeze, feel the power of the waves and take a break from your daily life. The yoga lessons are a good mix of strengthening, stretching and balance exercises as well as stress relief and regeneration. Support your balance, experience agility and deepen your breathing.

Hammam
The Moroccan Hammam is an integral part of the kingdom's culture and is part steam room, part exfoliating scrub and part massage.

The masseuses are gentle but firmly efficient and often offer other beauty and wellbeing treatments as well as the traditional exfoliating full body scrub and lounge in the steam room. At the end of a long day at the beach there is nothing better than relaxing in the Hammam. You will leave on a blissful cloud.

The entire experience will leave you feeling refreshed and renewed, with skin that has never felt softer.

Paradise Valley
After a scenic drive through the Atlas Mountains you will arrive in Paradise Valley. Here you can explore blue water pools all surrounded with fascinating rock formations. You will spend your time in this Oasis swimming and if you need more adventures jump from the rocks.

Afterwards you will have a typical Moroccan Tajine in the palm grove.

Agadir Souk
Treasures everywhere you look. Moroccan Artisan are all unique and so beautiful. We will show you all the Souks around with foods and spices, to lanterns and cloths. You find your perfect holiday gifts to bring back home. If you are not afraid to bargain you can even get some great prices.

Imsouane
Come and see the Magic Bay of Morocco - endless waves.
Right after your breakfast we leave for a 1-hour trip along the stunning coastline. When you arrive you will be amazed by the view and the waves. Imsouane has the longest waves of Africa – some rides can be 800m. After your first Surf Session re-energize yourself with some tasty fish BBQ freshly caught from the local fishermen. Now you are ready for your second surf. On our way back we will stop in the Little Sahara - in an impressive scenery with the ocean and the endless sand dunes.

Cooking Class
Ever wanted to know how to cook a typical Moroccan Tajine?
We offer you in our Cooking Classes your one time experience to learn to use the right Ingredients, Vegetables and of course the Tajine.

Camel Riding
Your holiday would not be completed if you did not take a camel ride along the ocean and beaches.
MORE INFO, HOW TO GET THERE & FAQ
---
 SURF CONDITIONS
---
FAVORITE SURF SPOTS 
BANANA POINT
Between Tamraght and Aourir, 5min drive from the Surf Camp. Reef break - Right hander - all levels.
DEVILS ROCK
In front of Tamraght, 800m from the Surf Camp - Beach break - Right and left - all levels.
CROCRO
In Tamraght, 800m from the Surf Camp. Beach break - all levels.
PANORAMA
5min from Tamraght. Beach break, perfect spot for beginners and intermediates. Beach break - all levels.ANCHOR POINT 15min from Tamraght. Right and left Hander. With good swell the wave can be 2- 3m. Delicate paddle out. Reef break – advanced Surfers.

IMSOUANE
Surf in the heart of a fishing village, quiet and isolated. 2 surf spots: The Bay and Cathedral. Always watch changing conditions. Reef and beach breaks – all levels.

WHAT IS THE SURF AND THE WEATHER LIKE? WHEN IS THE BEST TIME TO VISIT?
Morocco is an all year round destination for great surf and great weather. The summer months (April - October) see small to medium swells with surf mostly on the beaches and reefs on the more exposed north west coast. This is a great time for anyone looking for fun, uncrowded warm water surf. There are some bigger days during this time for those looking for something more challenging.

During the winter months the waves, that have made Morocco famous, come to life. There is a huge variety of surf in this area of Morocco. There are not many places like it in the world. The region has something for everyone, from ideal beginner waves to challenging reef ledges. Intermediates and those new to the sport should not be put off or worried. Due to the nature of the coastline there is almost always somewhere sheltered and manageable, and those looking for something challenging won't be disappointed. Morocco is blessed with well over 300 days of sunshine a year. Between the months November to February there is a small chance of rain, although statistically it is unlikely.
Your choice of wetsuit comes down to personal choice and tolerance. The best all rounder is a 3/2mm full suit.

Typical wave size and temperatures  
SEPT - NOV  Swell: 4 - 8 ft - Air Temp: 25°C - 30°C - Sea temp: 18°C- 21°C
DEC- FEB      Swell: 4 - 15ft - Air Temp: 18°C - 26°C - Sea temp: 16°C - 18°C
MAR - MAY  Swell: 4 - 6 ft  - Air Temp: 20°C - 30°C - Sea temp: 18°C - 20°C 
JUN - AUG    Swell:  2- 4 ft  - Air Temp: 25°C - 30°C -  Sea temp: 21°C +
---
 SURROUNDINGS / REGION
---
WHERE IS WAVE GYPSY SURF & YOGA LOCATED?
Wave Gypsy Surf & Yoga is located in the region of Agadir in southern Morocco. Tamraght is a charming and small fishing village on the Moroccan Atlantic coast. Conveniently located 40 min from Agadir international airport, It is only a 3 to 4 hour flight from most central European cities. It's the closest place for any European surfer to get year round warm water, perfect waves and a unique cultural experience. Within 15 minutes walking you are at the beach and as well at your favorite Surfspots such as Banana Point, Devilsrock and Crocs.
---
 JOURNEY
---
HOW DO I GET THERE?
Morocco is served by direct flights from the major European airports, with flight times to Agadir between 2-4 hours. Guests travelling from the US can connect either in Casablanca or at a European airport as there are no direct flights to Agadir. From Agadir airport it is a 40 minute drive south east along the coast road. Road transfers from Marrakech can be easily arranged and the new motorway has dramatically cut the journey times down to 3 hours. Please contact us if you would like us to arrange a transfer for you.
To find good and affordable flights check Skyscanner - Google Flights - etc.
DO I NEED A VISA?
EU passport holders with a passport that is valid for at least 6 months beyond your return date do not require a visa to enter Morocco for tourist purposes. If you hold a passport from outside the European Union , USA, Canada and Russia we strongly recommend that you check with your nearest Moroccan Embassy.
PACKAGES & PRICES
---
7 DAYS SURF & RELAX  - from 490 € / Person
---
This Package includes:
- 6 nights Accommodation in a typical Moroccan Riad
- Breakfast, packed lunch for the beach days & dinner
- 5 days Surf lessons for Beginners & Improvers
- Soft Top Surf Equipment
- Transport to/from the Beach
- Perfect surf spots – all close by
- Airport/Busstation Agadir transfer (included 7 Days stay)
- 2 Hour Hammam & Massage Special
- Free Wifi
- Room cleaning and towel
- Photos of your surf adventure
490€ p.P. Double or Twin Room with private Bath (extra Day 85€)
540€ p.P. Single Room with private Bath (extra Day 92€)
---
7 DAYS SURF & YOGA - from 490 € / Person
---
This Package includes:
- 6 nights Accommodation in a typical Moroccan Riad
- Breakfast, packed lunch for the beach days & dinner
- 5 days Surf lessons for Beginners & Improvers
- Soft Top Surf Equipment
- Transport to/from the Beach
- 5 Yoga Sessions- Perfect surf spots – all close by
- Airport/Busstation Agadir transfer (included 7 Days stay)
- Free Wifi
- Room cleaning and towel
- Photos of your surf adventure
490€ p.P. Double or Twin Room with private Bath (extra Day 85€)
540€ p.P. Single Room with private Bath (extra Day 92€)