ABOUT THE SURF CAMP
---
SURFCAMP
---
WaveSisters
We offer surf courses and Surfaris for girls and women who like to have fun and share their passion for surfing with other WaveSisters. 
By teaching you to surf we would like to increase the number of women and girl surfers in the sport and share the love for the ocean that we have. Surfing is a great way to make friends and enjoy the outdoors, we hope the friends and experiences you have with us will continue with you on your surfing journey.
Women surf groups
Studies show that women learn quicker and easier when they are in an all female group, there is less pressure when surrounded by like minded girls and the results speak for themselves. Enjoy the comfort of being taught by women in all women groups with the main focus being on fun and encouragement.

The perfect getaway
WaveSisters Surfcamps are designed by women for women, from the warm water locations we have chosen to the boards, equipment and accommodation. Our Yoga lessons are tailored perfectly to woman surfers as are the surf lessons. 

By the way…
For those who are missing the guys already: they show up on the beach, in the bar's and in the water en masse.

---
LOCATION
---
Portugal
Portugal is always worth a trip. From the capital Lisbon with its rich culture and the stunning landscapes to the most beautiful beaches on the coast. Our WaveSisters Surfcamp is located in Costa da Caparica with the longest stretch of beach near Lisbon and at its south end you find a natural protected area.

Costa Caparica is about 10km south from Lisbon just on other side of the river Tejo and it takes only 30min by bus from Lisbon. You will find the best weather in this region with a nice climate in spring, summer and autumn, ideal to enjoy the sun and the good life. Come along and enjoy the waves, the happiness of yoga and a "Galão" café with a Pastel de Natas (traditional cream cake) with us and other like-minded people.
Costa da Caparica
Costa  da Caparica or now just called "Costa" by the portugiese, is becoming more and more popular -not only by surfers- and is considered THE beach in Lisbon area. South of Costa, still the same beach, after 10km, the natural park "Arriba Fósssil da Costa da Caparica" starts  and has another 20km of beach and an unspoiled forest inland.

Best weather, perfect waves with relaxed athmosphere, plenty of space in stunning nature are all reasons for us to move our camp to Costa. The special flair of Costa also comes from the long promenade with plenty of cafes, bars and restaurants to have beautiful sunsets and chill outs.

Lisbon
There's too much to tell about Lisbon to really start here. But we give you very quick overview: The city was built on seven hills. Capital of Portugal, rich in culture and sights. The oldest district, the "Alfama", with its little streets and places is home to the famous "Fado" bars. The "barrio alto" is the center for young people and full of little shops, restaurants and plenty of bars and night life. The "barrio baixa" the real centre of the city invites to stroll, shop and enjoy Portuguese traditions.

ACCOMMODATION AND CATERING
---
ACCOMMODATION
---
Our surfcamp is right next the beach from Costa da Caparica. "Costa" like it's called by the potugiese is just south of Lisbon on the other side of the river Tejo. Our house is for 8 WaveSisters with double bedrooms. It is equipped with 4 bedrooms, kitchen, bathroom, living room, mansard with chimney, terrace and garden with grill. Everybody will find space to chill out and share the experiences of the day. We can also enjoy the garden with the BQQ area or the terrace.
We offer:
-    Surfcamp for 8 WaveSisters, double bedrooms
-    Shared kitchen, living room, bathroom, Garden with grill, Chimney
-    Surf course
-    Yoga
-    Trips in our Surf Van
-    Single room on request for a supplement of 100€
---
CATERING
---
Because our surfcamps are self-catering we always take care that you find a fully equipped kitchen to prepare some nice meals together. Close by you will find shopping facilities, cafes, restaurants and bars. Lisbon is about 25 minutes by car or bus away and offers plenty of possibilities to go shopping and sightseeing. The 30km stretched beach and the natural park at the south end, are ideal for long walks. The beach is perfect for sunbathing and surfing. Internet connection is available around the corner of our accommodation.
SURF COURSE AND ACTIVITIES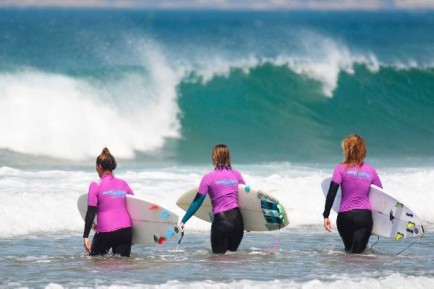 ---
SURFSPOTS & CLIMATE

---
The area around Lisbon is famous for its perfect waves. Because of the two coast lines with different directions you can always find the perfect wave with all the different swell and wind directions. The beach of Costa da Caparica offer plenty of space and isperfect to learn and improve surfing. You can find more information on Wannasurf and the current swell and wind forecast on Magicseaweed. You can find more information on Wannasurf and the current swell and wind forecast on Magicseaweed.

For the advanced surfer girls and women the area from Lisbon offers many different types of waves. Waves over sand, reef and pointbreaks can all be accessed within 60 minutes by car. The famous wave Supertubos, in Peniche, forms perfect barrels right onto the beach and is about 1,5 hours away. Spectacular to watch and maybe to surf.

In spring and autumn Portugal offers us a cosy and relaxed climate due to its southern location and an empty line-up. Perfect to enjoy some quality time with friends. The air has about 25 degrees in spring and the water temperature is at an average of 17 degrees. In autumn the air will be colder at about 22 degrees and the water will be around 18 degrees. In the summer you can enjoy sun, beach and people in Portugal. Hole year around the beach of Costa Caparica offers us plenty of space for a relaxed surf.
MORE INFO, HOW TO GET THERE & FAQ
---
Journey
---
Please organize yourself to get here. We are happy to give you a helping hand:
Flights
There are many flights from several major cities to Lisbon. We suggest to check well-known engines and airlines. Maybe it is cheaper but it will take longer to fly to Porto. From there you have to take the train from the station "Porto - Campanha" to "Lissabon - Oriente".
METRO & BUS
Airport - Costa Caparica
From the airport you take the red and then the yellow Metro to "Campo Pequeno". From there the bus 161 is running to Costa Caparica:

Take the red Metro line from the airport in the direction "S.Sebastião" until stop: "Saldanha". Continue on the yellow line with direction "Limiar" for the next stop "Campo Pequeno". The Metro works from 6:30am to 1:00am and a one way journey costs about 1.40€. You need to buy a travel card "viva viagem card" for 0.50€ and charge it with the ticket.

At Campo Pequeno you take the Bus 161 of the bus company TST to Costa Caparica. The bus runs every 20-30min and costs 3,25€ to be paid in the bus. Because it's a different company you can't pay with your "viva vaigem card".
Costa Caparicea
From the bus stations of Costa Caparica to the surhouse it's only 5min by foot. We can pick you up and bring you to the surfhouse, or you find the way alone.
Rental car
It can be a good idea to rent a car in Lisbon if you are coming with more people and if you want to be more flexible while staying in the surfcamp.
PACKAGES & PRICES
WaveSisters will be in Costa da Caparica near Lisbon, Portugal from mid-March to end of October.

Off season we offer our Surfhouse in Costa Caparica for rent - to female or male surfers. You can also receive privat classes.
We also offer WaveSisters Camps on Lanzarote and in France.

The surf courses run from weekend to weekend in Portugal. It is best to arrive at the weekend. The surf lessons are taking place from Monday to Friday. We are enjoing 3 times Yoga of 1.5h per week. There is time to explore Lisbon or to relax on the beach as well.
---
PACKAGE A - Surfcamp for adults - 445€ per week
---
-Accommodation 7 nights/ double bedroom
-Surf classes/practice/theory/material
-Yoga 3x1,5h /week
-Place in our Surf - Van
---
PACKAGE B - Surfcamp for kids - 395€ per week

---
-Accommodation 7 nights/ double bedroom
-Surf classes/practice/theory/material or child care during surf classes
-Yoga 3x1,5h /week
-Place in our Surf - Van

---
PACKAGE C - Surfari - 335 € per week

---
-Accommodation 7 nights/ double bedroom
-Surf material/spot informations
-Yoga 3x1,5h /week
-Place in our Surf - Van
---
DISCOUNTS
---
Extension Discount
Book for 2 weeks and get a 20€ discount.
Coming back
Coming back If you vised us again you pay 30€ less per week if you book a Surfcamp and 10€ less per week if you book a Surfari. Please write down that you have been in a Surfcamp of WaveSisters with us before when you register

Group Discount
If you are traveling in a group of more than 4 WaveSisters you will get a discount of 15% off your booking. Just name your following companies when you book and you get it cheaper.
Only one discount can take place in each booking.