ABOUT THE SURF CAMP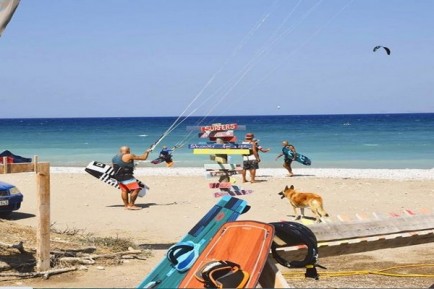 ---
LOCATION AND SURF CONDITIONS
---
The kite center is located on Theologos beach, far away from all-inclusive hotels and mass tourism, close to the traditional village of Theologos. The well-known Meltemi winds blowing predominantly from West – North West , create a perfect side, side onshore wind and, in combination with the fact that it isn't attractive to mass tourism , Theologos beach has earned the title of the best area on Rhodes island, especially for beginner kiteboarders.
---
CAMP CHARACTER
---
We assure you that the way to get into the kitesurfing world will be the safest and fastest possible, whether you are a beginner or an advanced kiter. Coaching with our highly experienced kitesurf instructors will help you to achieve your goals. You don't need to be strong to learn kitesurfing. Whatever your shape, size or form, there are no barriers! Kitesurfing is for everyone. Kitesurfing is not dangerous. The only criteria are to be taught correctly. A lesson can only be helpful.
ACCOMMODATION AND CATERING
---
ACCOMMODATION TYPES
---
1. WETSKILLZ GUESTHOUSE
Wetskillz accommodation takes place in a stone farmhouse located just 5 minutes driving from the spot, in the middle of a protected area called "Petaloudes" or Valley of the Butterflies. The great location of the house gives you a great chance to discover the marvelous physical environment of the island on your morning run or by mountain biking through several paths starting just in front of your door.
The house gives you the real feeling of living in a Greek village, surrounded from olive tree fields and other agricultural products. Huge garden and outdoor chill area with BBQ facilities to relax after a hard day in the water..
Facilities:
– 4 bedrooms – 8 guests
– 3 bathrooms
– Large size kitchen
– Yoga area
– Living room
– Laundry room
– BBQ facilities
– Wooden oven
– Linen
– Cookware
– Coffee maker
– Terrace
– Fireplace
– Smart TV
– WiFi
– Private parking
– Hair dryer
– Cleaning products
– Washing machine
– Dish washer

2. BASIC ACCOMODATION
This property is Just 40 m from the beach and our kitesurf center, located in Theologos village. It offers self-catering accommodation opening out to a balcony with Aegean Sea views. Free Wi-Fi is provided in all areas. Bright and airy, all air-conditioned apartments at the kite-apartments feature tiled flooring and warm-colored wooden furnishings. Each comes with a flat-screen TV in the bedroom and a kitchenette with cooking hobs and fridge. A dining table is also provided. A restaurant serving traditional Greek cuisine and a snack bar are right next to the property. A beach volley court is around the corner. The scenic town of Rhodes lies within 19 km and Rhodes International Airport can be reached in 4 km. There is also a shuttle service to/from the airport available from 9:00 am to 7:00 pm upon extra charge. Bikes are available for free and free private parking is provided in the premises. Stuff can arrange car rentals.
3. PREMIUM ACCOMODATION

Enjoy your holidays in an authentic Greek village house. The perfect location of the house gives you an excellent opportunity to enjoy the beauty of kitesurfing in Aegean Sea, as well as the nature surrounding it. Walk on your private gravel path all the way to the beach in just under a minute and enjoy your first session! The house features two large terraces, an incredible built-in barbecue and separate (traditional way) bread-baking oven and stunning sea views. There is ample private parking in the secured grounds of the property. Indoors, three traditionally furnished bedrooms are provided. The two of them are based on the top floor, with a floor-to-ceiling tiled shower/toilet room next to them. All three rooms are equipped with large wardrobes, big mirrors and air-conditioning. Two pillows are provided in each room along with towels and extra sheets. A large kitchen adjoined to a reception area which includes a bar, a dinner table and a 32" smart TV and plenty of dining space are perfect for indoor entertaining. All appliances are new, including oven, dishwasher, washing machine, 3 mosquito machines, coffee-shaker, espresso machine, boiler, toaster, and large fridge/freezer. You will find everything you need to make dinner, including cutlery and glasses of all kinds. Detergents and washing machine tablets are also provided.
---
CATERING
---
Meals are not provided during your stay. Full all-day access to the fully equipped kitchen of the house or the BBQ facilities is offered in order to prepare your meals. When on the beach, you may have food delivered or use our kitchen. The restaurant is open for dinner (extra charge) from 19.00pm at the guesthouse, you can choose among many Greek traditional homemade dishes. We organize a local taverna night and a Greek BBQ night during your stay.
SURF COURSE AND ACTIVITIES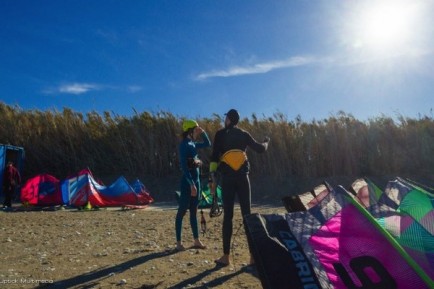 ---
SURF COURSE DETAILS
---
WetSkillz Kite School got you covered with an inflatable rescue boat and a jet-ski always ready to help in case of need. Wet skillz is an IKO affiliated center. All our Kiteboarding instructors are IKO qualified. Every year, we provide high quality school kite equipment in order to achieve the safest and easiest results possible. Our lesson plan is adapted to your individual needs. The maximum number of participants is limited to 3 students. We use radio helmets, to guarantee the maximum success in our lesson sessions.

We offer:

1. INTRODUCTION COURSE
2. BEGINNERS COURSE
3. ADVANCED COURSE
4. KIDS COURSES
5. HYDROFOIL COURSE
6. TANDEM KITESURF
---
SURF MATERIALS
---
Kitesurfing equipment rentals for everybody. No matter what is your style or your level of riding, we got you covered. Experienced riders from the team are always there to suggest and provide the best solution for you. Your kitesurfing experience in Rhodes must be the best. Therefore, we use the most innovative and high-quality kiteboarding products in the market. Join us and try all the new DUOTONE SPORTS KITEBOARDING products. Kites, twin tips and surfboards.
Included in the rental fee: Rescue service, insurance in case of damage and launch-land support. – In terms to rent material, the ability on riding upwind is mandatory. IKO LEVEL 3, VDWS LEVEL 6.
---
OTHER ACTIVITIES
---
Yoga classes, SUP Yoga, Rock Climbing, Scuba Diving, SUP Expedition, Jeep Safari, Sunrise Paddle, Island Tour and Custom Made Tours
MORE INFO, HOW TO GET THERE & FAQ
---
 SURF CONDITIONS
---
Seasonal conditions
It is windy every day!!! Rhodes island is the best kite destination in Europe during the summer season between May and October. Several spots with similar conditions on the west coast of the island. One of them is Theologos beach. We picked Theologos beach to set up our center because of the endless space in and out the water. It just can't get crowded, we use 600m long coastline only for our center users.
The best possible wind direction CROSS-CROSS ON SHORE makes the life of every kiter easier and of course is ideal for learners. Usually the wind starts blowing lighter in the morning around 09.00-10.00 am and kicks in around midday blowing strongly until the sun goes down around 20.30pm, yes eight thirty! Super long days in the water and no rush to wake up after last night's party!
---
 SURROUNDINGS / REGION
---
Characterization of surroundings/region
 Rhodes is quite a big island; there are several places you must visit and many different ways to get there! Public airconditioned buses which have regular punctual services around the island, as well as organized day trips by bus or by boat! And if you prefer to travel independently, there is a huge selection of car or bike rental firms to choose from.

Activities and facilities
Yoga classes, SUP Yoga, Rock Climbing, Scuba Diving, SUP Expedition, Jeep Safari, Sunrise Paddle, Island Tour and Custom Made Tours
---
 JOURNEY
---
Ways to get to the camp
WetSkillz Kite School offers free transfer from the airport for the customers who purchased our kite camp – kite course accommodation packages. We pick you up directly at the exit of the airport and bring you straight to our guest house. We can transfer up to 8 persons plus luggages at once. Booking any kind of kitesurfing lessons with us includes a transfer from your accommodation and back after arrangement.
PACKAGES & PRICES
---
PACKAGE A - BEGINNERS - from 670€ per Week / Person
---
This package includes:
The beginners camp will take you from zero to becoming a self-sufficient rider. You will earn all the important basic knowledge around kitesurfing and the equipment.
For this camp no previous experience needed.
– Shared accommodation (7 days)
– Full beginners kitesurf course 12 hours group or 6 hours private
– IKO certification (card)
– Greek BBQ night
– Free bicycle use
---
PACKAGE B - IMPROVER CAMP -  from 570€ per Week / Person
---
This package includes:
This camp is for kiters who have previously had/taken lessons and want to improve their skills in the water. Whether you want to feel more confident, start jumping or try something new like hydro-foiling or strapless riding, the improver camp is for you.
– 7-night accommodation (our guesthouse)
– 6-hours of private lessons (coaching)
– Airport shuttle
– IKO certification
– Free use of camp facilities
– Free use of SUP (1 hour per day)
– Free bicycle use
– Greek BBQ night
---
PACKAGE C - KITESURF & YOGA - from 530€ per Week / Person
---
This package includes:
You are already a kite surfer but need something more to fill your soul. Here is your camp!
For this camp the ability of riding upwind is necessary.

– Beachfront accommodation (7nights)
– Half board (Breakfast & Dinner)
– Airport shuttle
– Yoga session (7 days)
– Storage for your equipment
– Free bicycle use
– BBQ night
(If you are a beginner, you can book this package for 820€)