ABOUT THE SURF CAMP
---
 SURF CAMP  
---
Perched on the edge of bustling Taghazout, with wide open views of Anchor Point and Hash Point, our Taghazout surf camp villa is in the ideal location for surfing adventure.
Watch the fishermen sail out before the morning mist burns off, catch some afternoon sun from our terrace or hop into the sea for a sunset glass-off on our very own wedge, right in front of the villa. It doesn't get better than this.
Whether you're looking to keep costs down and make friends, or want some space of your own to relax in, our surf camp in Taghazout has accommodation to suit every guest, from dorms and single rooms to double rooms and private apartments.
Solo travellers, couples and large groups of all ability levels come to stay with us, using the villa as a base for days playing in the water and basking in the Moroccan sunshine.
Our social area on the first floor is the perfect place to chill out before, or after an exhilarating surf session. Meet like-minded surfers, eat and enjoy a good time together – at our Taghazout surf camp you might arrive as strangers, but you'll leave as friends. And that's what surfing holidays are all about
ACCOMMODATION AND CATERING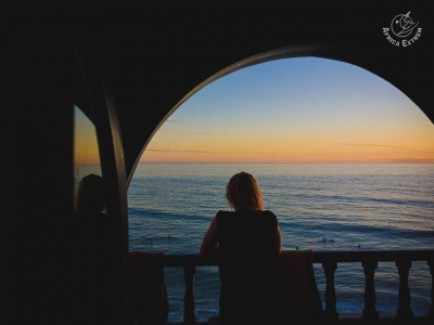 ---
ACCOMMODATION TYPES
---
Africa Extrem Offers the possibility of staying at Taghazout surf camp and in its self-catering locations:
-Taghazout apartments 
-Anchor Point apartments
-Killer Point apartments
Our apartments feature:
-Fully equipped kitchen for preparing meals
-Television and DVD player
-Linen and towels provided
-WiFi access
---
TAGHAZOUT APARTMENTS
---
Just five minutes walk from the bustle of Taghazout village square, and with panoramic views across the Atlantic to Anchor Point and Hash Point, our Taghazout apartments are perfectly positioned for your Morocco surfing holiday. Fully furnished and equipped to a high standard, you'll have everything you need to enjoy your break, from a terrace to soak up the sunshine to a comfortable bed to rest after a day in the waves.
Peaceful and welcoming, our apartments are the best place to stay in Taghazout. Take a short stroll to the restaurants, stores and surf shops of the village, watch the sun set across the ocean, or join us for a barbeque on our terrace overlooking the surf
---
ANCHOR POINT APARTMENTS
---
Come stay in our brand new Anchor Point apartments and watch world class waves peel right in front of your door. Commanding enviable views of this legendary Morocco surf break, our newly constructed apartment building houses three spacious apartments, each with stunning views over Anchor Point and the Atlantic ocean.
Imagine kicking back in a hammock on your private balcony, soaking up the sun and watching the waves roll in before picking up your board and paddling out for another perfect sunset surf.
Located in Madraba, also known as Anchor Point village, our Anchor Point apartments are just 1 km (15 minutes' walk) north of Taghazout, where you'll find restaurants, surf shops, grocery stores and a pharmacy for all your holiday needs.
---
KILLER POINT APARTMENTS
---
Perfect for families, couples or groups of friends looking for good value for money, our Killer Point apartments offer safe, comfortable, ideally located accommodation in Taghazout. Comprised of 11 individually decorated, fully equipped apartments, our building is right on the beach, with views of the ocean, a swimming pool for guests and a real sense of Moroccan charm. The bustle of Taghazout's main square is just 20 minutes walk away, where you'll find restaurants, surf shops, grocery stores and a pharmacy for all your holiday needs.
SURF COURSE AND ACTIVITIES
---
SURF COURSE DETAILS
---
Our surf instructors are multilingual, qualified and experienced in teaching, guiding, and assisting our customers to make the most of their surfing experience in Morocco.
At Africa Extrem Surf Camps we speak:
-English
-Spanish
-French
-Portuguese
-German
Our team is composed of Moroccan and international surf coaches, trained to convey their knowledge, and take you to the best fun, in and out of the water. They are also very good surfers, that love what they do, and know when and where the best surf is, either to take you surf with them or watch them and your friends surfing it.
Taghazout area offers a variety of surf spots, suiting all abilities of surfers of all levels. From easy mellow beach breaks to grinding reef breaks, you can find the surf that best suits your abilitity, and our surf coaches and guide will make sure you score the best surf for you.
Packages:
-Learn to Surf
-Surfari
-Group Holidays
-Surf & Adventure Tour
-Independent Surfer
-Surf & Yoga Retreat
---
SURF MATERIALS
---
Either a starter aiming to step onto the liquid, or a pro looking for the magic stick for your surfing holiday in Taghazout Morocco, you can be sure to find your weapon stored in our equipement store. We have surf boards of different construction material, shape and sizes: Foam, composite and fiber glass, Fishes, egg boards, shortboards, minimals and longboards are available for your use. And since Moroccan waters can get fresh during the winter months, we have a large variety of wet suits to keep you warm for your surf.
---
OTHER ACTIVITIES
---
-Day trip to Marrakech
-Day trip to Essaouira
-On night in the dessert
-Quad bike ATV trip
-Camel and Horse rides
MORE INFO, HOW TO GET THERE & FAQ
---
JOURNEY
---
Aiport Transfer
At Africa Extrem Surf Camps, we offer airport transfers to and from Agadir Al Massira airport (AGA) and Marrakech Menara Airport (RAK).
You can fly to Agadir from most of the European airports, which is the closest airport to our surfcamp / Locations. If you don't find a flight to Agadir that suits you, we can also pick you up from Marrakech airport, for extra charge and a couple more hours drive.
Flights
Low cost companies such as Ryanair, Easyjet, Transavia, Tuifly, Jetair and Norwegian fly to Agadir.
Also other Airlines operate flights on a regular basis to Agadir, if not, then to Marrakech for sure. check our travel Assistance section for more information about flights.
PACKAGES & PRICES
---
PACKAGE #1 LEARN TO SURF - from 320€ per person / week
---
This package includes
-7 nights stay
-7 healthy consistent breakfasts
-5 lunches
-4 dinners
-1 luxury BBQ on our beach front terasse
-10 surf lessons within 5 surfing days
-Transport to and from the surf if not in front of our door steps
-Airport Transfers from Agadir Al Massira International Airport (AGA)
Prices
| | |
| --- | --- |
| Dorm Room          | 280€ |
| Double Room | 365€ |
| Single Room | 406€ |
---
PACKAGE #2 SURFARI - from 300€ per person / week
---
This package includes
-7 nights stay in a single/double room
-7 healthy consistent breakfasts
-5 lunches
-4 dinners
-1 luxury BBQ on our beach front terasse
-Unlimited surfingwithin 6 days
-Transport to and from the surf if not in front of our door steps
-Airport Transfers from Agadir Al Massira International Airport (AGA)
-You may also join other Surfaris at other (fixed) locations or the location of your choice
Surf Level

Intermedia to advanced
Prices
| | |
| --- | --- |
| Dorm Room          | 300€ |
| Double Room | 345€ |
| Single Room | 385€ |
---
PACKAGE #3 GROUP HOLIDAYS
---
Africa Extrem will organize a stress free and sun filled trip on the beautiful beaches of Taghazout In the Agadir Morocco area.
We can tailor your perfect trip for you no matter the occasion, with so many activities on offer and arranged in house. We can provide incredible value and great service to our guests. Surfing, paddleboarding, mountain biking, yoga, horse riding to name a few, Africa Extrem can provide outstanding multi-activity trips to suit groups of all ages and abilities.
We offer full private use of our surf camp or any other location we offer. They all have great facilities for Birthday Parties, Special Occasions, Corporate Groups, Family re-unions, and School & University trips. The night life in Agadir is a mix of lively bars and clubs, outstanding restaurants and casino should your night lead you there!
This package includes
-Pre-booking consultation with our Host and Trip Organiser
-Fully bespoke packages and easy payment plans
-Pre-departure arrangements, let us do the hard work!
-Professional and friendly team on hand 24/7
-Excellent customer service with years of experience in group bookings. 
---
PACKAGE #4 SURF AND ADVENTURE TOUR - from 620€ per person / week
---
A possibility to discover several fishing villages and cities, learn or improve your surfing and surf some good and uncrowded waves, all with a professional team of surf coaches and guides Africa Extrem Surf and adventure tour will take you to:
-Visit magical Marrakech
-Surf several Moroccan fishing villages: Essaouira, Sidi Kaouki, Imssouane, Taghazout, Tifnit, Aglou, Mirleft and Sidi Ifni
-Visit the city of Essaouira Agadir, and Tiznit
-Breath taking beaches
-Secret spots on the way
This package includes

-6 nights accommodation in our beach front hotel (2 people per room)
-1 night in tents on the beach
-All meals (from first dinner to last breakfast)
-Surf Equipment
-Surf tuition by our qualified instructors and guides
-All Transfers
A single room supplment applies and is of 79 Euro per person.
The tour starts in Marrakech Menara Airport where we will pick you up and drop you off on time for your flight (RAK)
---
PACKAGE #5 INDEPENDENT SURFER
---
Designed for independently minded surfers and groups, our Independent Surfer package puts you in control. A one-stop shop for all your surf holiday needs, we can organise your car rental, accommodation and even equipment hire for you as well as give you the best advice and insight on local spots and when they work.
You won't be tied to a program or schedule, but you will get:
-Stress free car hire
-Fully equipped accommodation of your choosing, right on the beach
-24/7 emergency phone if you need support
-Local advice and insight whenever you want it
-The opportunity to join Africa Extrem activities and surf camp meals
---
PACKAGE #6 SURF AND YOGA RETREAT - from 710€ per person / week
---
Our surf and Yoga retreat takes place in our amazing Killer point apartments, located right in front of one of the best surf spots in Taghazout: Killer Point.
The location offers great stay in front of the surf, breath taking view yoga shala, and delicious organic food carefully selected to fuel up and balance your retreat. Our Surf and Yoga package is for all surfers aiming to do some Yoga, and for all yogies aiming to learn to surf, or improve their surfing. Looking for comfort and pure bliss? You came to the right place.
-Double Room 710€
-Single Room 810€