ABOUT THE SURF CAMP
---
Location and surf conditions
---
Aloha Surf Camp, located at TAMRAGHT Small Berber village, "300m" from the ocean, 10 minutes from the town of AGADIR,…
We're lucky to be in an area that offers more than 15 spots on 50 km.
We move on all the spots every day, always seeking the best conditions for different groups and we adapt to each level. We have a wide choice of boards, any size, resin or epoxy and foam for beginners, shortboards, longboards and paddle board. During your stay you can choose among the different models available and you adapt to the conditions and swell.
---
Camp character
---
- both beginner surfers and for all other levels, intermediate surfers or surfers
- all age ranges, even children courses
- French and English
- Each student group and may change over the course waves are ideal for beginners, large sandy beach, not Baines, no electricity, very little wind and long waves on which significant progress is made easier by the state of the ocean waves calm with "tidy" by series, pass the bar becomes easier, the sessions are less physical than in other regions in Atlantic
---
Camp operator
---
- Owner : Agadir born Abdessamad El Aouam
- professionnal experts from Morocco as instructors
- Abdessamad discovered surf as a child during holidays on a beautiful beach near Agadir and started the surf camp when it became popular in Morocco.
ACCOMMODATION AND CATERING
---
Accommodation types
---
Our facility is located in the middle of a typical Moroccan village overlooking the ocean and argan trees. Our aim is to offer you a sense of well-being, privacy and serenity in a traditional and friendly atmosphere.
We have two types of rooms with bathrooms, WiFi and air conditioning. All are different but the unobstructed view is always guaranteed and the sunset is different every evening.

Terrace Rooms :
Our luxurious rooms offer ocean views and all of the comforts you deserve. Each room is equipped with a bathroom, air conditioning, WIFI access, and a TV with international channels.
40 euros per night for 2 people, breakfast included

Guest rooms :
Our guest rooms also offer panoramic ocean views, private bathrooms, air conditioning and WIFI access.
25 euros per night for 2 people, breakfast NOT INCLUDED
On our terrace you can sun-bathe or enjoy lunch overlooking the beautiful Moroccan terrain.
For your entertainment, we have a variety of game activities on the terrace including ping-pong and foosball. It is also possible to rent VTT's and to watch films on a wide screen via projector. We have a hamman and massage room where you can experience the nurturing wonders of our locally grown and harvested argan oil.


---
Catering
---
There is also a large dining room and a full-size kitchen where meals can be served inside (in the room) or outside (on the terrace). Enjoy traditional Moroccan cookery including fish, tajines and couscous, prepared by Moroccan chefs, with local and regional products.
SURF COURSE AND ACTIVITIES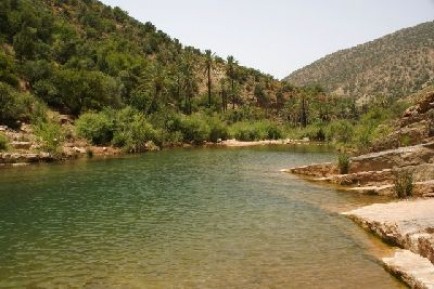 ---
Surf course details
---
07:30 : breakfast
09:30 : departure for the spot selected according to conditions
10:00 : launching and course till noon
12:00 : lunch on the beach or return to surf camp
14:00 : launching on the spot selected
17:00 : back to surf camp and viewing of video of your exploits
20:00 : dinner in the hall of restoration
21:00 : free time, evening video games, …



---
Surf materials
---
LONG BOARD/MALIBU 10€/DAY OR 550 DH /WEEK
BODY BOARD AND PALMS 80€/DAY OR 500 DH /WEEK
SHORT BOARD 15€ DAY OR 80€ WEEK
SHUTTLE ON THE SPOTS 10€/DAY
---
Other activities
---
Hiking, swimming and horse and camel-back riding on the beach or through the hills of argan trees.
Our local beach offers jet-ski, four-wheeler, and dune-buggy rentals.
MORE INFO, HOW TO GET THERE & FAQ
---
Surf conditions

---
Breaks directly at the main spot and at nearby spots
Point d'Imessouane
Tamri
Boilers
Killer point
La Source
Mysteries
Anchor point
Hash point
Panorama's
Banana beach
Agadir beaches
Tifnite
Seasonal conditions
http://magicseaweed.com/Banana-Point-Surf-Report/900/


---
Surroundings / Region

---
Characterization of surroundings/region
Explore the Souss Massa National Park, a 70 square kilometre nature reserve with various fauna and flora, lagoons, and coves.
Paradise Valley: Situated in the middle of dry, mountain terrain, Paradise Valley offers waterfalls, swimming, cliff-jumping and hiking through lush landscape.
Agadir : The city of Agadir was founded in 1300's, destroyed after the earthquake on February, 29th, 1960 and was then rebuilt. Kasbah: The old city built in 1746 offers a beautiful mosque, a traditional souk and a fish market.
Activities and facilities
Hiking, swimming and horse and camel-back riding on the beach or through the hills of argan trees.
Our local beach offers jet-ski, four-wheeler, and dune-buggy rentals.


---
Journey
---
Ways to get to the camp

AIRPORT TRANSPORT
30€ Outward journey/Return

TRANSFER STATION ROAD AGADIR
15 € back and forth

TRANSPORT FROM THE CITIES :
FOLDS BACK, CASABLANCA, MARAKECH
Important details:
Paperwork for EU travellers : a passport valid for at least 1 month after your return date is mandatory.
PACKAGES & PRICES
---
Booking and prices
---
Exact prices and services can be found on the provider's website. You find the link at the top next to the address details.
Tourist tax 1.5€/day
-15% for children - of 13 years
-10% of discount from 6 people
Supplement comfort room for 50 € per week
Supplement room in the terace for 75 € per week
Complete and varied food (fish tajine couscous salad)

How, what and when?
- sessions all year
- session can begin each day
- extension possible, with or without surf
- both beginner surfers as for all other levels, intermediate surfers or surfers 
- all age range, even children courses
- French and english
- Each student group and may change over the course waves are ideal for beginners, large sandy beach, not Baines, no electricity, very little wind and long waves on which significant progress is made easier by the state of the ocean waves calm with "tidy" by series, pass the bar becomes easier, the sessions are less physical than in other regions in Atlantic